New Castrol POWER1 Ultimate Delivers Ultimate Performance and Acceleration
Date posted on September 7, 2021
Share this
Nothing surprises like Castrol. A new range of full synthetic engine oils that will create the ultimate riding experience has just been launched by Castrol Philippines and they dub it as the best Castrol Oil for two-wheel consumers so far.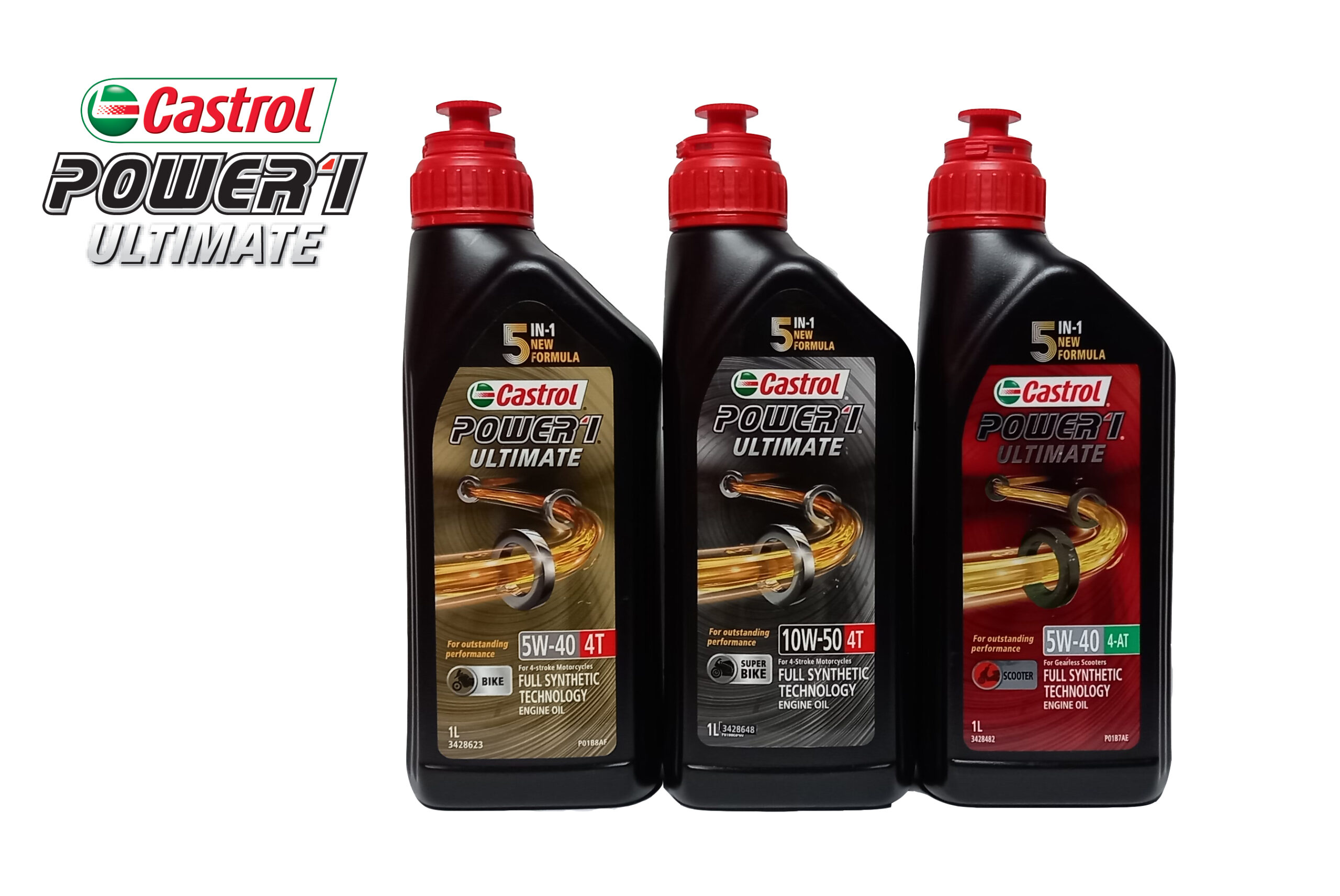 The new POWER1 Ultimate will satisfy the demands of riders seeking better performance and acceleration. It is engineered for outstanding performance across five key areas: improved acceleration, increased engine wear protection, smoother rides, better engine cooling properties and extended service life. POWER1 Ultimate has undergone rigorous testing in its development, and has been formulated to deliver optimal performance while at the same time preserving engine quality thanks to its breakthrough fully-synthetic five-in-one formulation.
An edge of the new Castrol POWER1 Ultimate is that it has a 5-in-1 formula which delivers ultimate performance and acceleration. Its benefits are:
Surprising Acceleration – It is proven to accelerate ahead of major bike and scooter lubricants as tested on Honda CBR300 and Honda ANC125 engines.
Better Protection – It provides 50% better wear protection versus industry limits across bikes and scooters.
Smooth Riding – It enables smooth riding over a wide range of engine speeds and ensures that the clutch engages smoothly and does not slip or judder.
Keeps Engine Cool – It keeps the engine cool even in an extreme 12,000km test, demonstrating brilliant temperature control performance.
Enduring Performance – It maintains 95% of its original performance in a 48,000km racetrack durability test, showcasing enduring performance capabilities.

The Castrol POWER1 Ultimate is for riders who want the best all-around performance from their bikes. Offered in different viscosities namely 5W-40 for scooters, 5W-40 for bikes, and 10W-50 specially designed for super bikes, the new Castrol POWER1 Ultimate is available in 1 liter packages. Prices are Php415 for its 5W-40 bike variant, P450 for its 5W-40 scooter variant, and P530 for its 10W50 super bike variant.

"The new Castrol POWER1 Ultimate is the product of Castrol's liquid engineering expertise meant to dramatically enhance the riding experience with more power and acceleration that riders can feel. Discerning professionals and enthusiasts are at the forefront of POWER1 Ultimate, inspiring its potent five-in-one formula that make it among the best performing motorcycle oils that the world has to offer. Serious riders must try out Castrol POWER1 Ultimate to experience a whole new meaning of superior performance and acceleration," said Ms. Maria Tañada, Castrol Philippines' Country Sales Director.

With the new Castrol POWER1 Ultimate, Castrol continues to empower Filipino riders to push towards new boundaries in their riding experience. To find out more about this new range of engine oils, please visit www.facebook.com/CastrolPhilippines
Castrol is one of the world's leading lubricant brands has a proud heritage of innovation and fueling the dreams of pioneers. Their passion for performance, combined with a philosophy of working in partnership, has enabled Castrol to develop lubricants and greases that have been at the heart of numerous technological feats on land, air, sea and space for over 120 years.  Castrol is part of the BP group and their products are recognized globally for innovation and high performance through our commitment to premium quality and cutting-edge technology. To find out more about Castrol please visit www.castrol.com