NGK Spark Plug Automatic Trophy
Date posted on November 19, 2012
Share this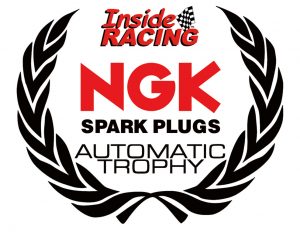 NGK Philippines is proud to be the class title sponsor for the Automatic Trophy Class in the Sixth Annual Motolite InsideRACING Grand Prix (IRGP6) to be held on November 23-25 at the historic Carmona Circuit Philippines in Carmona Cavite.
The NGK Spark Plug Automatic Trophy will be contested by Beginner, Novice and Expert riders using the 160cc scooters limited to 2 Valves and air-cooling with Open modifications. This popular class introduced last year is a step up in automatic racing with controlled modifications to increase affordability while providing a higher level of racing.
The "Motolite InsideRACING Grand Prix" is the biggest annual year-end tradition for the country's motorcycle road racing fans as it aims to provide a "GP" style race event to the local racers and teams. It is a prestigious annual event where top local racing teams and riders participate. It is sanctioned by the Underbone and Scooter Racing association (USRA).
When you require the best, count on the world leader in spark plug technology: NGK Spark Plugs. Count on NGK Spark Plugs to deliver the finest quality products and customer service. One good approach in this industry is working closely with manufacturers in developing products tailored specifically to their needs. The most tangible manifestations of the success of this philosophy have been the construction of fourteen factories in eight nations throughout the world, as well as NGKSpark Plugs being specified as original equipment by the majority of the world's automotive and motorcycle manufacturers.
NGK has provided the world's top motorcycling team the best of spark plug performance. In MotoGP, its track record so far is 23 years in a row contributing to the series title wins in the premier class. This 2012 season, NGK continues to support and develop high performance spark plugs for three (3) official teams of top manufacturers.
Provisional Entry List
       Bike #	Auto Trophy 160	        Team
1	1	Paul Pangilinan		MTRT-Team Takeshi-Asia
2	2	Darwin Mangulabnan	Jad-Eneos-HeadShop Motoworkx
3	3	Mayco Carbonel	        Ebroc Racing - Eneos
4	4	Romer Corbe		Ebroc Racing - Eneos
5	O7	Ivan Santiago		JVT Scooters
6	8	Ernie Daguio Jr.        DSF
7	10	Gerry Quinonez		JM Mirasol
8	16	Herbert Lopez		Spec V
9	21	Enrique Carlo de Goitia	Petronas-Speed Effex
10	28	Joseph De Dios		Petron Sprint - MDR
11	29	Jeff Teopengco		Redspeed
12	31	Terry De Leon		Petron Sprint - MDR
13	33	Jeffrey Tria		Salbahe-Zebra Helmets
14	39	Miko Montano		JVT Scooters
15	46	James Barcial		MTRT
16	56	Michael Altamira	KSR Perf./ RK Racing / Jad
17	69	Dustin Esguerra		MLW Racing Team
18	77	Randy Potente		Moto JT
19	100	Benjo Mendoza		Petronas-Speed Effex
20	108	Cassey Ng		MTRT
21	109	Juver Mirasol		JM Mirasol
22	117	Ralph Kenneth Torres	MTRT
23	189	Marvin Mangulabnan	HGM Performance
24	190	Marcko Deliganzo	MDR
25	888	Mickey Mazo		Fastek-Speed Tuner
26	926	Juno Villena		Takeshi - Asia