No Travel Authority Needed within NCR and within a Province
Date posted on June 3, 2020
Share this
Areas under general community quarantine now have some relaxed security protocols. On June 2, Joint Task Force Covid Shield commander Lt. Gen. Guillermo Eleazar said that movement of locally stranded individuals and essential travels within NCR and within the same province are now permitted without travel authority.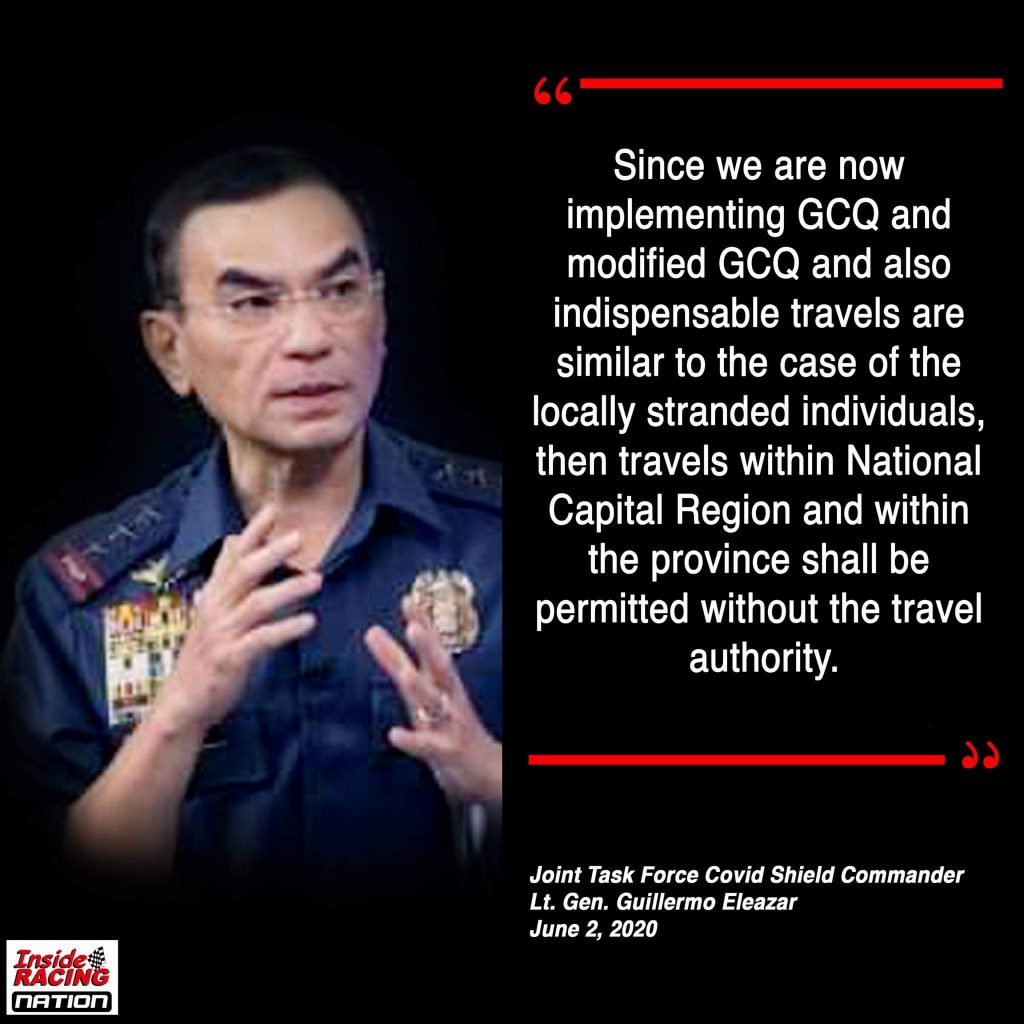 Metro Manila, Cagayan Valley, Central Luzon, CALABARZON, Central Visayas, Zamboanga City, Davao City, Cebu City and Mandaue City are placed under GCQ from June 1 to 15.

"Since we are now implementing GCQ and modified GCQ and also indispensable travels are similar to the case of the locally stranded individuals, then travels within National Capital Region and within the province shall be permitted without the travel authority," said Lt. Gen. Eleazar.

He also clarified that travel authority will only be required for travels outside Manila and outside the provinces. The issuance of the travel authority is delegated to the District Directors. This is based on the instruction of DILG Secretary Eduardo Año.

For those travelling from a province to another province in the same region, travel authority is now delegated to the chiefs of police. Travels that require crossing the border of two regions require the authority of the provincial director. For those in Metro Manila, this power is delegated to the district director.

Protocols for the issuance of Travel Authority for locally stranded individuals and for indispensable travels:
Chiefs of police of city and municipal police stations have the authority to issue travel authority for travel outside the province but within the region.
District directors, provincial directors and city directors have the authority to issue travel authority for travels outside the regions.
Higher issuing authorities like police regional directors and the PNP Directorate for Operations can still issue travel authority.
Requirements for the issuance of the travel authority:
Certification from the Punong Barangay that the person who wants to travel has not developed any (coronavirus disease 2019) symptoms at least 14 days before the travel request. The certification from the barangay captain will serve as an endorsement to the City and Municipal Health Office to conduct medical examination.
Medical clearance certificate from the City or Municipal Health Office
Once the travel authority is approved, the applicant will be notified to pick up the hard copy of the travel authority, or, the travel authority could be sent via e-mail or any messaging apps.

Despite the simplified process of securing travel pass and some relaxed security protocols in GCQ areas, the public is still advised the public to avoid unnecessary travels for their safety as the chance of being infected with COVID-19 is still high.
Source: Philippine News Agency
Thank you for visiting insideracing.com.ph. You may express your thought below through the comment section. You may also follow us on Facebook, on Instagram @Insideracingnation or on our YouTube channel.