Optimistic Access Plus Racing-Ducati Philippines-Essenza Ready for Zhuhai, China
Date posted on August 8, 2019
Share this
There's a strong sense of optimism within Access Plus Racing-Ducati Philippines-Essenza as the team heads to the fifth round of the Asia Road Racing Championship (ARRC) this weekend. Part of it comes from the string of improvements they've achieved so far, which has given them good momentum in the 2019 season. But there's  also a portion attributed to their Panigale V4Rs that offer their riders Timothy Joseph "TJ" Alberto and Jonathan Serrapica an advantage at the Zhuhai International Circuit.
Their pair of Ducati Corsa-sourced machines are some of the most powerful bikes on the current ASB1000 grid. Both feature a 998cc 90° V4 Desmosedici Stradale R engine that's rated at 217 hp and 112 Nm of torque. The homologation special of the standard Panigale V4 are also fitted with distinctive Moto GP16-derived carbon fiber aerodynamic appendices that increase stability.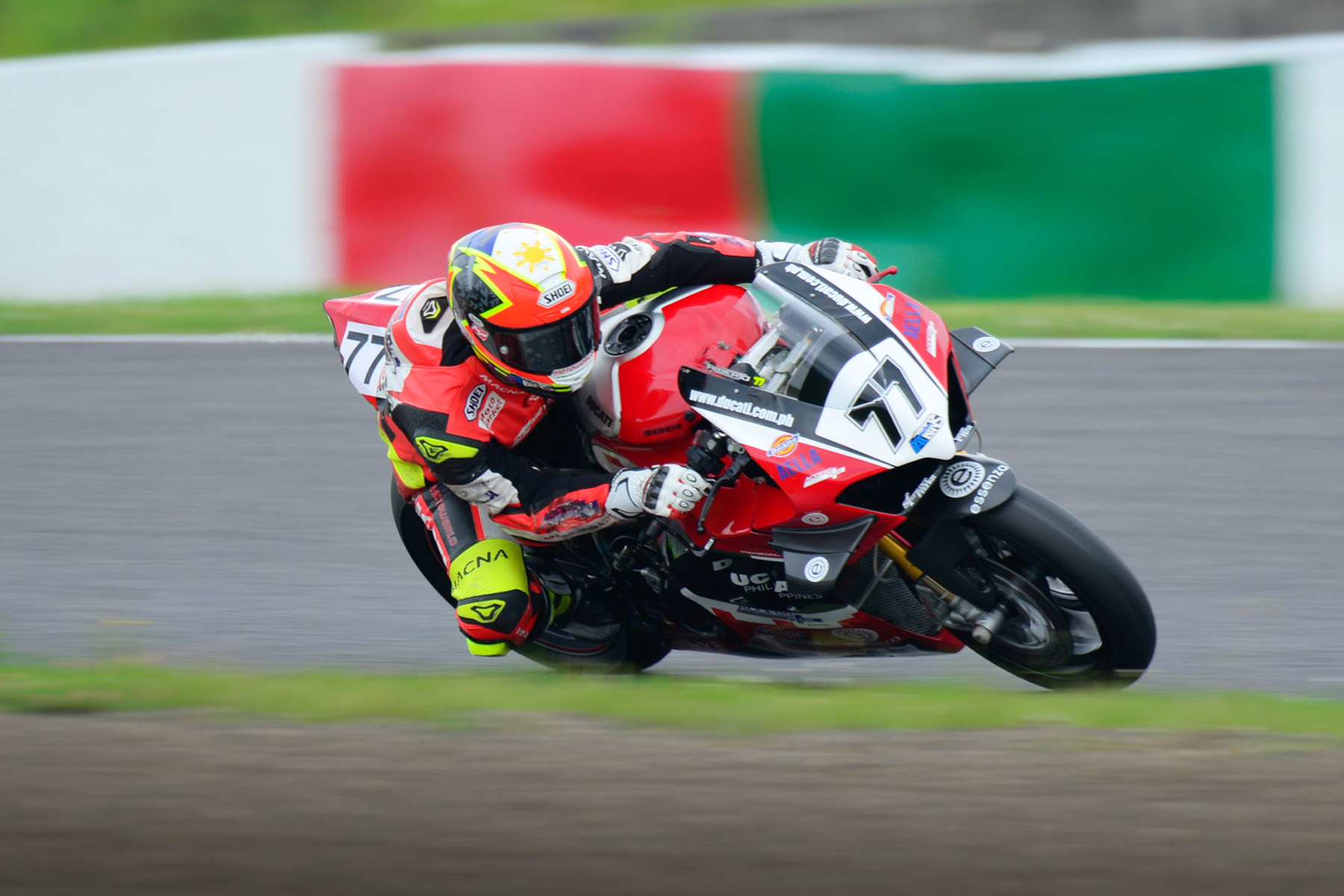 These should well-suit the Ducati Panigale V4R on the 4.319 km, 14-turn Grade 2 circuit in China as it capitalizes on its power advantage on Zhuhai's sequence of long straights.
Given the team's results in mixed conditions in Japan last June, TJ Alberto was able to move up to 9th in the overall standings while Jonathan Serrapica holds on to 15th. Both riders now focus their attention on bringing the fight to the front-runners in ASB1000 this August 9 to 11 in China.
TJ Alberto, #77 Ducati: "Like in all the previous races, I've been working and training hard on the bike to prepare for the next race in Zhuhai. I think we have an advantage with the Panigale V4R's power as this circuit is mainly comprised of long straights. We were able to make quite significant changes to the bike, and if we have a good good setup, there's a good chance we could improve on our results from Japan."
Johnathan Serrapica #48 Ducati: "Despite a crash that compromised my race in Japan, I can say that I rode the best bike of the season. I felt really good and enter fast into the corner as I like. I think it's time to convert this performance into results and improve more in the final three races of the year. Zhuhai is a track that I have never seen before, but I feel positive and hungry for a good race weekend!"
Toti Alberto, Team Principal: "The entire team is optimistic heading to Zhuhai. We definitely have a power advantage with our Ducati Panigale V4R, which suits the track layout very well. We also now have a better understanding of our new machines after spending four rounds in development. Hence, our goal this weekend is to prepare TJ and Jonathan the bikes we can to give them the best chances on track."
Team Access Plus Racing-Ducati Philippines-Essenza is sponsored by Access Plus Group, Ducati Philippines, Essenza, AELLA, Dickies Philippines, Öhlins Philippines, Century Hotel Angeles City, LV8, and Pradera Verde.
For more info and the latest updates about the team, followwww.facebook.com/AccessPlusRacingPH/ on Facebook and riderswww.facebook.com/TjAlberto7/ and www.facebook.com/J0Speed/.
Credit: Access Plus Racing-Ducati Philippines-Essenza