PACIFIC RIM: GIPSY DANGER (JAEGER)-INSPIRED Yamaha Sniper 135 from Carcar City, Cebu
Date posted on January 12, 2019
Share this
We are featuring a modified Yamaha Sniper 135 inspired by the movie Pacific Rim. The bike is owned by khent Pelimer a freelance graphic artist/video editor from Perrelos, Carcar City, Cebu.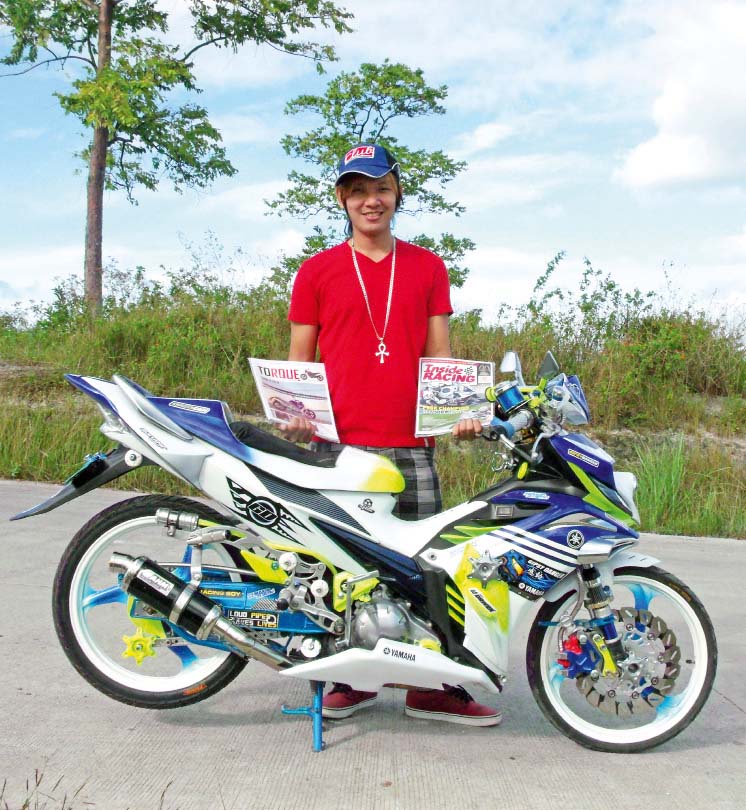 The overall theme is based in one of the main Jaeger's of the Movie Pacific Rim. Gipsy Danger was piloted by Raleigh Becket and Mariko Mori. It's the last Arc-9 (nuclear reactor) Analog Jaeger. It may be old school but it comes with awesome weaponry such as the I-19 Plasmacaster, the GD6 Chain Sword, S-11 Pulse Launcher and the Assault Mount S ting-Blades. It is indeed a brutal Kaiju killing machine. It's the underdog Jaeger of the movie but it ends up saving the day. That's what makes it so endearing to movie-goers, everybody loves the underdog. This inspired Khent to apply the concept as the overall theme of his beloved Yamaha Sniper 135.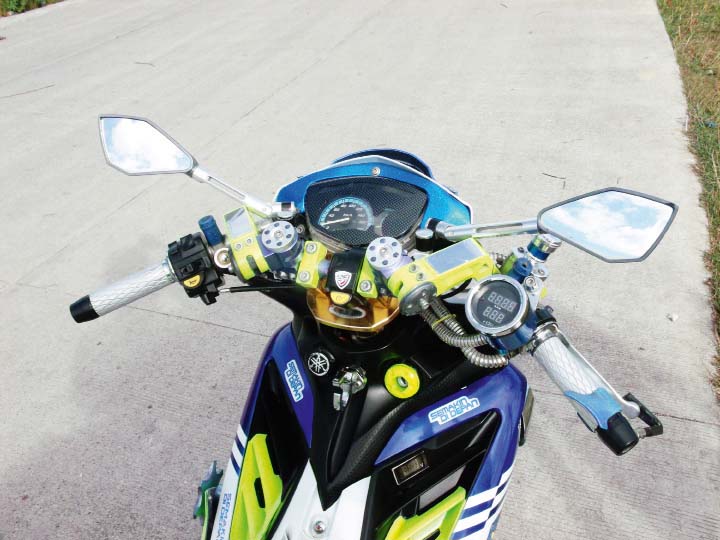 The bike showcases Khent's talent in designing and fabrication of custom fiberglass body components for his bike. It sports a custom-made front mole cover, seat assembly, side cover extensions, body rear extension, bellypan and engine cover all custom-made by Khent from scratch. The bike is equiped with LHK swingarm, transformer Rizoma handlebar, volt/RPM meter, CNC sidemirrors, CNC lever guards, 7Speed outerTube, Racingboy 300mm disc front, Racing Boy rearset v3, Racing Boy 3-spoke mags and AHM M1 exhaust.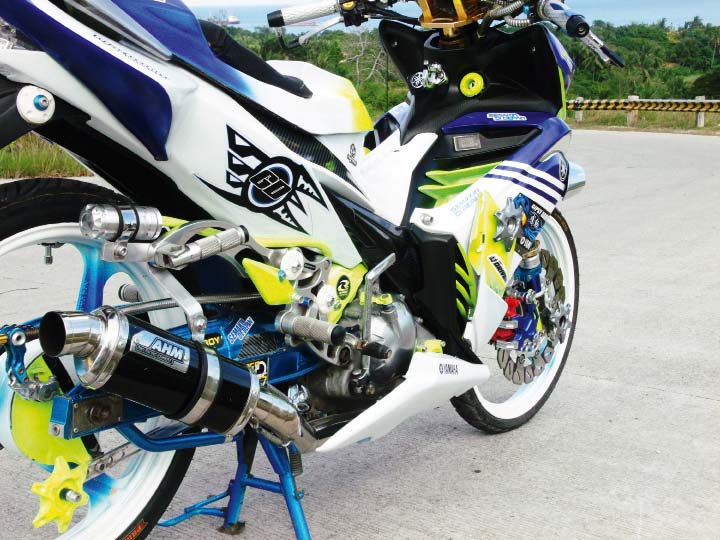 This bike is actually Khent's first platform in making custom body panels for his Sniper which has made him well-known in the web and the bike show scene in Cebu. The bike has undergone several changes as Khent keeps on making innovations until it reached its current state. It took a lot of hard work but Khent really loves his craft, a true artist indeed. "There are many ways to describe it. Exhilarating is one of them. I like the way people ask me many questions like how much money did I spend on the bike. Where did you buy those body panels? I answer them that I made the mods myself and I can see the amazement in their eyes as they admire the modifications I made for the bike. It makes all the hardwork worth it. Aside from that I really like riding and modifying motorcycles. I feel alive and free when I ride my own custom bike. It's a feeling you don't really get from driving an enclosed air-conditioned car. Thank you to InsideRACING Magazine for featuring my creation," Khent shared.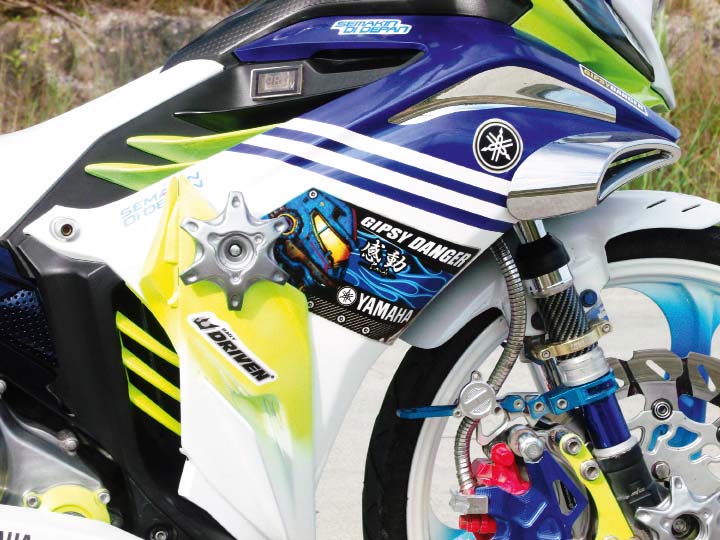 "There are many ways to describe it. Exhilarating is one of them. I like the way people ask me many questions like how much money did I spend on the bike. Where did you buy those body panels? I answer them that I made the mods myself and I can see the amazement in their eyes as they admire the modifications I made for the bike. It makes all the hardwork worth it. Aside from that I really like riding and modifying motorcycles. I feel alive and free when I ride my own custom bike. It's a feeling you don't really get from driving an enclosed air-conditioned car. – Khent Pelimer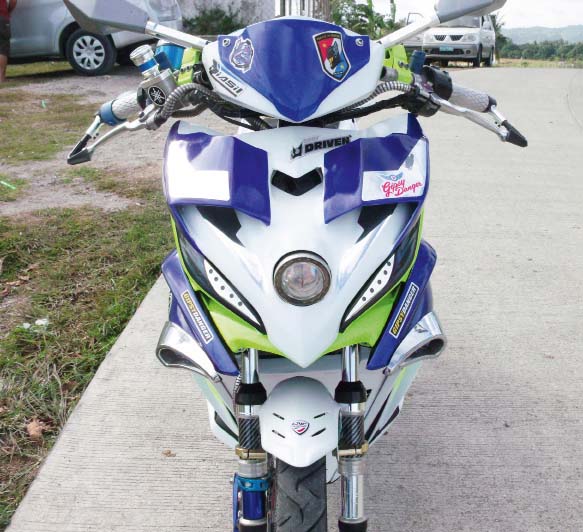 MODIFICATIONS
YAMAHA SNIPER 135
PARTS AND ACCESSORIES USED:
Custom fiberglass front mole cover
Custom fiberglass seat assembly
Custom fiberglass side cover extensions
Custom fiberglass rear extension
Custom fiberglass bellypan
Custom fiberglass engine cover
LHK swingarm – Transformer Rizoma
Transformer handlebar
Volt/RPM meter
CNC side mirrors
CNC lever guards
7Speed outer tube
Racing Boy 300mm disc front
Racing Boy rearset V3
Racing Boy 3
-spoke mags
AHM M1 exhaust
Custom decals
Custom paint
FDR tires
Rizoma oil breathers
Rizoma frame sliders
Bikers caliper crash guards