Paz and Sobretodo – Honda One Make Cup Champions
Date posted on October 11, 2014
Share this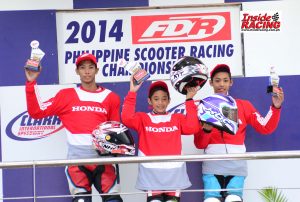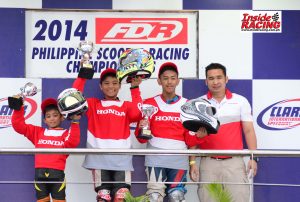 Honda Philippines' grassroots program for two-wheel racing this year was successful once again and young yet notable riders were the overall champions in the manufacturer's one make cups which were part of the 2014 Petronas Philippine Motorsports Championships.
Eane Jaye Sobretodo champed in the Honda BeAT Cup which he has been dominating since the second round. Sobretodo  also won the last round with Amber Torres and Elijah Olayvar finishing second and third in the 8-lap race at the west course of the Clark International Speedway last October 5.
Adding to the achievements of McKinley Kyle Paz this year was his championship title in the Honda Dash Cup. Paz was relentless since the start of the season, placing second in the opening race and then winning the succeeding legs until the 6th and final round. Lorenmar Viallanueva and Gian Carlo Mauricio finished second and third in the last race which also had 8 laps.
McKinley Kyle Paz and Eane Jaye Sobretodo were both being trained by the Maico Buncio Foundation.
The Honda One Make race classes were organized by Honda Philippines' Mr. Lloyd Garces in cooperation with MTRT Philippones. It was part of the 2014 Philippine Petronas Motorsports Championships and aims to give more track experience to new riders and hone their riding skills while enjoying the camaraderie in motorcycle racing.
It was sanctioned by the Unified Sports and Racing Association (USRA) for Motorcycles, Inc.  and the champions will be awarded at the prestigious Golden Wheel Awards in 2015.
More detailed reports and photos to follow in InsideRACING magazine