Paz & Mendez qualify for Day Two of the Shell Advance Asia Talent Cup Selection
Date posted on October 28, 2014
Share this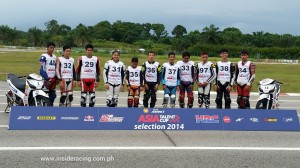 Oct 27 Malaysia – Eleven Filipino riders joined 60 others from Japan, Indonesia, Thailand, India, China, Singapore, China, New Zealand and Australia at the Sepang Kart Track today for  this years' Selection for the 2015 Shell Advance Asia Talent Cup.
MotoIR Youth Cup winners Robert Matthew Ramos and Gian Carlo Mauricio were joined by RUGP Youth Cup winners Garry Caneda of Visayas and April King Mascardo of Mindanao.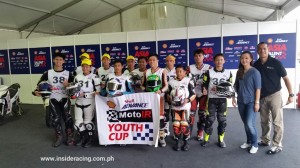 Other Filipino riders who were invited by DORNA included Team MBF LS2 riders Jacq Buncio, Lorenz Villanueva and Van Ruedas; Team Spec V KYT McKinley Kyle Paz and James Aldrin Mendez; Axle Tevez,  and TJ Alberto.

All eleven riders were asked to go around the 1.2 km kart track for two 12-minute sessions uising identical Honda Wave 125 underbones.They were timed and observed in every aspect by Shell Advance Asia Talent Cup Director Alberto Puig.


After the two sessions, six Filipinos advanced to the next round for another timing and observation. These were Paz,Mendez,Ramos, Mascardo, Ruedas and Caneda. Afterwhich Mandez and Paz were shortlisted  together with 29 othets to return tomorrow to join the Malaysian riders for the final test.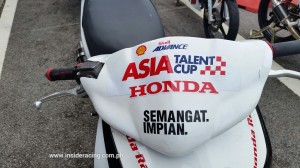 Unlike last year,the final list of riders who will join next year's Shell Advance Asia Talent Cup will not be revealed until November. The Shell Advance Asia Talent Cup is the latest entry level series into the World Championship roadracing organized by DORNA. The 22 riders will compete around Asia alongside several MotoGP events on identical Honda NSF250R Moto3 racebikes. In 2014  Ralph Kenneth Torres was the lone Filipino representative in the series.