Philippines & India battle for ACRR Thailand glory;
Esguerra & Espiritu bag 3rd Overall
Date posted on September 9, 2023
Share this
After a spectacular return of the FIM Asia Road Racing Cup (ACRR) post pandemic last December in Tarlac, the olympic style motorcycle competition is back to a series again since 2019. Round 1 was scheduled in Thailand last September 1-3 at the Thailand Circuit Motorsports Complex in Nakon Pathom.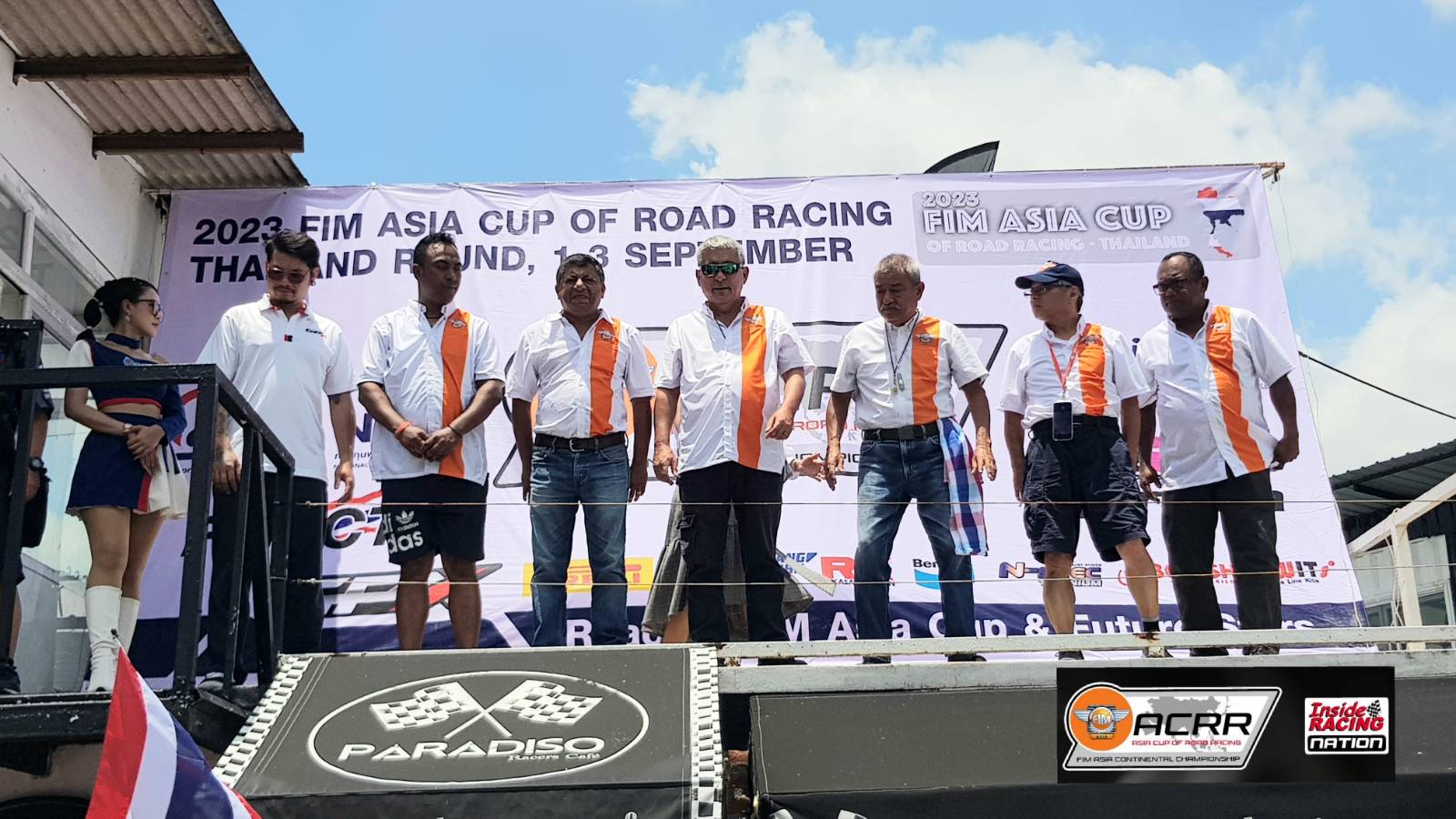 Seven countries competed this time with China and Nepal joining India, Sri Lanka, Thailand, Chinese-Taipei and the Philippines. The riders raced on GPX 200 sportbikes provided by the promoter R2M.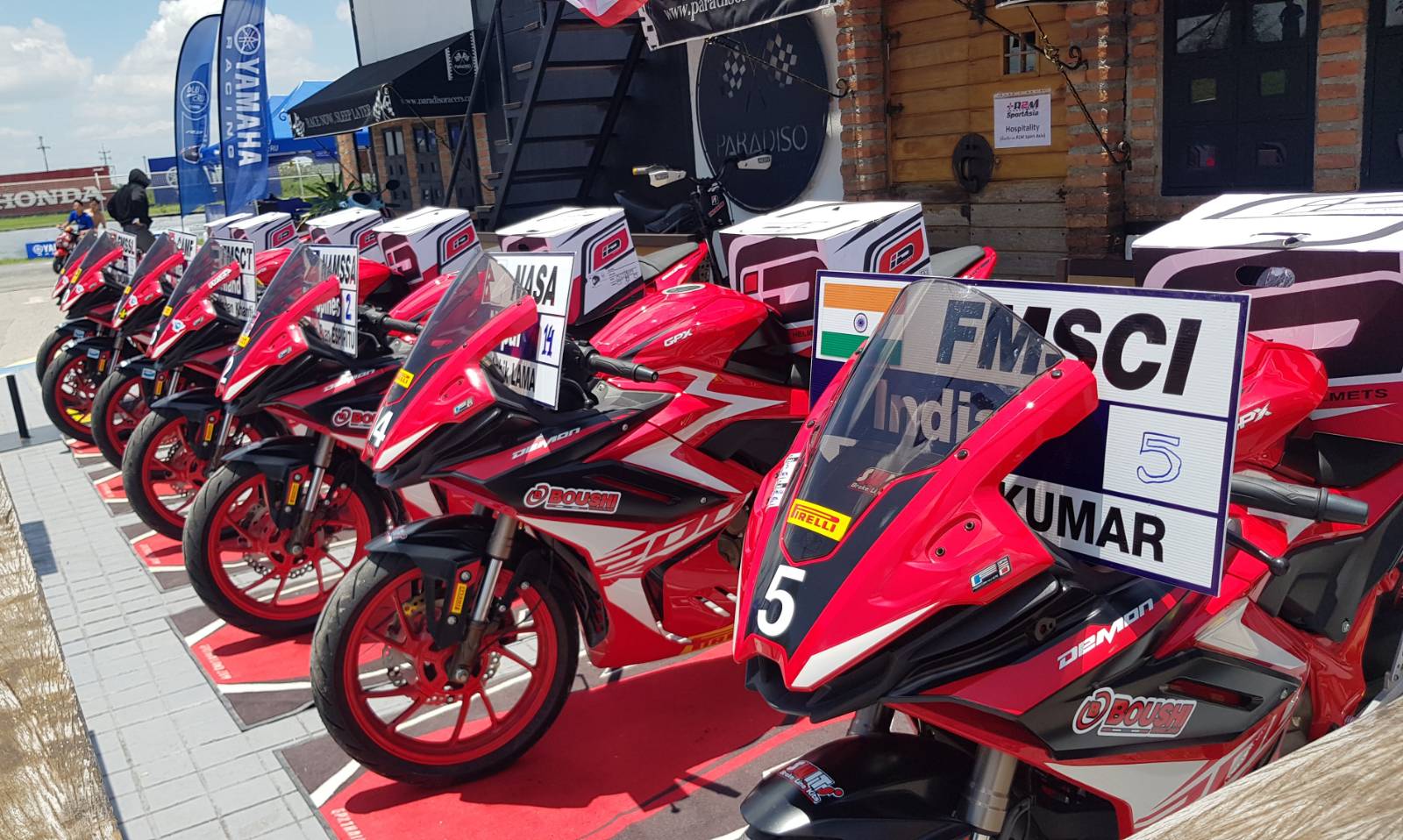 "FIM Asia is happy to re-launch the ACRR as a continental championship series again. After a thrilling comeback event last December in Tarlac Circuit Hill here in the Philippines, the Asian FMNs were all energized and excited for 2023. After the first round in Thailand, Round 2 will be in Taipei on October 12-15 before the ACRR finals to be held once again in the Philippines in December.  We are happy to have China back into the ACRR competition and welcome a new country Nepal. We might also see Singapore and Japan back in the next rounds. I would like to thank our host Mr. Tonchai Wongsawan, President of FMSCT, for a safe and successful running of the event," said FIM Asia President Mr. Macky Carapiet.
NAMSSA together with USRA, sent and supported  the official Philippine Team representatives Dustin Esguerra and Robert Ryan Espiritu. The two riders earned their spots as top National riders in the NAMSSA Philippine National Road Racing point standings at the time of selection held late July. They were accompanied in Thailand by NAMSSA Vice President Mr. Arthur Valdez, USRA President Mr. Eduardo Lumague and National Super Series Co-Chairman Mr. Al Camba.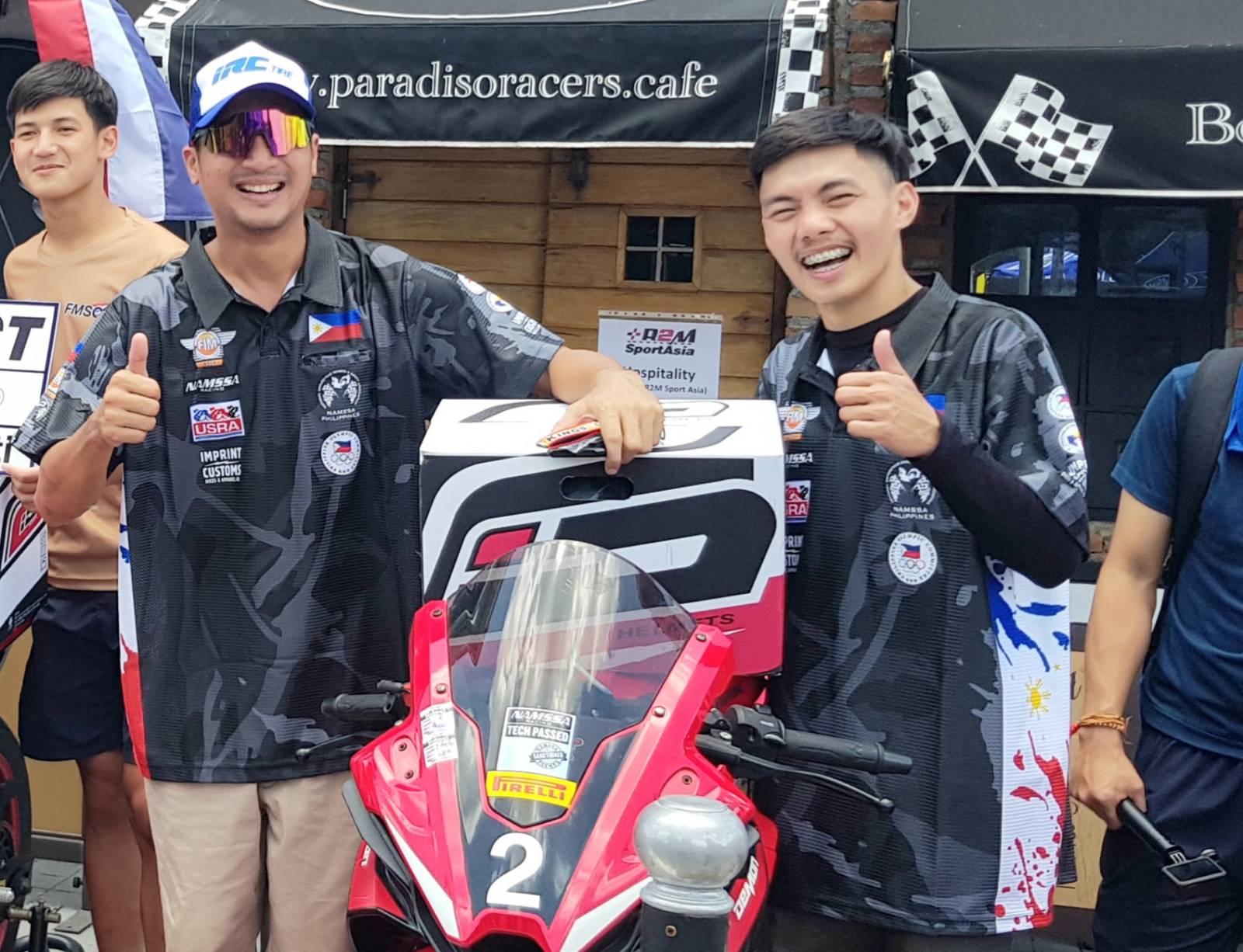 "Although we had an international race already last December in Tarlac for our USRA riders,  we are delighted to be sending our riders in international competiton abroad for the first time. This is largely due to the support and cooperation of our FIM affiliate and national governing body NAMSSA Philippines. Together we are working hard to discover new riders from grasroots and giving deserving riders a chance to race outside the country to officially represent the Philippines," said USRA President Mr. Lumague.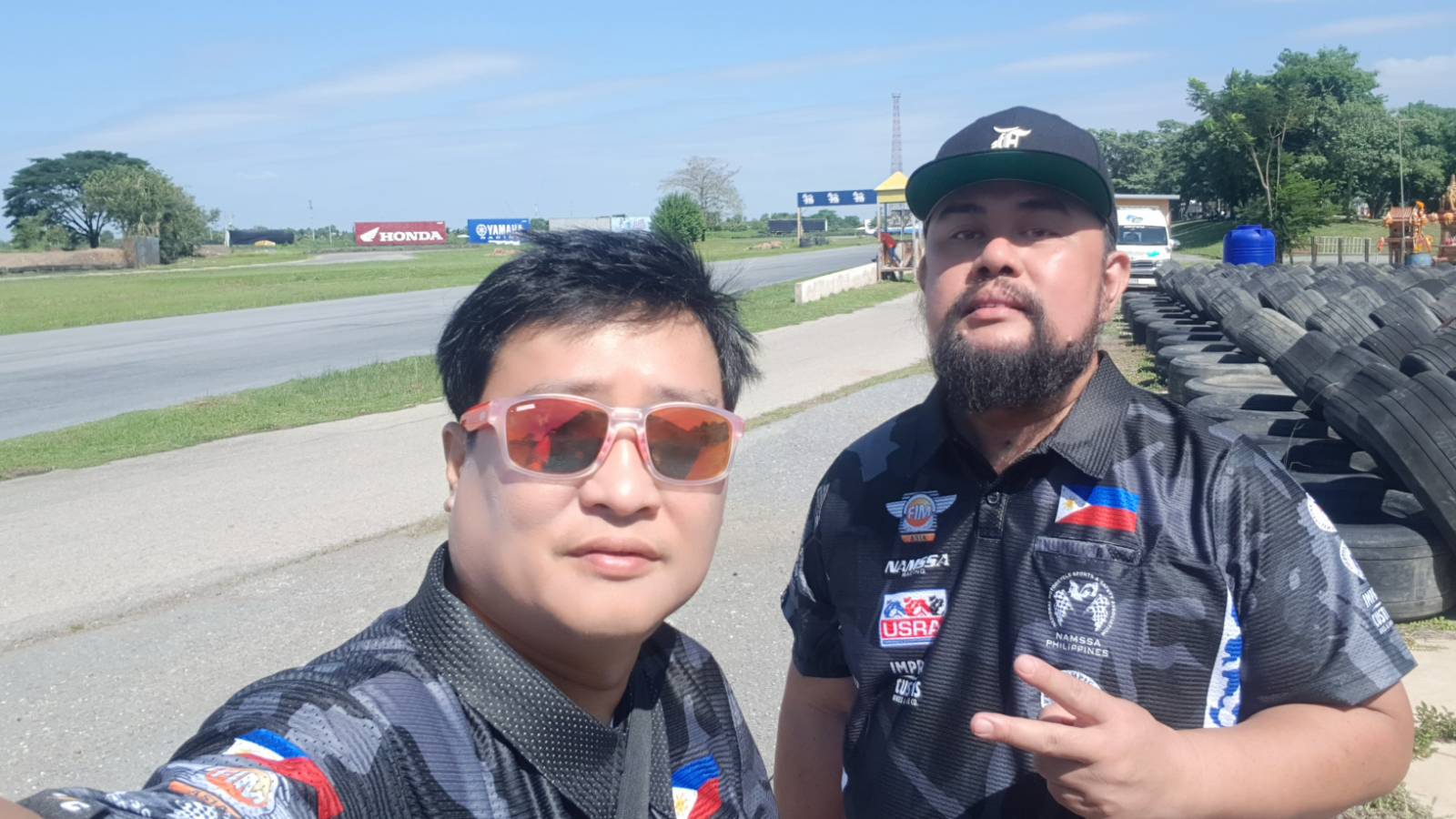 The Philippines is now a dominant force in ACRR racing after winning the last two recent events. Kerwin Chang and the late Amber Torres won the race and Country Overall Championship in 2019 in Thailand while Dustin Esguerra and Garry Cañeda Jr. won it again last December 2022 in Tarlac to make it two in a row and the third ACRR championship for the Philippines. We are proud to say that the Philippines is a favorite and every country's target in ACRR for 2023.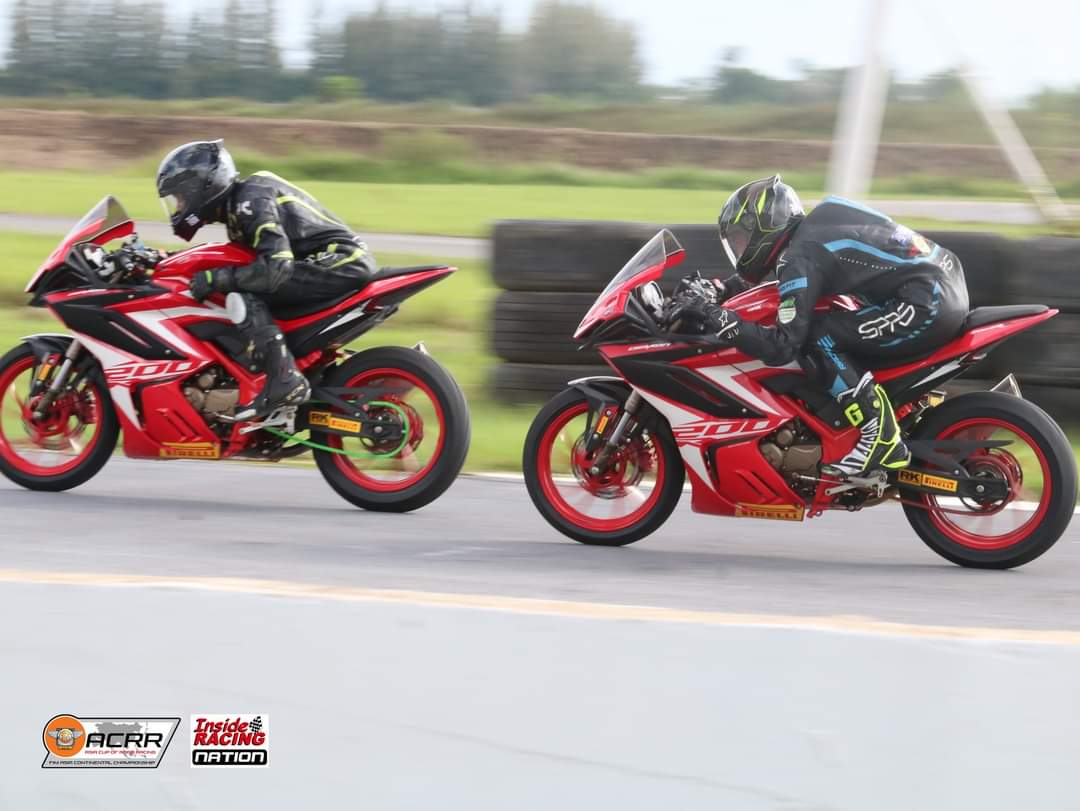 In all practices, qualifying and warm up, our boys delivered as they were always in the top of the time sheets. In fact both Esguerra (in FP1) and Espiritu (In Warm Up) were fastest in at least one session! They were consistently in between 2nd and 6th!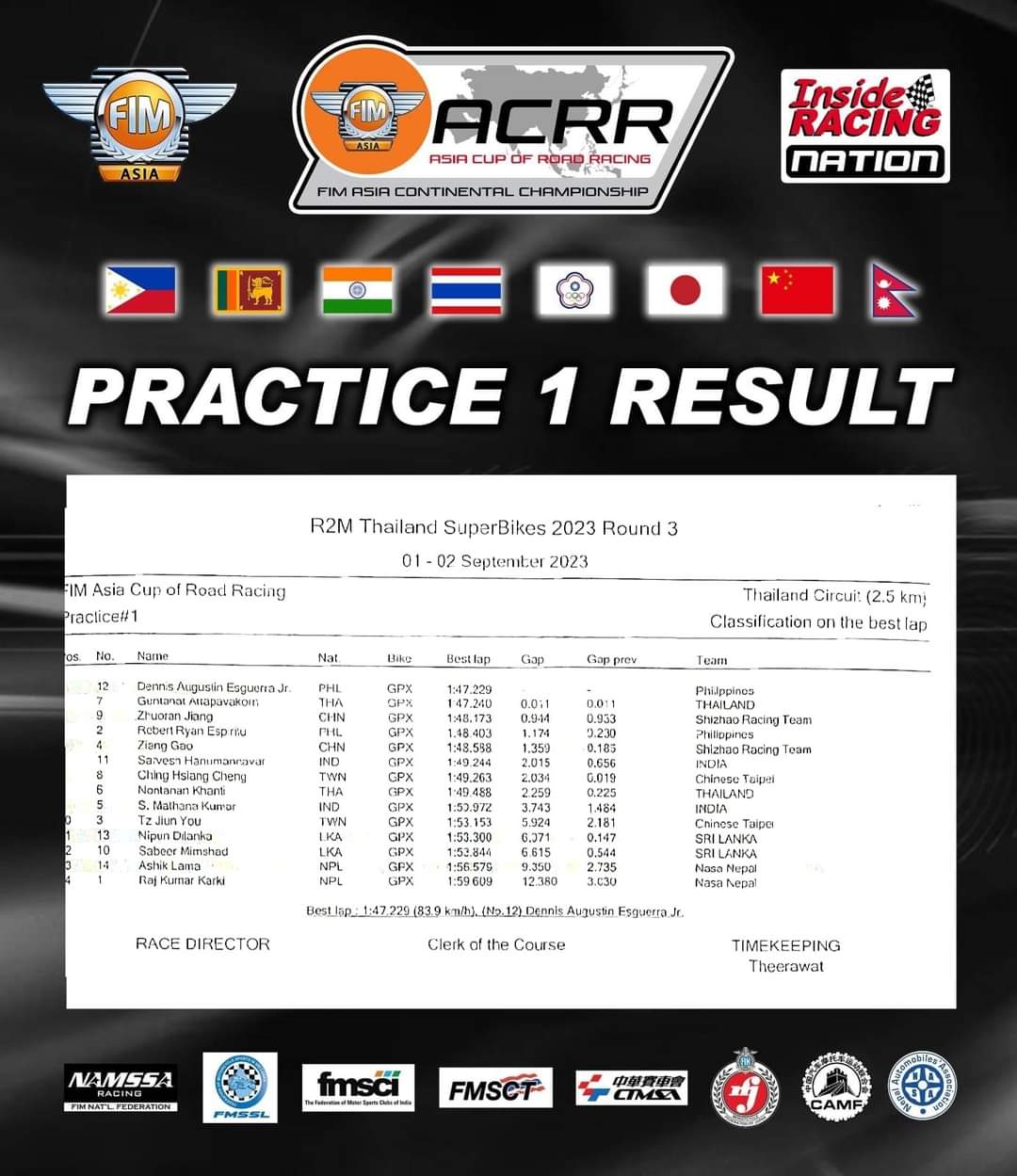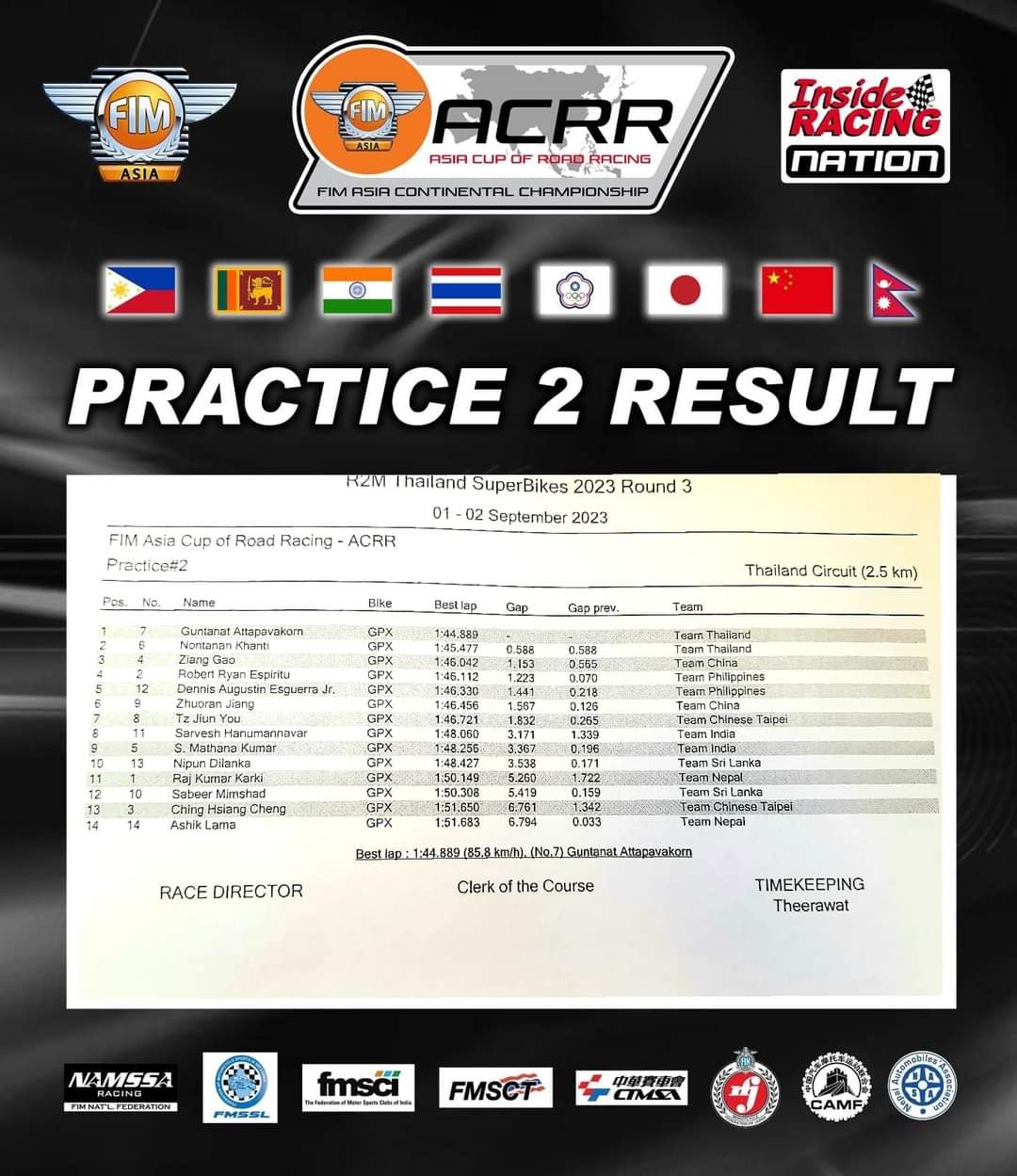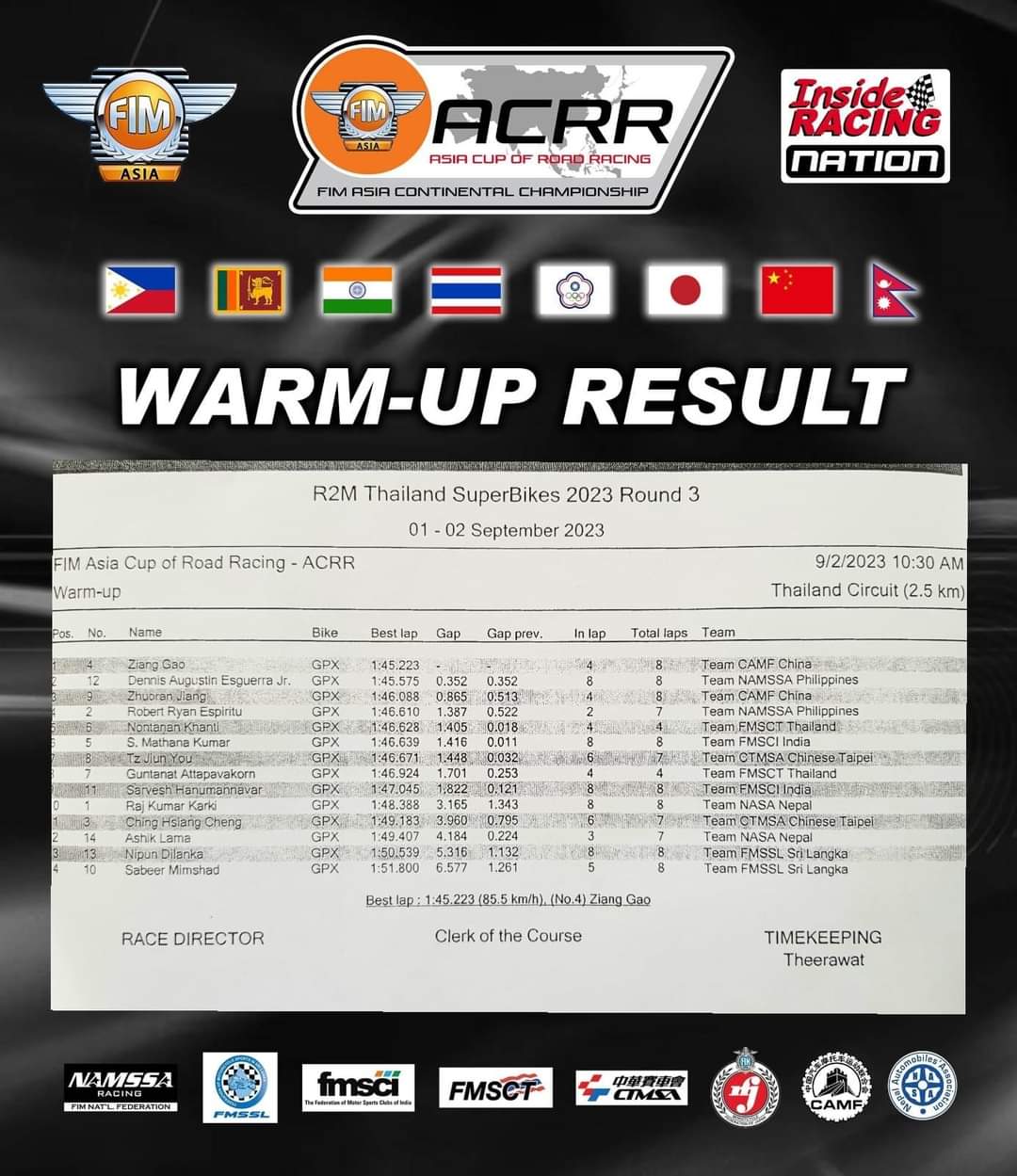 Of course, the expected fast guys in every session were the local Thai boys who had more experience both on the bikes and in their home track. But, in the true spirit of ACRR, they were more than happy to share and show to our riders the fast lines around the track including the very tricky Turn 1 that has two fast line options because of bumps in the middle that unsettled the bikes as they exit. Esguerra and Espiritu were very appreciative of the gesture as it helped them improve their times.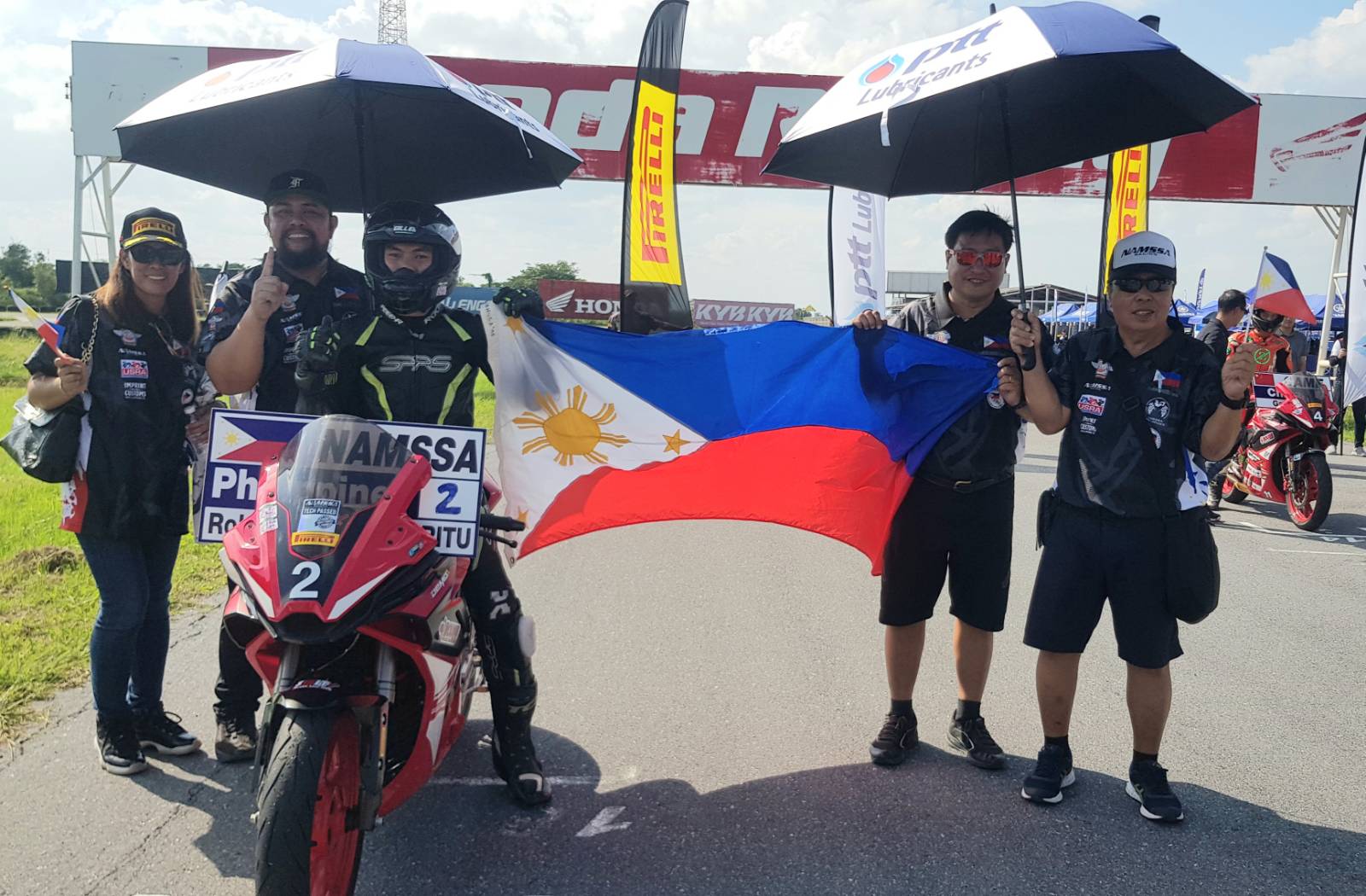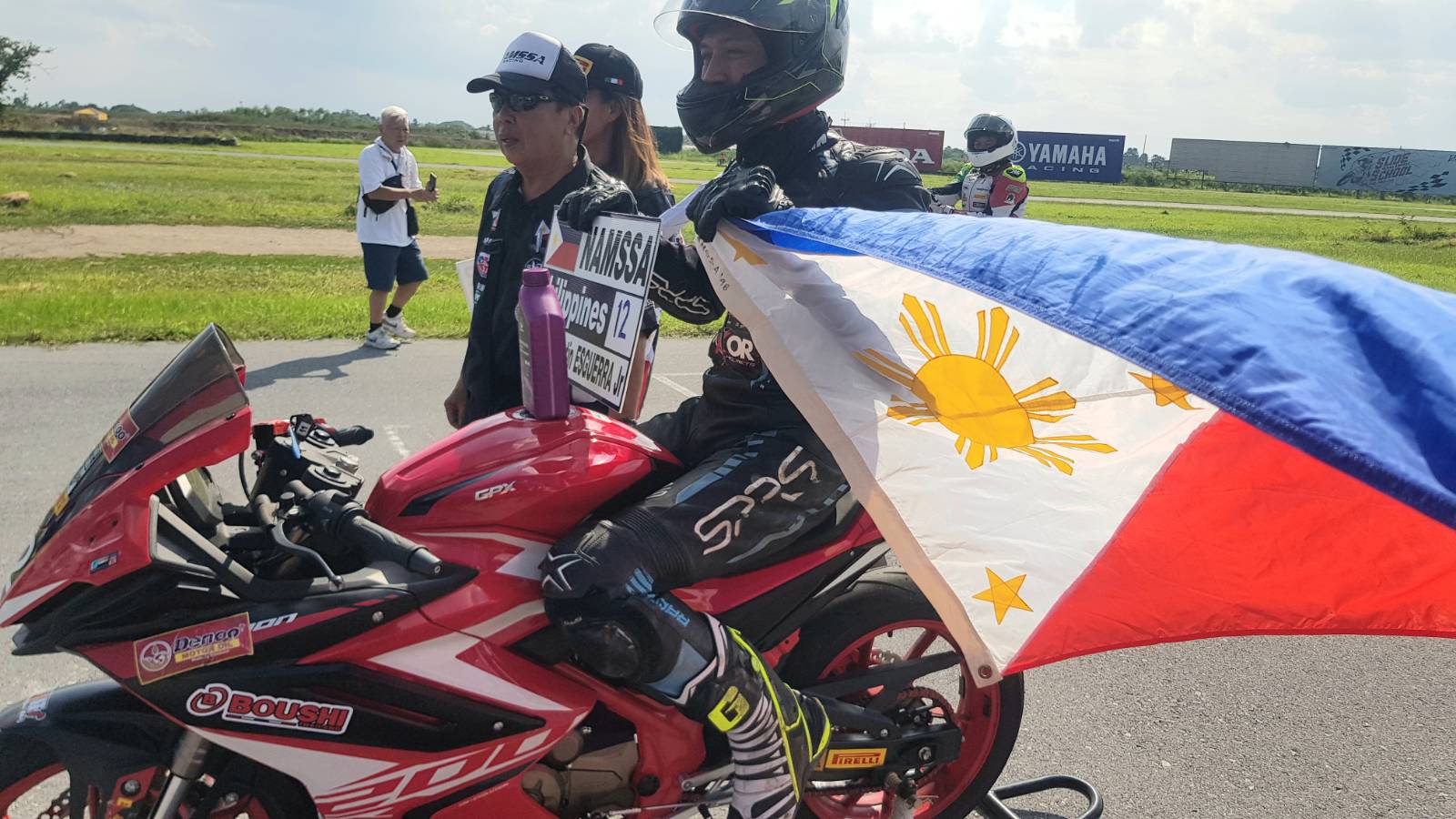 "We would like to thank Team Thailand for their friendship and unselfish attitude to help us find our way around the track and especially in Turn 1. Now, we are more confident, we hope we can give back the same help when we go back to Tarlac in December," said Esguerra.
In Saturday morning's Qualifying, our boys just missed out on Pole Position  with  Espiritu in P2 and Esguerra in P3! Of course, Thailand's Attapavakorn took pole by more than half a second.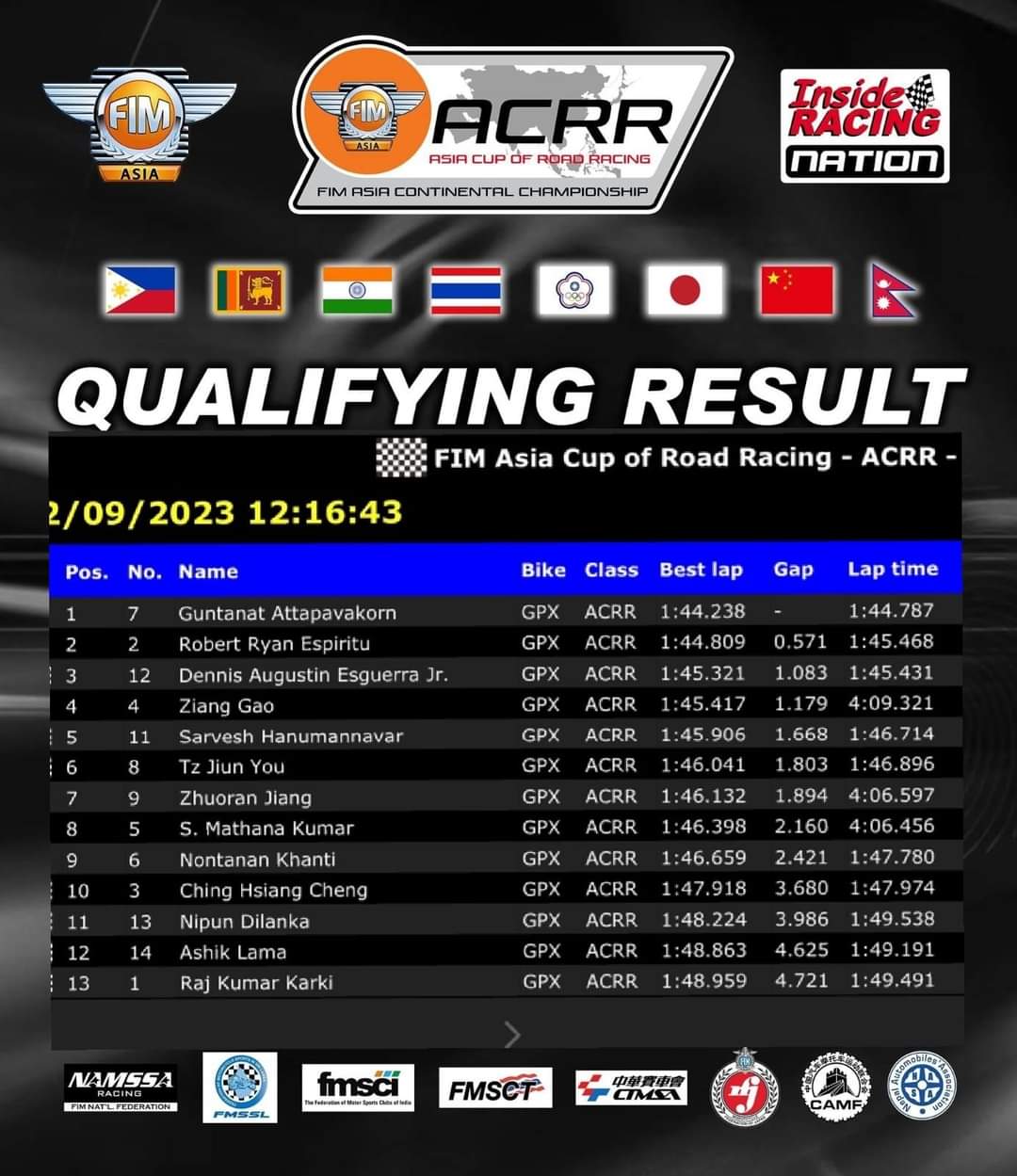 Race 1 was both heartbreaking and elation for team Philippines. 
After a great start, Espiritu worked up to the lead and diced with the Thai and surprise fast starter Kumar from India. The Phillipine team shouted in elation as Espiritu crossed the line after 1 lap in P1! He managed to lead his first international racing lap outside the Philippines!
Meawhile, drama ensued near the mid pack as China's Zian Gao made a mistake exiting the last turn and crashed right in front of Esguerra who could not do anything to avoid him and went down with him. Luckily, both Esguerra and his bike were ok and he managed to pick it up and restart, albeit last after 1 lap. Esguerra's persistence will prove crucial for the whole Team Philippines by the end of the weekend.
Eapiritu, battled and was able to maintain the lead despite the strong challenge from Kumar. Each lap had the Philippine cheerleader screaming! That is until Lap 6 when the red flag came out due to a heavy crash by a Thai rider. Espiritu led the group back to pitlane with the team elated that the race would be concluded and declare Espiritu as the winner. However, this was not meant to be as it was a 10 lap race and the scoring was moved back to 5 laps, the lap before the red flag. The race will be restarted for 5 laps.  Meanwhile, Esguerra came in last but will join the grid on the restart. This gave him another chance to move closer to the front as they will all again form a grid.
It was a rollercoaster of emotions for the team during the restarted 5 lap sprint. Espiritu again had a strong start and managed to lead the first lap, but unfortunately he crashed out of the lead the following lap. This allowed the leader, India's Kumar, to break away from the pack early on.
"Naipit ako ng isang Indian rider, sayang!" said Espiriru after the race. Fortunately, he was not injured and will race in Sunday's Race 2.
Meanwhile, Esguerra restarted at the back of the pack and was up to 6th after lap 1! When Espiritu crashed he moved up to 4th and was fighting for a podium. All these was  happening while his wife and official team cheerleader Ellen was madly screaming!
This time, Esguerra's natural talent, steely race craft and "never give up" attitude that brought him his first ACCR title last year and numerous Nationals and IRGP championships shown brightly! He stayed at the front and slowly picked up up the riders until he was in P2 with 2 laps to go. In that last lap you can see Esguerra's spirit to win as he never gave up chasing leader Kumar and managed to be within just half a second behind and closing in at the finish.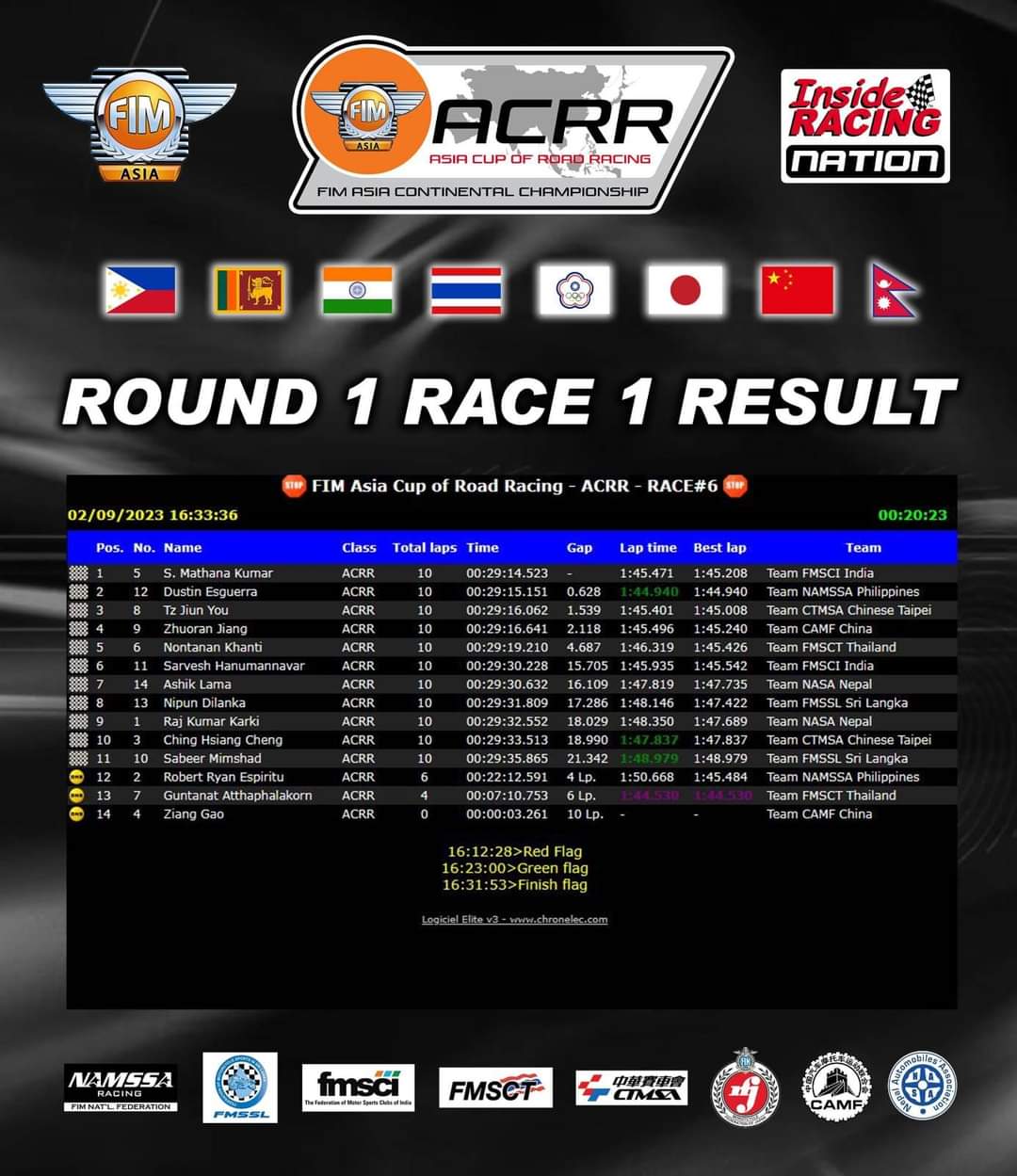 It was an ecstatic podium for Esguerra as he climbed on his first ACRR podium outside the Philippines and raised the flag in front of an international audience.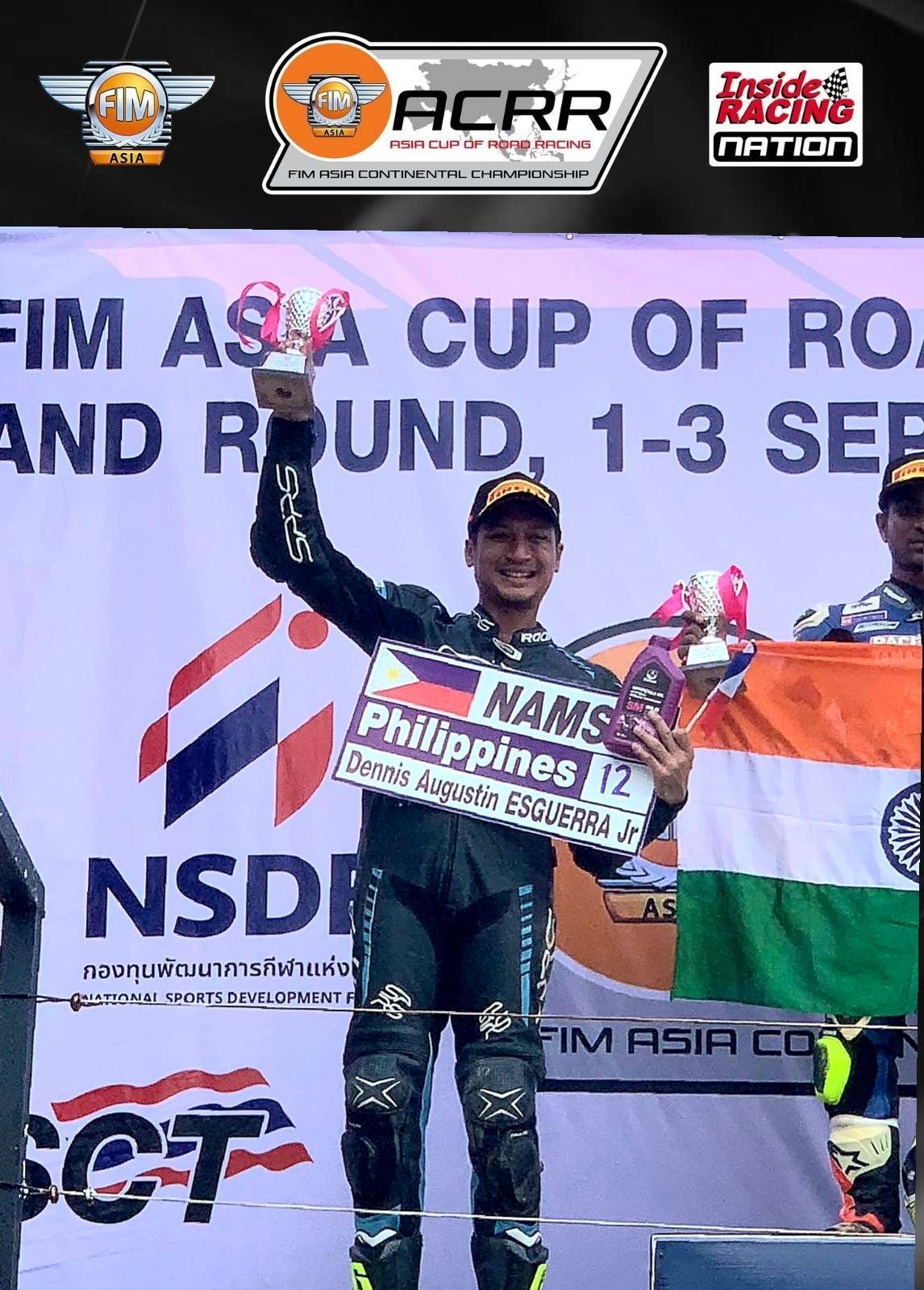 Sunday started well for the team as Espiritu was fastest in the morning warm-up. Esguerra was a cautious 7th fastest.  Overnight the team analyzed the situation and it was clear that they only need to guard against India to secure the overall win.  Espiritu was also the clear favorite having led all the laps he participated in in Race 1 and fastest in the Warm-Up. Esguerra was prepared to sacrifice a win and focus on giving Espiritu the best chance to win, which will give Philippines  the overall award.
However, the team was not prepared to what will happen in Race 2.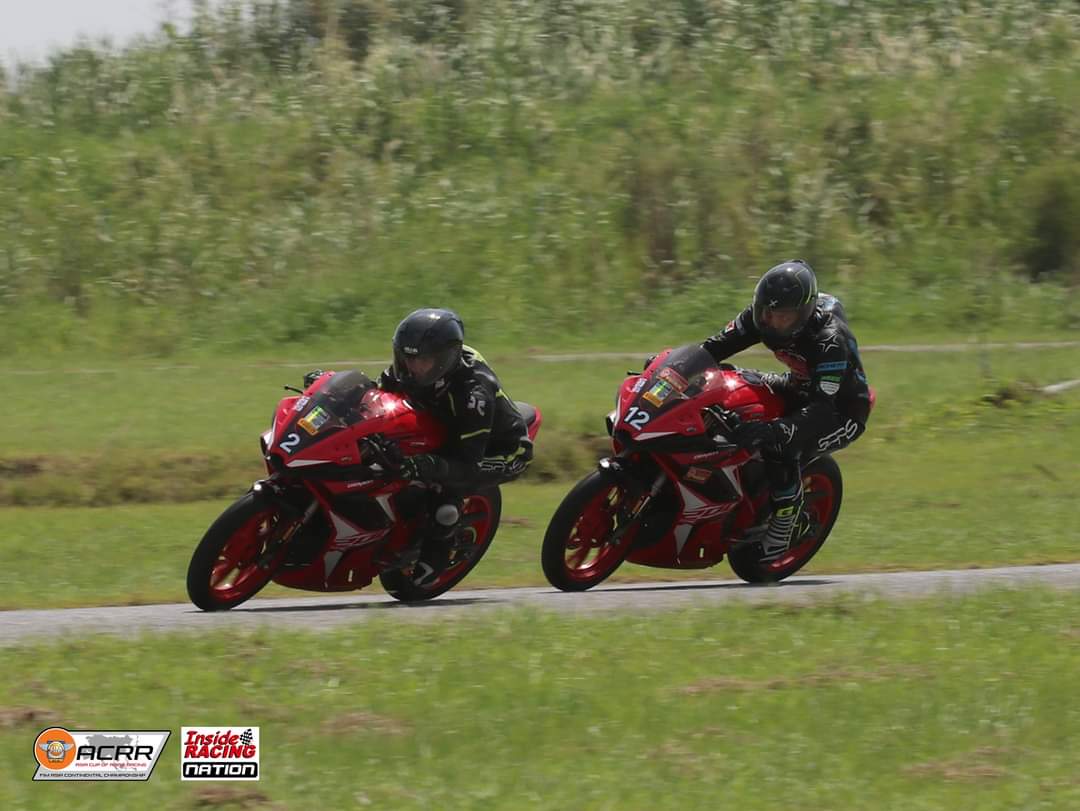 The first surprise was that the start will not be based on QTT as we expected where Philippines is in P2 and P3. Instead, race direction decided that it will be based on Race 1 finish. Altough this moves Esguerra 1 position up, this puts Espiritu way down in 12th position.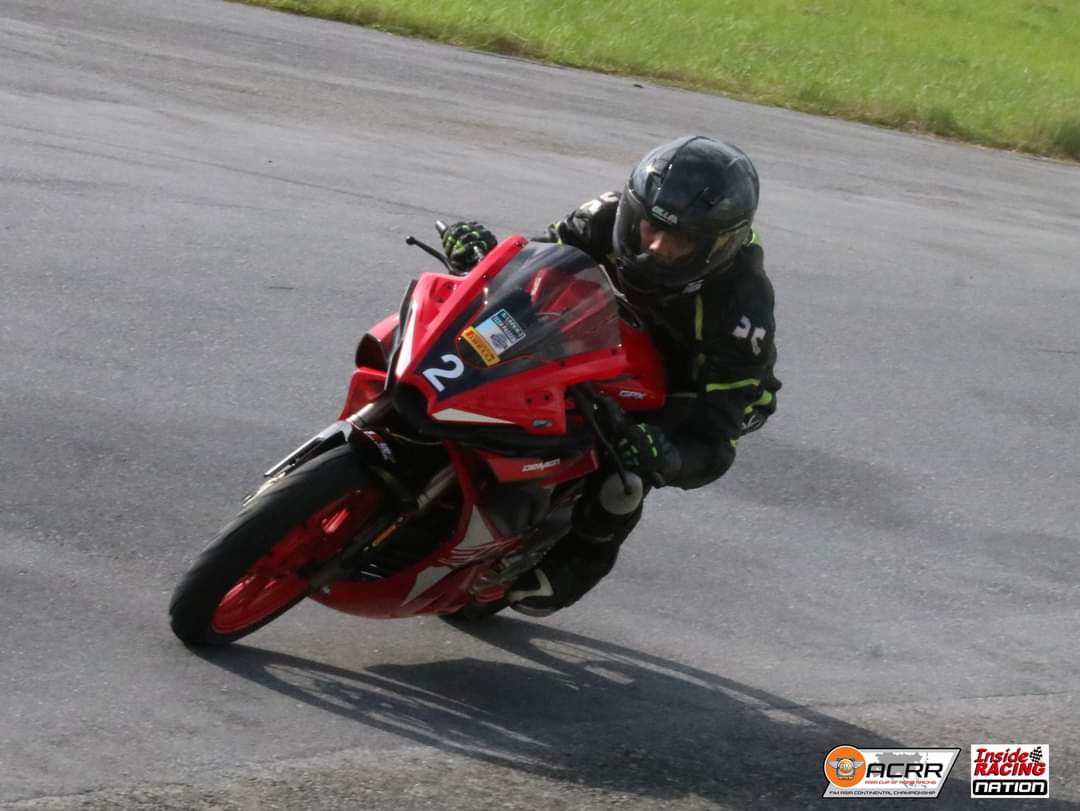 This change did not matter much for  us as Espiritu again made a great start and was able to climb his way back up to battle for 2nd with India's Kumar. Meanhwile, Thai's  Attaphalakorn who crashed in Race 1 and started Race 2 last managed to work his way up the lead. Sadly, the battle between Espiritu and Kumar will end mid race as Espiritu was seemingly forced outside the track by Kumar. Espiritu crashed and Kumar went on. Fortunately, unlike Race 1, Espiritu managed to remount and carry on.  It was at this moment that USRA's President went trackside to signal him to push very hard because every position counts. At the end, his efforts paid off as Espiritu was classified 5th at the end.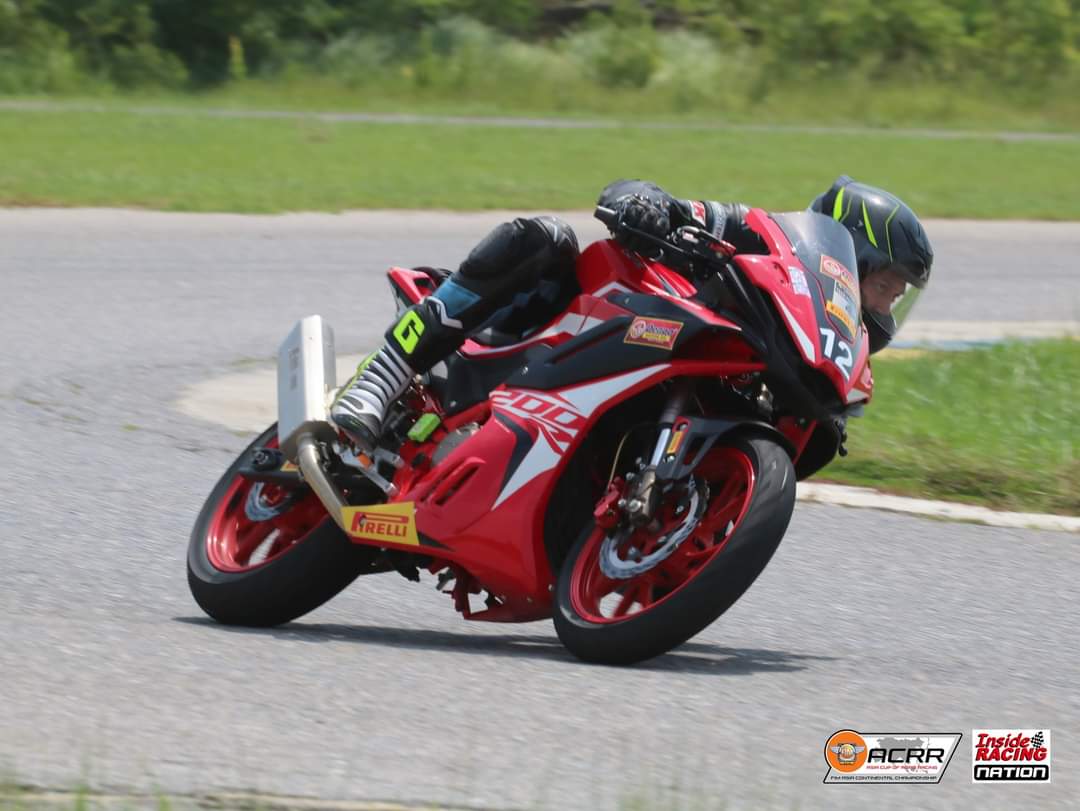 Meanwhile, Esguerra was in a battle for 5th with a Chinese Taipei rider.  Again Dustin  was also forced outside the track and crashed on lap 8. This time, it was him who was not able to continue on.
Espiritu's 5th place earned the Philippines crucial points to break a tie with Chinese Taipei for the 3rd podium place. Although not an overall victory, the ACRR podium streak for the Philippines continues.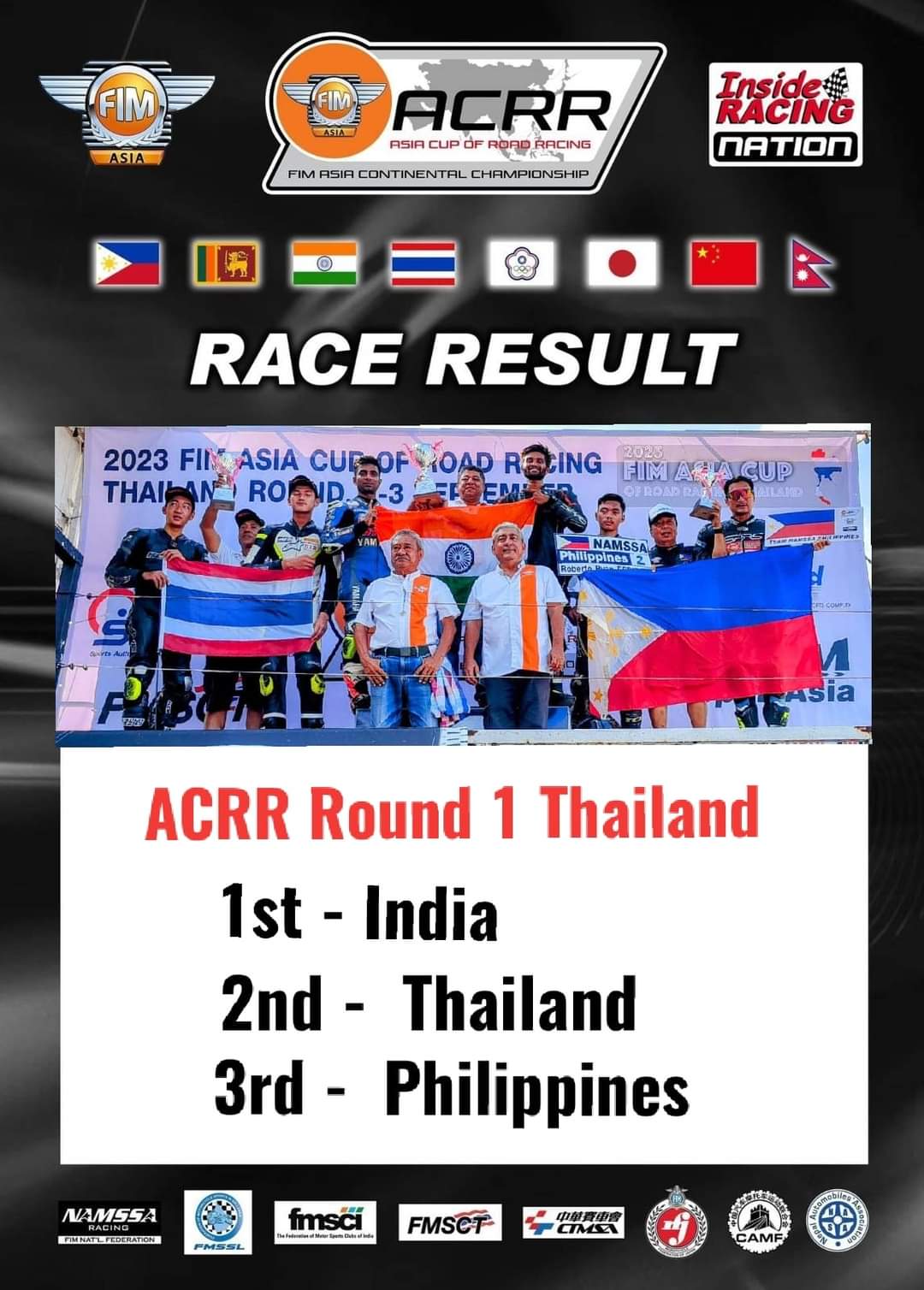 Kumar went on to finish P2 and sealed the overall victory for  India. Atthaphalakorn secured the win in Race 2 to land host Thailand in second place.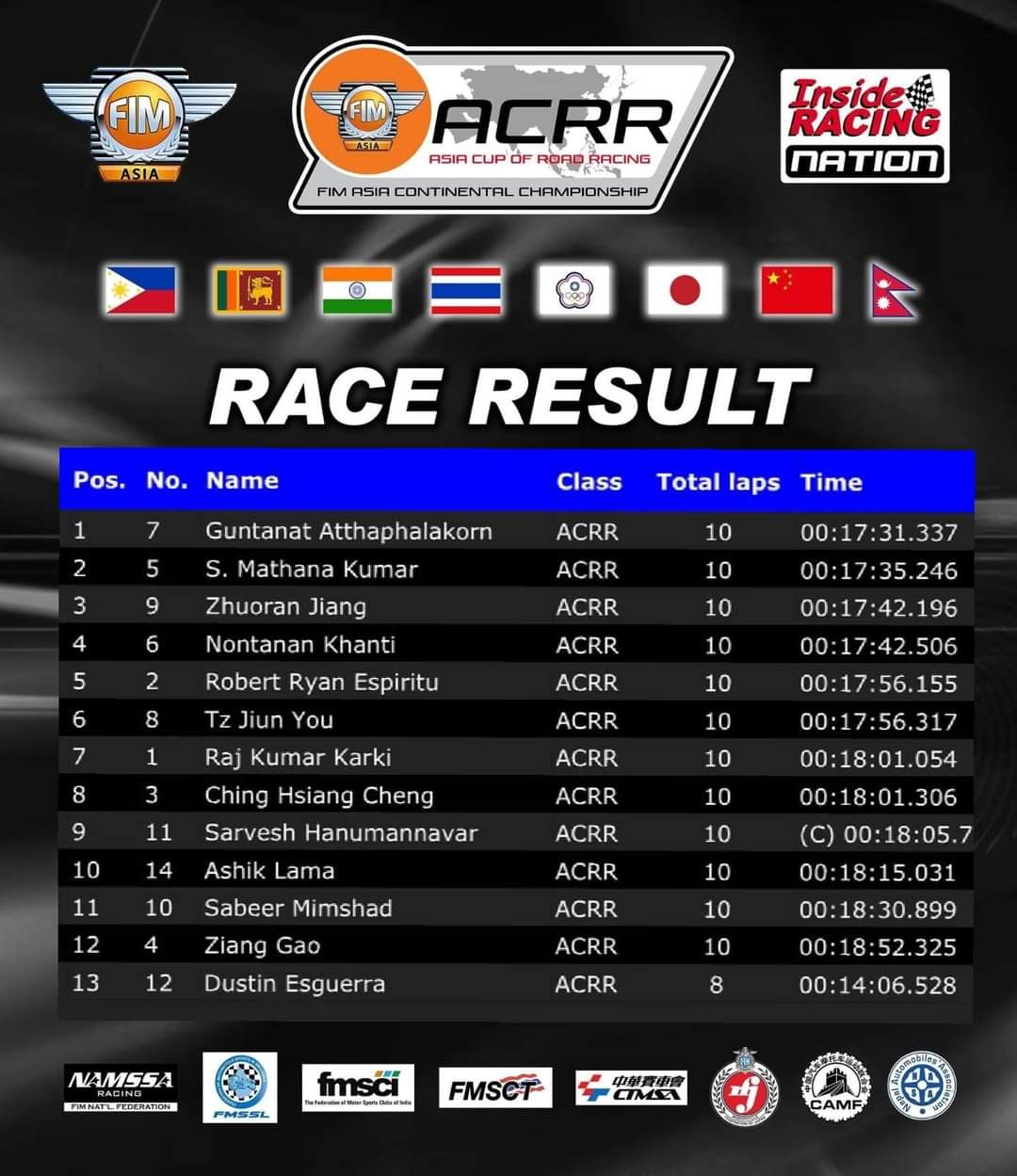 "I am delighted by Esguerra's and Espiritu's performances as Philippine representatives this weekend. Not only did they show their speed and ability to race at the front, but most of all, their sportsmanship. I am happy that these two riders who are competing and shining brightly in our Philippine Nationals Super Series and MotoIR have achieved their international racing dreams, officially flying our national colors. Congratulations to them!  We and the Filipino fans are celebrating with you. Thanks to FIM Asia, NAMSSA and USRA for making all this possible," said a grateful  Al Camba.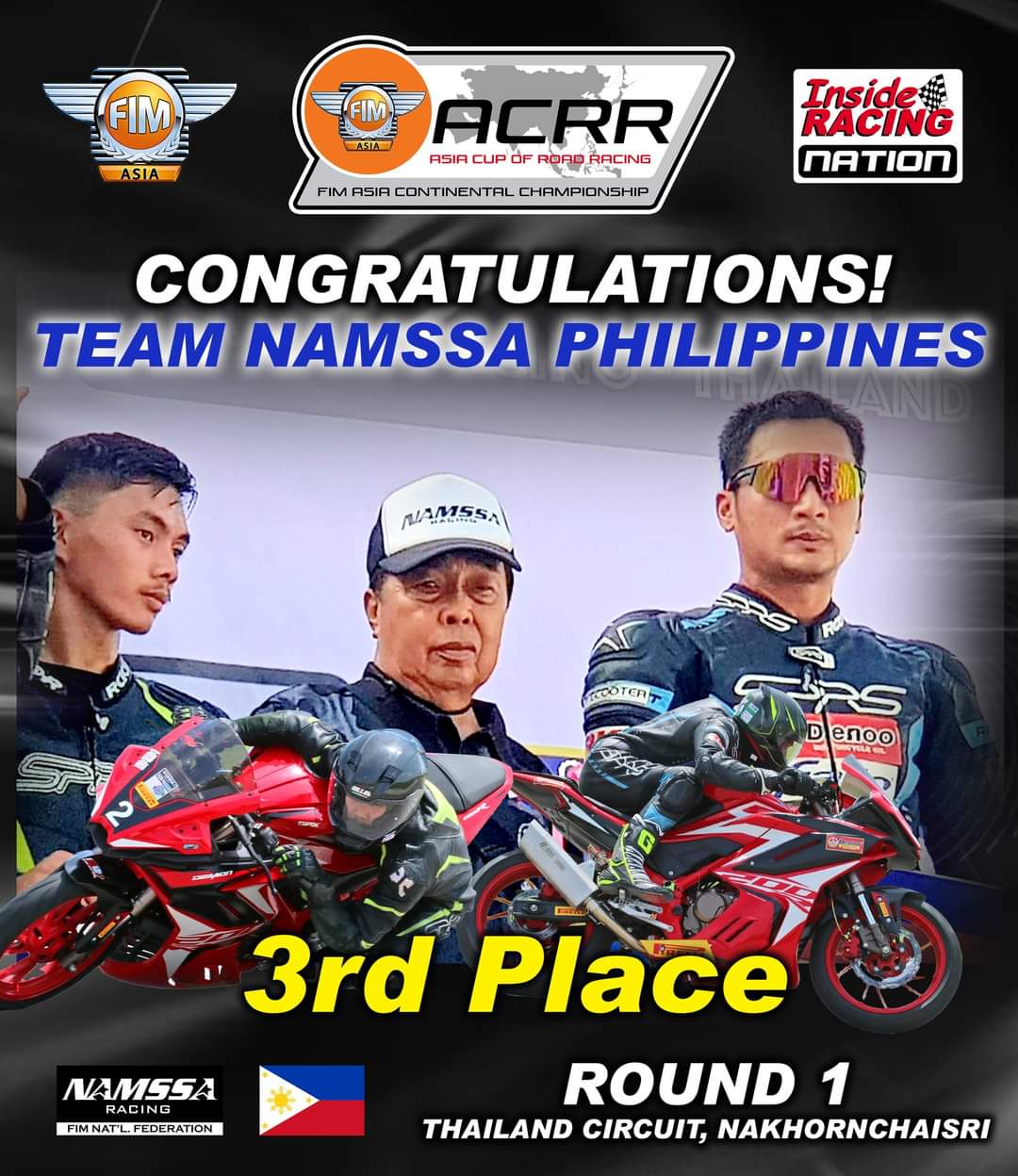 Round 2 of the ACRR will be in Chinese-Taipei on October 13-15 at the Liphao International Kart Circuit.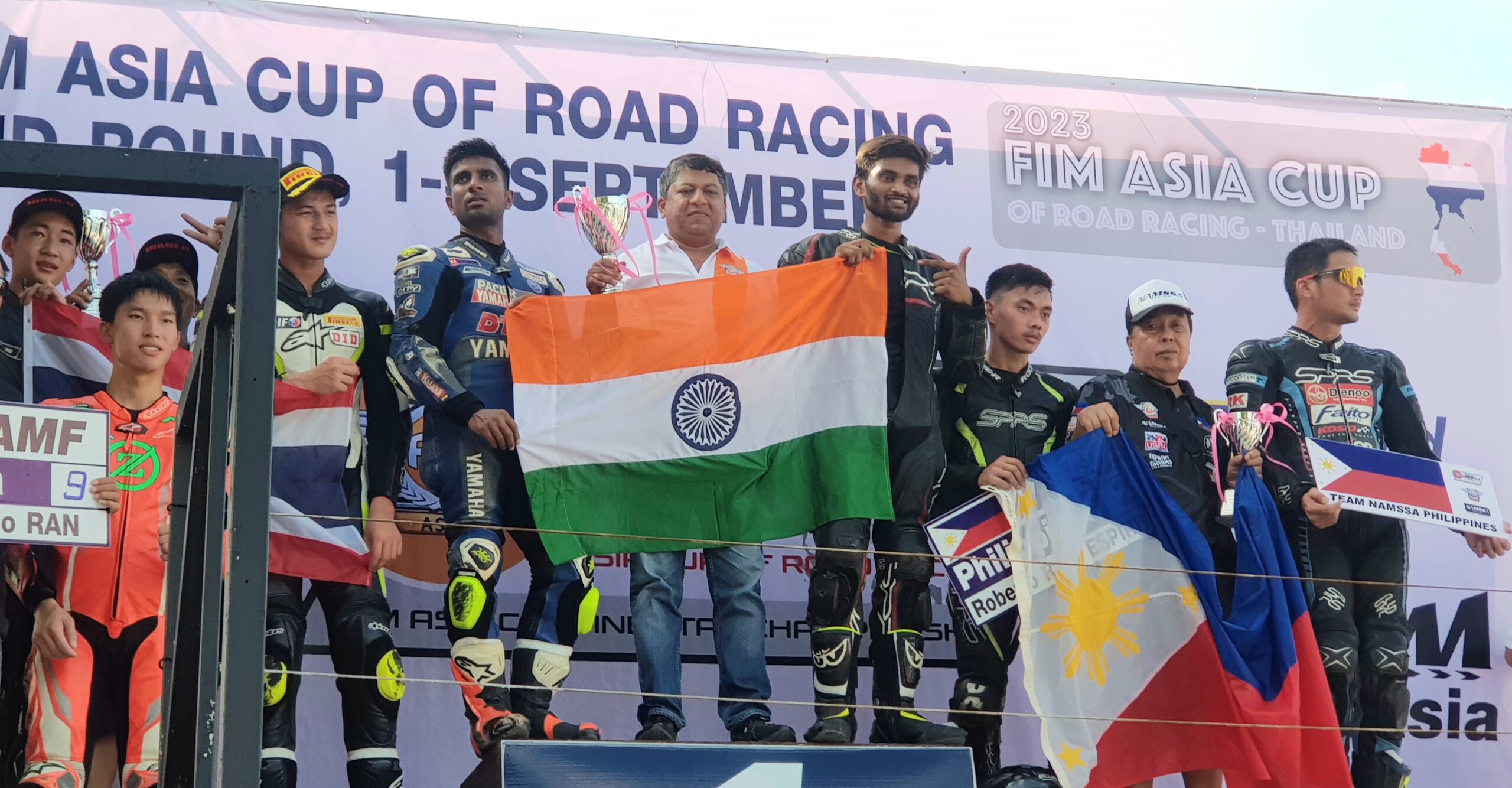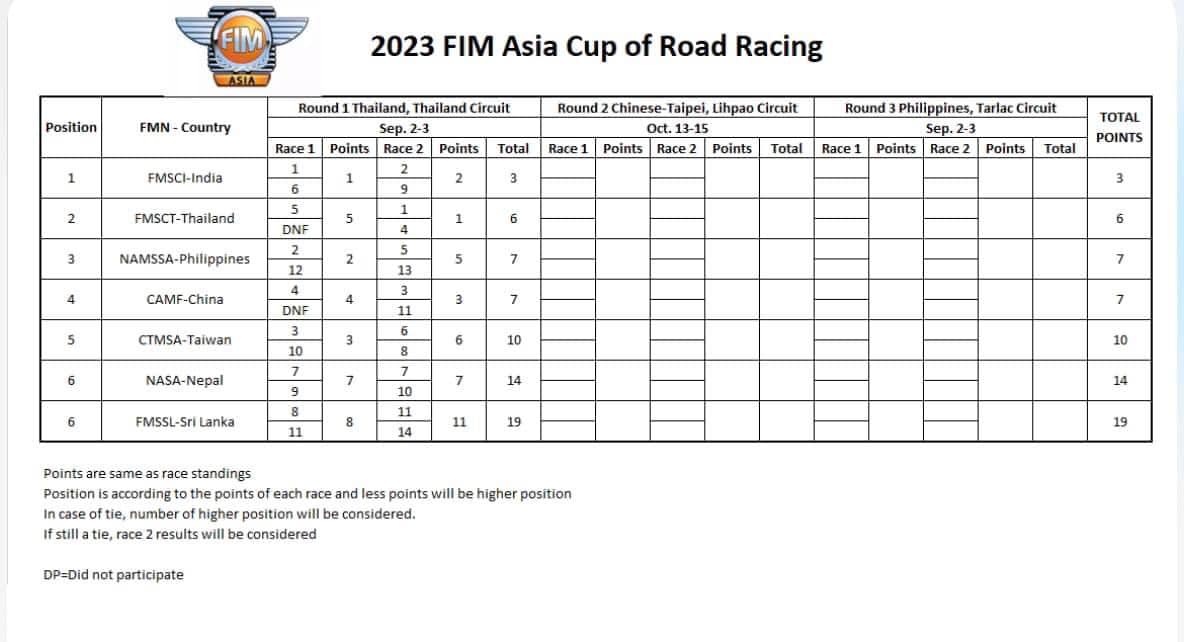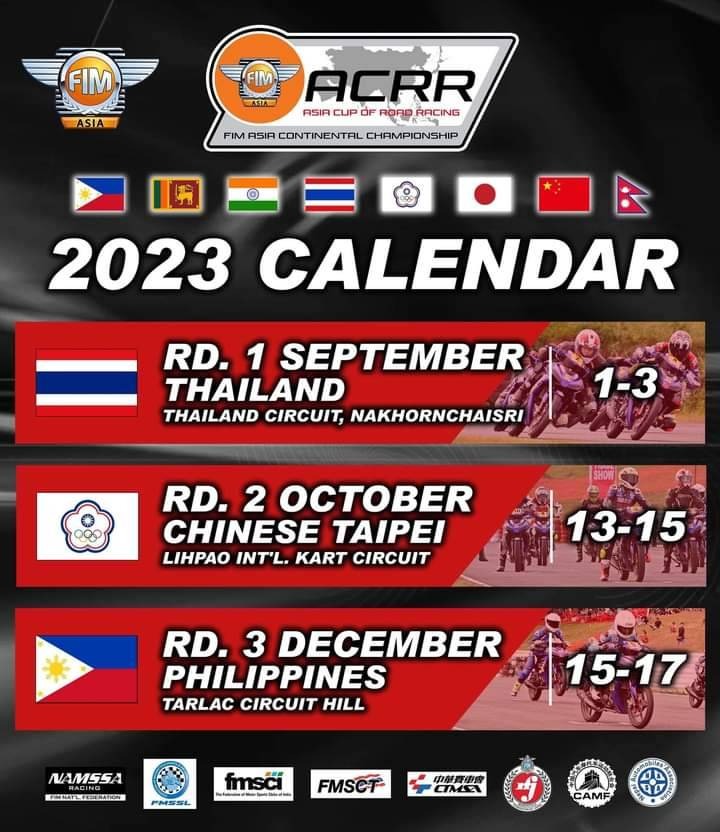 Thank you for visiting insideracing.com.ph. While you are here, kindly don't forget to click on our advertiser ads above, visit their site and consider them for your motorcycling needs. It will help us a lot.
You can also order a copy of our monthly print magazine for more riding contents to read and enjoy at your leisure anytime by clicking here.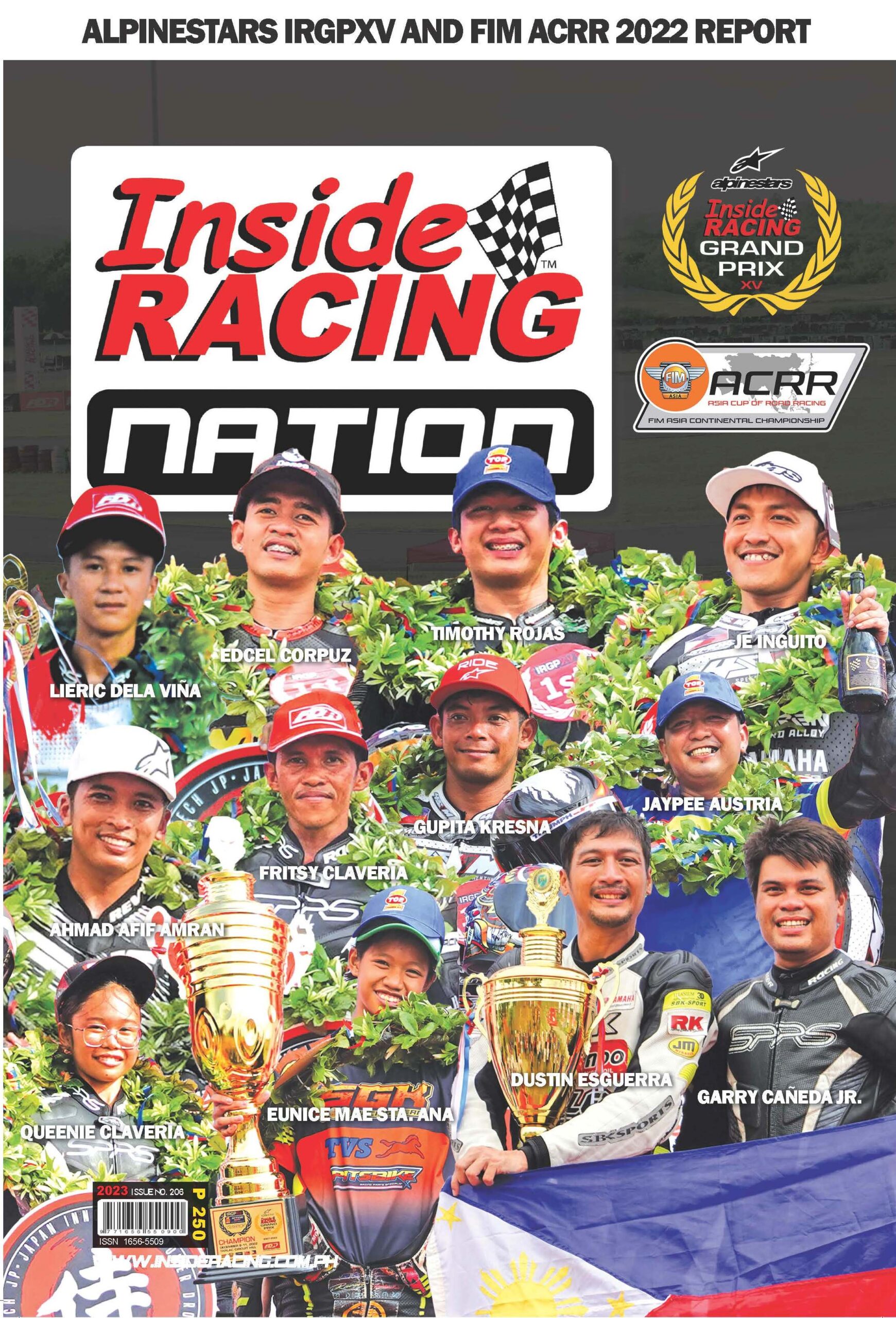 You may also express your thought below through the comment section. You may also follow us on Facebook, on Instagram @Insideracingnation or subscribe to our YouTube channel.