Philippines' Paz joins 2015 Shell Asia Talent Cup, Mendez on reserve list!
Date posted on October 29, 2014
Share this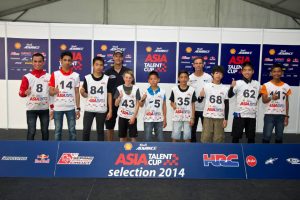 13-year old McKinley Kyle Paz from Taytay, Rizal successfully completed the selection for the 2015 Shell Advance Asia Talent Cup (ATC)  International competition after two hard days of evaluation and testing in Sepang International Kart Track under the eyes of DORNA and Shell ATC Director Alberto Puig against 170 other riders from Japan, Malaysia, Thailand, Indonesia, Singapore, China, India, Australia and New Zealand. He is one of 9 new riders who will be racing Honda NSF250R Moto3 bikes next year.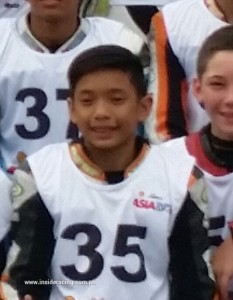 Meanwhile, another Taytay rider, 20-year old James Aldrin Mendez, was  one of seven riders that were put on the reserve riders list. He will also have a chance to part of the series next year in case one of the riders will not be able to compete. .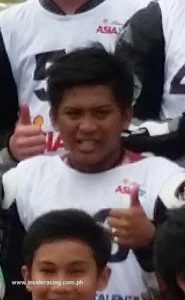 The Shell Advance Asia Talent Cup is an exciting competition that started in 2014 and acts as a feeder series to the world of motorcycle racing. The  project aims to give riders from the Asian region a formal path into competitive road racing. Led in‐part by renowned and successful talent scout Alberto Puig, responsible for such talents as Casey Stoner and Dani Pedrosa and the leader of the successful MotoGP Academy, the competition will see Asia's stars of the future participate in an eight‐race series (in 6 events) on Honda NSF250R Moto3 machines. This year our own Filipino  Ralph Kenneth Torres competed in the Cup. Run by Dorna, the organizers of the MotoGP™ World Championship and the eni FIM Superbike World Championship, as well as co‐organizer of the Red Bull MotoGP Rookies Cup, the competition will provide a spotlight for the most talented young riders in Asia.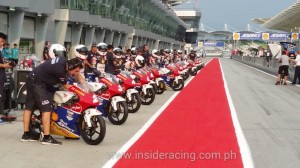 Selected riders to join the 2015 Shell Advance Asia Talent Cup
13  GERY SALIM        INA  17 y.o
14  ANDI FARID IZDIHAR     INA 17 y.o
35  MCKINLEY KYLE PAZ       PHI 13  y.o
43  LACHLAN CRAIG TAYLOR      AUS 13  y.o
62  MASAKI KAZUKI          JPN 14  y.o
68  AI OGURA                         JPN 13  y.o
75  RYUSEI YAMANAKA         JPN 12  y.o
84  SITTIPON SRIMOONTREE            THA 14  y.o
117  AZROY HAKEEM ANUAR             MAL 14  y.o
Reserve riders for the 2015 Shell Advance Asia Talent Cup
8 BANGGA DEWANTARA SUNARYA       INA 16 y.o.
25 PENGYUAN CHEN                CHN 17 y.o.
33 JAMES ALDRIN MENDEZ           PHI 20 y.o.
59 TOM STEWART EDWARDS      AUS 13 20 y.o.
65 KITE FUSE                 JPN 15 20 y.o.
73 KATSUTO SANO         JPN 16 20 y.o.
78 REI TOSHIMA            JPN 15 20 y.o.