Phoenix Premium 98 Title Sponsor and Official Fuel of IRGPXI
Date posted on November 10, 2017
Share this
Phoenix Premium 98, a high quality product of Phoenix Petroleum, is the event title sponsor and official fuel of the 11th annual InsideRACING Grand Prix (IRGPXI) held on November 17-19, 2017 at the Carmona Race Track in Cavite.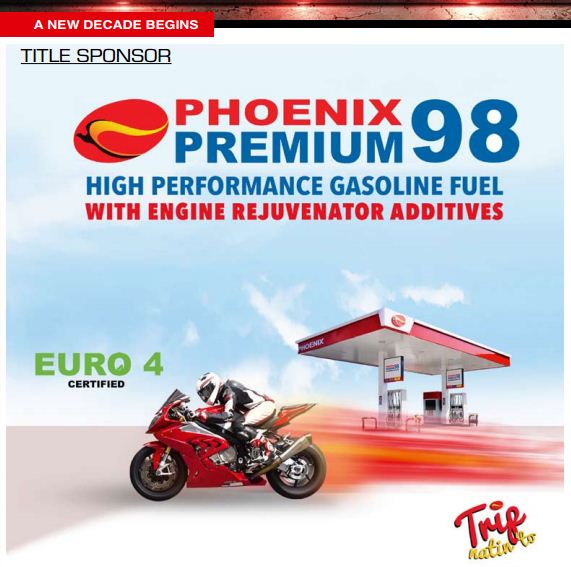 Phoenix Premium 98 is a Euro-4 high-performance gasoline fuel which restores lost engine performance and makes your car feel reborn. It is blended with high performance additives for increased acceleration, reduced friction, and engine cleansing. It removes deposits left by other gasoline and prevents further deposit buildup. This leads to the elimination of engine problems like stalling, hesitation and rough idling – resulting in a more improved overall engine performance.
Phoenix Premium 98 is recommended for gasoline-powered vehicles of any age, make or model. With a higher octane rating, it exceeds the standard, for the same price as a Premium 97 gasoline.
The InsideRACING grand Prix is the longest, biggest, and much-awaited motorcycle race in the country. Organized by InsideRACING, it is participated every year by both local and international racers.
For years, Phoenix Petroleum has been supporting the annual event and has been the sponsor of the Underbone Trophy class for years now. Phoenix Premium 98 was also the title of the 10th InsideRACING Grand Prix (IRGPX) last year. Phoenix also has a powerhouse racing team composed of young yet talented and skilled riders McKinley Kyle Paz, Niel Jan Centeno, Vrei-ar Suba and lady rider Justinne Bethany Tolentino. This IRGPXI, John Paul Suba will also race for the Phoenix-Yamaha-KOSO-Faito racing team.
Phoenix Petroleum is the leading and fastest growing oil company today with an expanding network of operations nationwide. It has almost 500 retail stations nationwide and supplies fuel to commercial and industrial companies in industries such as agriculture, power, construction, transportation, and mining. It offers a wide range of petroleum products, lubricants, and other car care specialties.