PNP activates motorcycle marshals vs. riding-in-tandem criminals
Date posted on February 5, 2021
Share this
From the Philippine News Agency:
The Philippine National Police (PNP) will deploy "tactical motorcycle riding units" (TMRUs) and secret marshals aboard motorcycles to eliminate criminals using these vehicles in their illegal activities.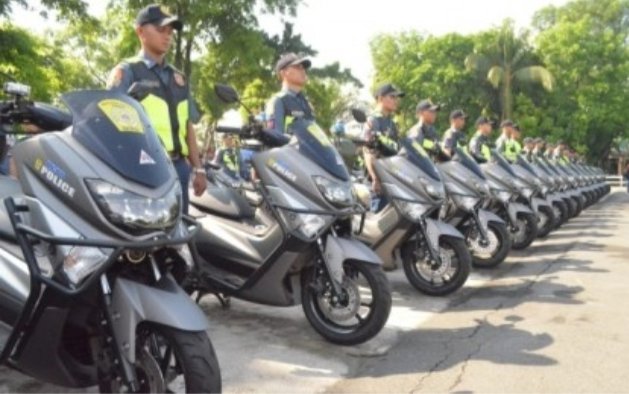 In a statement Thursday night, PNP chief, Gen. Debold Sinas said this is part of the PNP's "enhanced managing police operations (EMPO)" concept of policing.
Sinas said the TRMUs and secret marshals aboard motorcycles are seen as an effective tool in ensuring the safety and security of the public and to prevent motorcycle-riding suspects from consummating their criminal intentions.
"While the use of motorcycles in the Philippines is a popular mode of transportation, motorcycles are also utilized by criminals to easily flee from a crime scene as it provides increased maneuverability to navigate to narrow and crowded alleys, sidewalks, busy streets, and even major thoroughfares," he added.
TMRUs and secret marshals in motorcycles will focus on high priority crimes and would undertake directed and preventive patrol assignments.
PNP records showed that between August 16, 2019, to March 16, 2020, there were 1,828 crime incidents perpetrated by motorcycle-riding suspects.
Citing crime data, Sinas said, "although the number has dropped to only 756 incidents from March 17 to October 16, 2020, the decrease is temporary due to the enforcement of travel restrictions and limited mobility and community quarantine measures."
"When the monthly trend of incidents was reviewed during the pandemic period, the data revealed that there was an upward trend of incidents from 50 in April 2020 to 143 in September 2020," he said.
As quarantine measures were eased to reopen the economy, the PNP anticipates that there would be increased opportunities for would-be offenders to commit street crimes including those who use motorcycles, hence the need for proactive and tactically-skilled enforcement units.
TMRUs are strategically trained motorcycle-mounted patrollers who can immediately respond to any incident perpetrated by motorcycle-riding suspects while secret marshals in motorcycles are dedicated covert operatives who are involved in the actual monitoring of motorcycle-riding suspects in the validated list.
They shall also work hand in hand with the PNP Integrity Monitoring and Enforcement Group (IMEG) operatives in tracking down identified rogue policemen and other law enforcement personnel.
Source (PNA)