POSITIVE TEST FOR SUZUKI AT SEPANG
Date posted on April 10, 2015
Share this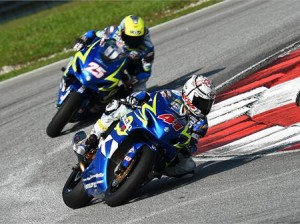 Suzuki Press Release

Team KAGAYAMA SUZUKI Asia has completed a successful three-day test at Sepang International Circuit in Malaysia in preparation for the upcoming FIM Asia Road Racing Championship (ARRC). 

Team KAGAYAMA SUZUKI Asia has been formed to race in the ARRC with Yukio Kagayama spearheading the team as General Manager and riders Noriyuki Haga and young 21-year-old Indonesian team newcomer Rafid Topan Sucipto aboard the #41 and #25 GSX-R600s. 

The team collected a great amount of valuable data over the eight sessions and also was able to test two types of Dunlop tyres in preparation for opening round of the FIM Asia Road Race Championship at the same venue on April 17-19th.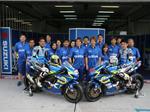 Noriyuki Haga: 

"Overall, it was a positive and worthwhile test. The trouble we had when shaking the machine down at Suzuka have now been mostly solved and we have definitely made a step forward. However, considering that the races will be held over 25 laps, we need to improve our average lap-times, but I hope we can solve the problems, while keeping the good parts, and be prepared for the race. There are only six races in the Championship, so we cannot drop any of them and I am going to be trying to race at the front from the first race." 

Rafid Topan Sucipto: 

"It's a like a dream come true that I am racing with Haga as my team-mate and I am happy that the team has chosen me as their rider. I was able to follow Haga on the track and I learned a lot from him, being able to run together with him so closely. I got to learn from his braking and acceleration points and I learned that there were many things that I was missing. Although the season opener in Malaysia is far away from home, my fans and friends are coming to Sepang to cheer for me, so I hope I can show them good results." 

Yukio Kagayama – General Manager: 

"This was the team's first test and it was a brand new package for the staff and the machine. Although we had one minor incident where Topan crashed, we managed to clear all of our planned testing agenda, and we were able to finish the preparation for the race. Riders, as well as the team have a lot of things left to do, but we were able to confirm the potential of the team. We were also able to confirm what is needed, so I hope that the team continues to work closely and smoothly together, and concentrate on improving and developing the GSX-R600s performance. We were able to form this team, in conjunction with the SUZUKI ASIAN CHALLENGE (SAC), with the help of the sponsors and the personnel involved. I hope that this 600 team will record good results, so that the SAC riders can aim for this team as their first target on their road to the world championships. I plan to do whatever I can to achieve that target."