PSBK Rd. 4: RESUELLO WINS RED-FLAGGED RACE
Date posted on August 18, 2015
Share this
The Pirelli Philippine Superbike Championships sanctioned by the Superbike Racing Association (SBRA) had another race under wet conditions for its fourth round last August 9 at the Clark International Speedway.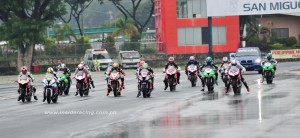 Fifteen superbikers contested in the race and it was Raniel Resuello of Ducati Philippines-Bacchus who emerged as the winner after the race was red-flagged or stopped due to the wet condition of the track and an oil spill after the crash of BMW Motorrad-HGM rider Marvin Mangulabnan who got the pole position of the race. Before the red flag, it was another spectacle of riding skills by the three top superbikers in the country today – defending PSBK champion Dashi Watanabe of Motorad-WRD-Kawasaki, Resuello and Mangulabnan.



Resuello was declared as the winner of the Expert class with Watanabe placing second and Anthony Roman of Granstar-KTM placing third.
TJ Alberto of Ducati Philippines-Bacchus took double wins again, clinching the Intermediate and Novice classes.

Raymond Robertson of Titans Racing topped the Master class. Toti Alberto was second this time and Joey Storm Rivero of Motorad-WRD-Kawasaki took the third place.
As stated on the rulebook, 50% points was given to all finishers. Resuello reigns in the Rider of the Year Standings and Expert class with 79.5 points after four rounds. It was a close fight in the Expert standings as Watanabe has 77 and Mangulabnan got 71 points.
TJ Alberto leads the Intermediate class with 62.5points while Masato Fernando despite finishing second in the fourth leg is still on top of the Novice class with 72 points. Toti Alberto who likewise placed second in the Master category has 80 points  and is currently ranked first in the said class.
The fifth leg of the PSBK is on September 6 at the Batangas Racing Circuit.