Quartararo Takes Gutsy Third Place in Tricky French GP
Date posted on May 17, 2021
Share this
Monster Energy Yamaha MotoGP's Fabio Quartararo celebrated  third place as a win, having overcome his wet conditions Achilles heel and returning to the podium a week after his surgery for Chronic Exertional Compartment Syndrome (CECS or 'arm pump'). Maverick Viñales showed incredible pace early on, leading the race. However, sudden rain spoiled his plans. He wrapped up the French GP in tenth place.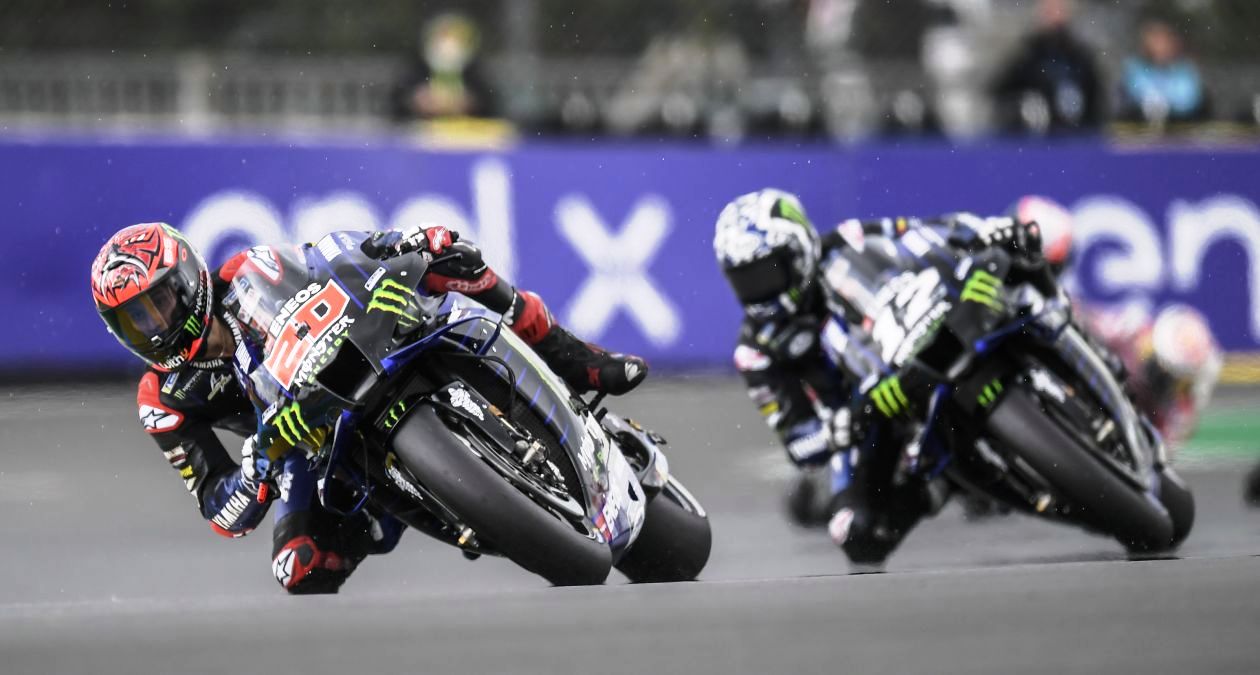 As the Factory Yamaha riders lined up on the first row of the starting grid for the Grand Prix de France, dark clouds were looming above the Le Mans Bugatti Grand Prix race circuit. It was an ominous sign that predicted a difficult and at times even dangerous race.

Quartararo started his first flag-to-flag race from pole and slotted into third place after the opening corners. That wasn't enough for the home hero, however. He took on his teammate and Jack Miller, and was soon in the lead, but then drama struck. Rain started pouring down, and with 22 laps to go, the Frenchman was leading the way into pit lane for a bike swap, to return to the track in third position.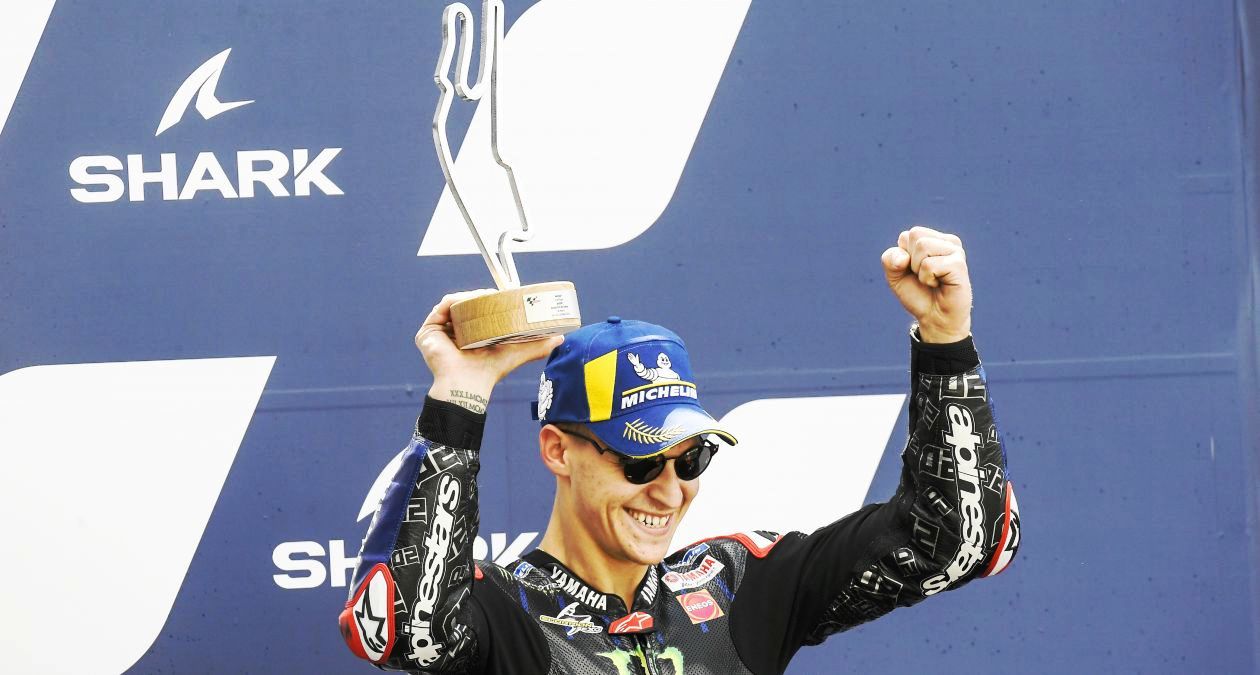 With the two riders in front of him crashing out and with 20 laps to go, El Diablo was in the lead again, but not for long. Four laps later he had to let Miller through and was handed a long-lap penalty for a wrong bike swap because he didn't pull into the garage at the correct spot. He executed the penalty smoothly and remained in second place. It looked like it would be a lonely ride for the Yamaha man, but with a dry line forming in the latter stages of the race, his soft front rain tyre started to drop. With six laps remaining, he also had to let Johann Zarco pass, but he was still happy to take a third place podium, 14.468s from first, in very tricky conditions.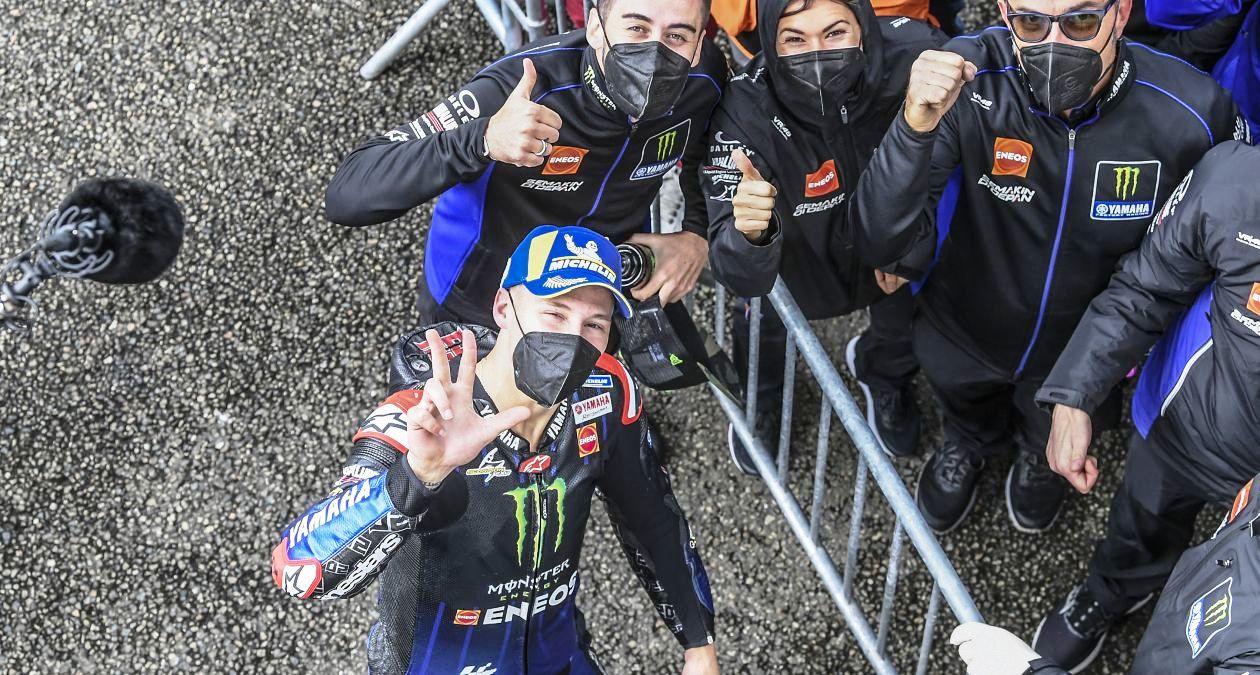 Viñales had a good start from second place, keeping his position in the first corners, and got himself in the mix for the lead with Quartararo and Miller. He led the race early on but had to ease off after a few laps when rain started to fall. He went wide and dropped back to fifth, but safely negotiated his way back to the pits and rejoined the race on his 'wet bike' in ninth place.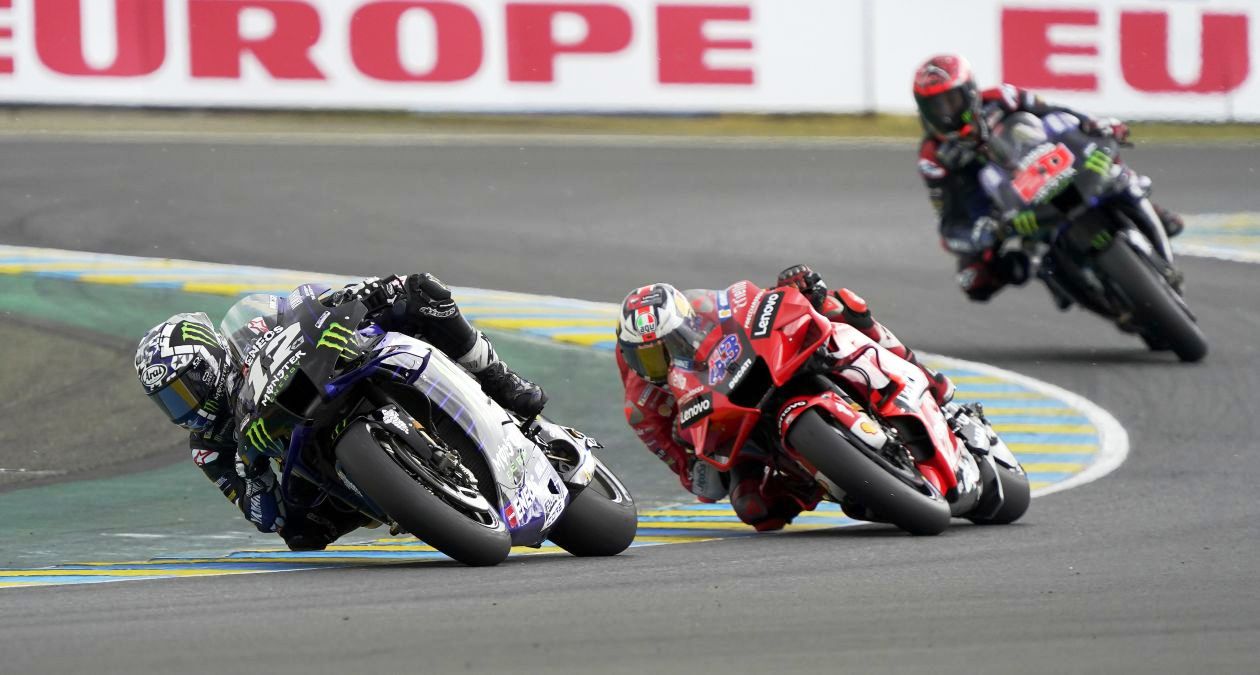 The Spaniard struggled to find the same feeling in the wet, and matters weren't helped when a dry line started to form, overheating his soft-soft rain tires. Still, the number-12 rider kept pushing for a top-10 finish. He remained in ninth place for most of the race but crossed the line in tenth, 40.577s from the race leader.


Thanks to these results, Quartararo regains the lead in the championship standings with an 80 points total and a 1-point lead over the rider in second place. Viñales is now in fifth, with a 56 points total, Yamaha is second in the Constructor championship with a 107 points total, and the Monster Energy Yamaha MotoGP team is also second with 136 points.
Massimo Meregalli (Team Director): "Like predicted, we were completely at the mercy of the weather, and in the end we had almost every condition imaginable. I think Fabio did a really good job adapting from dry to wet to mixed conditions, especially taking into consideration how we started this weekend in the wet and that he had never done a flag-to-flag race before. He has made great progress in changeable conditions these last few days, and to do it only a week after his surgery is all the more impressive. It's such a shame it rained, though, also for Maverick. He had a good start, and his pace on the first laps was actually really remarkable. It's a pity he lost his concentration when it started to rain and he went wide. It also didn't help that the soft-soft rain tires put him at a disadvantage when suddenly a dry line started to form with about ten more laps to go. All in all, it's been a very tricky weekend for everyone, and this race was a bit of a lottery. But what we got out of this GP is that our pace in the dry is very strong, so this gives us some extra motivation for Mugello, which can be quite a tough track."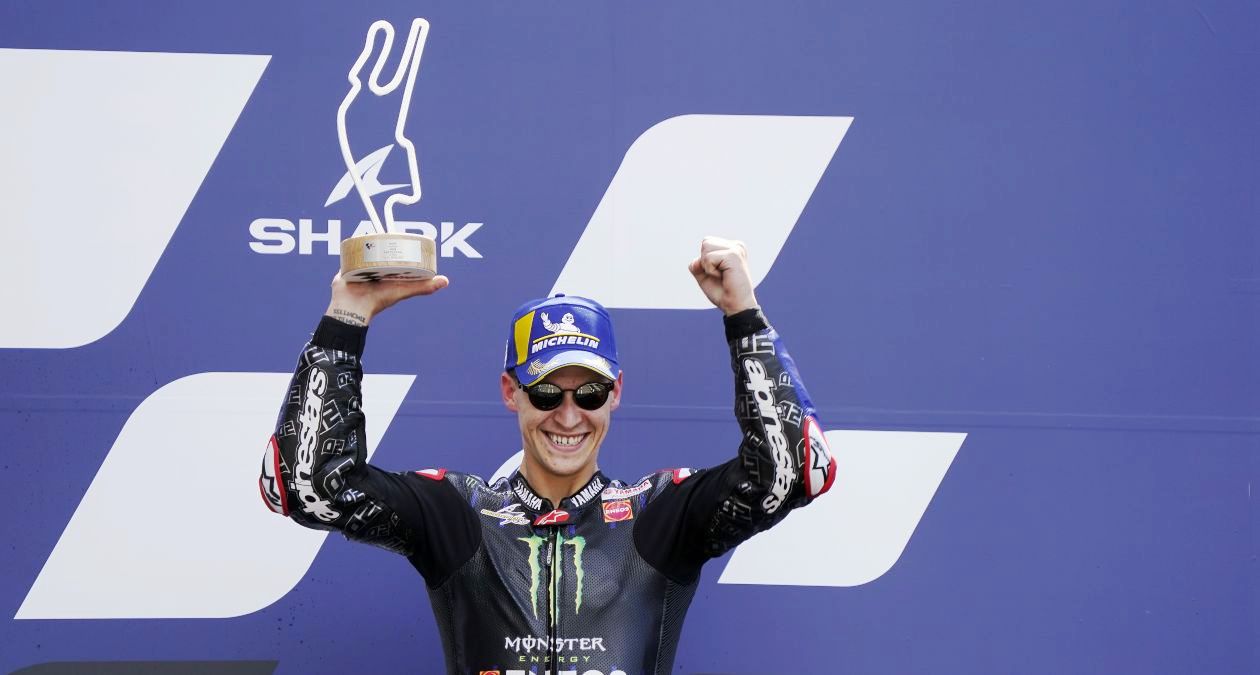 Fabio Quartararo: "This was the strangest race of my life. I had never done a flag-to-flag race before. We were so fast on slicks before it started to rain. I saw that Maverick and Jack were a little bit careful in the first corners and I said, 'Okay, I want to go for it'. But then I got to Turn 9 where it was raining a lot, and without braking the bike was going right-left-right-left. I thought, 'If I manage to arrive at the box like this, that in itself would be great'. I did arrive there at the perfect time, but then I almost wanted to go into Bastianini's box before pulling into my own box. Then I almost took Maverick's bike, it was a mess! But to take a podium in these circumstances is amazing. I never expected it in these mixed conditions. I don't really care about the lead in the championship, because there are 14 more races to go, but it's still good because it means we are doing a great job. Looking at the conditions we had, I was scared to lose positions, but we gained one. In the next few races we need to focus and take it step by step."

Maverick Viñales: "It was very clear that, if we had dry conditions, I would have had the opportunity to win the race. I started well from second place and took the lead. I felt incredible on the bike. I hadn't had that feeling since the Qatar GP, and I understood very well in that moment that I could win the race. But then after two laps it started to rain, and I just lost my concentration because I was so disappointed. I made a mistake and went wide, and I lost too much time. I was very slow for two laps and I couldn't do anything. But looking at the positives, it was very important for me to start well here. It's been a while since I did a good start and took the lead on the first lap. We know we have good potential for Mugello."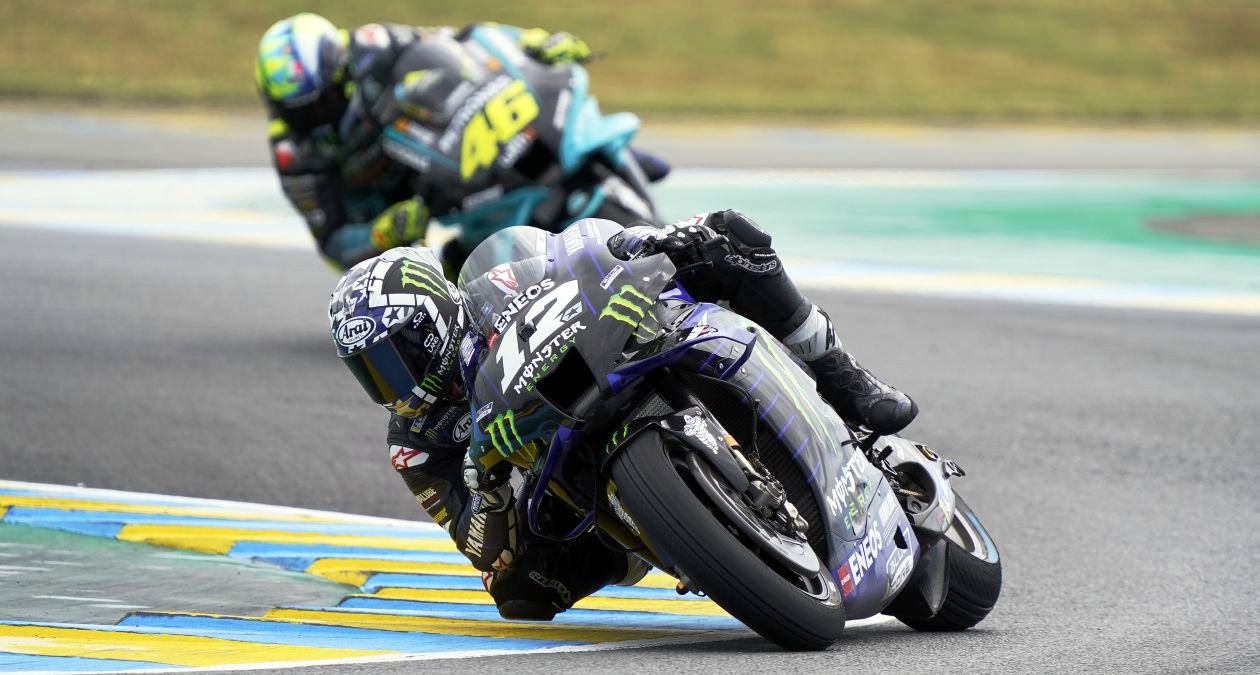 credit: yamahamotogp.com
Thank you for visiting insideracing.com.ph. While you are here, kindly don't forget to click on our advertisers, visit their site and consider them for your motorcycling needs. It will help us a lot.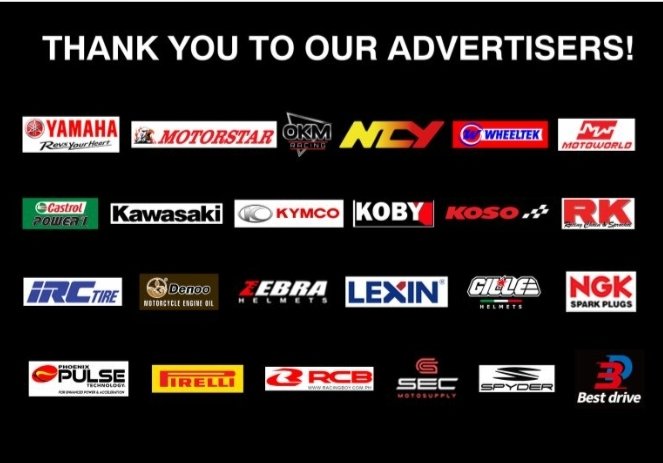 You can also order a copy of our monthly print magazine for more riding contents to read and enjoy at your leisure anytime by clicking here.
You may also express your thought below through the comment section. You may also follow us on Facebook, on Instagram @Insideracingnation or subscribe to our YouTube channel.