R15 DJ JT Roc Edition
Date posted on January 5, 2019
Share this
A former dirt bike racer, Joey Talavera aka DJ JT Roc grew up in San Francisco Bay Area racing BMX and then eventually dirt bikes.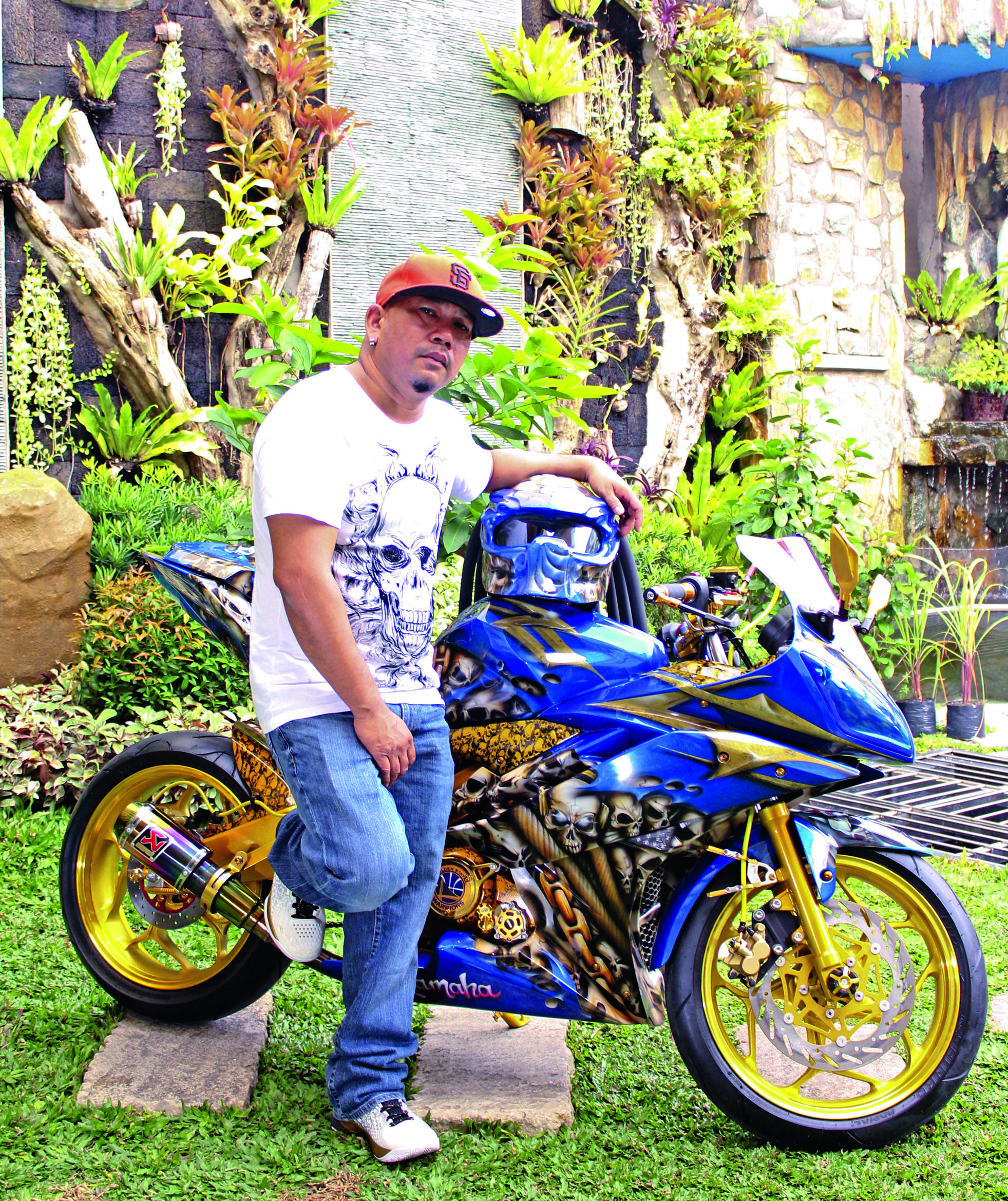 He visited the Philippines in 2011 for a vacation and guested as a DJ at high-end clubs and that was when his whole life changed. He was introduced to his wife Cristina whom he met through a cousin and he decided to stay in the country for 10 months out of the year. Due to all the traffic and seeing it was easy to get around with a scooter, he bought a Mio to use to go to the store.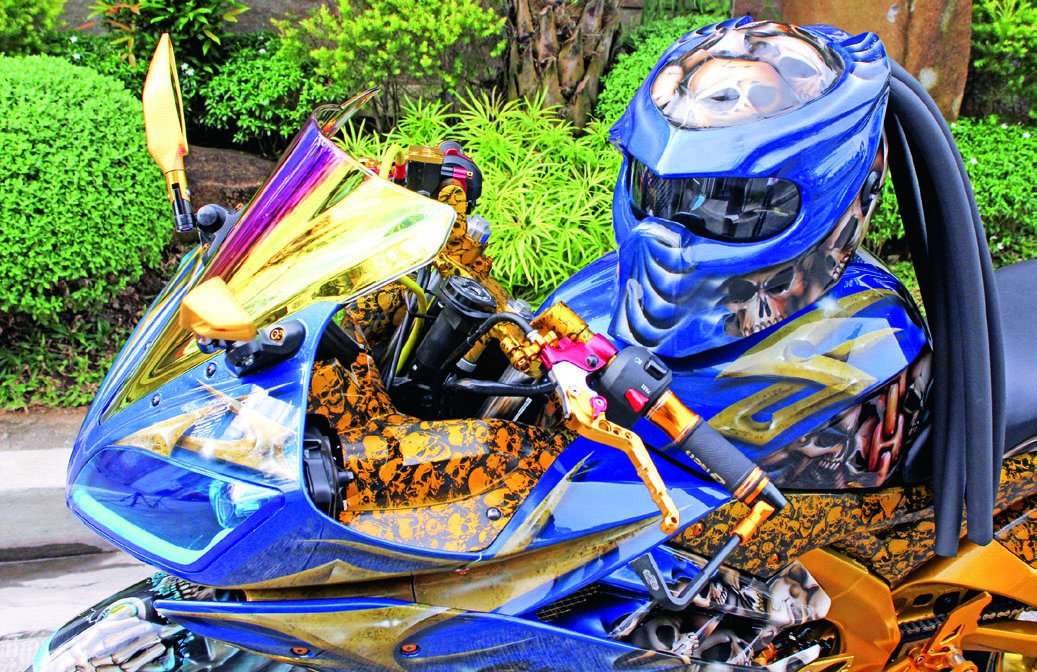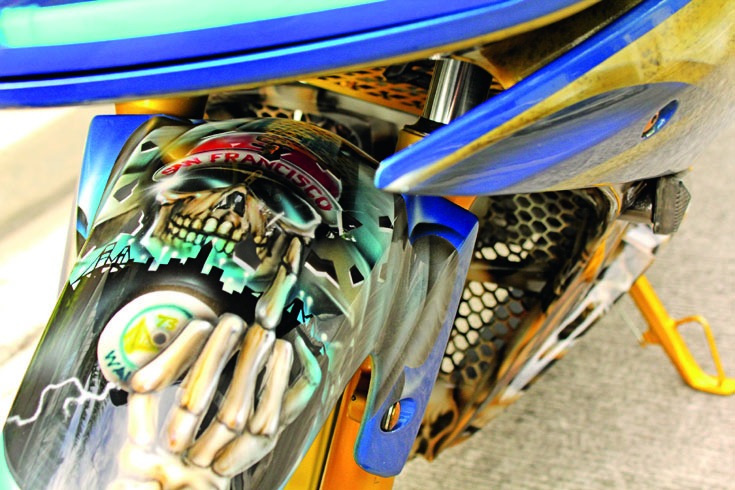 The passion for having a sportbike came back to him and he wanted one. Joey looked at a few bikes like the Ninja, CBR, KTM RC, and even the Motorstar and Rusi . Then one day his wife's friend Wafs owned a Yamaha R15 and told them that in March 2015, Yamaha Motor Philippines will release the bike so he put a deposit and was #8 on the waiting list at YZone. He entered into the 2016 InsideRacing Bike Festival and Trade Show and took 3rd in his division. He entered a total of 5 shows and won over 20 trophies but for him it wasn't enough. He wanted his R15 to be truly one of the best in the Philippines and that's when he started on investing in aftermarket parts and accessories. He then painted it and did the hydrographic himself and it looked very nice being custom-painted. But then he wanted the bike to look more extreme and to be more about him. In the States, airbrushing is very common on motorcycles. Joey shared to us in detail the different intricate designs painted on his bike, "So I found a person named Rommel Monster airbrush Sudario from CDO who was highly recommended and was also featured in IR magazine for his work. But I didn't want any ordinary concept. I wanted the bike to be more about me, so me and Rommel got creative. It's blue and candy yellow because of my love for my home team Golden State Warriors.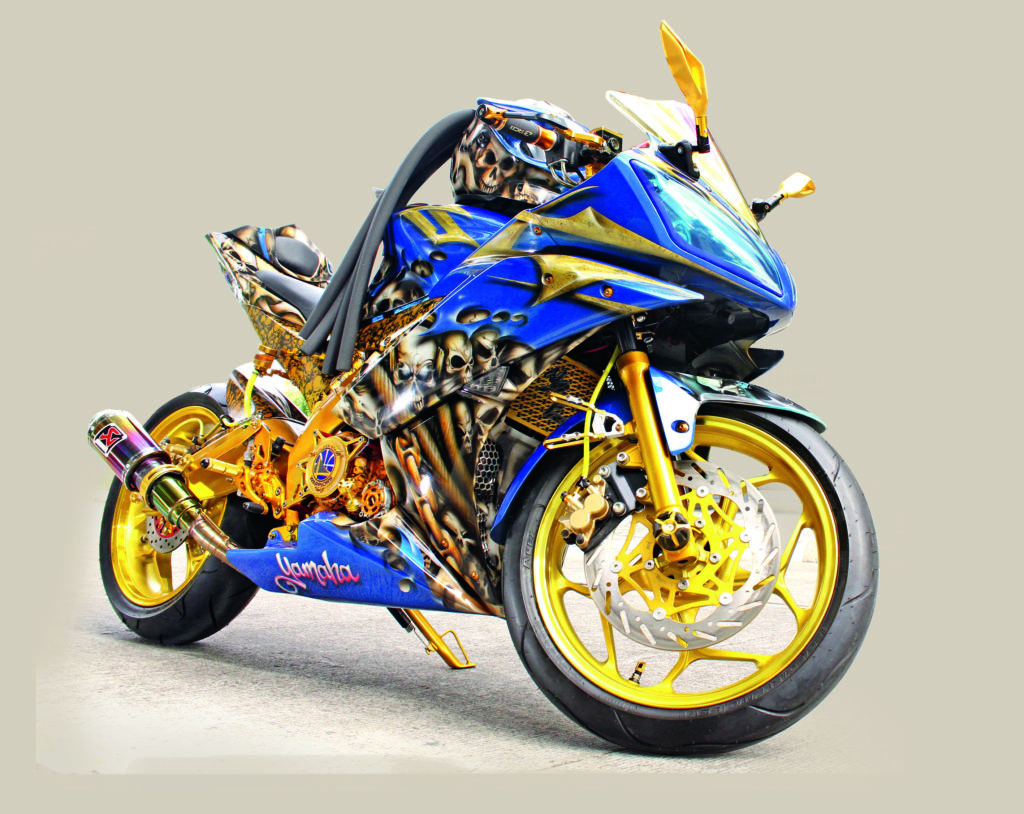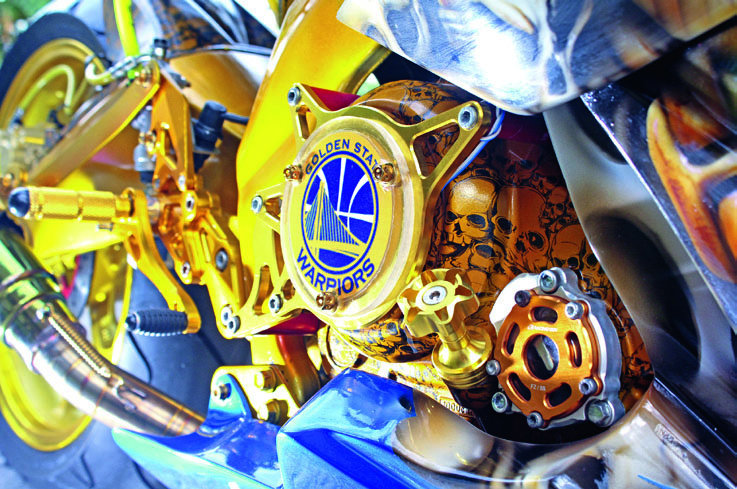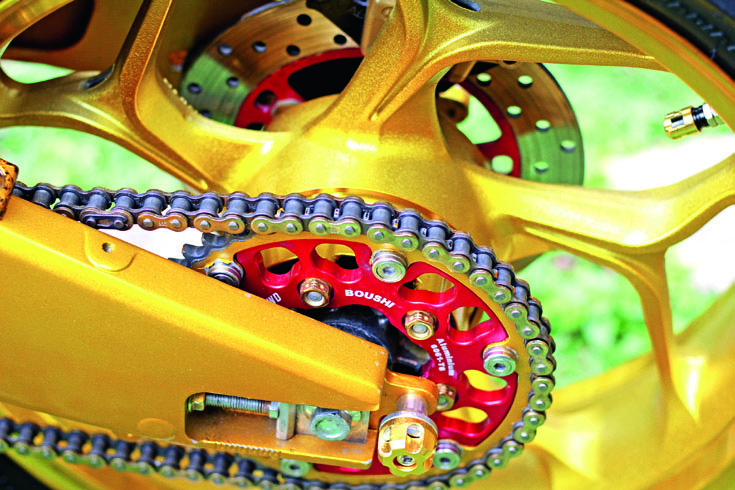 The front fender is actually a picture of me but as a skull figure. The broken record with the SF bay area is from a T-shirt my daughter gave me because she knows I love to DJ. The letters of my name on the seat cowl and the gold details on the front mask and tank are blade shapes because I'm a game fowl breeder and known in sabong. The beetle on the gas tank is actually a turntable needle. It's the logo called beedle from a childhood friend Q-Bert from Thud Rumble, the world's best and known DJ. He's my idol in DJing. The skulls are something I like the looks of on motorcycles. My future plans for my R15 is to make it faster, so I will be doing a engine upgrade soon. Just because you have a bike that looks nice doesn't mean it has to be slow. I invested everything in my Yamaha R15. My time, my money, my time away from the wife and kids, and the pain I endure on my injury while working on my R15 by myself just to see people look at my bike and take pictures of it and dream that one day they could have a bike like that because I was one of those people who dream of having a custom bike also and it came true! So never give up on your dream and passion. It might just come true!"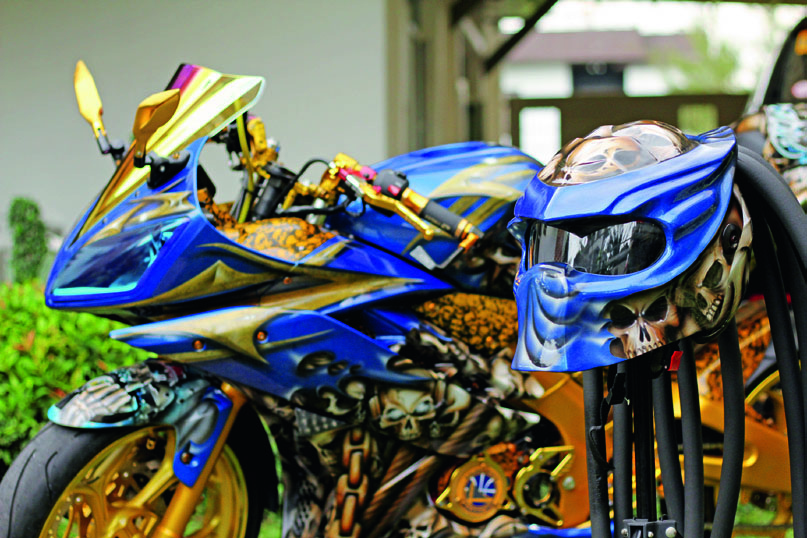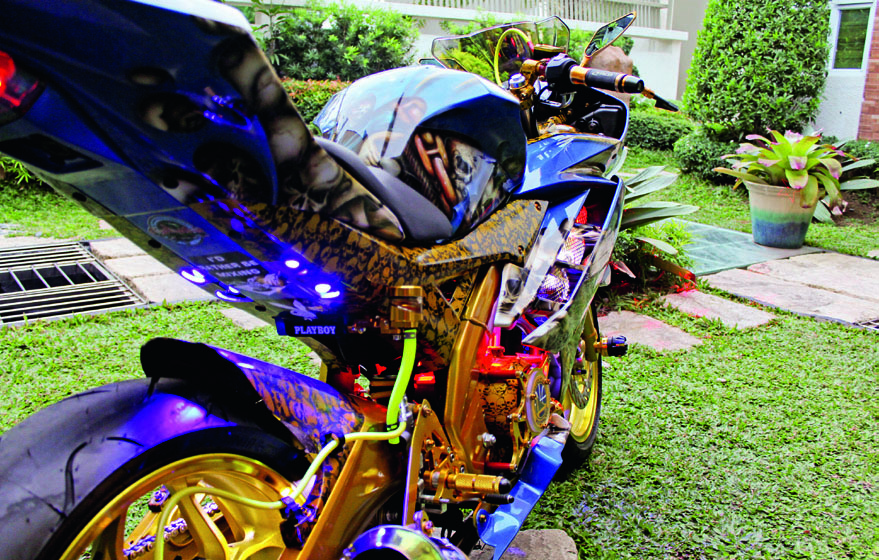 MOD IFICAT IONS
YAMAHA R15
Rizoma brake fluid tank, crank case cover,
sprocket cover and plate holder
Racing Boy handle grips, oil filter cover
SEC handle guard protector
SSS gold chain
Boushi rear sprocket 47T
R15 rearset (locally made)
CNC brake fluid cover, brake hose holder
Yellow brake hose
DK Racing gold screws
Radiator cover
Tire valve cover
Lowering bracket
Amaron battery
ARacer ECU
Akrapovic exhaust
Racing clutch plate & racing clutch springs
Projectors headlights
LED headlight lip
LED park lights
16 eagle eye LED
2 LED strips
1 laser star
2 remote controllers for LED
Flush mount front signal lights
Voltmeter
Shinko Apex tires front 120/60ZR-17
& rear 150/60ZR-17
Asio custom gold rims
Chrome tire valves
Adjustable racing levers
Short side view mirrors
Double bubble multi-colored visor
Front oversized disc brakes
4 light switches
Ferrox air filter
R1 gas tank cover & seat cowl by Paul John Cadangan
Belly pan by Enier DL (Bulacan)
Tint & decals by Ian Bernal RD Sticker (Makati)
Custom airbrush & painted metallic mica blue by
Rommel Monsterairbrush Sudario (CDO)
Predator helmet by Earl Zane Salas Ang (CDO)
(Aibrush by Rommel)
Candy yellow forks, frame, swingarm,
crankcase
Handlebar painted by myself
Hydrographics & candy yellow paint