"RAMPAGE" – the Hyper Modified Honda XRM from Zamboanga Del Sur
Date posted on March 30, 2020
Share this
This bike is owned by Al Bryan M. Nillas, a businessman selling motor parts and accessories online. He also buys and sells motorcycles. Al started modifying bikes 2 years ago.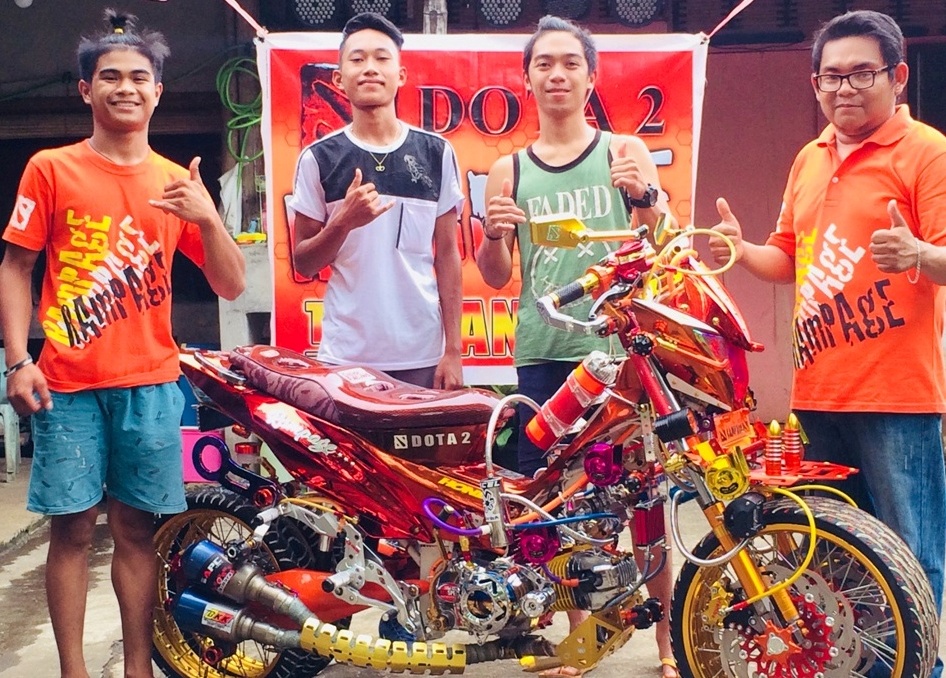 The overall concept of the bike is inspired by Dota 2. For those who are not familiar with it, Dota 2 is a multiplayer online battle arena (MOBA) video game developed and published by Valve. The game is a sequel to Defense of the Ancients (DotA), a community-created mod for Blizzard Entertainment's Warcraft III: Reign of Chaos and its expansion pack, The Frozen Throne. Dota 2 is played in matches between two teams of five players, with each team occupying and defending their own separate base on the map. Each of the ten players independently controls a powerful character, known as a "hero", who has unique abilities and differing styles of play. During a match, players collect experience points and items for their heroes to successfully defeat the opposing team's heroes in player versus player combat. A team wins by being the first to destroy the other team's "ancient", a large structure located within their base. This game has a huge following around the world especially in the e-sports scene wherein competing teams in sponsored tournaments can get a chance to win millions of dollars. This game is a global phenomenon especially with the young generation.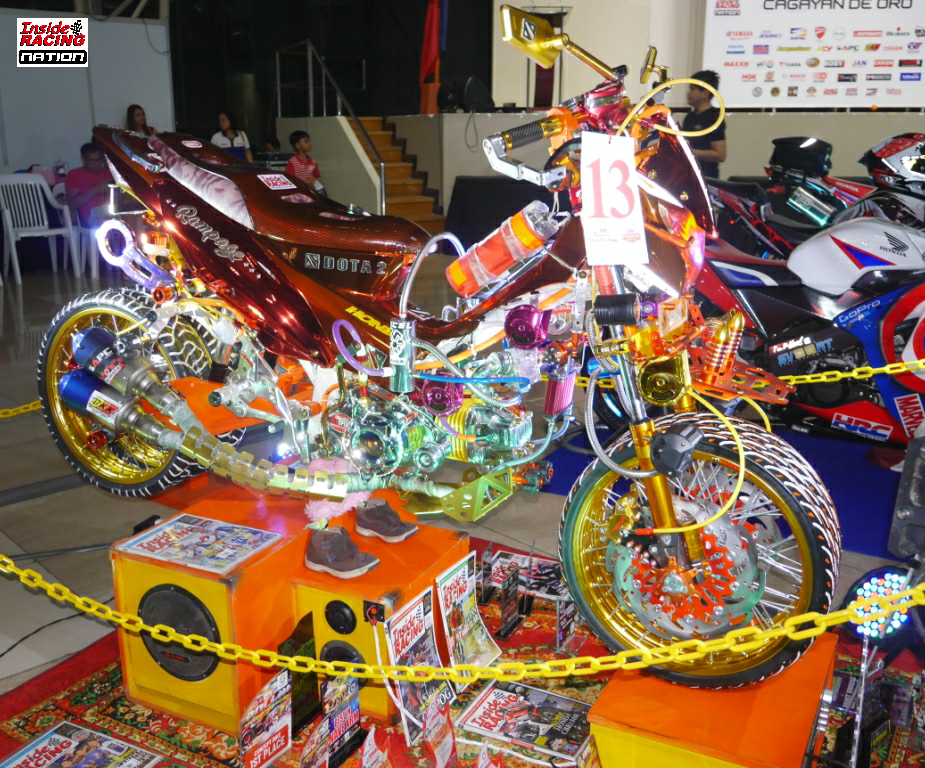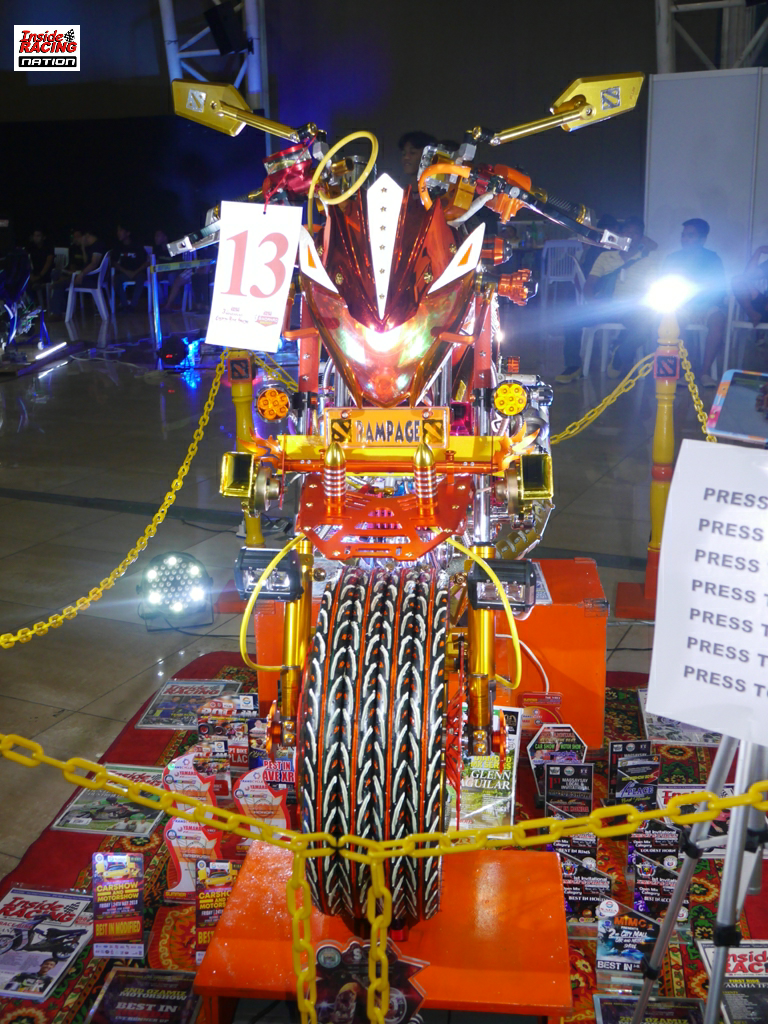 The bike was built through the collaboration of several individuals. Starting with Team JANTIMZ, DODONGWORKZ for the overall setup, then CHRISTIANWORKZ for the custom exhaust system, Junver Vios for the lights and wiring setup, ARIELWORKZ for the paint and VANVANWORKZ for the 8 tire wheel set build.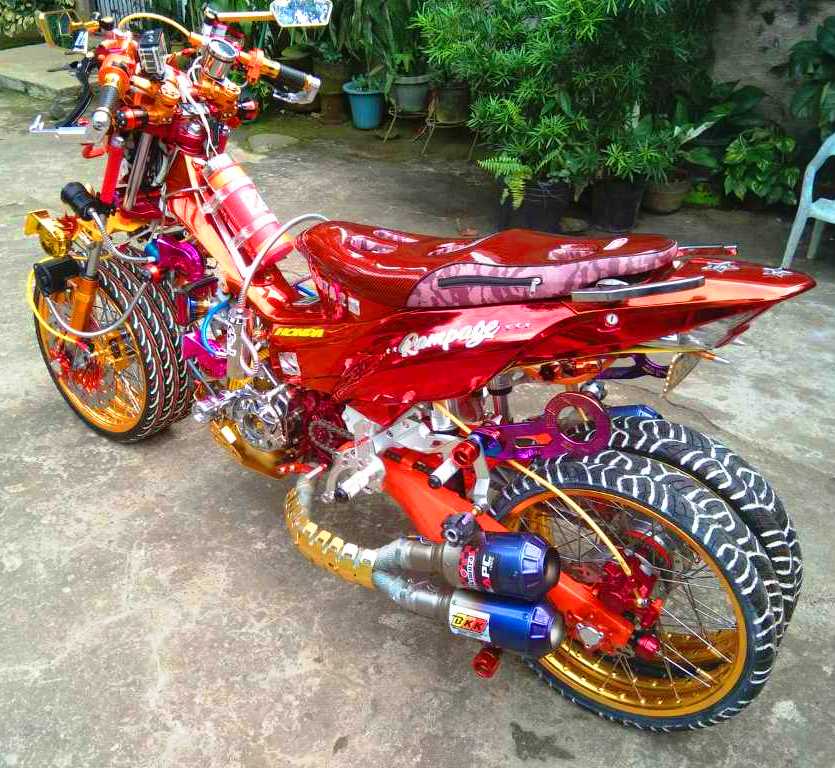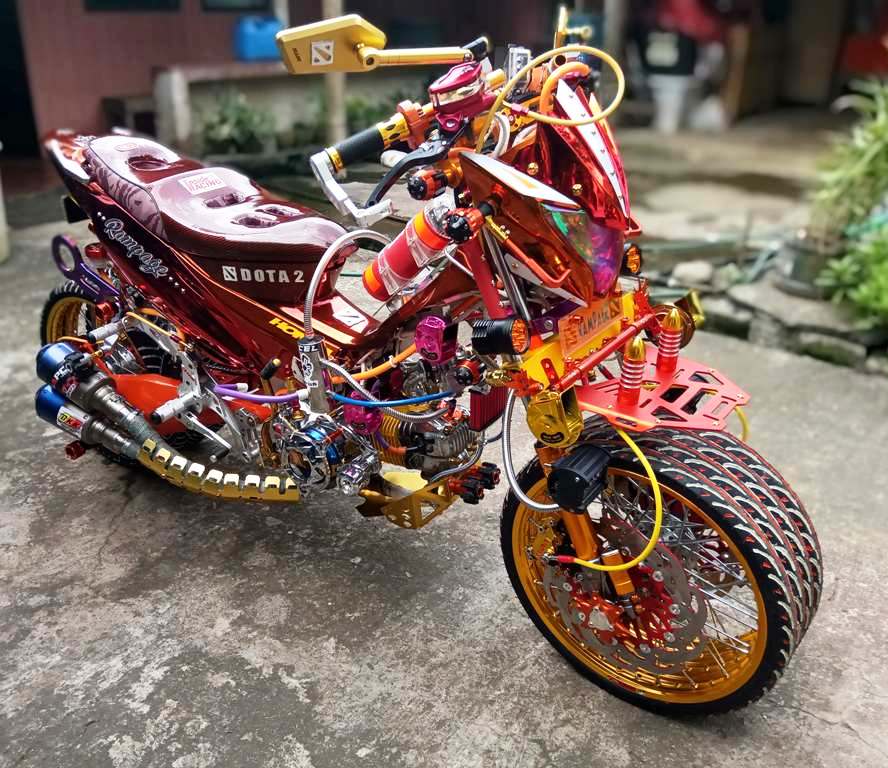 It sports a lot of custom-made parts as well as aftermarket parts and accessories. It features custom 4-tire wheel set (front and rear) built by VANVANWORKZ. It also has custom-made swing arm to accommodate the super wide rear wheel set. It also features a custom-made 4 barrel exhaust pipe system built by CHRISTIANWORKZ as well as a custom made seat with carbon fiber pattern. The bike has custom-made 2 oil catch tanks and is loaded with aftermarket parts and accessories such as Rizoma engine sliders, Rizoma frame sliders, Rizoma bar end sliders, Rizoma handlerbar assembly, Rizoma grab bars, YukoWinA rear master cylinders, YukoWinA bash plate, YukoWinA oil cooler, YukoWinA carrier plate, bikers axle sliders (front and rear), Option 1 front suspension, Racing Boy rear set, Racing Boy side mirrors, Brembo brake levers, Brembo master cylinders, Brembo brake calipers, Benen tow hook and Cree LED lights.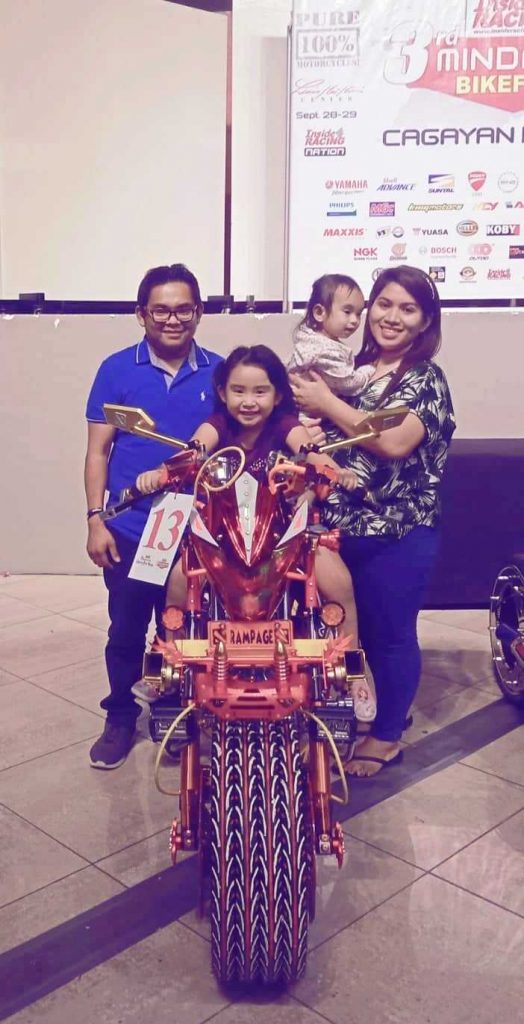 "I would like to thank Tres Decalitos owned by Arris Navarro from Dipolog City and HKM Motor Parts and Accessories owned by Lilquinn Miquiabas. Thank you so much to all the people who believed in me, to my family, relatives and friends, Team JANTIMZ and Mindanao's Pride. Special thanks to Malhin and Bersabal Family in Cagayan City and to John Denver Tual. Thank you so much InsideRACING Magazine for featuring my bike," shared Al.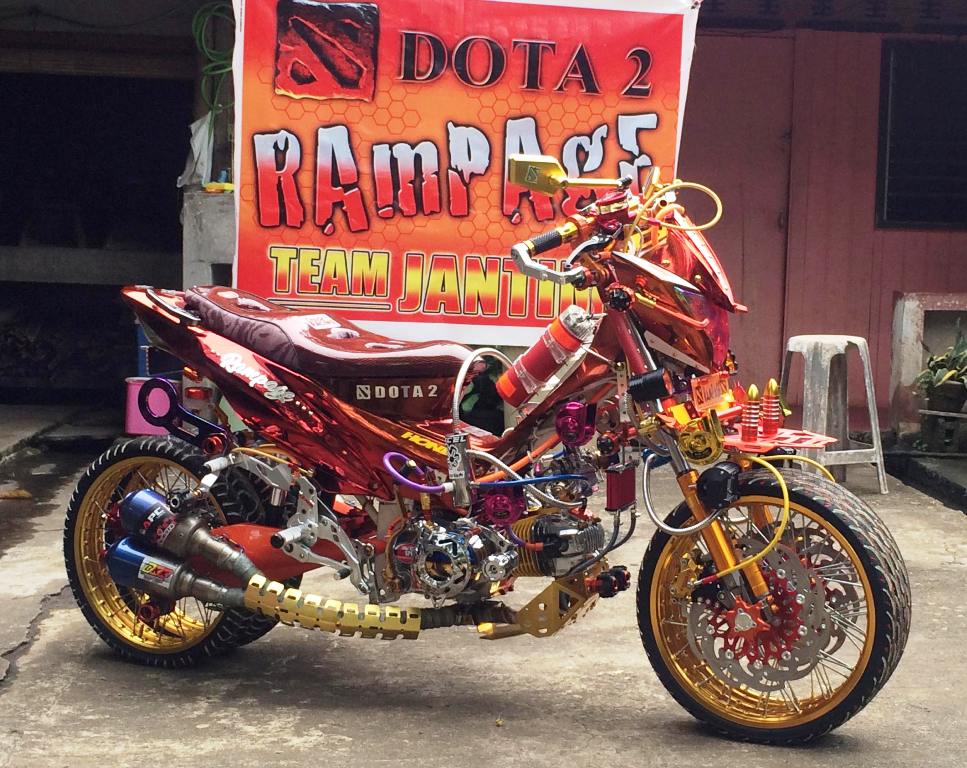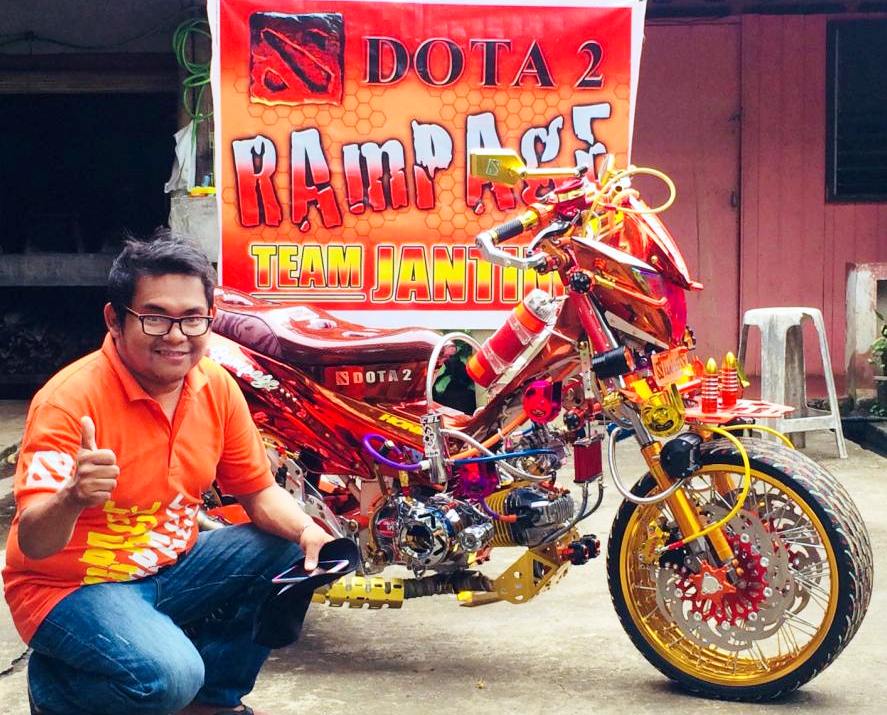 Parts and Accessories Used:
Custom 4-tire wheel set front
Custom 4-tire wheel set rear
Custom-made swing arm
Custom-made 4-barrel exhaust pipe system
Custom-made seat
Custom oil catch tank
Rizoma engine sliders
Rizoma frame sliders
Rizoma bar end sliders
Rizoma handlerbar assembly
Rizoma grab bars
YukoWinA rear master cylinders
YukoWinA bash plate
YukoWinA oil cooler
YukoWinA carrier plate
Bikers axle sliders (front and rear)
Option 1 front suspension
Racing Boy rear set
Racing Boy side mirrors
Brembo brake levers
Brembo master cylinders
Brembo brake calipers
Benen tow hook
Cree LED lights
This was published in InsideRACING Magazine's Volume 17 Number 12 issue