"RICO" – Yamaha Mio1 Streetbike Thailand Concept from Bohol
Date posted on June 24, 2020
Share this
Building a Thai Concept bike is not easy as you think, it takes a lot of planning, hard work and research to build Thai concept correctly. You have to consider that the parts you use are period correct or era correct.
They have to be original Thailand made parts, aside from that, the parts must belong to the same period/era as the bike. Enthusiasts go to great lengths to achieve this just to build the perfect Thai concept bike. The bike is owned by Mr. Federico "Jun" Boqueo Jr. of Tagbilaran City, Bohol, a businessman who started his bike modifying journey back in 2016. From then on, he has been very active in joining motor shows all over the region.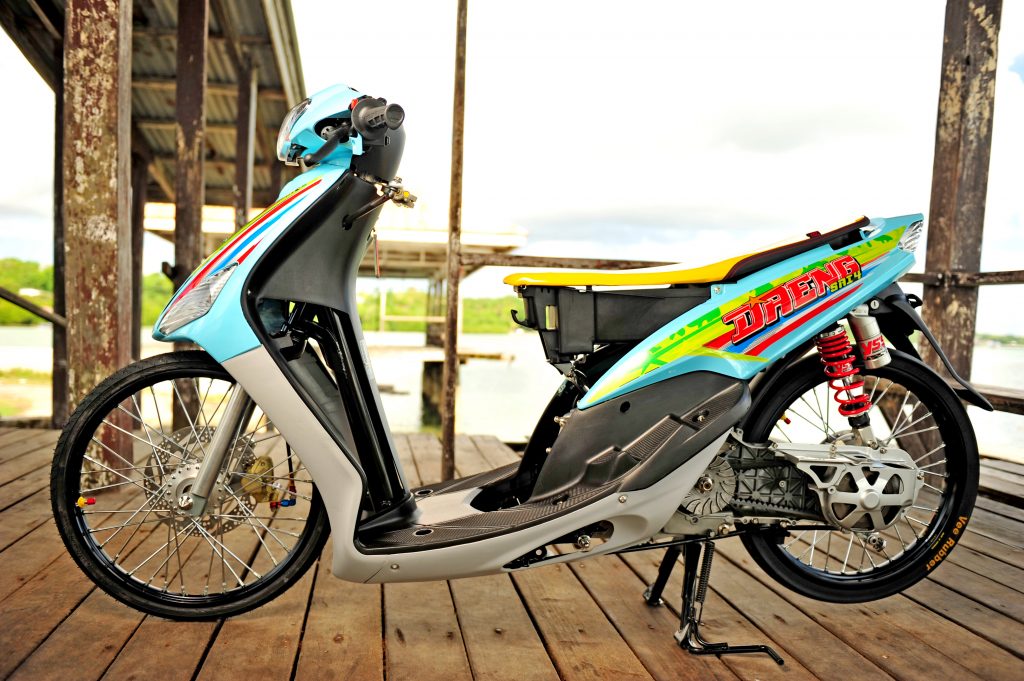 "The theme of this project is Daeng SAI4. We used the original Daeng SAI4 full titanium exhaust system which is one of the most visible integral part of our bike and the concept of this project is Mio1 Streetbike Pure Thailand Concept. We choose the "Streetbike" because for me the "Streetbike" concept is more ASTIG and it is more difficult to built among the two concepts which are Vans and Drag. "Streetbike" concept is the combination of both. Actually from the day that I knew that we are having a baby boy, I got so excited and inspired that I told my wife that I had to build my next project bike and I will name it after our son Federico III, hence, we dubbed the bike as RICO," shared Jun.
Building this bike was no easy tasks as "Jun" and his team encountered many challenges during the build. First of which is logistics. His team had to search thoroughly online and purchase almost all the parts and accessories from Luzon and Thailand since they are located in Bohol. Second is installation as some of the parts they used are not plug and play. They had to do a lot of custom-machining to integrate those parts to the bike such as the braking system and stabilizer just to name a few.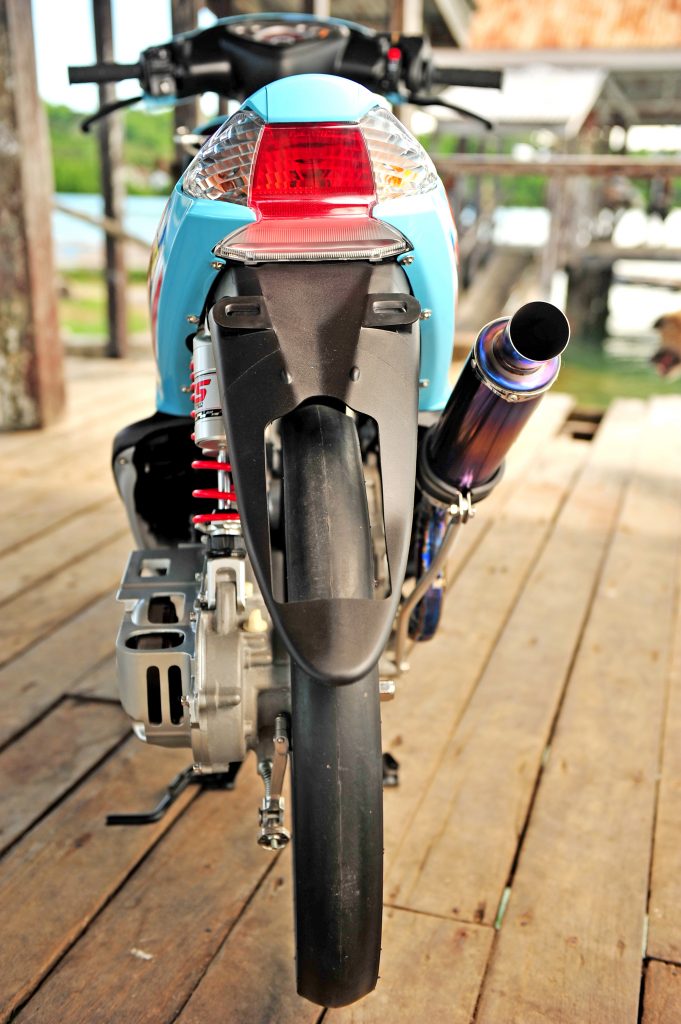 "Whether you use a pro or non-pro parts it does not matter, what is impor­tant is that detalyado siya pagkalagay sa motor mo. We also look for rare parts so that our bike would be unique and lastly among the challenges we encountered is the cost. Thai concept bikes are very, very expensive especially if you are going to use original and legit parts. Example our engine uses original Yamaha Thailand 5vv racing parts. Imagine the cost of the engine when it's done. It's almost the prize of a brand new Yamaha NMAX scooter and we're just talking about the modification of the engine alone. From the planning until the project is done, it took us almost eight months to finish the project because there are parts that we had to source out in Yamaha Thailand especially the racing parts that we used in the engine as it took several months to get them. We also had to send some of the components of the engine to Manila for re-sizing, thus, the engine alone really took so much of the entire project," Jun added during our interview.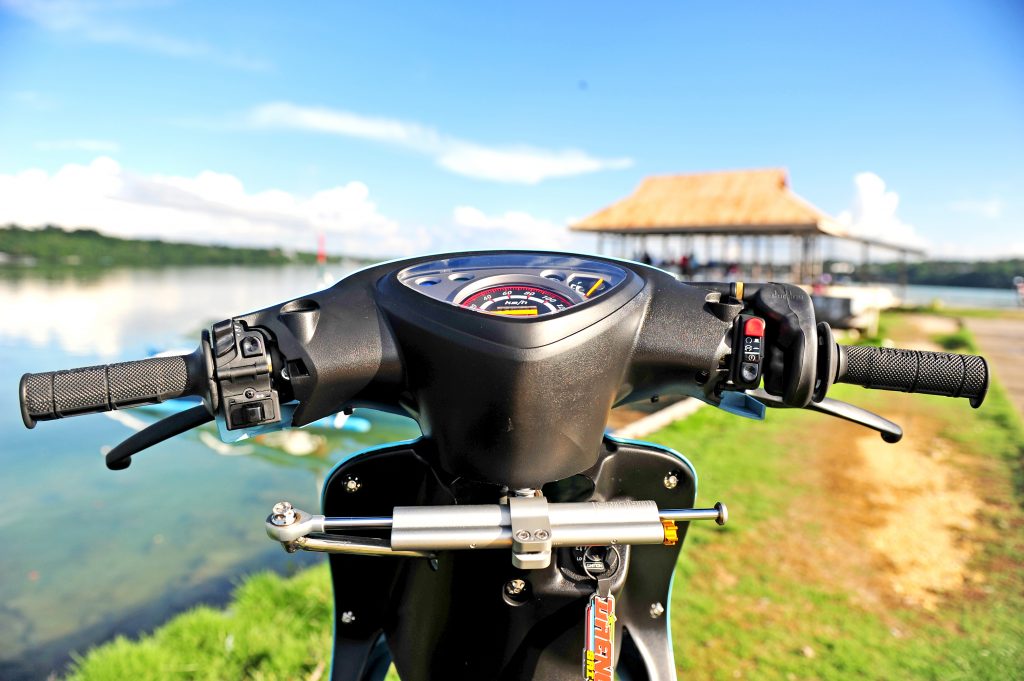 What makes this project bike truly unique is they used rare legit original parts like the limited edition Original Mio1 Yamaha Thailand 5vv fairings and in order to meet the standard of Purest Thai Concept they also used Original Mio1 Yamaha Thailand 5vv Chassis. Jun's team had built a Thai bike here in the Philippines without importing a Thai unit from Thailand. His team had been very meticulous during this build that they also used original Yamaha Thailand 5vv Racing parts in their 200cc modified engine internal and external 5vv all the way. Jun's team also did self tacking technique for the wires and cable. They also used safety wire and lastly they also considered and followed the rules of building a Thai Concept bike a purist build in every sense.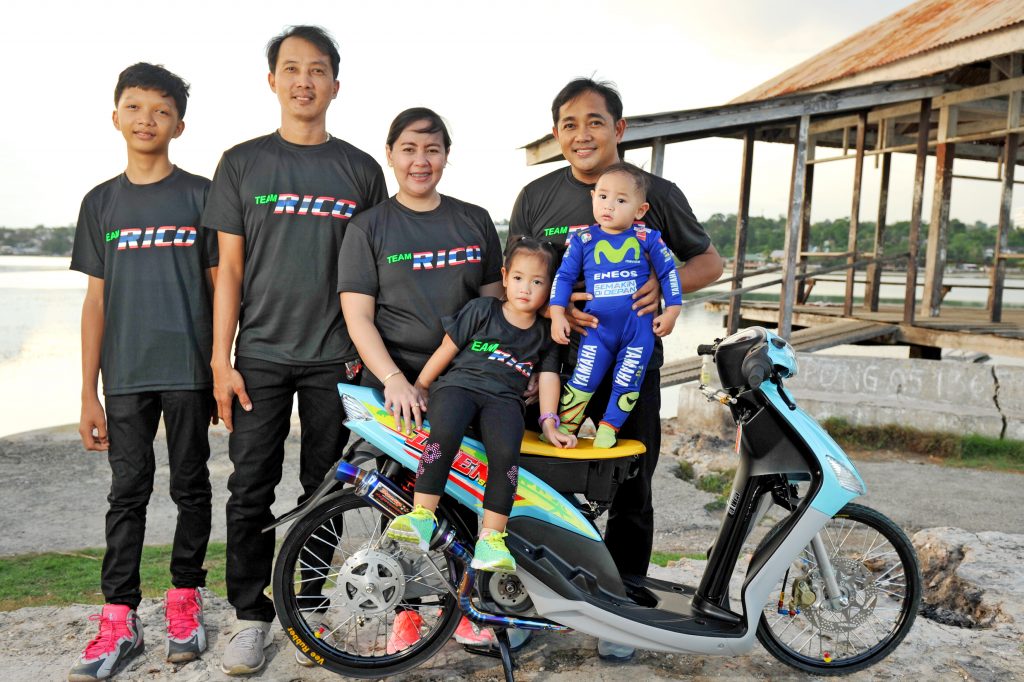 "I'd like to mention the "Tropa" Mr. Robert Nartatez (aka Mang Kanor), Mr. Mark Ricarse who did the cutting of the fairings and lightening of the parts and chassis and Mr. Jeffrey Sy who did the wiring and engine set up. It is actually a collective effort of idea, passion, technique and most of all workmanship which you can see in our bike. I'd like to thank Mr. Ariel Samson, owner of Yel Sam Thai parts and accessories, who helped us with this project and I would recommend you guys to search it on Facebook. Yel Sam is a legit online seller. He is also a wholesaler and retailer of original and legit Thai parts and accessories. Papa Yel, thank you also for mentoring me, our Project RICO turned out to be a real hardcore project. Thank you to the THDM admins especially to the THDM Elites Zone CLMY, Jeffery Sy who had helped me from start to finish, my wife Elaine Edar who was very supportive and to God for giving us this talent. Thank you so much to InsideRACING Nation for featuring our RICO project," expressed Jun.
Yamaha Mio MXi 125 Modifications:
200cc Modified Engine 5vv internal & external
Original Brembo PS16 lever master (front brake)
Original Domino GP17 lever (rear brake)
Original Domino (Sx & Dx) slim type switch
Original Domino single quick throttle
Original Domino grip plain black
Original Brembo 2pots Caliper small butterfly type w/ CNC alloy bracket
Original Earl hose & fittings
Original Mio1 Yamaha Thailand 5vv chassis
Original Mio1 Yamaha Thailand 5vv fairings
Original Mio1 Yamaha Thailand 5vv headlight & winker
Original Mio1 Yamaha Thailand 5vv tail light
Original Mio1 Yamaha Thailand 5vv speedometer
Original Mio1 Yamaha Thailand 5vv harness
Original Mio1 Yamaha Thailand 5vv rear lightened hub (slim type)
Original Mio1 Yamaha Thailand 5vv crankcase lightened
Original Daeng SAI4 full titanium exhaust system (open specs)
Original Daeng SAI4 decals
Original Ohlins stabilizer SD0002
Original YSS rear suspension 300mm drag/race series w/ preload adjustment
Legit DKT Thailand small front hub
Legit Kingu rim 1.1×17 (front)
Legit Kingu rim 1.6×17 (rear)
Yaguso chrome type spokes 120/184
IRC Eat My Dust Tire Soft Compound (front)
Vee Rubber Tire Dracula drag series (rear)
Original Keihin carburetor w/ quick release gas hose & filter
Takegawa brake arm (rear)
Original Sun Star 220mm disc
JRP Drag super flat seat
Legit Thailand white gold bolts
Safety Wire
This was published in InsideRACING Volume 17 Number 6 issue
Thank you for visiting insideracing.com.ph. You may express your thought below through the comment section. You may also follow us on Facebook, on Instagram @Insideracingnation or on our YouTube channel.