2021 KYMCO DownTown 350i TCS First Ride Review
Date posted on March 15, 2021
Share this
The DownTown has been one of KYMCO's most successful scooters worldwide. It was first released in 2009 and the second generation arrived in 2015.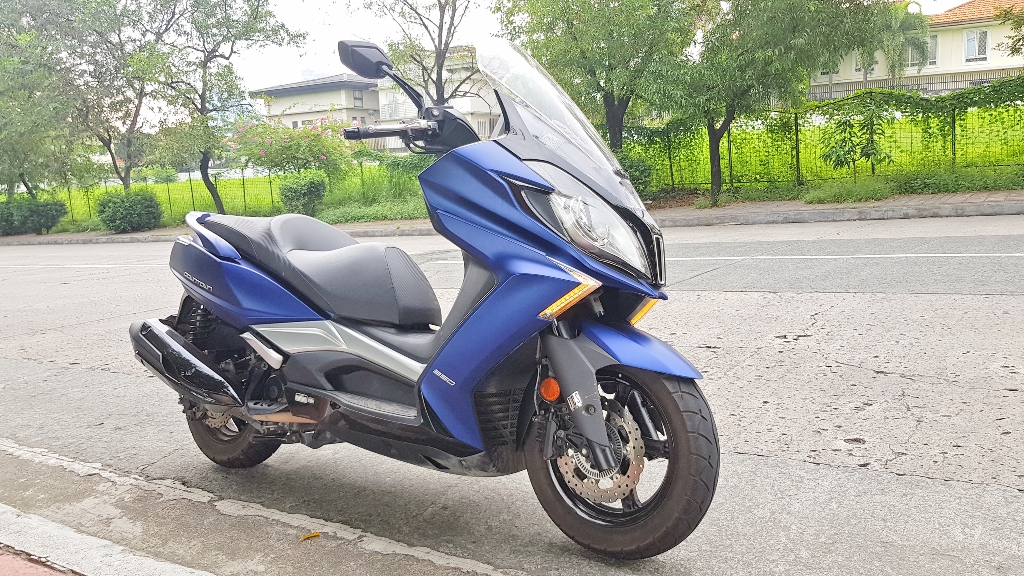 It is designed to offer a sophisticated sport-touring maxi-scooter experience. So far, it has sold more than 100,000 units across 40 countries. The 2021 DownTown 350i TCS features more safety and technology while blending comfort and sporty handling.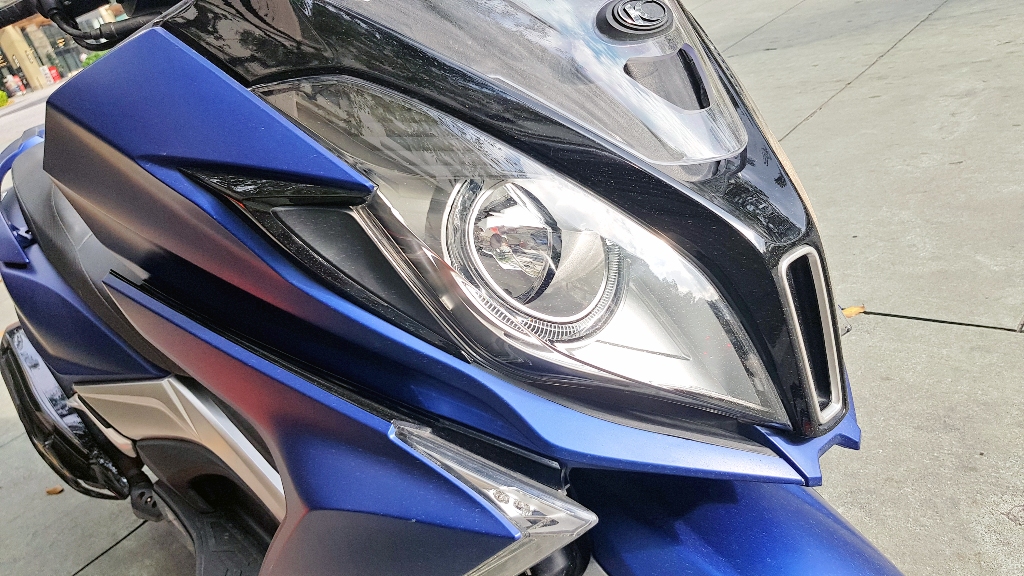 Designed by an Italian more than 5 years ago, the look is still striking and fresh. It was penned by automotive designer, furniture maker and architect Massimo Zaniboni of Arkema Studio in Milan. Zaniboni placed strong emphasis on taut and aggressive bodywork and distinctive LED daytime-running lights as a means of accentuating modern agility and dynamism. The design also makes it appear bigger than it actually is, good for road presence and parking lot appeal.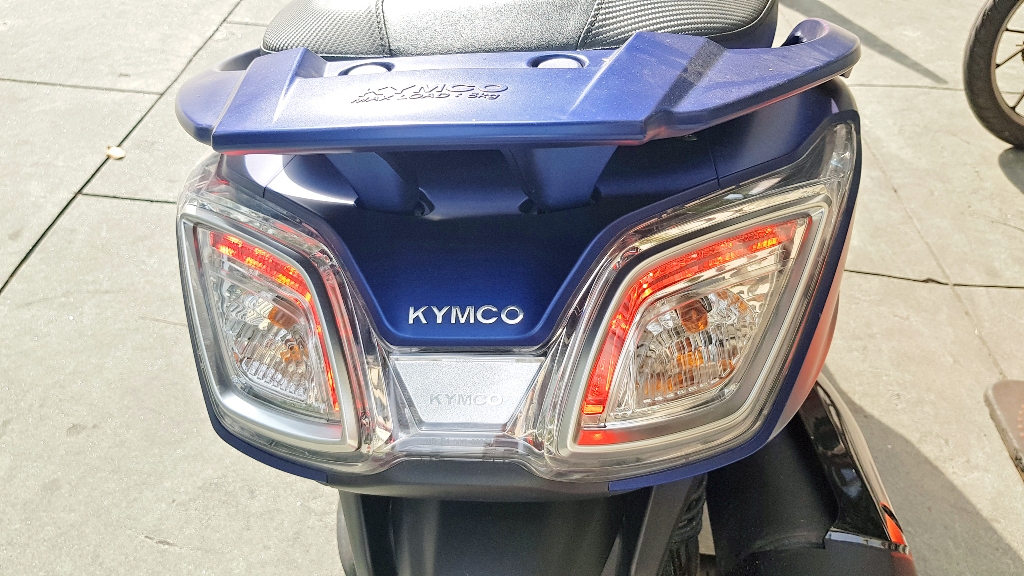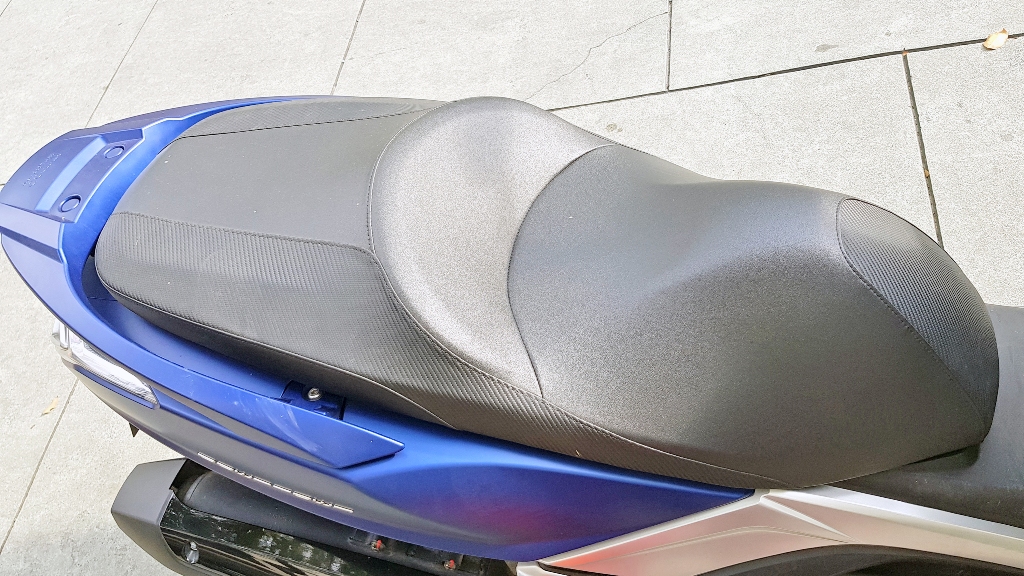 New for the 2021 is the standard fitment of traction control or TCS which, in addition to the existing ABS brakes, adds a high degree of safety and confidence to the riding experience.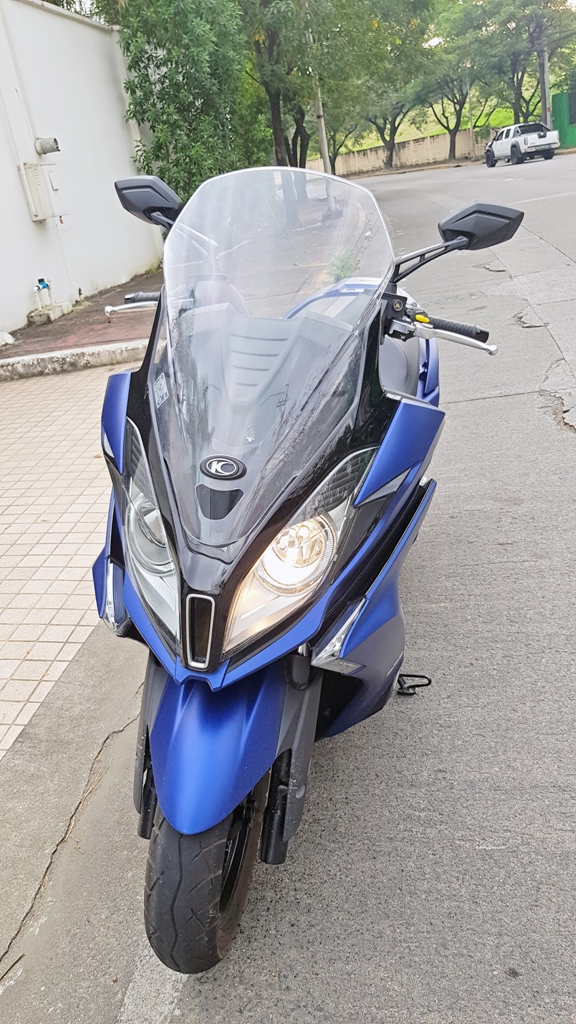 According to KYMCO, instead of exceeding the limit of tire grip, the traction control system works in synergy with ABS to help restore the DownTown to safety. Also, the bodywork provides increased cornering ability, giving the DownTown 350i TCS a lean angle of up to 39 degrees.
It is powered by an updated 321cc liquid-cooled single-cylinder engine producing 28.8 hp @ 7250 rpm and 30 Nm @ 5750 rpm.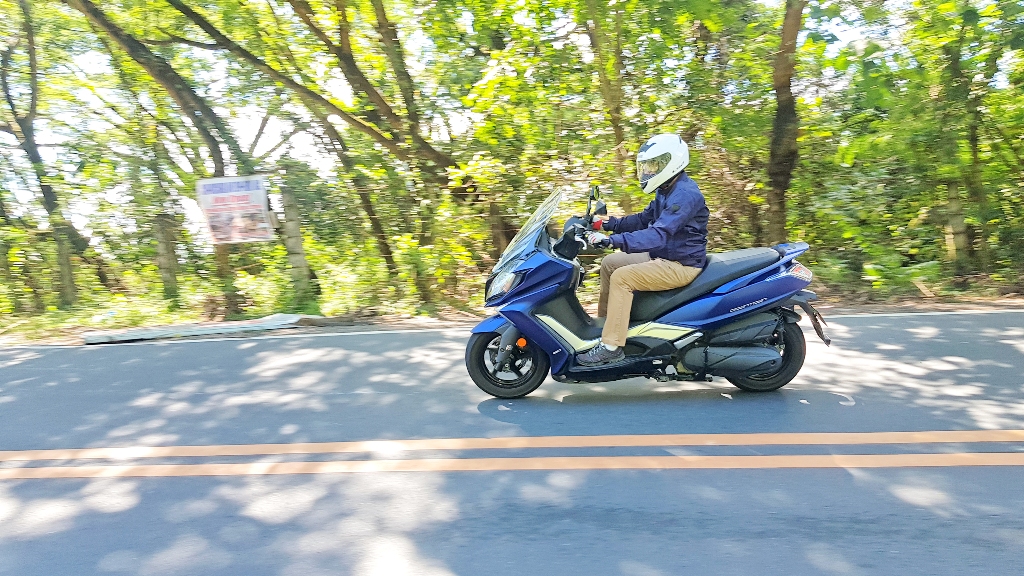 It is tuned for more performance at a lower rev range and flexibility while complying with Euro 4 emissions regulations.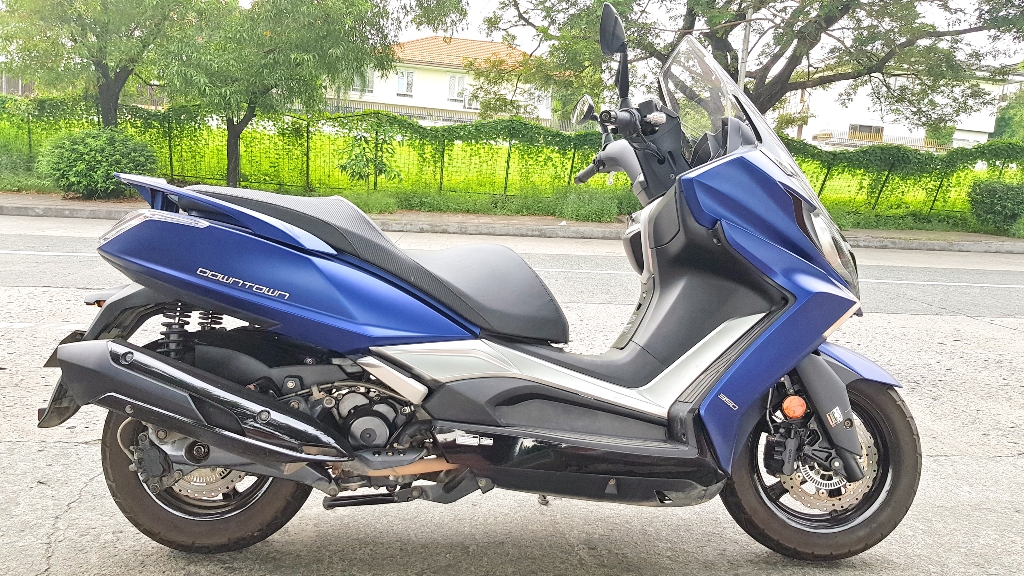 It also has a host of mechanical refinements to the engine, cooling systems and CVT transmission. A
new balance block reduces vibration during engine idling and low-speed riding through the use of an axe-shaped design. A redesigned lower cowling provides a 40 percent larger surface area for improved engine cooling efficiency. A new oil lubrication system features a rectangular tank design and greater use of aluminum for increased engine cooling. The CVT has also been redesigned with high-strength materials to improve conversion efficiency. The frame is a steel-tube chassis and suspension that includes a 37 mm fork and a single-arm, twin-shock rear with five-position preload adjustability for optimum handling while riding with a passenger.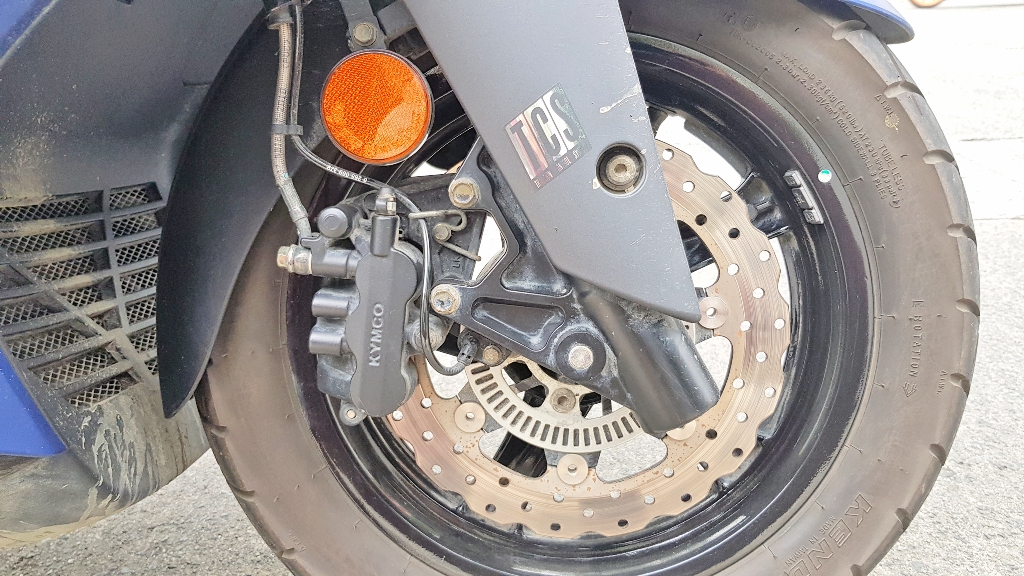 The brakes are twin 260 mm floating rotors with three-piston calipers up front while a twin-piston caliper bites a 240 mm rotor at the rear. The DownTown 350i TCS's ABS system is the latest Bosch Generation 9.1M dual-channel system, which complements the traction control system.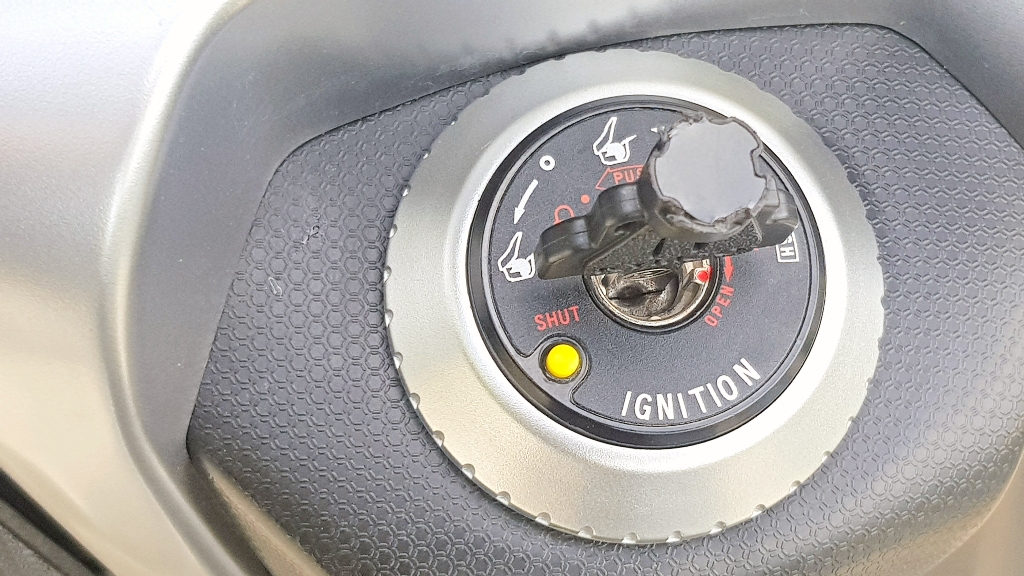 Meanwhile, convenient and high-end features include adjustable levers to accommodate a wide range of hand sizes; a multifunction ignition lock that acts as a theft deterrent as well as a wide two-deck saddle, which receives new materials and finishes, including leather, for maximum rider comfort over longer distances.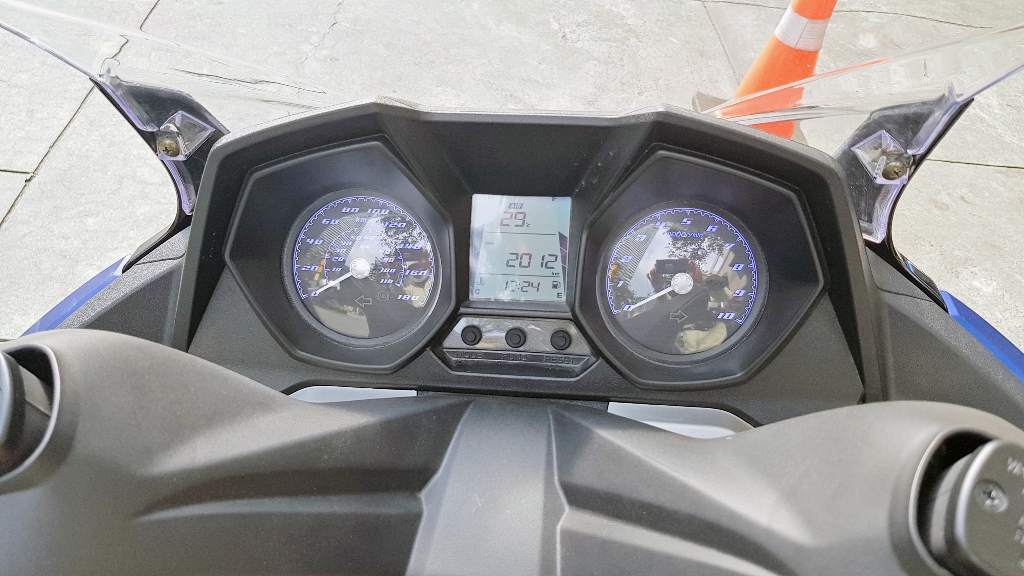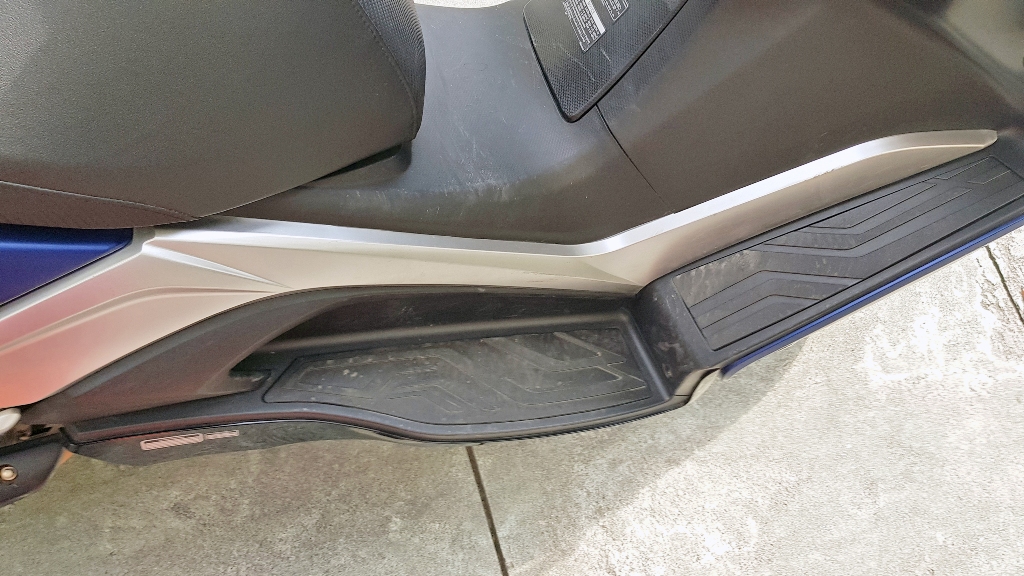 Al Camba
"For me, this KYMCO DownTown 350i is the SWEET SPOT for sport touring with emphasis on both comfort and performance. There is only ONE thing that SOME might consider a downside for the DownTown and that is on paper, it is not legal to ride in the expressways, which is probably less than 1% of the total road network in the Philippines and the issue only exists in Luzon. The rest of the 99% are scenic (or traffic-laden) roads where the DownTown is just about perfect.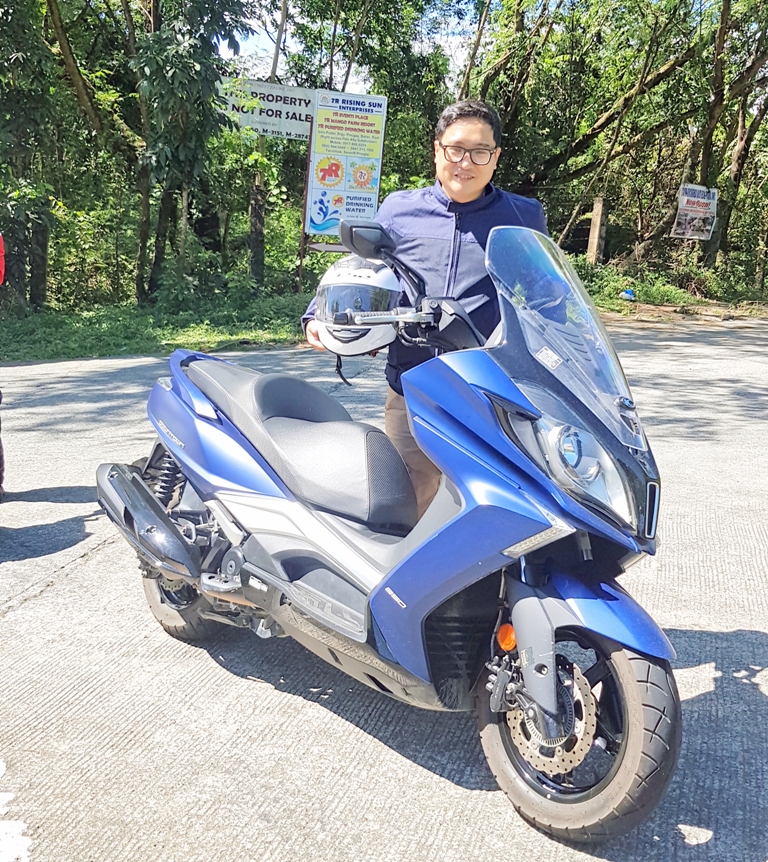 I say on paper only because this wonderful maxi-scooter can outperform some sub400 cc motorcycles in terms of not only performance but more importantly on comfort, stability and safety! I can honestly say that most riders will enjoy more and can be safer riding the DownTown on those long expressway rides than some motorcycles. With that out of the way, I will now focus on the best parts of this maxi-scooter.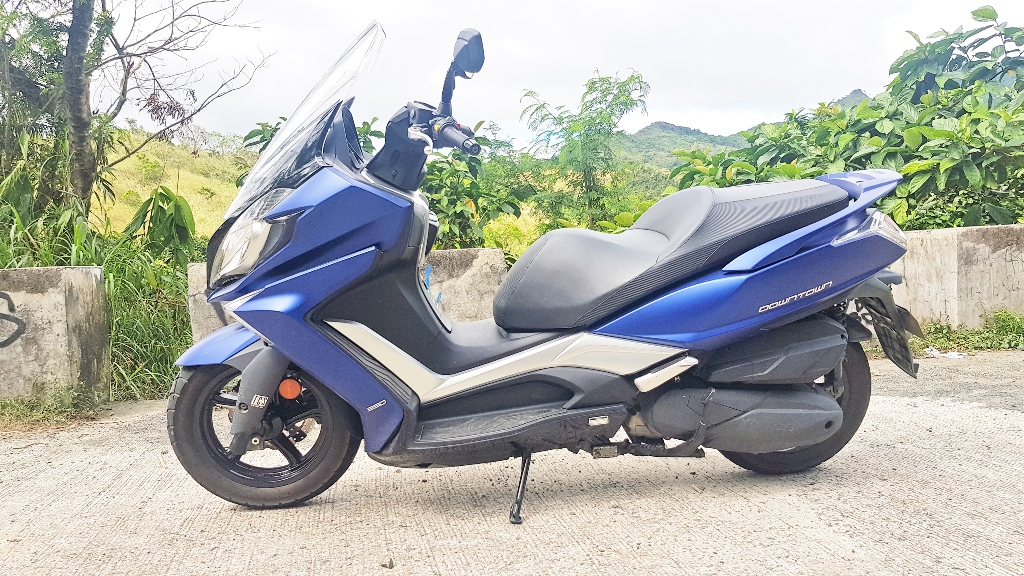 The handling – you sit low with light confident steering due to the small tires and low center of gravity. Although it is around 179 kgs, you feel as if you are riding a much lighter scooter or motorcycle.
The performance – with more than 300 cc, the Downtown can accelerate well and keep a good high speed with relative ease. Even in stock form, it feels like you are not stressing the engine even on a spirited cruise. It has more than enough torque to overtake just about any vehicle on the road.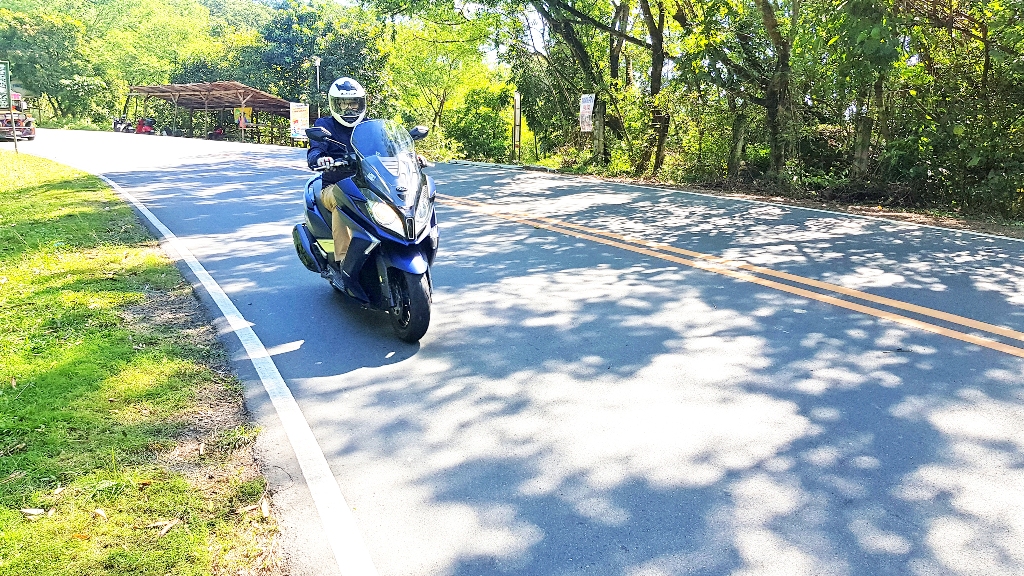 The comfort – with its low and wide seat with backrest, substantial windshield and generous foot boards and adjustable levers, it's easy for anyone below 5'7″ (like me) to get super comfortable. Combined with its satisfying performance, it has the perfect formula to make you ride the scooter more. I found it
addicting that I rode it up and up again to Marilaque one last time just before we sent it back to KYMCO.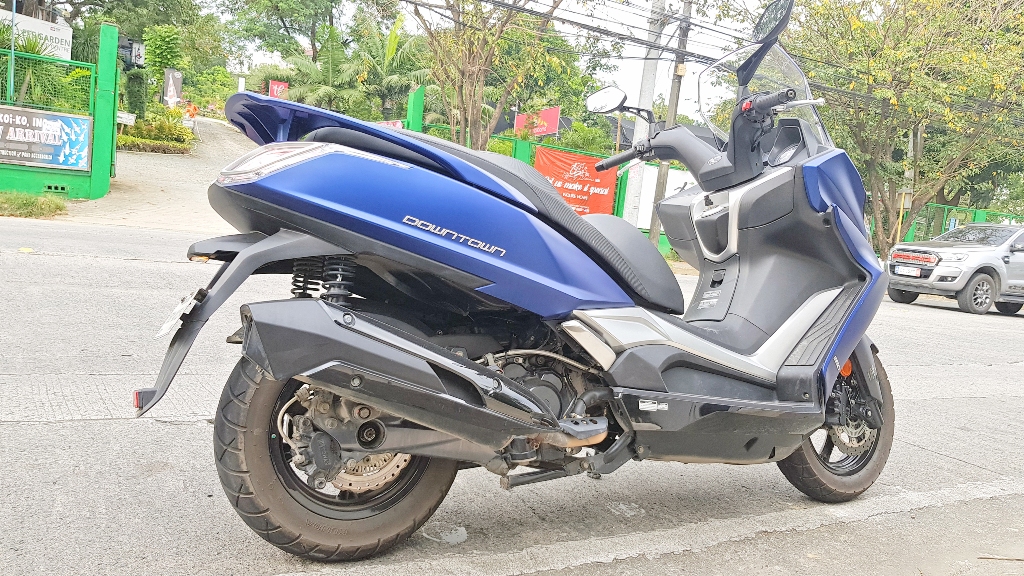 The safety – I really find the dual Bosch ABS and Traction Control good especially if you will ride this a lot and for longer at a time when you are touring since you have an added layer of safety in case you get tired or the road and weather conditions suddenly change during the ride.
Convenience – The big underseat compartment is a joy which makes it possible to use the DownTown like a car. You can fit your usual daily cargo like laptops, groceries, shopping, rain gear or riding jacket and of course, a helmet. You don't really need a top box unless it's a multiday trip. If your scooter will allow you to ride anytime without using a backpack then you will end up using it often. Another big bonus is how easy it is to get the DownTown up on its center stand, just like a normal 125cc scooter. This will really make you decide to ride it all the time even for short errands.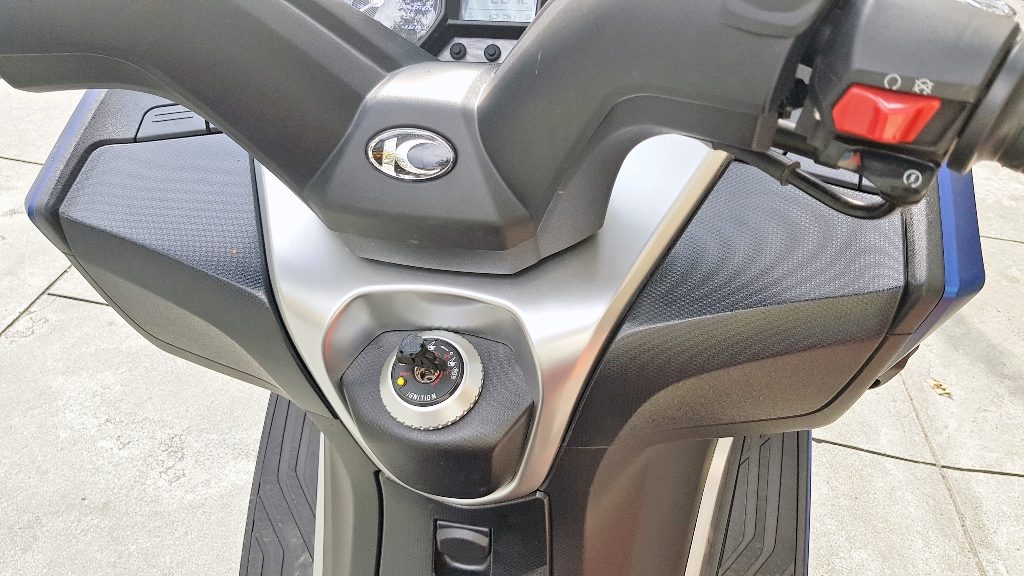 Last is presence. Although the DownTown is already more than 5 years old since it was introduced in Europe, the Italian design still looks stunning and fresh. I like the elegant yet "superbike" looking face and the fact that it looks larger than it really is. The dynamic road presence and the elegant styling when parked are really attractive.
No wonder the DownTown, or SuperDinkas as it is called in some European markets, is such a success for KYMCO for over a decade. It has been KYMCO's bestseller in Europe and has elevated the brand's good image for design and reliability. The DownTown is one great maxiscooter whatever the road is!"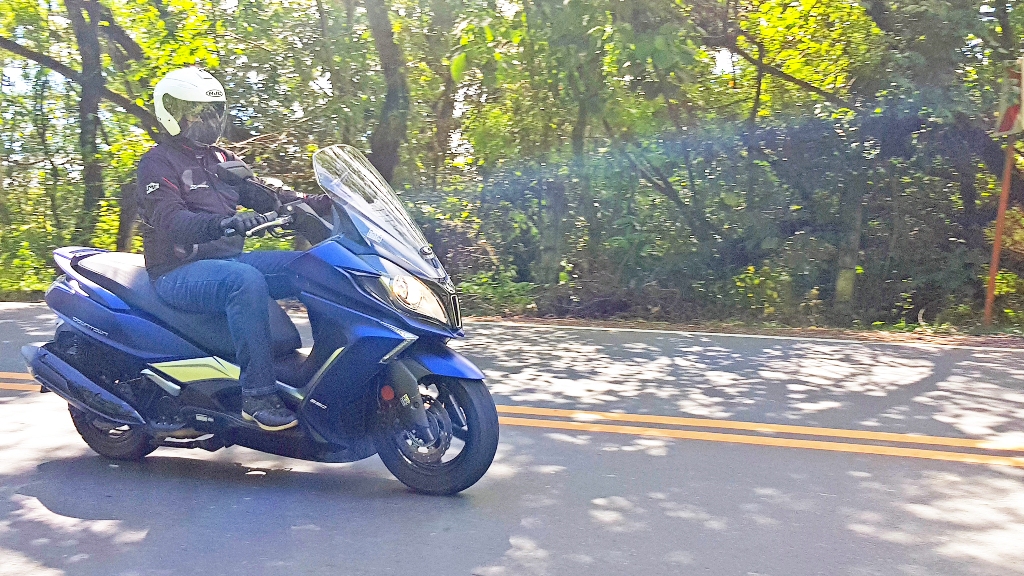 Philip Bonza
"The DownTown 350i is a good-looking, sporty maxi-scooter. Yung body edges ay sharp and it has a distinct charm. The outline of the front end especially yung headlamp maikukumpara sa sportbike. The body cover looks high quality plastic kasi ramdam kapag hinahawakan o hinihimas. Pati mga switch buttons ramdam na hindi cheap parts ang ginamit. Ito ang una sa mga basehan ko para masabing premium ang model kasi premium din ang feel. Instrument panel is combination ng analog at digital. Madaling mabasa ang numbers and needle sa speedometer at tachometer while other info gaya ng fuel, volts, time, etc. ay digital naman. This model looks huge and heavy pero to my surprise, ang gaan at madali itong i-ride. Napakagaan i-maneho kahit sa rush hour traffic pa. Pakiramdam ko parang Super 8 ang handling dahil sa madali at magaan isingit sa traffic. Na-realize ko na maxiscooter nga pala ang dala ko pag pasok ko ng highway na. Pag piga ko ng throttle, malakas at maganda ang response ng makina. Seryoso, hindi ko talaga ramdam na maxi-scooter sa gaan i-ride at isingit sa traffic. Sa ergonomics, relaxed feeling and comfortable ang ride dahil sa sakto sa akin ang height ng floorboard at saddle at swak din ang height ng handlebar. Additional pa ang soft saddle seat kaya masarap gamitin lalo sa long rides plus with lower back rest for more ride comfort. Sa performance, very good ang power delivery. Hindi ako nabitin from low speed to high speed, very responsive and suitable ang power. Suspension plays fine. Front suspension is perfect for my riding style and the rear plays good din. Braking power is perfect for my preference, present ang kagat ng brakes kapag kailangan and it has full ABS at the front and rear. Something I did not like in this model is the style of headlamp, hindi ko type kasi hindi balance kapag headlight on, low beam is left and high beam is right lang, hindi nagsasabay ng on yun buong headlamp kaya hindi balanced ang tingin. Hindi din wide ang bato ng liwanag. Same sa tail lamp, hindi ko din type ang design at style ng lights. But overall, this model is an excellent maxi-scooter so far. For its porma, performance and price, perfect "6 gears" is my score. The KYMCO DownTown is the best maxi-scooter I've tested so far."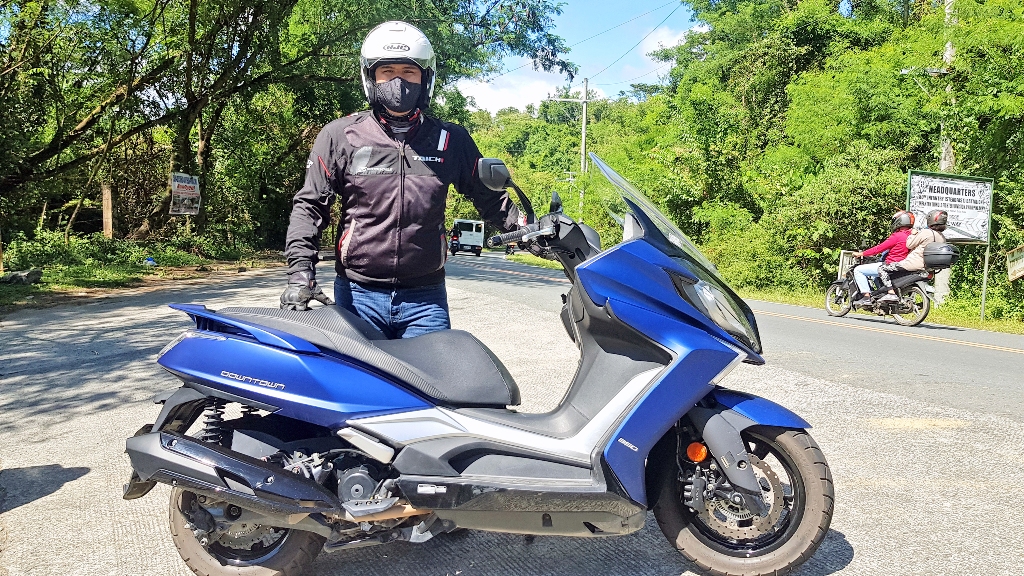 Jake Swann
"The KYMCO Downtown 350i, at first glance from the side of it, it looks like a 500cc bike but it isn't. It's a chunky scooter to use. You can convincingly use it to full other bikes that you shouldn't share a lane with it. A little steer or there will not be another bike into the next lane. Its size gave me some preconceptions of bulk and thoughts of a lot of weight to go with it. The balance is relative, it all depends on what are you looking to use the bike for. But that doesn't make you tight turns on a hill and never felt unstable at any time. Not even stopping mid turn made me doubt it. Now that doesn't qualify a canyon carver, not at all. The suspension is forgiving, so don't expect to ride the chicken strips of the tires. The riding position is just right, back straight, arms slightly bent, legs are at the comfortable position, whether the feet are level or forward in the straights or the curves. This is a big scooter space-wise, the saddle is plush, giving me ambitious thoughts about doing 5-day rides somewhere far and away. With a youngish Nicole Kidman in the passenger seat, ahhhh.. heck! If I'm gonna fantasize I'm going with Alexandra Daddario, Eva Green or Mila Kunis. Well, any of them would appreciate the rear passenger seat. But I'm suspecting even with strong women, I'll be riding the passenger saddle either way it's comfortable. Now, the under seat storage can pack in 2 full standard shopping bags which says a lot as I've ridden bikes and can barely store registration, a screw driver, a set of pliers and spark plugs tool. CAN you have quantity and quality in one package, with the Downtown 350i, apparently you CAN."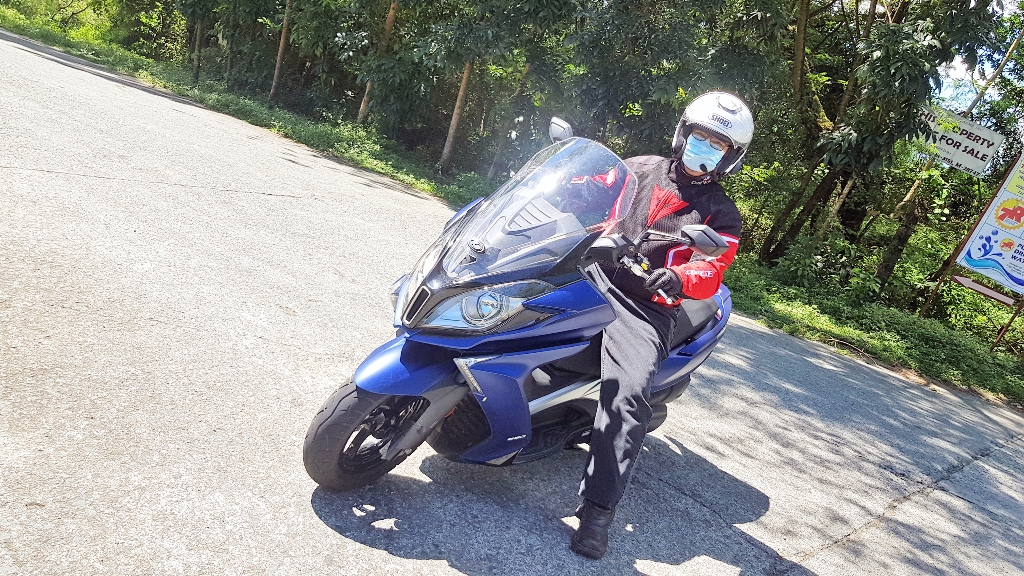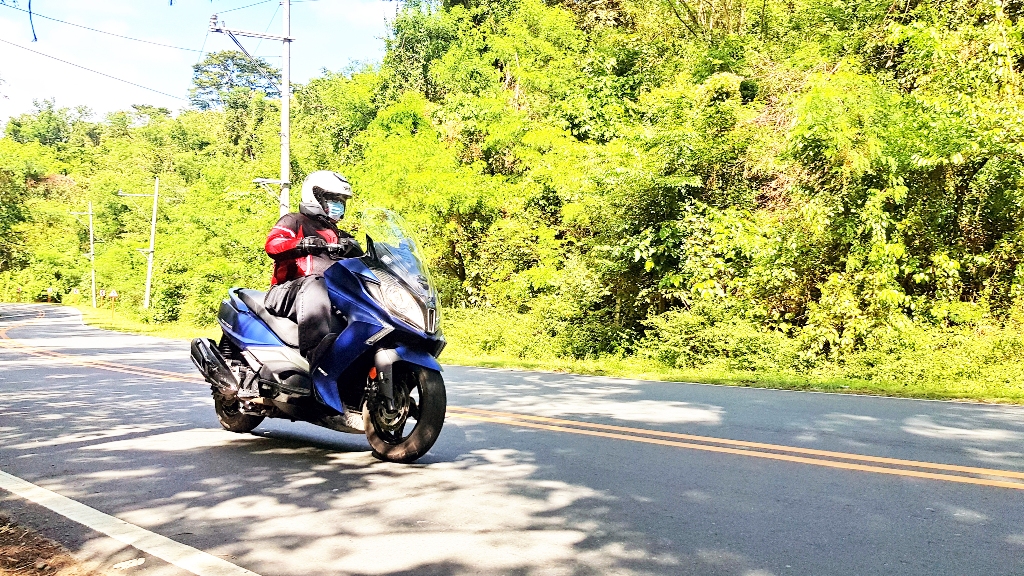 Thank you for visiting insideracing.com.ph.
While you are here, kindly don't forget to click on our advertisers, visit their site and consider them for your motorcycling needs. It will help us a lot.
You can also order a copy of our monthly print magazine for more riding contents to read and enjoy at your leisure anytime by clicking here.
You may also express your thought below through the comment section. You may also follow us on Facebook, on Instagram @Insideracingnation or subscribe to our YouTube channel.