Riders Welfare Day Year 4 – Dito, Riders ang Bida!
Date posted on May 24, 2019
Share this
With the aim to acknowledge, reward and pamper riders for their sacrifices and continued to support to the ARANGKADA Alliance and the whole riding community, the Riders Welfare Day was conducted.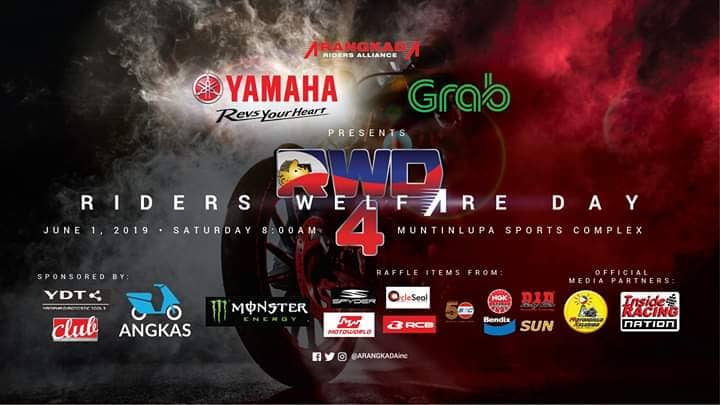 Now on its Year 4, ARANGKADA Alliance with the support of some of the major players in the country's motorcycle industry and community will once again treat riders to a day of fun and recognition. The Riders Welfare Day this year will take place at the Muntinlupa Sports Complex this June 1.
Presenters of the event are Yamaha Motor Philippines and Grab. The Yamaha booth will have Yamaha parts and accessories for sale, motorcycle displays and YClub card registration and activation. There are also free F.I. diagnosis for Yamaha F.I. u nits and free change oil when Yamaha riders buy Yamalube Oil. Grab, on the other hand, is having Grab Motorkada GrabExpress/GrabFood registration at their booth.
Major Sponsor is Angkas and their booth will have biker signup and motorcycle registration.  Minor Sponsor is Monster Energy and its products will be available at the event. InsideRACING Magazine and Motorsiklo Xklusibo are the official Media Partners.
Raffles will be held and prizes are from Spyder, Cycle Seal, Motoworld, Racing Boy, SGC and Motorsiklo Xklusibo.  There will be food stalls and motorcycle parts and accessories from different brands are for sale.
Games, sponsors' segments, Club Presidents' Assembly, press conference, performances, ARANGKADA's Got Talent 2019, Mr. & Ms. ARANGKADA 2019 are some of the activities at the Riders Welfare Day Year 4.
The 2nd Annual ARANGKADA Awards will also take place. Excellence Award for Social Media, Print Media and Moto-Vlogger of the Year, Outstanding Achievement Awards for Road Safety, Charitable Act, Community Service and Moto-Tourismo, Special Awards – Chairman's Choice Award and ARANGKADA Hall of Fame 2019 and Riders Choice Awards – Rider of the Year and Lady Rider of the Year will be given.
ARANGKADA Riders Alliance, Inc. is an association of road advocates nurturing growth through knowledge, action, discipline advancement towards riders' welfare. The alliance aims to train and educate riders regarding proper road usage for safety based on discipline. ARANGKADA defends and upholds riders' welfare and also organizes rides and other activities to develop camaraderie among riders and achieve harmony and mutual respect on the roads with other motorists. To lessen incidents of road accidents and increase efforts for the preservation of human life is also a mission of the ARANGKADA Riders Alliance.
Don't miss the ARANGKADA Riders Welfare Day Year 4. See you there!