Rivero, Baguasan And Villanueva Hailed As IR Backbone Champions at Shell V Power event.
Date posted on September 18, 2014
Share this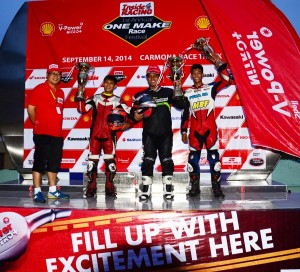 Organized by InsideRACING last September 14 at the Carmona Race Track, the Open Backbone class of the Shell V-Power Nitro+ One Make Race Festival featured riders on board 4-valves and 2-valves motorcycles and proved to be an interesting new category which will definitely continue to grow in the coming years.
Joey Storm Rivero and his Kawasaki Rouser topped the 180 Open Backbone race as Jade Lazaro settled for second place and the third place went to Barney Buncio on his YRS Café racer Suzuki Mola.
Jason Baguasan once again ruled in the 135 Open Backbone 4-valves class on his Kawasaki bike.
In the 135 Open Backbone 2-valves group, winner was female rider Jacq Buncio on a YRS Café racer Yamaha STX. Joining the sister of the late great Maico Buncio in the podium were Lorenmar Villanueva and John Macalanda.
It was also the final championship race for the IR Open Backbone classes and Jason Baguasan champed in the 135 Open Backbone 4-valves, Lorenmar Villanueva was the overall winner in the 135 Open Backbone 2-Valves and Joey Storm Rivero championed in the 180 Open Backbone category.
The 135 and 180 IR Open Backbone classes were also a part of the recently concluded 2014 IR Cup Series. The Shell V-Power Nitro+ One Make Race Festival is organized by InsideRACING and sanctioned by the Unified Sports and Racing Association (USRA) for Motorcycles, Inc.
More detailed reports and photos to follow in InsideRACING magazine.
See also