Royal Enfield Custom Program
Date posted on September 25, 2020
Share this
What Is the Royal Enfield Custom Program?

Amongst motorcycle enthusiasts, customisation is a cult that is growing and finding new takers globally today. Motorcycle customisation has emerged as the most popular means in which self-expression is embodied and manifested by passionate motorcyclists. For motorcycle customisers globally, Royal Enfield's motorcycles have always been the perfect canvas for customisation and self-expression. Royal Enfield's simple yet evocative design language allows the motorcycles to lend themselves beautifully to customisation, enabling riders to truly fashion their machines as an extension of their own persona.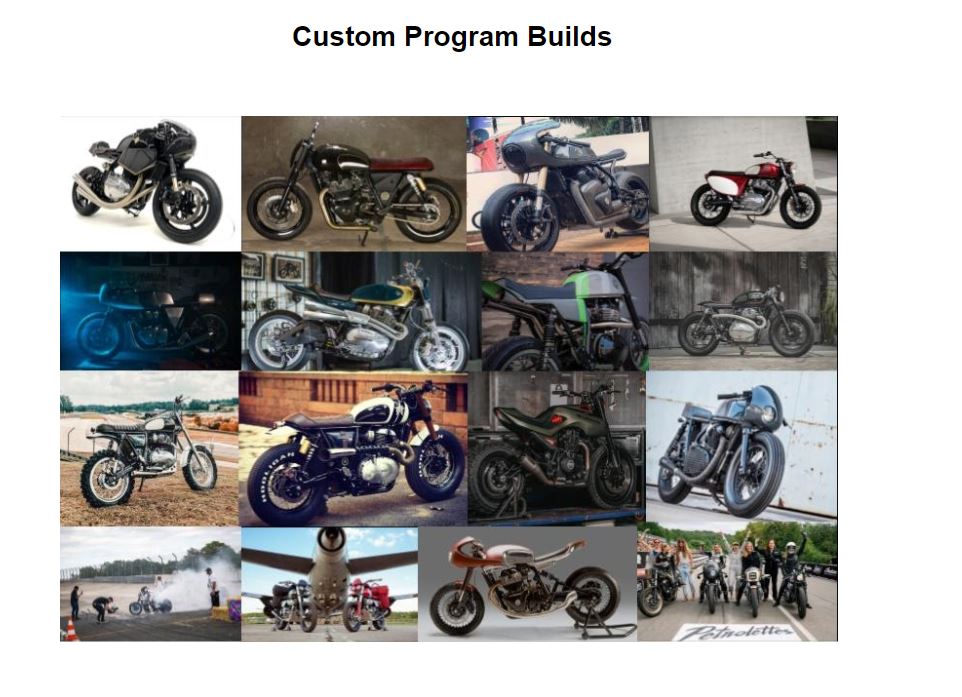 To inspire and facilitate creativity in the global motorcycling community and to demonstrate the capability of its motorcycles, Royal Enfield began the Custom Program in 2016. The initiative started out with a few in-house builds at the Royal Enfield's Technology Centre at Bruntingthorpe, UK in the form of Mo Powa & Dirty Duck (that took the global motorcycle community by storm) and has quickly developed into what the Royal Enfield Custom Program is today. The Royal Enfield Custom Program team aims to create a narrative between man & machine while showcasing the prowess of the motorcycle platforms to the global motorcycling community. In the last four years, the Royal Enfield Custom Program has collaborated with well known custom builders in India, South East Asia and Australia, Europe, and the Americas and has completed building over 30 custom motorcycles.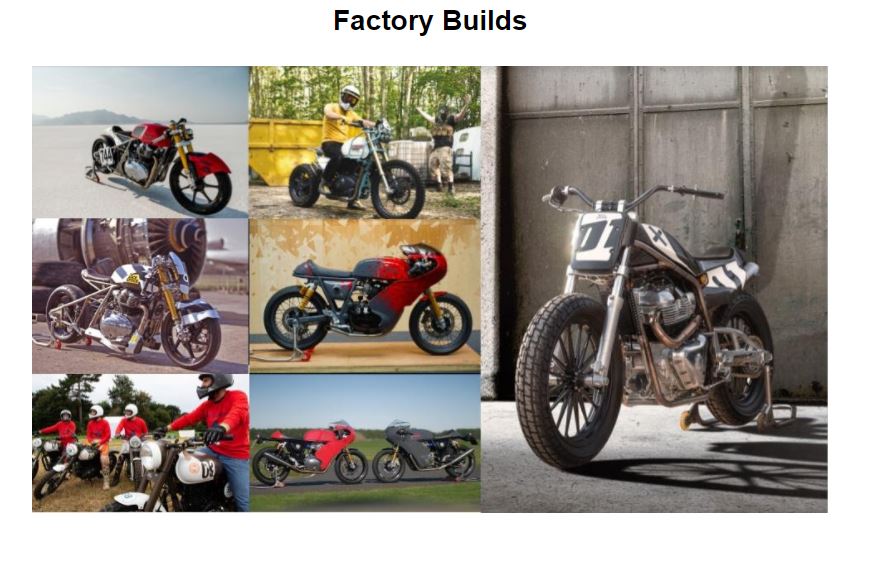 Building a custom motorcycle like most art forms is not only an expression of one's creative talent but their relationship with the motorcycles and Royal Enfield Custom Program will continue to collaborate with all enthusiasts who don't mind getting some grease under their nails.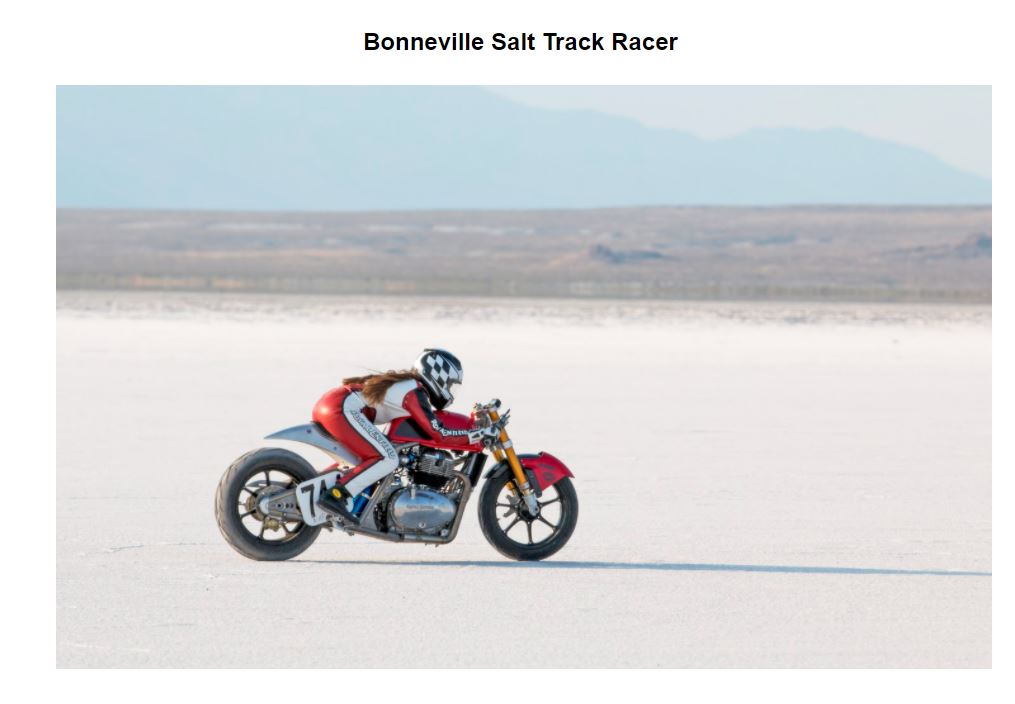 Unveiled: Bonneville Salt Flats, Utah, USA, 2017
Base: Continental GT 650
Concept: In 2017, Royal Enfield sought to highlight the game changing capability of their all new 650 Twin engine and teamed up with S&S Cycle, Harris Performance and rider Cayla Rivas to see what exciting and new things could really come with the new motorcycle platform. With the Bonneville Salt Flats Custom, Royal Enfield not only shattered the FIM record for twin cylinder, naturally aspirated motorcycles from 600-750cc at the iconic Bonneville Salt Flats in Utah, USA but set new benchmarks with record high at 157.053 Mph.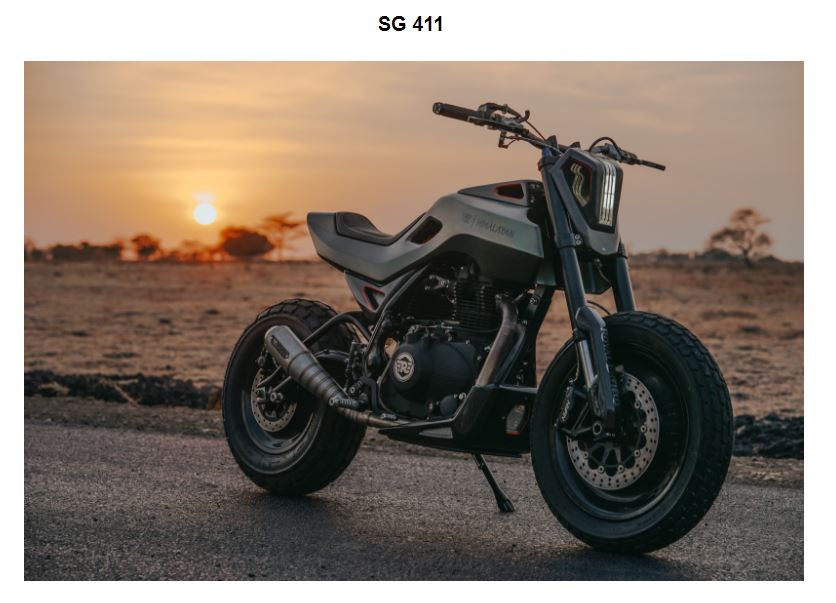 Unveiled: IMOS, Jakarta, Indonesia, 2018
Base: Himalayan
Builder: Smoked Garage – Indonesia
Concept:. The 'Future Street Tracker' is based on a Himalayan that highlights the versatility, capability, durability of the motorcycle and gives it an extremely futuristic makeover. With custom work being carried out on every part of the motorcycles except the engine the SG 411 gives one a glimpse into the future of motorcycles.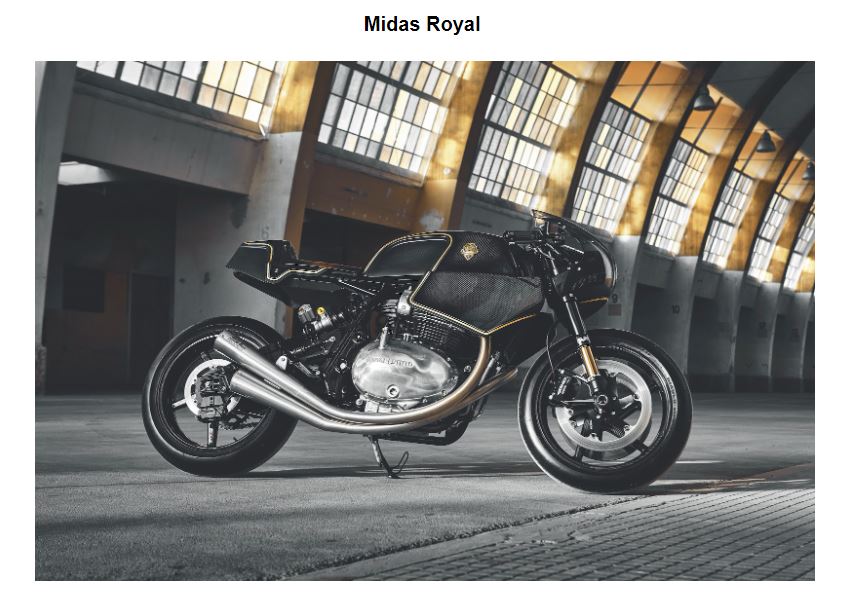 Unveiled: EICMA, Milan, Italy, 2018
Base: Continental GT 650
Builder: Rough Crafts – Taiwan
Concept: Royal Enfield premiered the Midas Royal at EICMA 2018, built by Rough Crafts of Taiwan. The motorcycle draws inspiration from the vintage racers of the 50's & 60's and is a ride built for a king. Top-spec Ohlins components and attention to detail that is second to none set this build apart from the crowd. Royal Enfield collaborated with Winston Yeh – the man behind Rough Crafts – one of the finest artists and fabricators in Taiwan to make sure that each part is of the best quality in both function and finish. Gold and carbon define the bike, with an all-carbon body replacing the GT 650 Twin's stock parts and gold pinstriping highlighting the contours of the bike. Not content to stop there, Winston had the rims replaced with full carbon BST units taking several kilos off the stock weight. A sweeping two into one exhaust perfectly frames the motor, terminating in integrated SC-Project silencers. And last but not least, the seat – beautifully crafted from hand tanned leather and aged perfectly to contrast with the technical perfection of the carbon forms.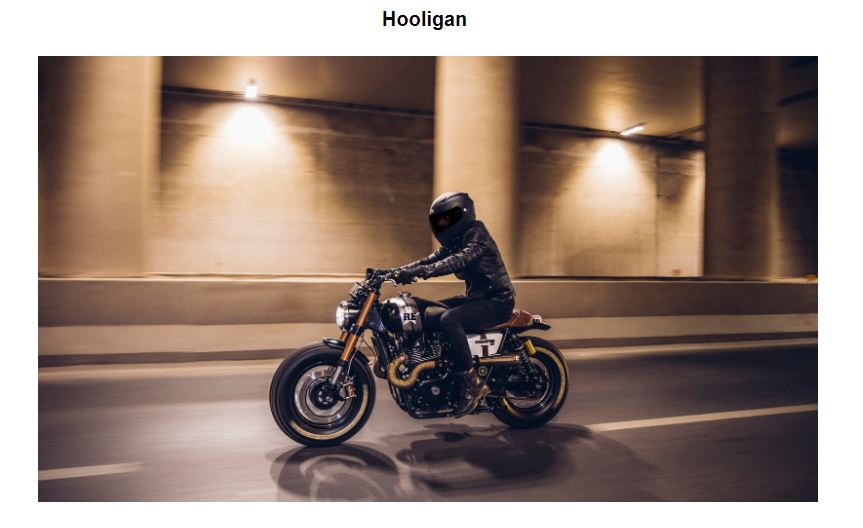 Unveiled: Royal Enfield Rider Mania, Goa, India, 2018
Base: Interceptor 650
Builder: Bulleteer Customs – India
Concept: The Hooligan built by the Bulleteer Customs features a dual-tone black & white paint scheme, which depicts the two different sides of the bike – The Interceptor 650 and the Hooligan. The black side is the law keeper with a "Serve and Protect" theme and on the other hand, the white side is the brash Hooligan version of the motorcycle bearing a "Troublemaker " theme complete with a knuckle buster fashioned front brake lever. While there is a chrome-finish on the right side of the engine the left is blacked out with the engine fins meticulously brushed and ceramic coated, a fitting tribute to the nature of the twin-engine- smooth and civilised at times yet wild and untamed when required.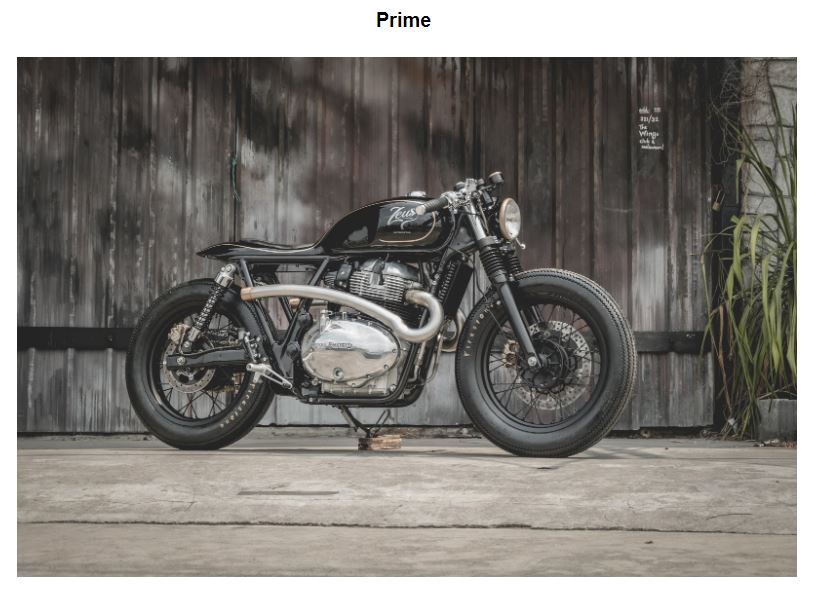 Unveiled: International Motor Show, Bangkok, Thailand, 2019
Base: Interceptor 650
Builder: Zeus Motorcycles – Thailand
Concept: Built for the 2019 Bangkok International Motor Show, Thailand's Zeus Customs came up with the evocative "The Prime Project" on an incredibly tight deadline. Each individual metal piece was handcrafted to match the ambitious concept of a monocoque body. And crafted it was, with the tank, seat and tail blending seamlessly into each other – topped off with the black and gold paint scheme that Royal Enfield's have been wearing for the past 50 years.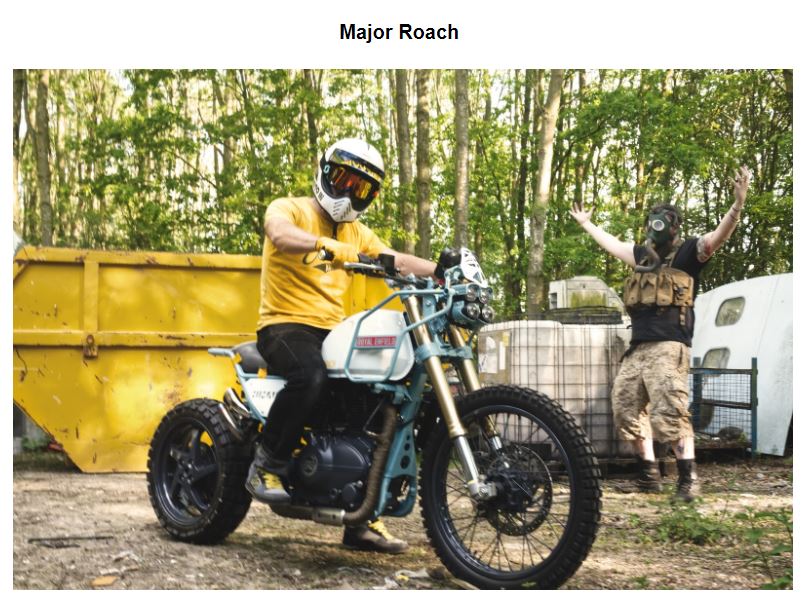 Unveiled: Wheels & Waves, Biarittz, France, 2019
Base: Himalayan
Builder: Factory Custom- build in house UKTC
Concept: The MJR Roach is Royal Enfield's own take on a post-apocalyptic version of the Himalayan The motorcycle comes equipped with a supercharger, a single sided swingarm and a face that resembles what's hidden in the name.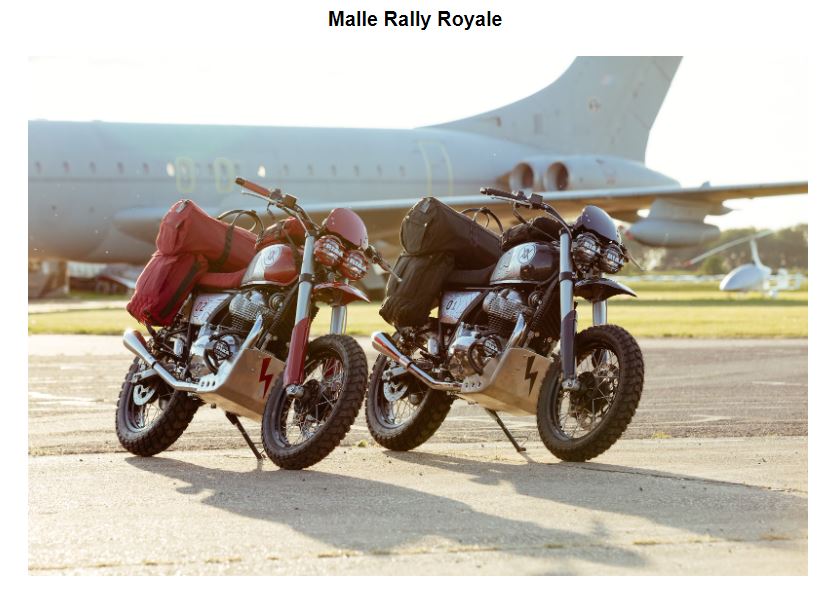 Unveiled: Wheels & Waves, Biarittz, France, 2019
Base: Royal Enfield Interceptor and Continental GT
Builder: Factory Build
Concept: Factory Build, based in Malle, London wanted to get their hands dirty to craft a custom-built rally spec support vehicle for 'The Great Malle Rally. Fashioned on the all new Interceptor 650, they wanted to create 2 rally machines to support 100 very inappropriate custom/classic motorcycles on the 1250 mile 5 day/stage rally across the most wild landscapes in mainland Britain. The final products took almost a year of testing & development and a lot of workshop hours with the gents from Malle and the final results were 2 very special Interceptor 650s which carried out its task as a support motorcycle flawlessly.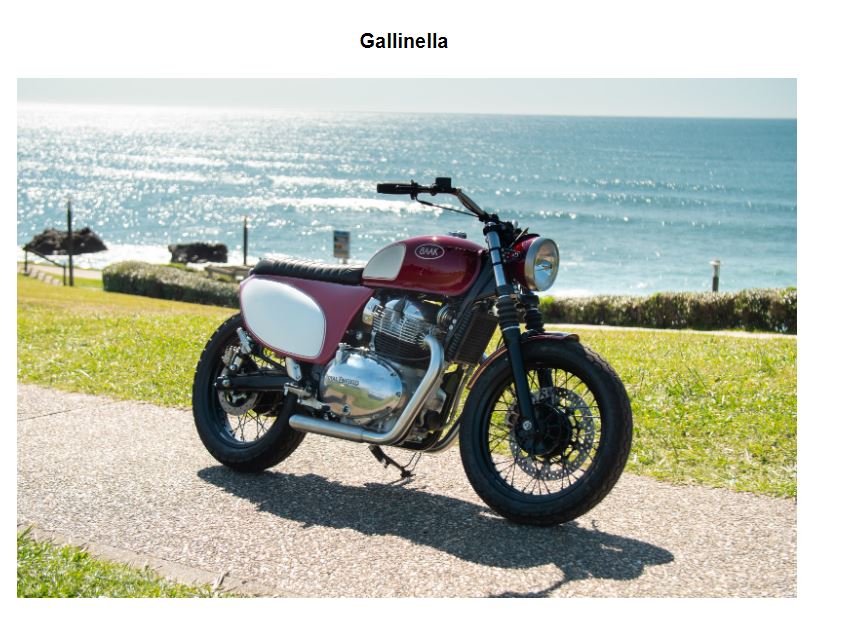 Unveiled: Wheels & Waves, Biarittz, France, 2019
Base: Interceptor 650
Builder: Baak Motorcycles France
Concept: Remaining true to BAAK's backdating style, this build has a classic looking reference with BAAK's vision of a timeless cruiser. The enveloping part on the rear end of the bike is its stand out feature and takes reference from the early 60's motorcycle style named Bathtub. It enables hiding of some elements of the motorcycle underneath this part and highlights the engine, making it become the masterpiece of the build. This part may be made out of aluminium, but could also be made of fiber reinforced plastic.Other custom parts include brushed aluminium silencers, a double tanned leather seat, retro style headlight & speedo units, custom wide handle bar amongst a few others and finished off in a beautiful shade of ruby red.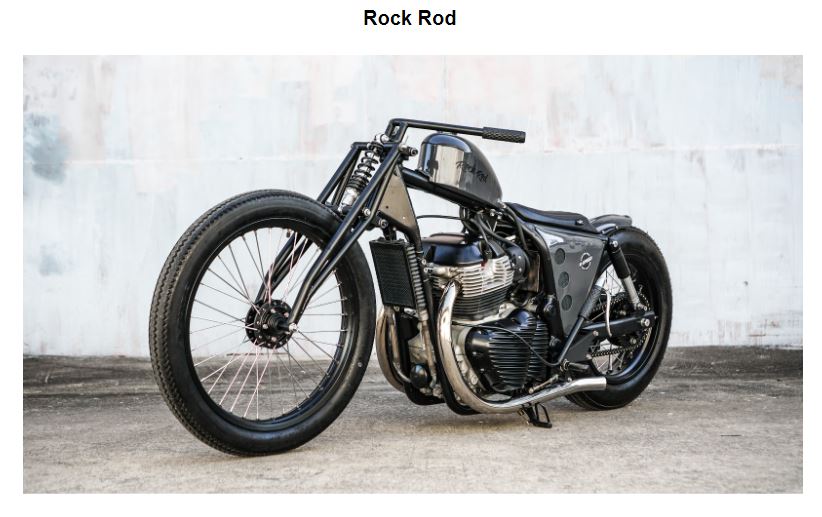 Unveiled: Hot Rod Show, Bangkok, Thailand, 2019
Base: Interceptor 650
Builder: K Speed – Thailand
Concept: Taking the base 650 Twin platform and custom work carried out in K Speed's distinctive & unique style was what we wanted. This is one of the most unique builds that we partnered on and has features that are very rarely seen on a Bobber. The springer fork mated to a clean swept back handlebar devoid of any lever or cabling and a suicide gear lever are just a few things that make the Rock rod a build worthy of admiration. We prefer to give the builder creative freedom and in most cases it is that freedom of expression that reflects in their build.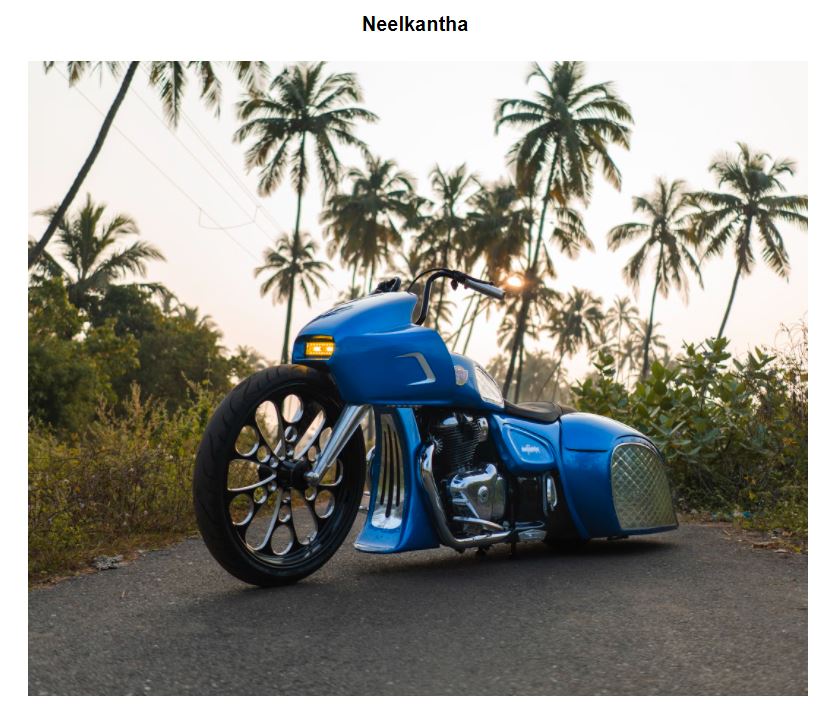 Unveiled: Royal Enfield Rider Mania, Goa, India, 2019
Base: Interceptor 650
Builder: TNT motorcycles – India
Concept: Baggers were first introduced in the 1980s and were intended to be motorcycles capable of gobbling up serious touring miles with panniers/bags attached on either side to carry necessary luggage for the journey. The custom baggers scene exploded only in the last decade when custom bike builders realized the huge potential in this genre of the motorcycle. Hand built by TNT Motorcycles, "Neelkantha" is the world's first custom bagger based on the Royal Enfield Interceptor 650. Inspired by traditional bagger styling and stance, it features front and rear air ride suspensions. Operated with the push buttons mounted on ape handlebars, the ground clearance can be adjusted and can range between 2.5 – 7.5 inches. It sports a massive 23" front tyre mounted on a CNC machined billet wheel.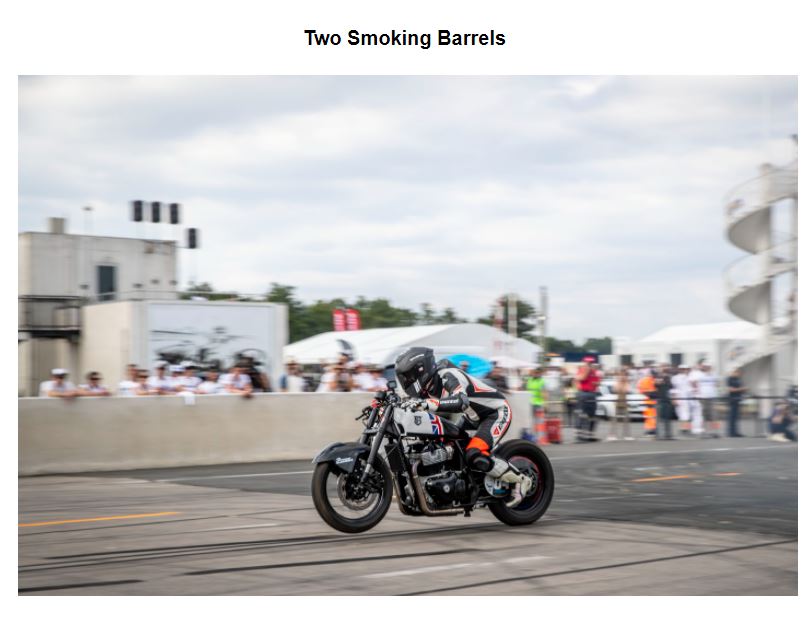 Unveiled: The Reunion, Monza, Italy, 2019
Base: Continental GT 650
Builder: Sinroja Motorcycles – UK
Concept: Two Smoking Barrels picks up where its predecessor, Lock Stock, left off. The Lock Stock established the new 650 Twin engine to be as competitive as the other reputed manufacturers have to offer and the Two Smoking Barrels came to the track ready to win. Built to compete in the Sultans of Sprint "Manufacturers Class," it retains more parts of the base 650 GT than Lock Stock, while also stripping away absolutely everything that could add unnecessary weight. A fixed rear end removes the need for a heavy shock – unnecessary on the smooth straight 1/8th sprint tracks of Europe – and every other frame element has been paired down to the bare essentials. A small fuel cell, carrying just enough race fuel for a few sprints, is tucked beneath a formed aluminum shell, easily removed with a few twists of cleverly designed knurled bolts.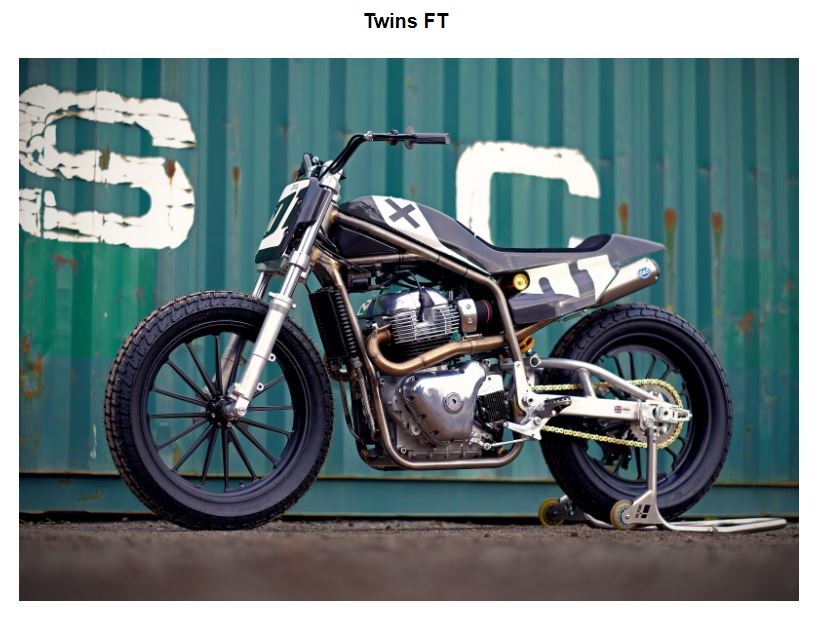 Unveiled: EICMA, Milan, Italy, 2019
Base: Royal Enfield 650 platform
Builder: Factory Custom
Concept: Flat tracking is one the fastest growing motorsport  in the world, with its combination of entertainment and accessible racing drawing in motorcyclists and non-motorcyclists alike. Royal Enfield makes accessible motorcycles with a focus on pure, simple riding fun, and so it's a logical step to explore the synergies between the two. Inspired by this, Harris Performance decided to try their hand at building a flat track style motorcycle based on the 650 Twins platform. While Harris' have over 40 years of expertise in chassis development, this is the first time that they have tried a flat track chassis, and it is a testament to their skill that on its first outings, the response was incredibly positive.
words and photos by Royal Enfield
Thank you for visiting insideracing.com.ph. You may express your thought below through the comment section. You may also follow us on Facebook, on Instagram @Insideracingnation or on our YouTube channel.