2021 Royal Enfield Meteor 350 First Ride Review
Date posted on March 19, 2021
Share this
We received a personal call late last week from Hardcore Brothers' (the Philippine distributor of Royal Enfield) head honcho Mr. Jimmy Barinaga, asking if we are interested to try a new Royal Enfield bike. We said yes of course and sure enough we had this new Meteor 350 Stellar in Red to ride for a weekend.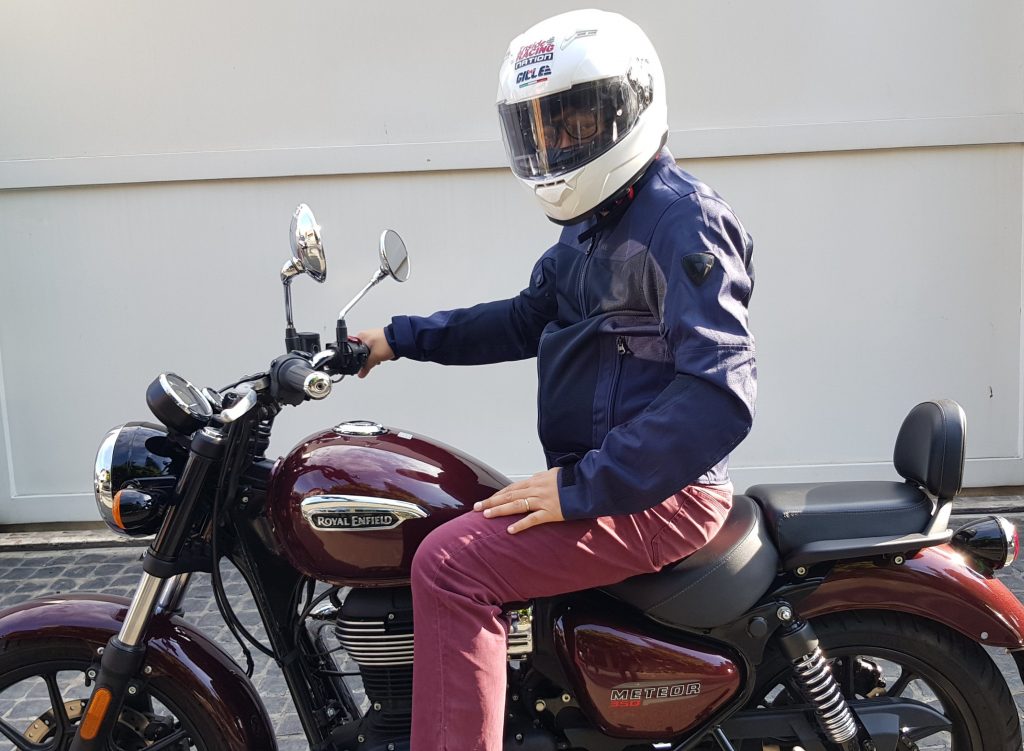 By the time you read this, the official online launch is already finished and we can now share to you our first impression.
First, a little background on the new Royal Enfield Meteor 350, a global bike already launched in India late last year and in Europe this early 2021.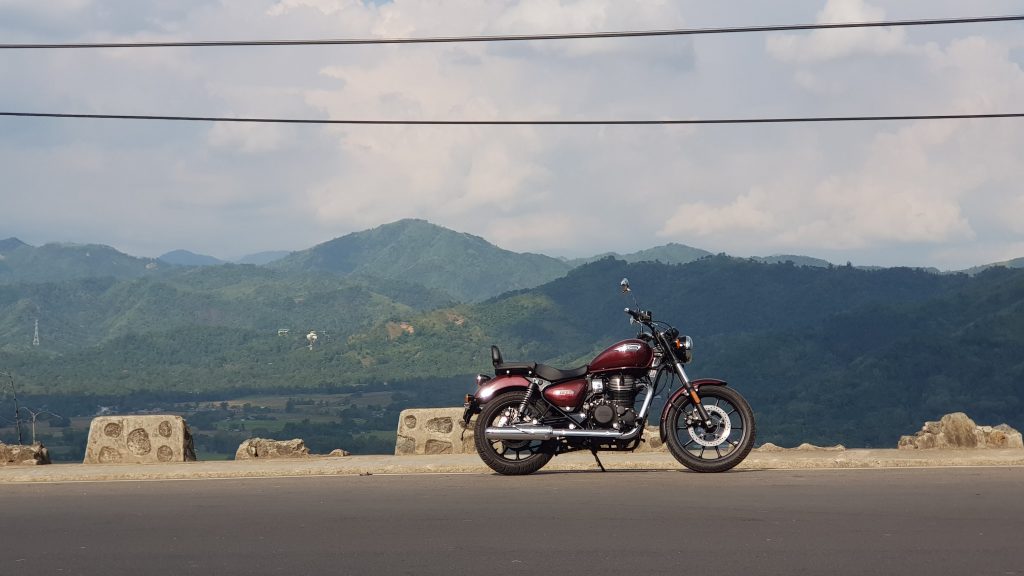 Unlike other Royal Enfield motorcycles sold locally, this new bike is positioned as an entry level cruiser. Not the hardcore raked fork monkey bar and loud exhaust cruiser type but more of a "comfort cruiser" or Easy Cruiser according to Royal Enfield. It will appeal to practical and mature riders.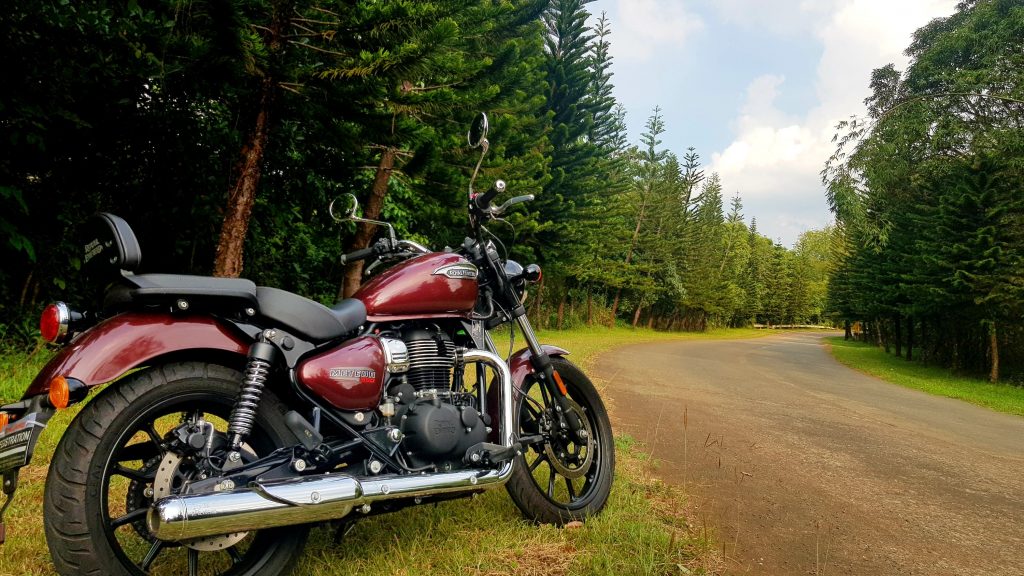 It has pulled-back handlebar, slightly forward position pegs, heel and toe shifting, a lower seat height with wide split seats and a very relaxed riding ergonomics seating.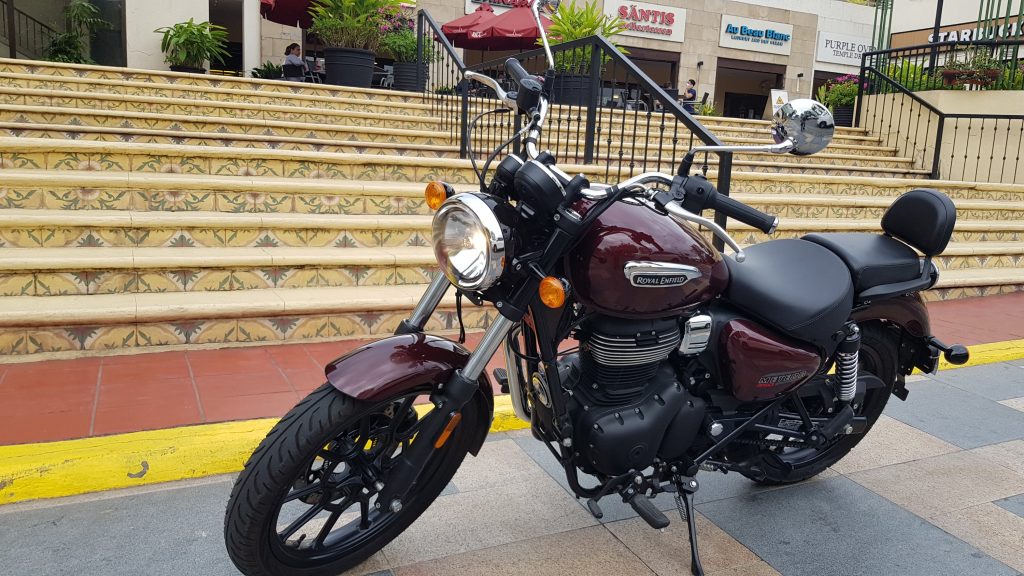 It's main highlight is the smooth and torquey all-new design but traditional air-oil cooled single-cylinder engine. It has SOHC, two-valves and is air- and oil-cooled. It is, however, fuel-injected and the peak torque of 19 ft-lbs comes in at a low 4000 rpm. The claimed peak power is around 20 horsepower.
Being a cruiser, the focus is on the torque and not much emphasis on power or maximum revs were given. More importantly, it has a counter balancer to smooth out the power pulses.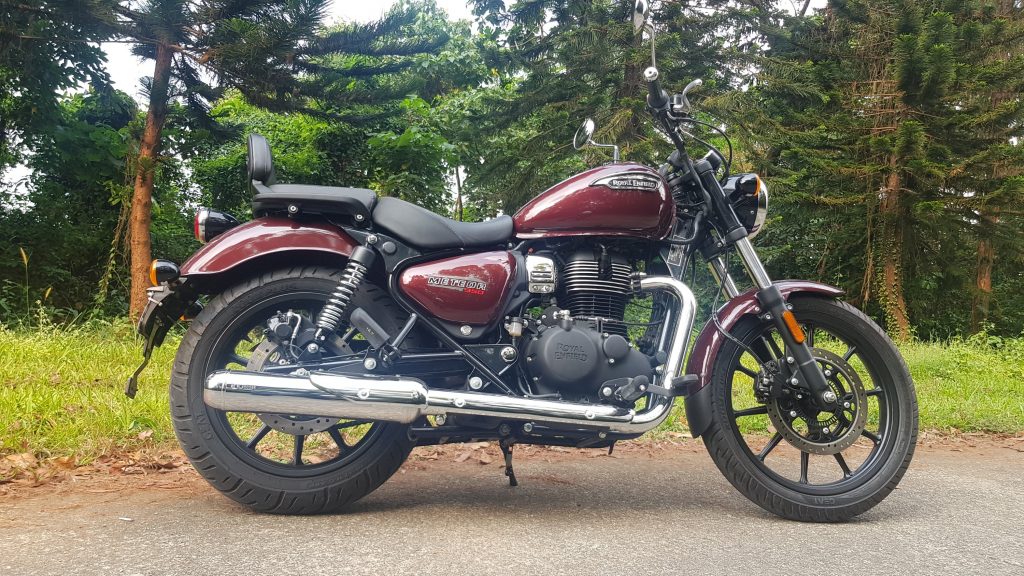 It has a slick shifting 5-speed transmission and a non-adjustable 41 mm fork mated with a pair of twin-tube shocks at the back with six spring-preload positions.
There is a newly developed chassis designes for straight line stability and cornering manueverability without compromising comfort.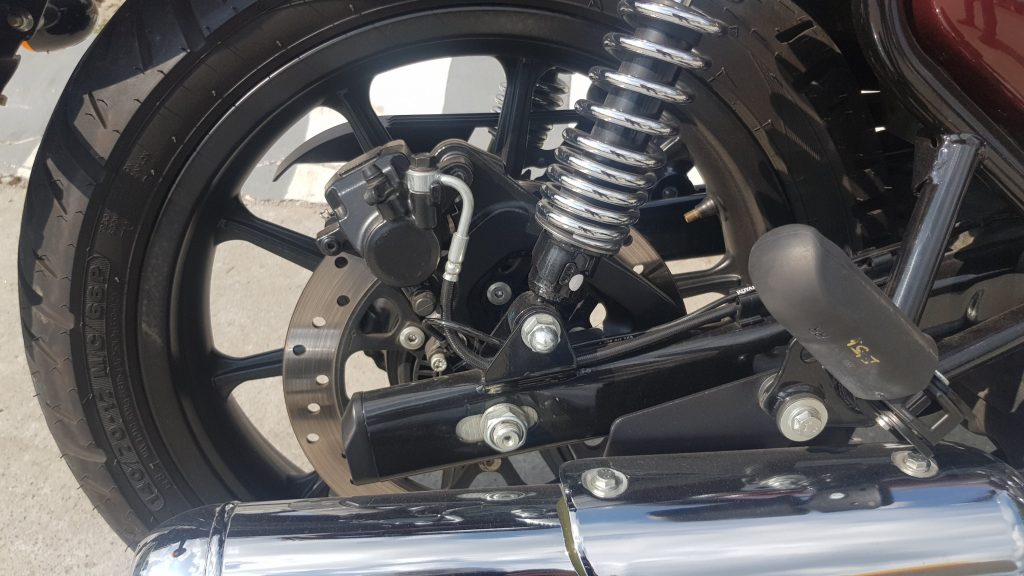 Tubeless 100/90 19-inch front and 140/70 17-inch rear tires are mounted on 10-spoke aluminum wheels. Meanwhile, braking is provided by a 300 mm disc at the front and 270 mm disc at the rear. The Meteor comes standard with a two-channel Anti-Lock Braking System (ABS).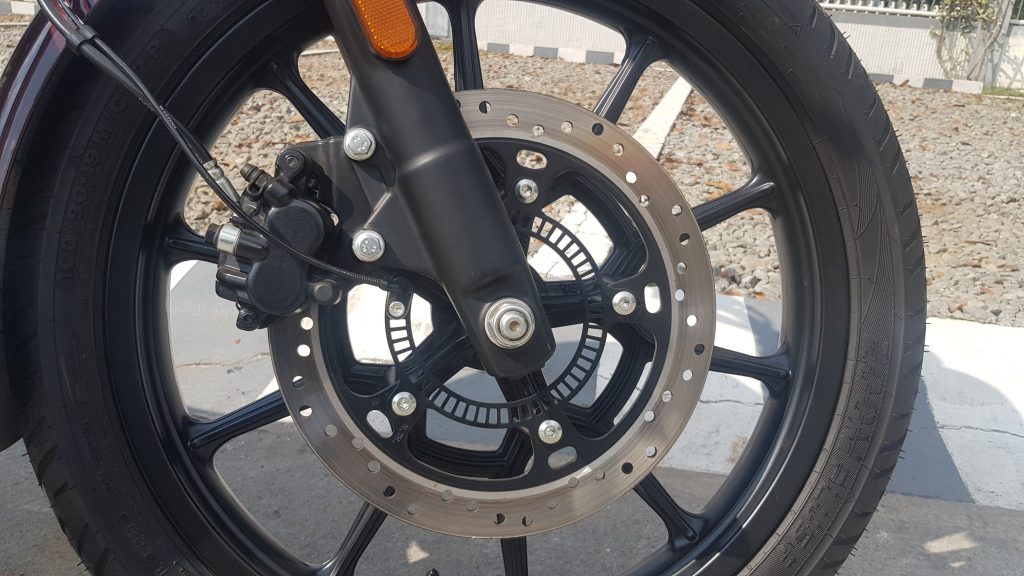 It has a circular LED Daytime Running Lights (DRL) and tail light but the main headlight are H4 bulbs.
Other traditional style cues are the classic-looking rotary handlebar switches for the lights and starter that takes getting used to at first, and the classic bar grips that feels nice to hold even without gloves (although we don't recommend it for safety).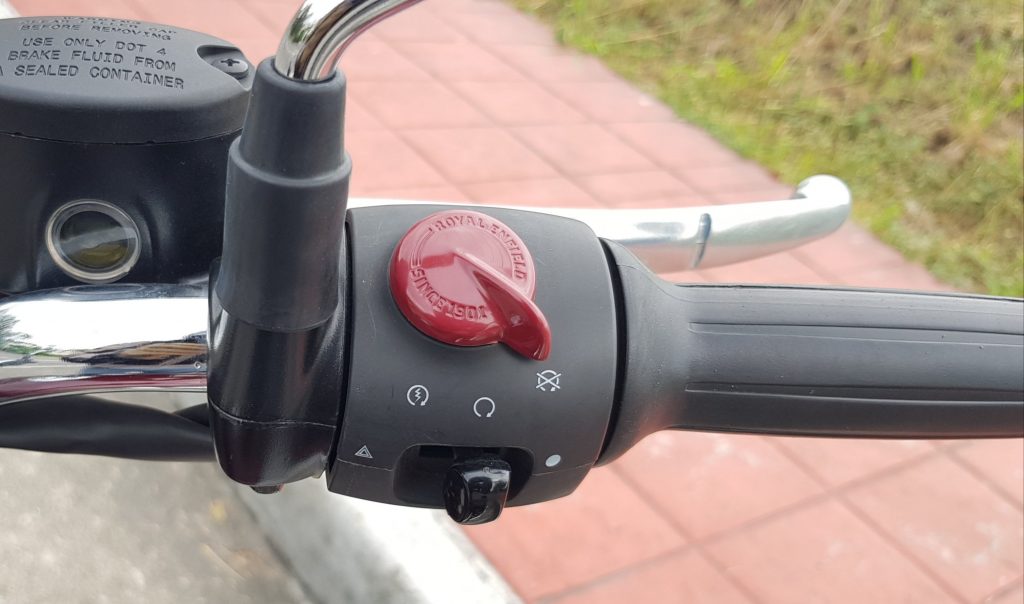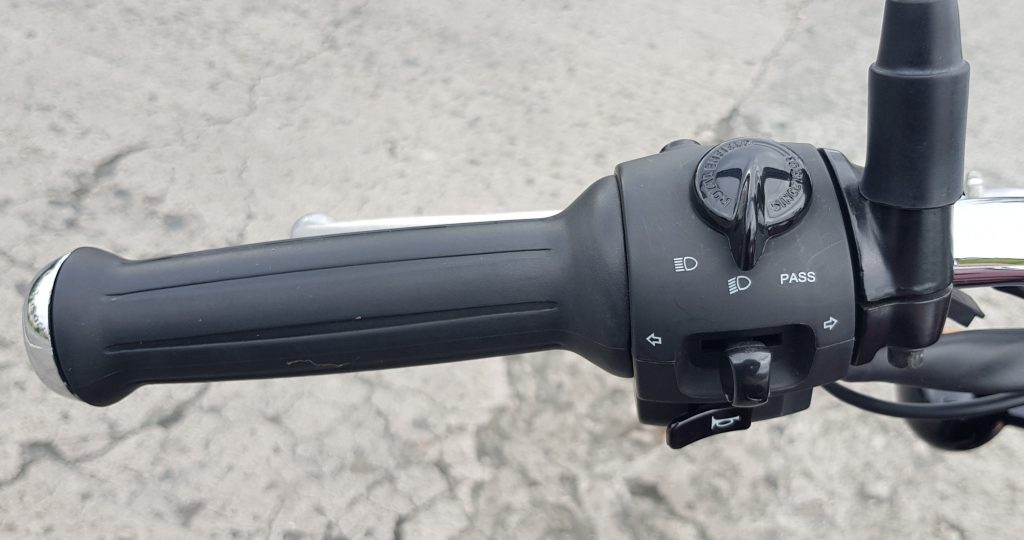 The other product highlight is Royal Enfield Tripper wherein you can Bluetooth connect your smartphone via a Royal Enfield App for easy turn by turn navigation. The Meteor has a separate smaller LCD display to inform you of instructions or directions. The RE Tripper App can be downloaded for free for Android or IOS phones and uses your Bluetooth, WiFi data, GPS and powered by Google Maps.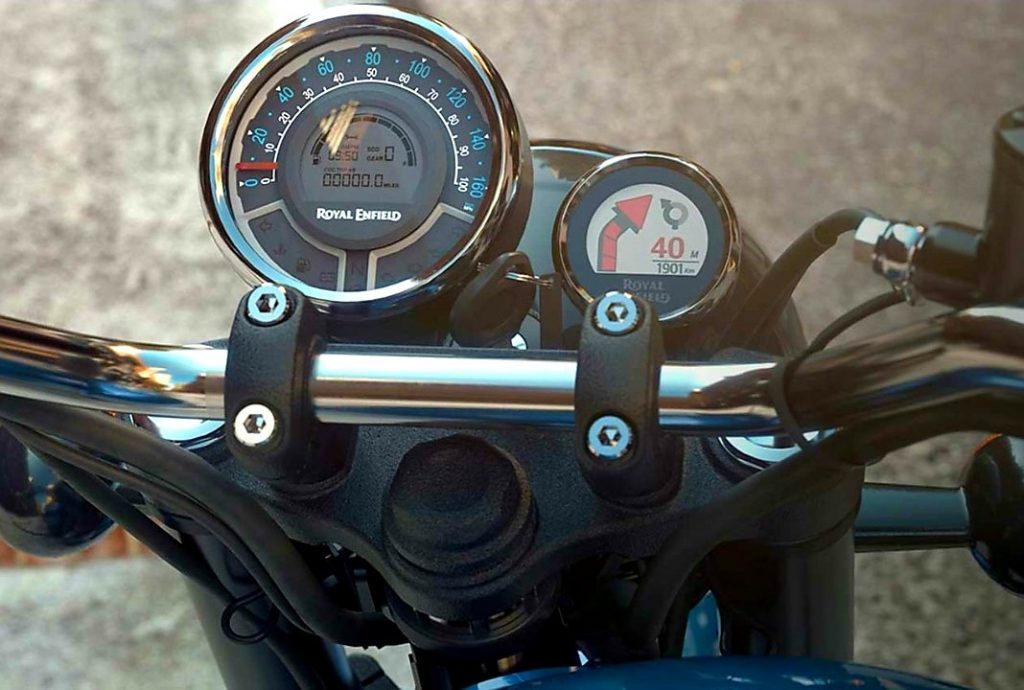 To ensure your phone does not run out of battery, the Meteor 350 has a USB charging port conveniently located on the left handlebar below the clutch lever.
As announced by Royal Enfield Philippines, there will also be three editions or trim levels for the local Meteor 350 line up — the Fireball, Stellar, and Supernova, just like elsewhere in the world.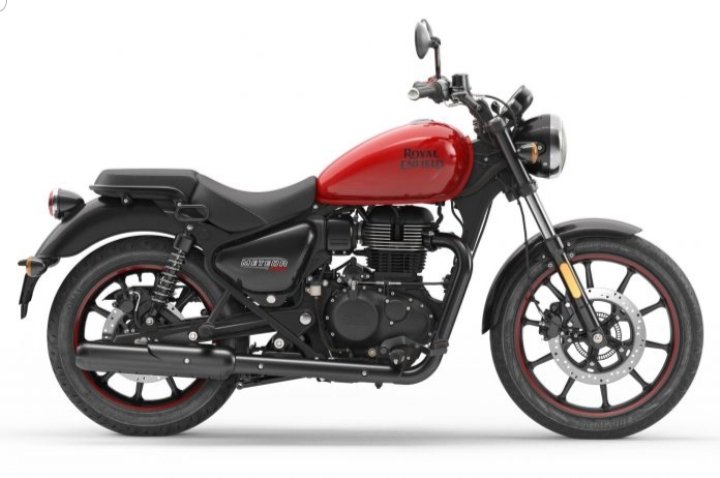 The Fireball is the base model priced at P232,000. Even though it us a base model, it is attractively equipped in blacked out coloring with all the features including ABS, Tripper and USB port. It comes in either Fireball Yellow or Fireball Red.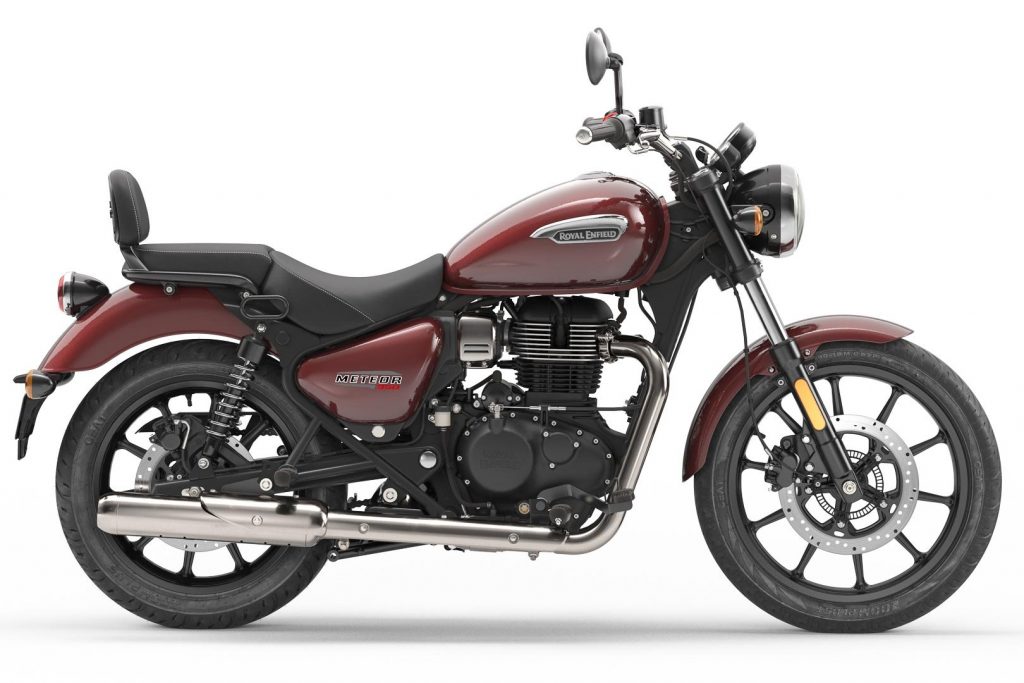 The next step up is the Stellar priced at P241,000 which adds a backrest for the passenger and lovely chrome exhaust pipe and lovely 3D tank badge. It is available in three color choices Stellar Black, Stellar Red or Stellar Blue.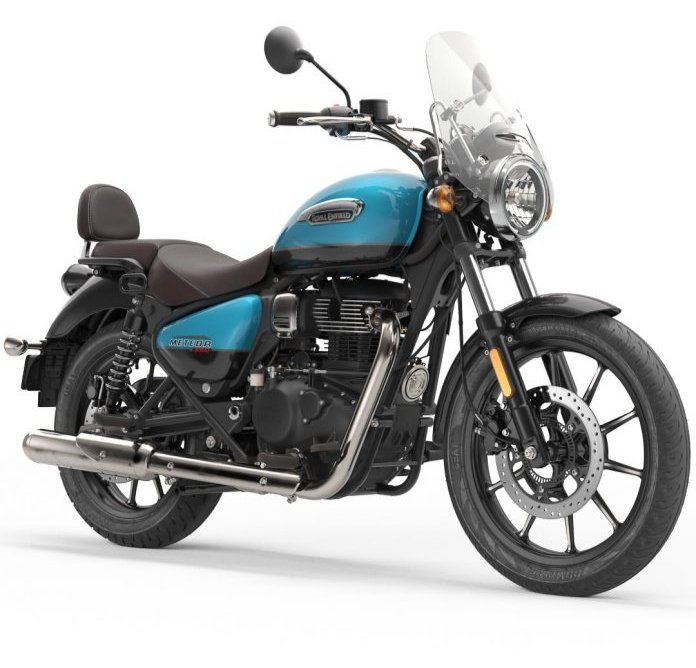 At the top is the Supernova priced at P252,000 which features a windscreen and lovely two-tone paint options Supernova Brown or Supernova Blue.
We were given a lovely Stellar Red to enjoy for a few days and our first experience from the heavy traffic of Ortigas Avenue and in the undulating mountain roads of Rizal was great.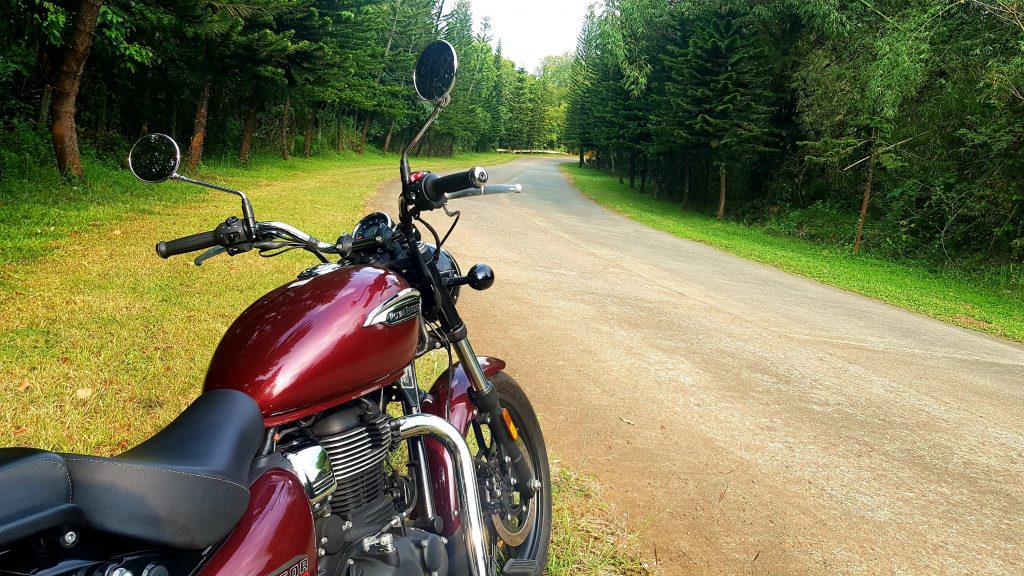 The thing that impressed me the most is the refinement and smoothness of the engine. We think that the engineering that Royal Enfield applied to its globally successful Interceptor 650 was applied here as the level of NVH (noise, vibration and harshness) is very low at the contact points giving it a much better quality and premium mechanical feel. This new thumper's engine sound and feel are also characterful and pleasant. This Meteor 350 is a great follow up to RE's new found quality and build in the Interceptor.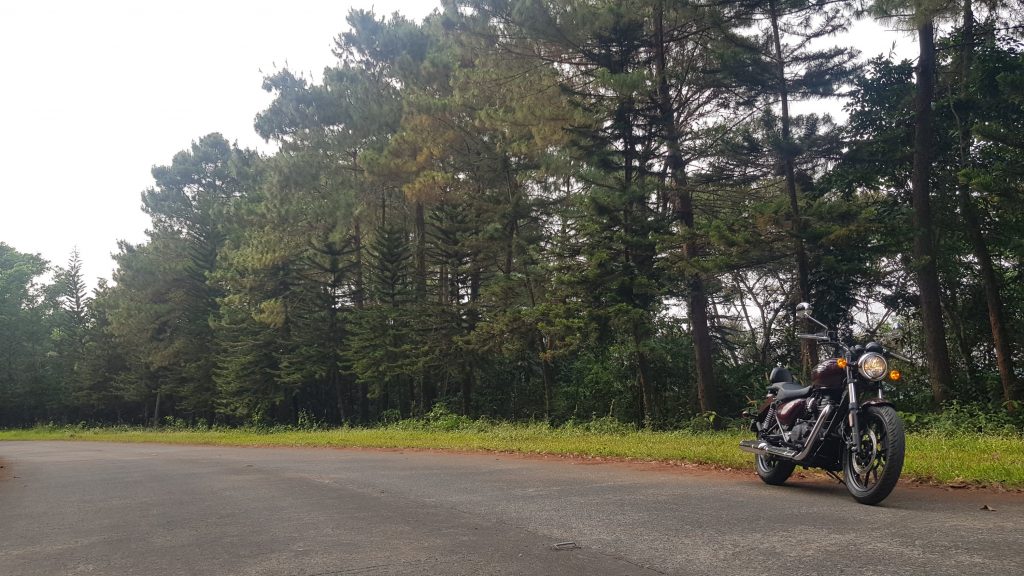 The ideal riding style for the Meteor is to short shift because of the substantial torque down low. There is not so much rush of power at the top end but there is a buttery smooth torque down low. It can also accelerate smoothly from crawling speed in a gear as high as 3rd! We were able to cruise at around 90 kph without feeling any stress from the engine. Top speed seemed to be around 120 kph. A cruiser rider lives for the lowest engine rev at cruising speed for maximum comfort and the Meteor delivers. "Cruise Easy" has never been more apt for a product.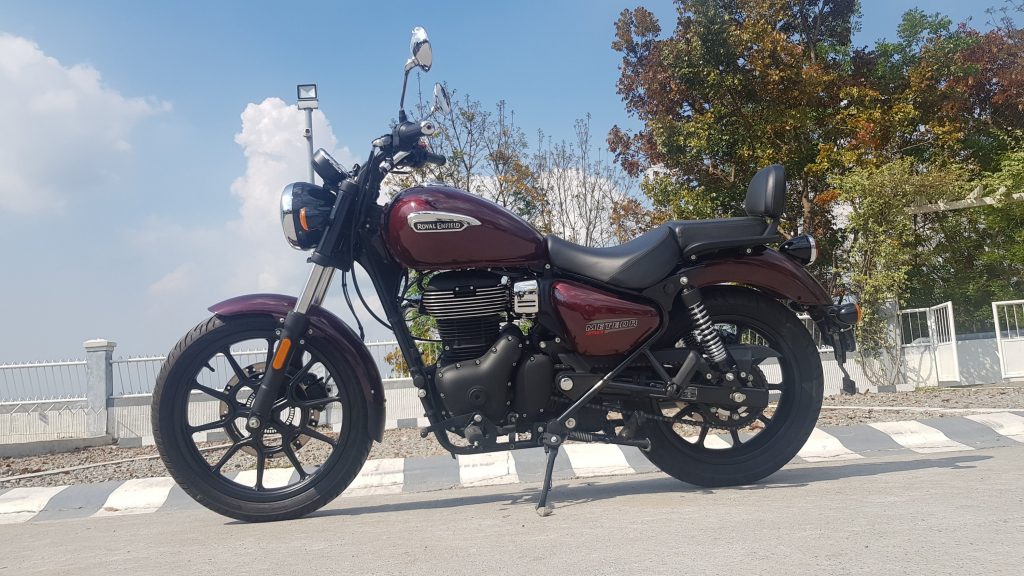 The transmission, I found to be very slick with precise engagement even with the heel-and-toe controls. Those who are used to riding underbones with rotary pattern transmissions will find the traditional "1 down- 5 up" pattern a little confusing at first. But only for a few minutes of riding. It's good thing that the Meteor has a gear indicator!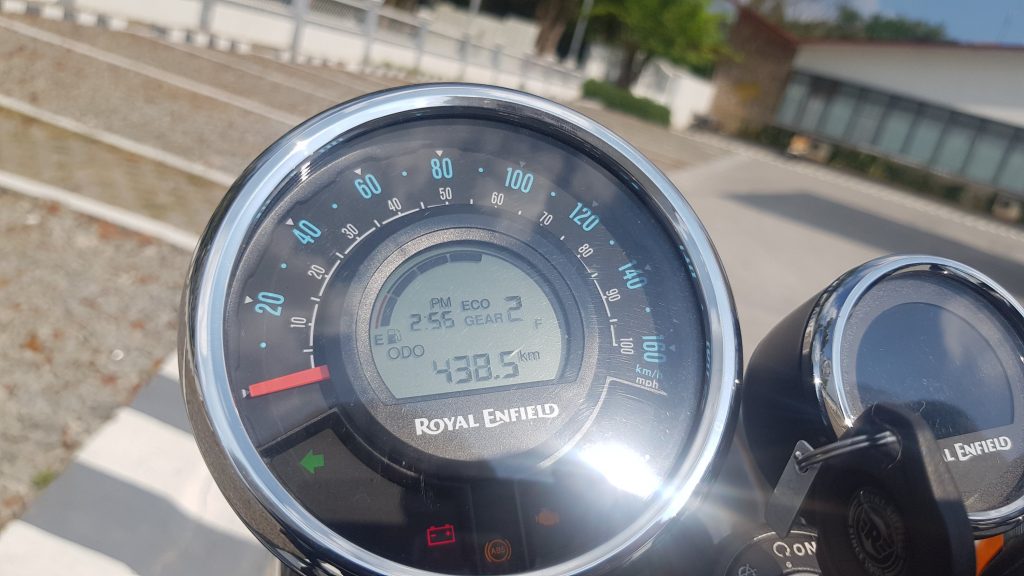 By the way, the Meteor's instrument pod is one of the best single meter pod we have seen. Aside from the aforementioned digital gear indicator, it has a big analog speedometer with classic fonts, digital fuel level, dual tripmeter, odometer and even an ECO indicator to inform you if you have been very gentle with the throttle. However, there is no tachometer which tells you how confident RE is with the engine, since a rider can feel when he needs to shift up or down. Meanwhile, a smaller pod on the right displays the RE Tripper. It displays trip riding time by default if you do not connect the tripper.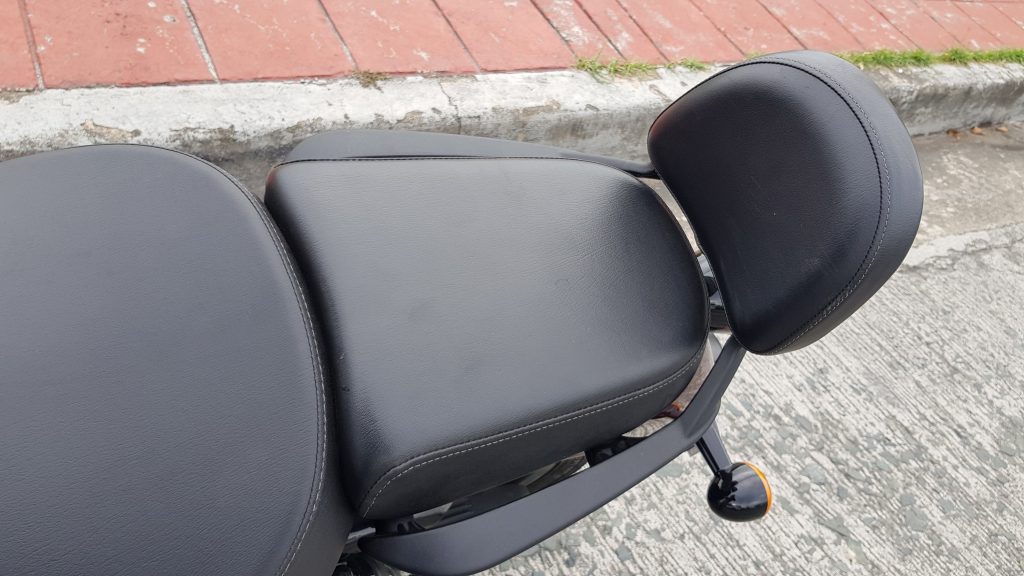 I found the ergonomics very comfortable and ideal for my size at 5′ 7″. The low, wide, thick split seat is very comfortable The standard backrest will surely be enjoyed by pillion riders but can be a good tie down points for your luggage for long trips.
Surprisingly, the bike feels much, much lighter than the declared weight of 189 kgs! There are other big bikes, like one Italian scrambler, with an even lower declared weight and it feels much heavier than the Meteor! I think the lower center if gravity of the Meteor has something to do with it.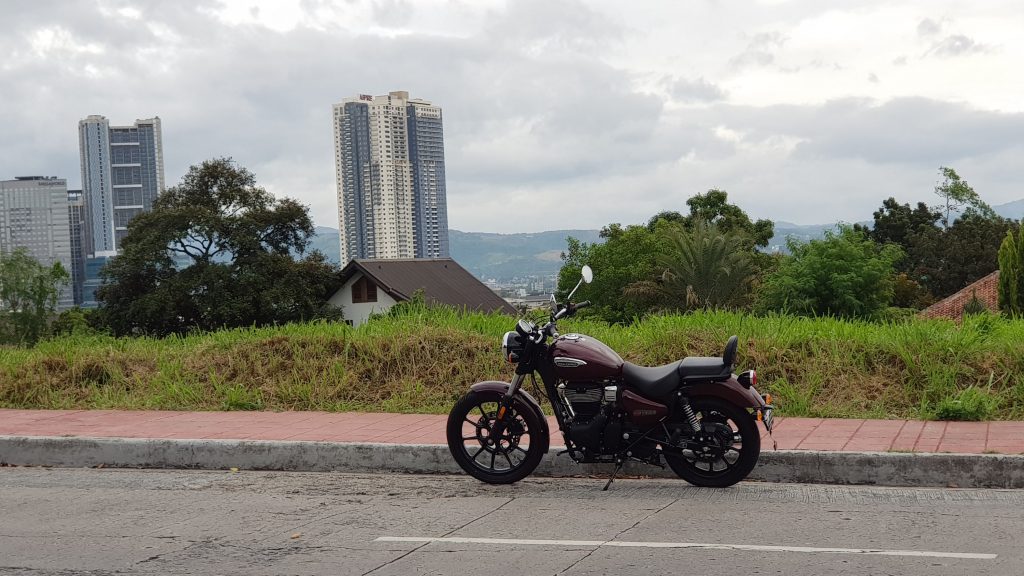 I also like the horn which sounds substantial to attract needed attention of other inattentive drivers and riders on the road. The bike also commands presence while parked or when waiting for the light to turn green. I got asked more than 3 times the proverbial question "Boss, ilang cc yan?"
Room for improvements?
Of course all motorcycles can be improved, even new ones. For me they are just small ones and most are nitpicking or brought about by my own personal physical ability or preferences. I found the Tripper display hard to read under bright daylight, the gear indicator display is too small to read at a glance, the fuel gauge is sensitive to the bike's pitch attitude when riding in mountain passes, the suspension can be smoother and the center stand is a bit hard to operate. And also, for me at least, a windshield is a must to maximize comfort on long rides.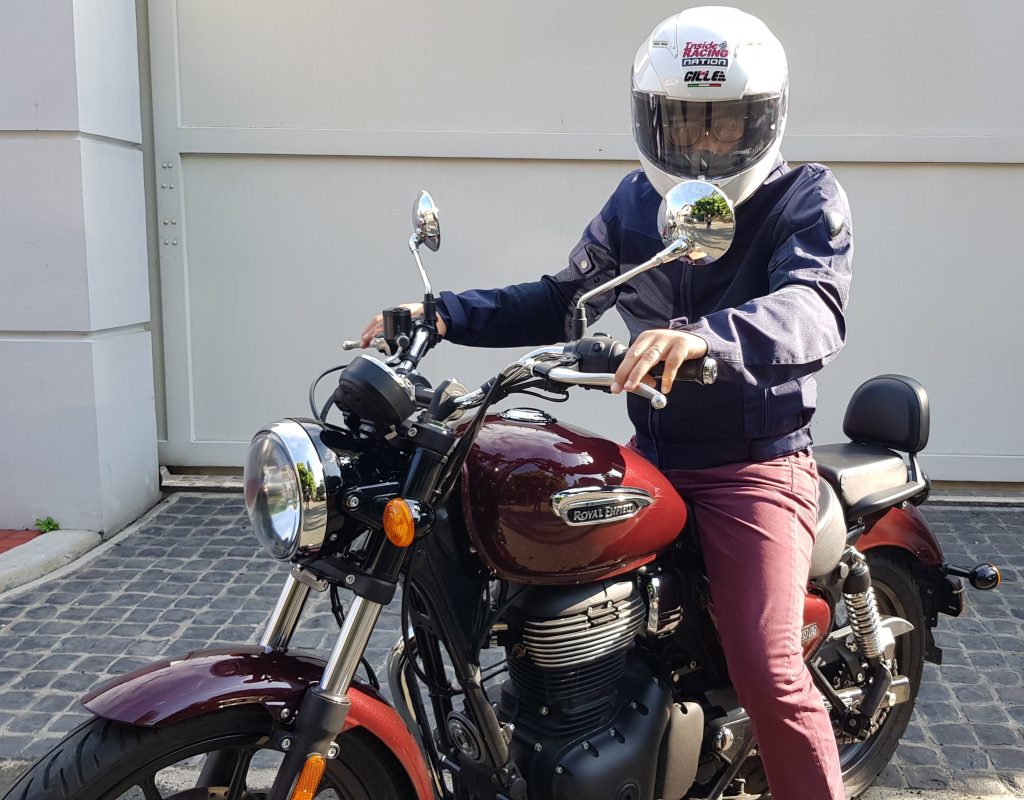 But seriously, the new RE Meteor 350 is hard to fault. With its very relaxed riding position, minimal engine vibration both in slow traffic and open cruising roads, the daily comfort level is high and its usability can be compared to 300cc maxi-scooters in terms of comfort and power. The maxi-scooters will win on storage and ease of riding in stop and go traffic of course, but the Meteor takes the lead in timeless elegant cruiser styling, big bike feel, rough road comfort with its bigger wheels and fuel economy due to its manual transmission with overdrive 5th gear.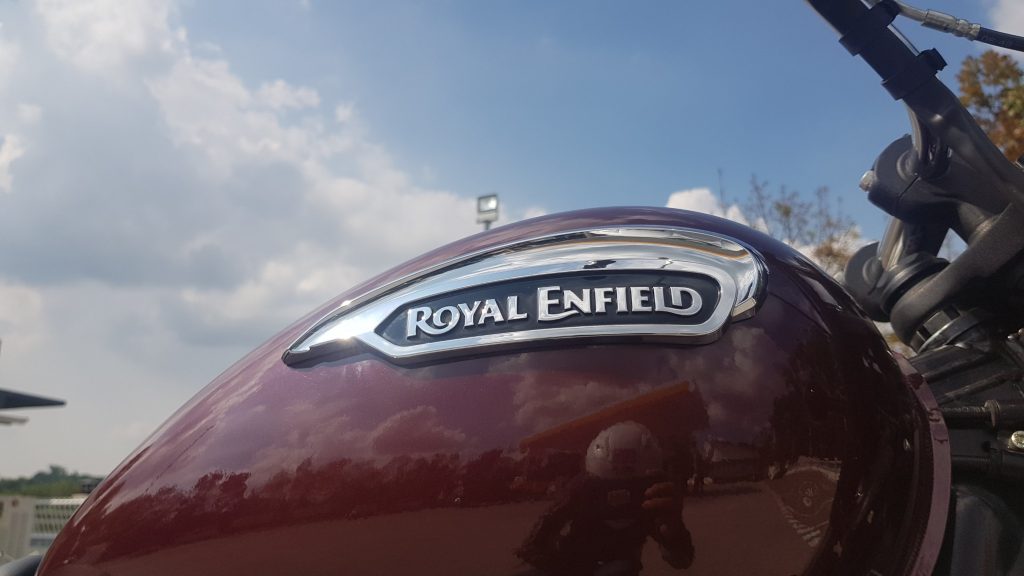 As more and more of these new generation of RE bikes get into the riders' hands, the overall image of RE is only going to get better from an iconic old brand with simple classic products to a more modern sophisticated brand that offers well-engineered and refined machines.
Congratulations Hardcore Brothers and thank you for taking us along for the ride!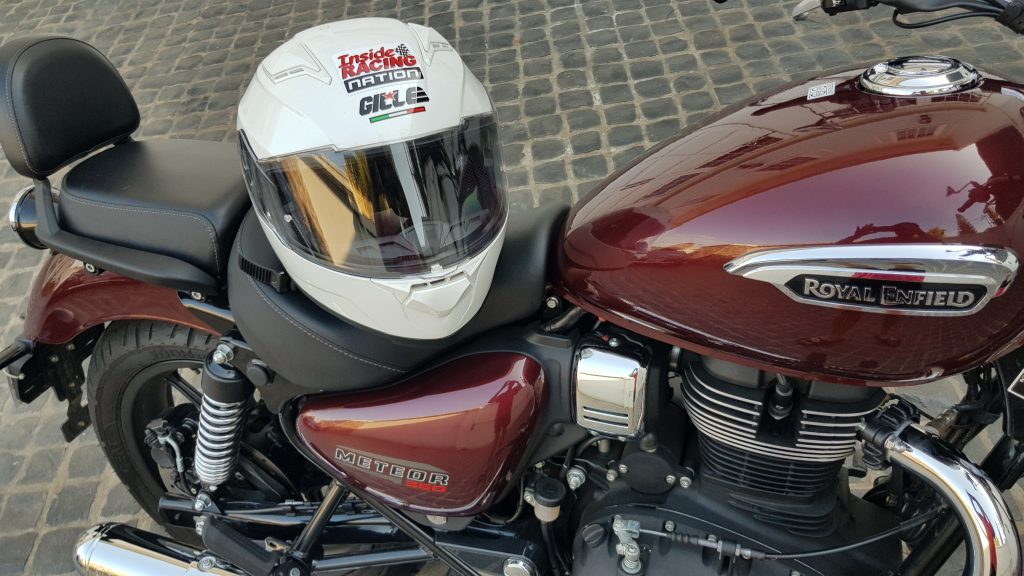 2021 Royal Enfield Meteor 350 Specs
ENGINE
Type: Vertical single
Displacement: 349cc
Maximum power: 20.2 horsepower
Maximum torque: 19 ft-lbs @ 4000 rpm
Valvetrain: SOHC; 2 valves
Fueling: EFI
Cooling: Air and oil
Transmission: 5-speed
Final drive: Chain
CHASSIS
Frame: Twin downtube spline
Front suspension; travel: Non-adjustable 41mm fork; 5.1 inches
Rear suspension: Spring-preload adjustable twin-tube emulsion shocks
Wheels: 10-spoke aluminum
Front tire: 100/90 x 19
Rear tire: 140/70 x 17
Front brake: 300mm disc
Rear brake: 270mm disc
ABS: Dual-channel standard
Thank you for visiting insideracing.com.ph. You may express your thought below through the comment section. You may also follow us on Facebook, on Instagram @Insideracingnation or on our YouTube channel.
Thank you for visiting insideracing.com.ph.
While you are here, kindly don't forget to click on our advertisers, visit their site and consider them for your motorcycling needs. It will help us a lot.
You can also order a copy of our monthly print magazine for more riding contents to read and enjoy at your leisure anytime by clicking here.
You may also express your thought below through the comment section. You may also follow us on Facebook, on Instagram @Insideracingnation or subscribe to our YouTube channel.