Second IRGP crown for Ortile in the Phoenix Cyclomax Underbone Trophy
Date posted on December 11, 2014
Share this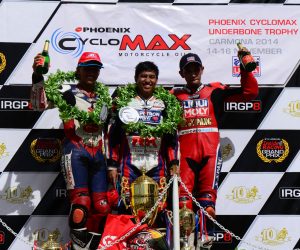 Petron-Race Ace-SRT's Bryan "Spark" Ortile won his second IRGP title after a nail-biting race in the Phoenix Cyclomax Underbone Trophy of the 8th Annual InsideRACING Grand Prix.
Ortile had a tight fray for the win against Lorenzo Rellosa of Phoenix-MBF-YRS, Romer Corbe of Liquimoly-YY Pang, Koko Tadachi of Honda Philippines and Gio Adriano of EGV. Out of 16 riders, the Zebra Polesitter was Vrei-ar Suba of Faito-RK-Vee Rubber.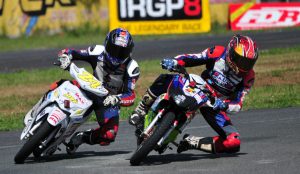 In the end it was expert rider Ortile who took the checkered flag after a shifting error by Rellosa who settled for second place. Corbe finished third followed closely by Adriano. Ortile also clinched the Fastest Privateer Award as well as the Fastest Race Lap recognition as he registered the 51.432s best lap time of the race. Honda Philippines won the Manufacturers Award.
It was Ortile's second IRGP title. His first was in IRGP5 wherein he was victorious in the Masters Trophy.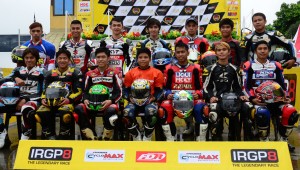 The 8th Annual InsideRACING Grand Prix was presented by InsideRACING, FDR, Castrol Power 1, DENSO Spark Plugs, Top 1 Synthetic Motor Oil, Phoenix Cyclomax, NGK Spark Plugs, Shell Advance, Gulf Pride 4T Plus, Zebra Helmets, JVT, Motoworld and MDAP. Sponsors of the event were Triumph JT Marketing Corp., VS1 Mototek, Spyder, LS2 Helmets, Racing Boy, Koso, Motoactive, Okimura and Sum Racing while IRGP8 partners were Motorsiklo Xklusibo, Stoplight TV, MCP, The Racing Line, Unified Sports and Racing Association for Motorcycles, Inc. (USRA), Pinoy Speed, InsideRACING TV and Statmed.
Results:
Phoenix Cyclomax Underbone Trophy
1. Bryan Ortile – Petron-Race Ace-Spark Racing Team
2. Lorenzo Rellosa – Phoenix-MBF-YRS
3. Romer Corbe – Liquimoly-YY Pang