Shell Advance Automatic Grand Prix
Date posted on November 19, 2012
Share this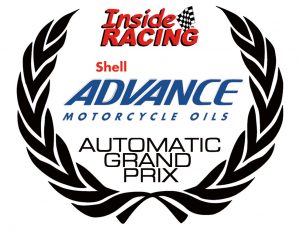 Pilipinas Shell is proud to be back in the IRGP as the class title sponsor for the Automatic Grand Prix  in the Sixth Annual Motolite Inside RACING Grand Prix (IRGP6) to be held on November 23-25 at the historic Carmona Race Track in Carmona Cavite.
The Shell Advance Automatic Grand Prix will be contested by Novice and Expert riders currently competing at the highest level in local racing. Using underbone motorcycles up to 130cc displacement and with Open machine modifications based on IRGP rules, it is one of the most competitive underbone racing class in IRGP.


The "Motolite InsideRACING Grand Prix" is the biggest annual year-end tradition for the country's motorcycle road racing fans as it aims to provide a "GP" style race event to the local racers and teams. It is a prestigious annual event where top local racing teams and riders participate. It is sanctioned by the Underbone and Scooter Racing association (USRA).
Shell Advance believes in the talents and skills of Filipino riders and continues to support this year's IRGP race event. Showcasing racing techno-logy working in real condition, Shell Advance is a trailblazer in lubricant technology. It uses what it learns from its technical partnership with Ducati in the extreme testing environment of the racetrack to provide Filipino bikers with high-performing products such as Shell Advance motorcycle oils and Shell V-Power road fuel. For motorcycle owners, Shell Advance provides a richer riding experience with unmatched responsiveness. It is designed with the RCE (Reliable, Control, Enjoyable) techno-logy that helps motorcycles perform at their peak potential, creating a unique riding experience. Shell Advance motorcycle oil is available in all Shell retail stations and motorcycle supply shops nationwide.

Provisional Entry List

	Bike #	Auto GP 180		Team
1	O7	Ivan Santiago		JVT Scooters
2	8	Ernie Daguio Jr.	DSF
3	10	Gerry Quinonez		JM Mirasol
4	16	Herbert Lopez		Spec V
5	17	Masato Fernando	        Spec V
6	18	Jackson Braganza	Salbahe - Zebra Helmets
7	22	Edwin Chua 		Deka
8	39	Miko Montano		JVT Scooters
9	46	James Barcial		MTRT
10	57	Josh Reuben Tan 	Kymco
11	69	Dustin Esguerra		Motortrade-Eneos
12	77	Paul Pangilinan		Yezaroo
13	89	Arlan Dela Cruz		JVT Scooters
14	95	Paul Mark Doblada	Takeshi - Asia
15	108	Cassey Ng		MTRT
16	119	Raniel Resuello		RAR / Kawasaki
17	888	Mickey Mazo		Fastek-Speed Tuner