Shell Advance Super Series Scheduled to have its Second Round in Davao This May 7
Date posted on April 17, 2017
Share this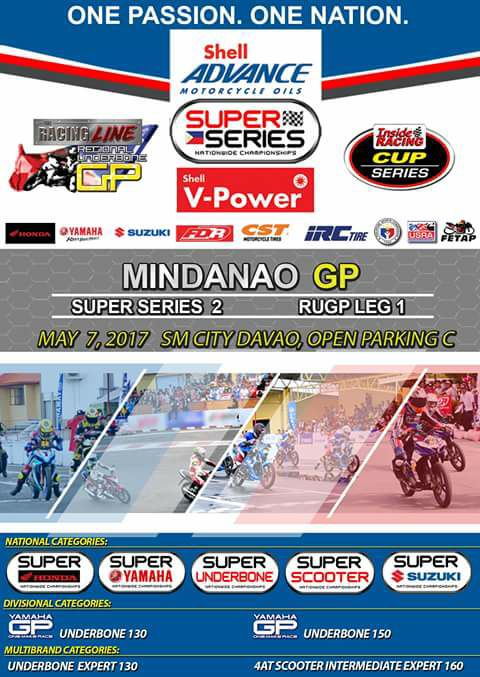 After a successful opening of its second season at the Clark International Speedway in Pampanga, the USRA Shell Advance Super Series Nationwide Championships Fueled by Shell V-Power is going to have its second round for 2017 on May 7 at SM City Davao. This is alongside the first round of the Shell Advance RUGP (Regional Underbone Grand Prix). Both events are sanctioned by the Unified Sports and Racing Association for Motorycles, Inc. (USRA) which is recognized by the Philippine Sports Commission and a member of the Federation of Two Wheels Association of the Philippines (FETAP).
Racing fans in Visayas and Mindanao must brace themselves for action-packed races featuring fast and powerful motorcycles and highly skilled riders coming from different parts of the country. The battle in the Super Series classes is something to watch out for as racers will give a good fight in the Super Honda, Super Suzuki, Super Yamaha, Super Scooter and Super Underbone categories. The Super Honda class utilizes Honda RS150 race bikes while the Super Suzuki features Suzuki Raider R150 motorcycles. The Super Yamaha race class uses Yamaha Sniper 150 MXi race bikes.
The RUGP will also have open scooter and underbone races. Two classes are qualifiers for the Yamaha GP and these are the Yamaha GP Underbone 150 and Yamaha GP Underbone 130. It will also be exciting to see riders from Luzon and Visayas who will travel to Davao as they dice it out with local talents.
The Super Series is organized by InsideRACING from Luzon and The Racing Line who holds races in Visayas and Mindanao. The series is supported by Shell Advance, Shell V-Power, Suzuki Philippines, Yamaha Motor Philippines, Honda Philippines, CST Tires, IRC Tires and FDR Tires.
See you riders and race fans this May 7 at SM City Davao!