SOYANGCO AND SANTOS WINNERS IN HIGHLY SUPPORTED MTRT CLUB RACE
Date posted on August 18, 2015
Share this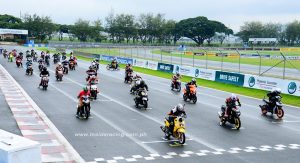 The second MTRT Club Race this year was on August 9 at the Clark International Speedway. The two-heat race ran in full track and once again had a big grid with more than 30 riders composed of mostly beginners and some experts.
10 winners were awarded in the Club Race for beginners and it was Roman Santos who topped the category after two races. Santos also won the first MTRT Club Race last July 5 also in Clark.


In the Expert class, 5 riders were recognized and Neil Soyangco emerged as the best among them. Neil is the brother of Tracy Soyangco, one of the prominent underbone riders who also became a part of the MotoIR series in 2013 and 2014 and the 2014 PSBK Novice class champion. Neil has not been active in racing for some years now but proved he still has the riding skills in him.
Just like in their first event, Mr. Henson Hu of MTRT (Motorcycle Taipei Research Team) participated in the race again and had fun with the other riders. Paul Pangilinan, IRGP3 Champion and a well-known rider, also joined the MTRT Club Race.