Soyangco Overcomes Inguito and Lopez in Photo Finish FDR UBK Race
Date posted on September 10, 2014
Share this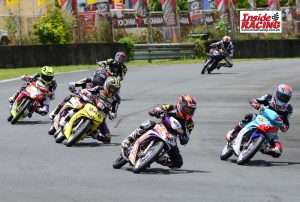 NHK-Racewell's Tracy Soyangco came out victorious in a race-long tight battle over expert riders Herbert Lopez also of NHK Racewell and John Emerson Inguito of JVT. It was indeed a close fought race in the main 150 Open UBK class from start to finish and each of the three riders took turns in taking the lead all throughout.
Also included in the high quality race were the likes of expert underbone riders including defending Underbone King Niño Fabian, Masato Fernando and Bryan "Spark" Ortile. In the end it was Soyangco who crossed the finish line first followed closely by Lopez and then Inguito. Other victors in the UBK's fifth round were Spec V-FDR's Aldeine Valencia in the 115 Novice and NHK-Racewell's Vrei-ar Suba in the 115 Open class.
The FDR Underbone King Championship is organized by BRCA and sanctioned by the Unified Sports and Racing Association (USRA) for Motorcycles, Inc.
More detailed reports and photos to follow in InsideRACING magazine.
See also