Sport Rouser from Bayombong
Date posted on April 22, 2019
Share this
Patrick Medestomas is a bike enthusiast from Bayombong, Nueva Vizcaya. Currently he has a small business where they modify bikes and parts of bikes using Patrick's own styles through fabricating fiberglass fairings (belly pans, fenders, head lights, etc.). What was once a dream has transformed into a serious craft. For Patrick, InsideRACING magazine serves him greatly as it feeds him new things to learn about his passion for motorcycles and gives him a lot of new ideas especially when it comes to his hobby/line of business which is bike modification.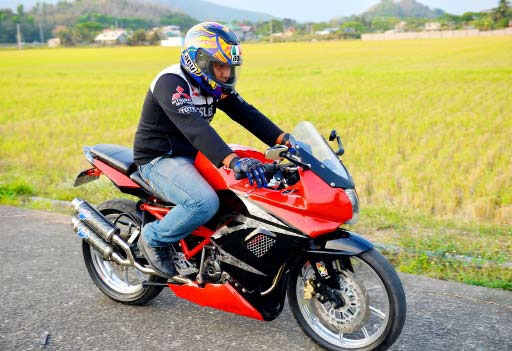 It All Started With a Dream
Some of us may have this dream of flying when we were kids. And that dream made us realize and picture ourselves going to different places, in short, traveling. And for our motorcycle lover, Patrick, it also all started with a dream; a dream where he is riding his own bike. For some, it only takes a short period of time to achieve their dream, but for others like Patrick, it needed to take a little while.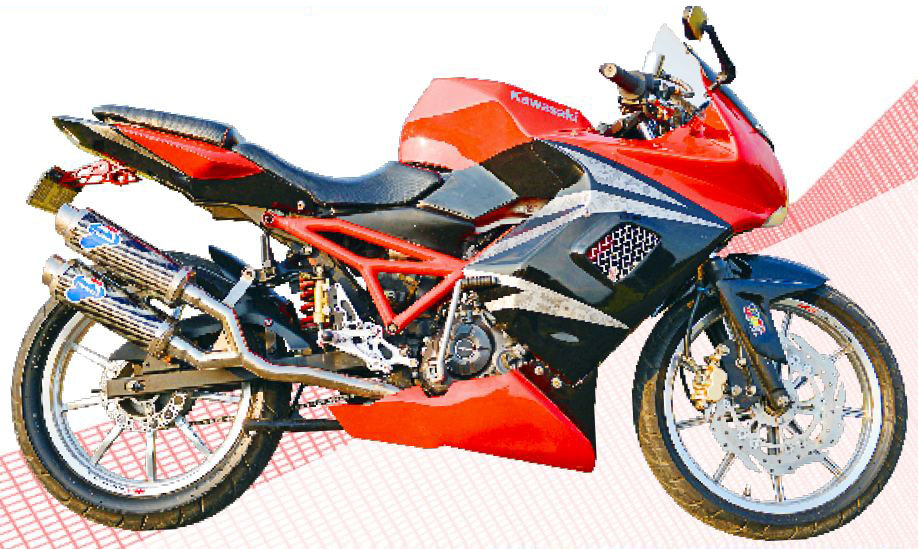 Keeping the Passion Alive
As a boy, all the things Patrick wanted needed to go through parental permission. To top that off,
he has to walk his way home from school and vice versa. Definitely it was not that easy to just ask your folks to buy you anything, especially if you are asking for a motorcycle. While he was in college, Patrick met some friends from a local motorcycling club, and that's where he had his first ever ride. That memorable ride was on a Suzuki Shogun. It was a bit shaky but that fun experience made Patrick's dream and passion to further dwell in his blood. So he just went on doing short riding lessons until later on he got the hang of it. Patrick then graduated from college, and passed the Nursing Board
Exam with flying colors. He finished school with a stronger determination to chase his dream and finally buy and own a motorcycle.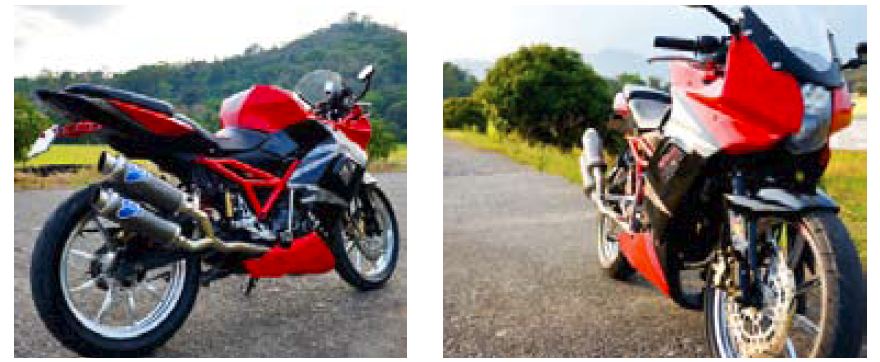 Realizing the Dream
Patrick's first job is in one of the local hospitals in Bayombong. His main objective with his income was
to save for that bike. The bike he first thought of buying for himself, given the amount of money he was earning as a nurse, was a Honda Wave or any bike that would fit his salary. While working in the night shift as a nurse, Patrick's mode of transportation was his dad's car. Time came when his dad got tired of having to see him borrowing it and one day came up to him and said "Anak, bili tayo ng motor." Patrick wasn't able to answer right away as his mind immediately ran wild with joy after hearing his dad speak those magic words! So he tried to hide the thrill and just answered casually, "Oo Pa, para di ko na hiramin yung sasakyan." They started talking about what model to buy and both agreed on getting the sport type. And so the list went on. The following day when all options were narrowed down, Patrick and his dad left home and went to buy the bike. The first motorcycle that caught his attention was the FZ16. But the price would not fit their budget. They went to a different store and that's where they found the red Rouser 135 LS. The feeling was like finally meeting "the one". But there was this one slight problem, to drive it Patrick needed to use the clutch. But how? So that awesome day ended with his uncle riding the Rouser 135 LS home. What a lucky and unlucky day huh? Patrick did not wait that long to have his first ride on his OWN Rouser. Before he even knew it, he was on it the following day, finally realizing his dream. In that moment, Patrick was filled with crazy and overwhelming
bliss. Who wouldn't? The bike after all, is a real head turner.

The Modifier from Bayombong, Nueva Vizcaya
His passion for modifying bikes started with his own Rouser 135 LS. A week after the bike was bought,
he started with small modifications. First the tires, then the suspension and so on. Along the way he met bike mechanic/modifier Iking and that's where he started learning more about the profession then eventually, they became partners in modifying motorcycles. He became one of the more popular modifiers in Luzon, having people from all over the island order his different designs to give their Rousers a different look.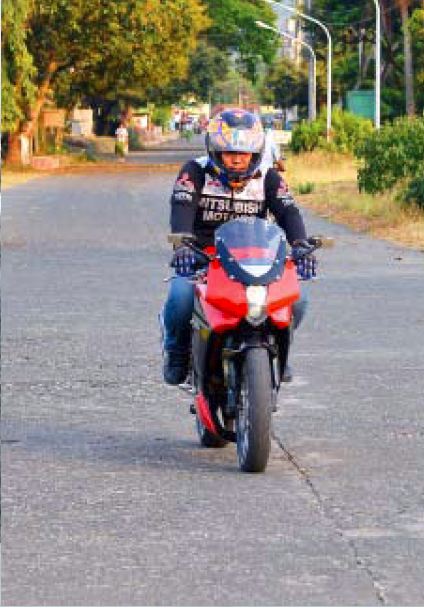 Later on, Patrick became so good in modification and the list of parts modified became longer including the following:
• All stock engine
• Custom full fairings with windshield
• Custom tank cover
• Sonic dual LED headlight
• Custom trellis frame
• Customer rear cowling
• Power mags (chrome)
• Disc brakes
• Etc.
Time passed and he was able to save enough money to start his own small business. As his passion for bikes even grew bigger, ideas started to fill his mind. And then the vision came about, to make people take a second look with awe at what seems to be just an ordinary thing. And when he is being asked why he is so into it? He just answers, "I am HAPPY doing it." As the quote goes, "Choose a job you love, and you will never have to work a day in your life." (Confucius)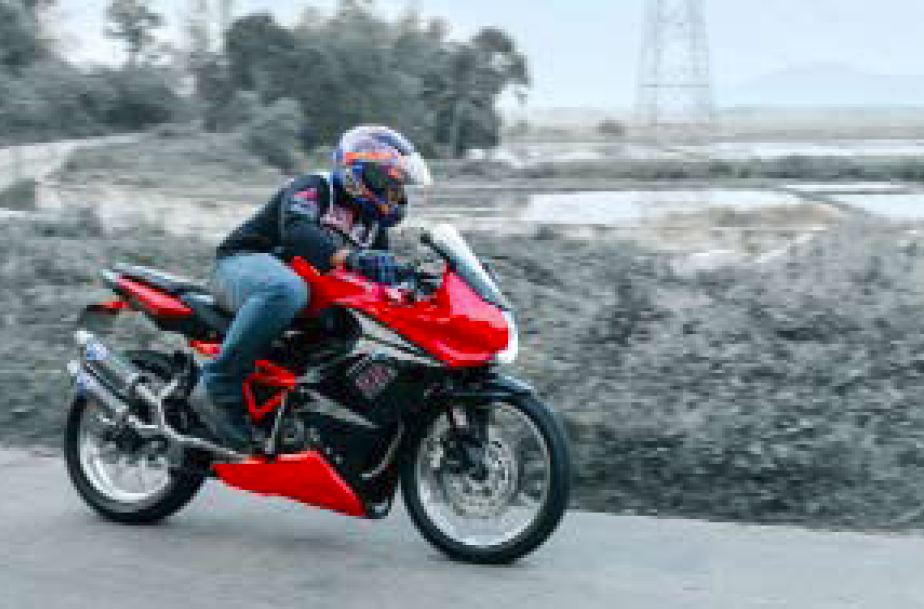 Future Plans
Currently, Patrick is contented with his Rouser while running his own business. What he looks forward to is discover a lot more about bike modifications and be part of bike shows in the near future. So until then, the ride in the streets will definitely go on and on. After all, that's where the real show is! Finally, here is a shoutout from our bike enthusiast, "Chase and live your dream! And LET'S RIDE!"
*This article was published in InsideRACING's  Volume 12 Number 4  2014 issue.