Du Ek Sam Statement of the 5 Motorcycle Dealerships
Date posted on February 14, 2021
Share this
Official Statement released to us:
Last February 5, 2021, a Senate Blue Ribbon Committee meeting chaired by Senator Gordon was held to discuss the implementation of RA 11235 (Motorcycle Crime Prevention Act). Somewhere along the way, the discussion which was supposedly focused on the delayed distribution of plate numbers by the LTO, led to allegations of so called unethical practices of our corporations. The allegations pertain to alleged irregular repossession practices, high interest rates, withholding the OR/CR, insurance, and plate numbers from our customers. At the outset, we categorically deny these allegations. Though we are confused as to how these allegations pertain to the implementation of RA 11235 (Motorcycle Crime Prevention Act), we are nevertheless prepared to answer questions from the Senate Blue Ribbon Committee.
We are appalled at such allegations as they could not be further from the truth. The motorcycle industry is highly competitive with over a hundred dealerships nationwide vying for customer patronage and loyalty. It would be to our detriment to treat our customers poorly by withholding registrations, plate numbers and insurance from them. We would have lost the loyalty of all of our customers to our competitors had we done all of the above. We would have also been inundated with complaints and subject to notices of violation as well as lawsuits from government entities had we ascribed to such practices. The mentioned interest rates are also far from the truth. In fact we pride ourselves to be the most affordable in the market. Contrary to what has been said, we are not an oligarchy – we are separately owned and managed. In fact, we are extremely competitive with each other. The motorcycle industry is a free market, and we never forced any of our customers to buy their motorcycle under installment only from us. They are free to get financing through banks, cooperatives, and the like. Lastly, it is also important to note that all 5 corporations operate at a nationwide scale with decades of experience. We would not last this long in the industry had we been unethical and horrible to our customers.
We believe that the Committee has been misled and misinformed regarding these practices. We believe these allegations stem from the false claims of the Regional Director of LTO Region VII, Mr. Victor Caindec, who has not stopped harassing our corporations since January 2020 and has been repeatedly making the exact same claims as mentioned during the Senate Committee Hearing. These claims also seem to serve as his way to divert the Committee's attention from the corrupt practices of his office, which should be the very subject of investigation by the Blue Ribbon Committee, as it is tasked to look into the practices and accountability of public officials.
It must be made clear that our relationship and dealings with RD Victor Caindec greatly deteriorated upon our outright refusal to pay his ask of P500 per unit "SOP" or under the table. To put it simply, he would not allow LTO Region 7 personnel to process the registration of our customers unless we pay P500 under the table money. When all five of our companies collectively refused, we were then subjected to what would be tantamount to acts of harassment by the personnel of the Region VII LTO Office starting December 2019.
Among the actions taken by Region VII LTO Office are: (1) the refusal to register motorcycles purchased from the corporations' stores; (2) delays in the release of thousands of paid OR/CRs (Official Receipt/Certificate of Registration) from January to October 2020; (3) coercion of the corporation's customers to sign affidavits attesting to false alleged irregularities/practices of the corporation in exchange for the release of their motorcycle registrations and impounded motorcycle units; (4) severe delays in the approval or renewal of store branches' accreditations; (5) notices of action and show cause orders which were never resolved and which incidentally did not result in a single notice of violation; and (6) repeated press statements and interviews maligning the reputation of the five corporations alleging violations that are untrue and unsubstantiated.
For the past year, we have been fighting off these acts of harassment using the proper forums and channels. To date, we have already submitted several complaints to multiple government agencies seeking assistance as he continues to harass our companies. Among the complaints submitted are to the LTO Central Office, members of the House of Representatives, ARTA, PACC and even to the Office of the President. Presently, our case is being heard by ARTA and investigated by the PACC. Meanwhile, even with our continuous filing of complaints, RD Caindec continues to operate LTO Region 7 and use his power and authority to hinder us from operating our businesses smoothly.
When RD Victor Caindec demanded the P500 "SOP", we were very confident to decline as we had repeatedly heard of the call of the President of the Philippines to end corrupt practices in the government. We felt emboldened to say no and to report. But with harassments going on for over a year, we cannot help but be greatly disappointed that by reporting an exploiter to the proper channels, it somehow led us to be labeled as so-called "exploiters" before the Senate Blue Ribbon Committee.
Our way of doing business has always been to keep our heads down, keep a low-profile and let our products, prices and services speak for themselves. We do not seek to make trouble or flout laws so brazenly since we know that this is ultimately bad for business. We would not have had our customer base nor lasted this long in the business had we not treated our customers and employees fairly and well. However, we do have to draw the line somewhere, especially when certain acts are already tantamount to extortion and when our corporations' reputations, which our parents and grandparents have so greatly cared for are being dragged through the mud for no apparent reason than retribution. If indeed, the allegations that we have protectors in government are true, then we would not be suffering from the actions of the Director of the LTO Region VII for more than a year now. We would not be called in the Senate to defend ourselves. We would not have been constrained to write to so many agencies to complain, and to make ourselves heard. We would not have to write this official statement just so we can be heard.
However, every cloud has a silver lining. So, perhaps this very public venue can allow us to shed light on our plight and the plight of our customers who have had to wait up to eight months for their OR/CRs to be released. Maybe by sharing our trials and tribulations over the past year, we can aid the good Senators in asking the right, probing questions about the practices of the LTO, especially those in Region VII. Maybe we can finally be assured that public officers such as Regional Director Caindec will be held accountable for his actions by the very body that is supposed to investigate officials such as himself.
We therefore implore the Senate to show our countrymen that we should not be scared to report corrupt government practices and officials, because you will be heard. Although it has been a tough year for us, we cling to our idealism and we are confident that the Senate Blue Ribbon Committee is the perfect venue for our plight to finally be heard. That after all this, we can truly tell ourselves that saying no to extortion and reporting a corrupt government official was the best decision we have collectively ever made. This fight was originally for our motorcycle customers who need their registrations and plate numbers at the soonest possible time, but it has now become a fight for all our fellow Filipinos who deserve a corrupt-free government. But for us to achieve that, it starts with each citizen to find the strength to report rather than to hide in fear. The road may be long, but our country is worth the pains of the journey.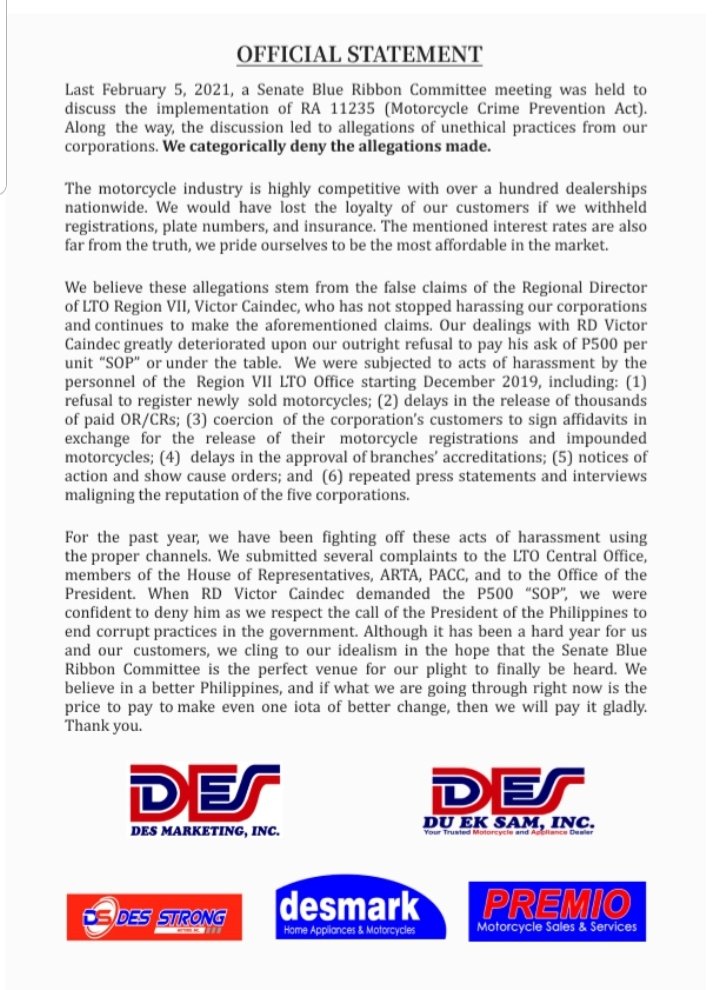 Related article:
https://insideracing.com.ph/senate-summons-motorcycle-dealers-suspected-to-be-tied-with-corruption-with-some-officials-of-the-lto/