Steady Dovizioso wins from Pole at Shell Advance Malaysian MotoGP
Date posted on October 30, 2016
Share this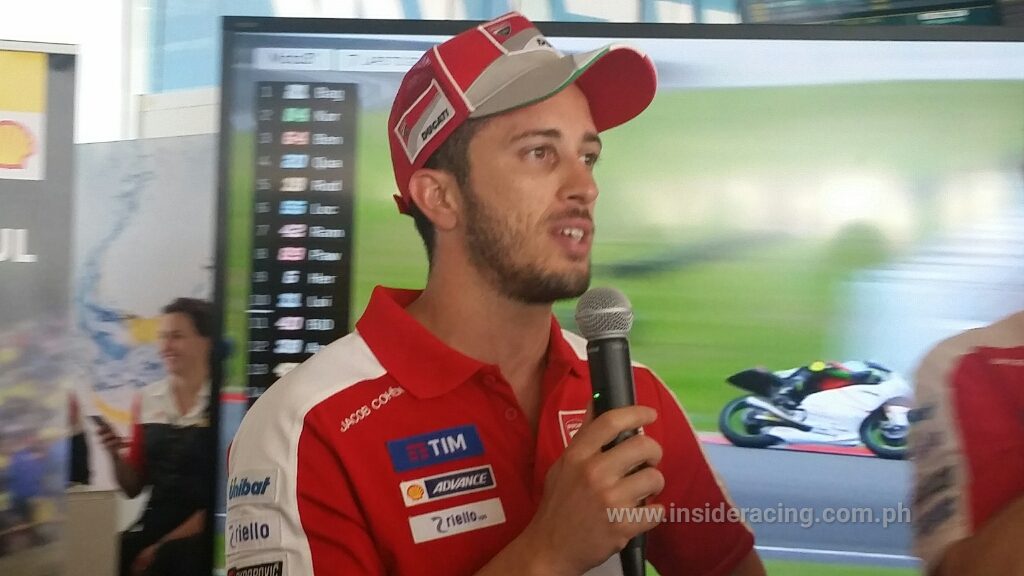 Sepang, Malaysia – In front of a record 100,000 people at Sepang International Circuit, Shell Ducati's Andrea Dovizioso won his first race for Ducati.
The start was delayed for 15 minutes  due to heavy rains. After a damp start Dovizioso was figthing with Rossi for the  lead on  lap 1 but Rossi persisted. Shell Ducati team mate  Iannone grabbed the lead on lap 2 while Dovizioso  was left to fight  for 3rd with Marquez, Lorenzo with Crutchlow.
Rossi tried to get lead on lap 4.l but Iannone  was able to keet it. Rossi tried again on lap 5 in Turn 1 and was succesfull but Iannone took it back before the end of the lap. Meanwhile,  Crutchlow moved up to 4th ahead of Marquez and Lorenzo. Iannone started to pull away from Rossi as the rain started to subside while Marquez retook 4th position.
Dovizioso started to challenge Rossi for 2nd halfway in the race but this only fired up Rossi as he chased Iannone even harder and took the lead on Lap 10. Dovizioso caught his teammate momemts later and took 2nd position away. Meanhwile, Crutchlow crashed followed by Marquez a few corners later. Marquez was able to remount and continue while Crutchlow retired.
With 7 laps to go Iannone crashed out of 3rd and out of the race. Rossi ran wide in Turn 1 and Dovizioso took the lead on lap14. Dovizioso riding smoothly started to pull away as Rossi looked ragged on the exits. In just a lap Dovizioso extended his lead to 2 s. With 3 laps was up to 3 s and Dovizioso took it all the way to the flag for his first win of the year. Rossi and Lorenzo settled for 2nd and 3rd.