Suba and Spec V Riders Dominate IRGP8 Zebra Helmets Pole Position Awards
Date posted on November 27, 2014
Share this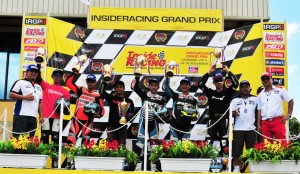 Before the much awaited IRGP8 races on November 16, riders gave their best at the two qualifying sessions a day before to determine grid positions in the race proper. Those who topped each race class when the results of the two qualifying heats were consolidated were given Pole Position Awards sponsored by Zebra Helmets.
Zebra Helmets are distributed locally by Bostanten Corporation. The Zebra Helmets brand was introduced in the market at the 6th Annual InsideRACING Bike Festival and Trade Show held at the SMX Convention Center of the SM Mall of Asia in 2012. Their main objective is to provide a great variety of quality helmets in a very affordable prize. Several local riders in the country's motorcycle racing industry as well as motorcycle events are also supported by Zebra Helmets. The brand was also the sponsor of the Pole Position Awards in IRGP6 and IRGP7 Live!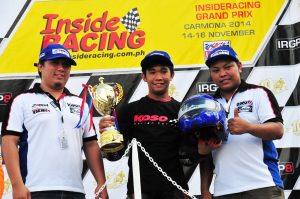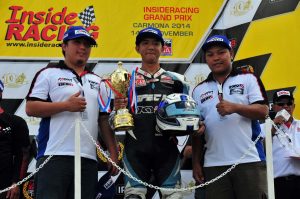 Vrei-ar Suba of Faito-RK-Koso-Vee Rubber bagged two Pole Position Awards in IRGP8. Spec V riders Aljon Valencia, Masato Fernando and Dashi Watanabe made their team proud by clinching the top position in their respective race classes. Not to be left behind were expert rider Paul Mark Doblada of Yamaha-Motor Ace-MTRT-Team Takeshi and Michael Cortez of Yezaroo who was remarkable even though it was his first time to venture in motorcycle circuit racing.
The 8th Annual InsideRACING Grand Prix was presented by InsideRACING, FDR, Castrol Power 1, DENSO Spark Plugs, Top 1 Synthetic Motor Oil, Phoenix Cyclomax, NGK Spark Plugs, Shell Advance, Gulf Pride 4T Plus, Zebra Helmets, JVT, Motoworld and MDAP. Sponsors of the event were Triumph JT Marketing Corp., VS1 Mototek, Spyder, LS2 Helmets, Racing Boy, Koso, Motoactive, Okimura and Sum Racing while IRGP8 partners were Motorsiklo Xklusibo, Stoplight TV, MCP, The Racing Line, Unified Sports and Racing Association for Motorcycles, Inc. (USRA), Pinoy Speed, InsideRACING TV and Statmed.
ZEBRA POLE POSITION AWARDEES:
Phoenix Cyclomax Underbone Trophy – Vrei-ar Suba – Faito-RK-Vee Rubber
Castrol Power 1 Underbone GP – Aljon Valencia – Spec V
Gulf Pride 4T Plus Masters Trophy – Paul Mark Doblada – Yamaha-Motor Ace-MTRT-Team Takeshi
Top 1 Synthetic Juniors Trophy – Michael Cortez – Yezaroo
NGK Spark Plugs Automatic Trophy – Vrei-ar Suba – Koso-Vee Rubber
Shell Advance Automatic GP – Masato Fernando – Spec V
DENSO Spark Plugs MotoIR GP – Dashi Watanabe – Spec V