Suzuki Asian Challenge in ARRC
Date posted on April 10, 2015
Share this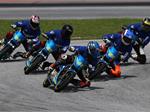 Suzuki Press Release:
The SUZUKI ASIAN CHALLENGE, which is a new addition to the FIM Asia Road Racing Championship (ARRC) in 2015, held its first official event by participating in the Official Test of the Championship in Sepang International Circuit.
The series is a rider development program for Suzuki riders in Asia and is produced and operated by Yukio Kagayama. The participants in this series will be given the chance to step-up to the Supersport 600 class in ARRC, national championships in Europe and Japan, and eventually to MotoGP in the future. All riders will be provided with Suzuki FU150s on Dunlop tyres to race in this Suzuki one-make category and run at five venues this season.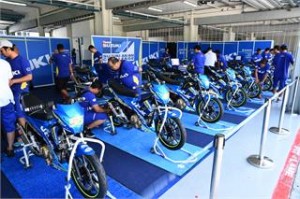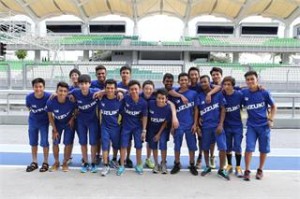 The official test was held at the beginning of this month at the Sepang International Circuit North Track, where the opening round of the ARRC will be held on April 17-19th. Some 17 riders from nine countries – India, Indonesia, Japan, Malaysia, Philippines, Singapore, Sri Lanka, Thailand and Vietnam – attended the test and all 17 riders qualified to participate in the series.
Yukio Kagayama – General Manager:
"I am happy that the SUZUKI ASIAN CHALLENGE has finally started. We have been planning this to provide a route for Asian riders to race in a small engine motorcycle class with the aim of eventually moving up to MotoGP. I would like to thank all the sponsors and parties involved in helping us make this happen. Although this was our first outing, all 17 riders showed that they are well qualified to race in the series, and I am also happy that we were able to finish the test with no major injuries. The quality of the riders are that of a high standard and we hope that the riders, through this series, will be able to progress and one day be able to compete at world championship level. We only have two more weeks to the opening round, but I will do my best to finish the final preparations. I sincerely hope everyone will support us and the series."
Hideyuki Ogata – Rider Coach:
"Since this was the first outing, we started with little information about the riders, but I found in the two days of testing that each and every one of them has the potential to become a world-class rider. By the end of the second day, the level of the riders definitely improved and I am sure that we can expect more from them in the future. We can expect to see close racing with the SUZUKI FU150s and I look forward to teaching our young riders what they need to learn and give them my full support."
Team Suzuki Pilipinas
Team Suzuki Pilipinas which is composed of Enzo Rellosa, Mario Borbon and April King Mascardo had a promising start at the testing event clocking 1:30 which are not far from their contenders. The team was accompanied by Suzuki Philippines' Racing Specialist Mr. Noel Villapando supported by Mr. Yoyong Buncio, Mr. Bobby Mencias and Mr. Rico Cagnaan of Suzuki Philippines Satellite Teams