Suzuki Ecstar-inspired Raider from Lipa
Date posted on November 6, 2020
Share this
Andrei Neil Silva from Lipa City owns this MotoGP-inspired underbone. The base bike is a 2010 Suzuki Raider 150 New Breed model. He is currently a cook based in Austria and is a fan of the Suzuki Ecstar team and Alex Rins. Andrei Neil also likes playing radio-controlled cars, travelling and online gaming.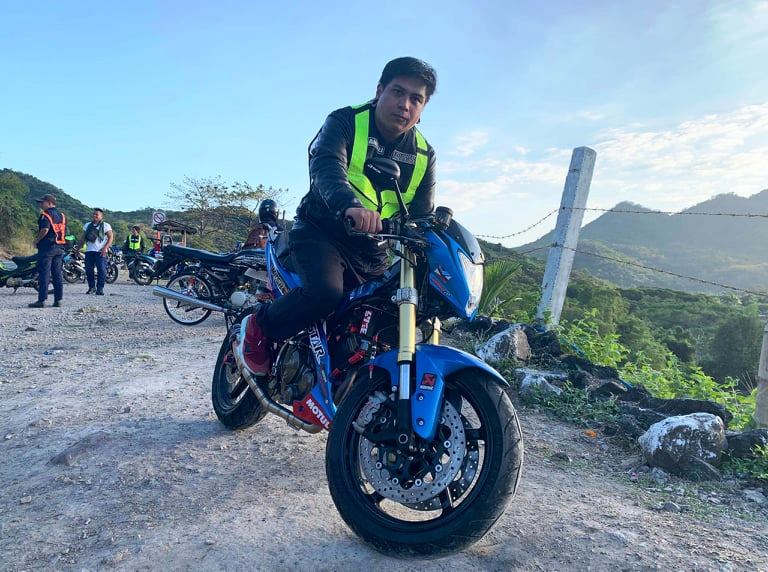 His passion for underbone modifications started when he bought his 2010 Raider 150 but he was not in the Philippines way back then. When Andrei Neil had a vacation in the Philippines in the same year, that's when his concept bike began. Andrei Neil immediately replaced it with an underneath, plate holder, single shifter and rotor disc. He wants his motorcycle to be a bit different from the others. He really enjoyed his trip here riding his R150.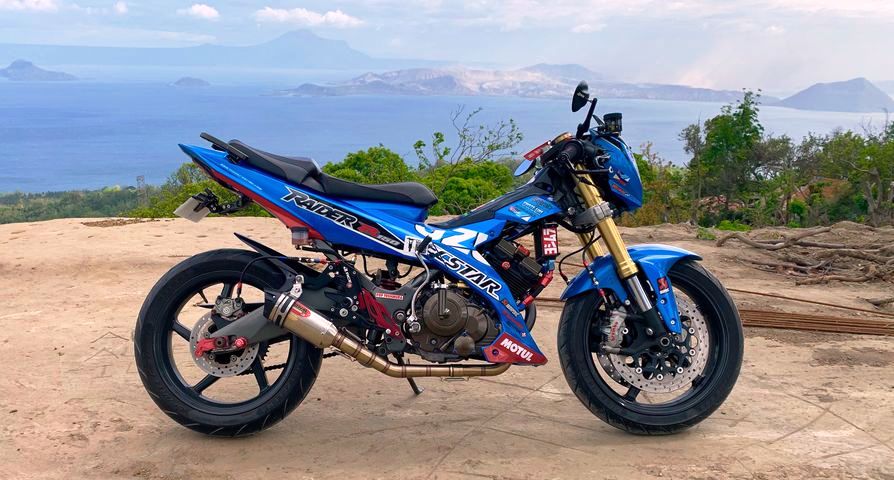 In early 2014, Andrei Neil had a vacation again and changed various parts of his motorcycle. He decided to buy motorcycle parts abroad to be customized for it to be unique and be the first in the Philippines. He saw a YZF swing arm, Aprilia wheels and front suspension and he measured it all to see if it could be modified. Andrei Neil spoke to his friend Rexon Bongalonta if he can put all the motorcycle parts that he bought abroad on the Raider 150. They incorporated their knowledge on how to put them all together. Andrei Neil wanted it for everyday use and for long rides without any problem, so they developed a big bike concept with 120/70 front- 150/60 rear. He transformed it from new breed to Reborn MotoGP. It's appropriate and it looks more like for a racetrack. Many were amazed, some of them immediately offered Php 200,000 to continue the project but Andrei Neil rejected those offers because it's not meant for sale, it was built for his everyday use. Every time he goes on vacation in the Philippines, there is always something new.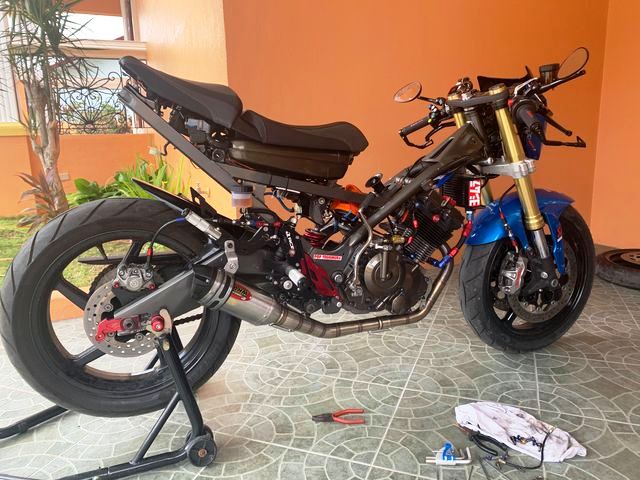 Andrei Neil then I met Johnny Comia aka Takusawa, the owner/builder of Takusawa Garage, who is very humble and he taught him about high performance parts such as oil cooler, about fittings and dry brake quick release. Each fittings is a bit expensive, it took Andrei Neil a while before he completed his oil cooler set. He purchased the fittings in different countries in Europe because some are not available in one shop. Andrei Neil also had a hard time because of the language barrier. Different countries, different languages.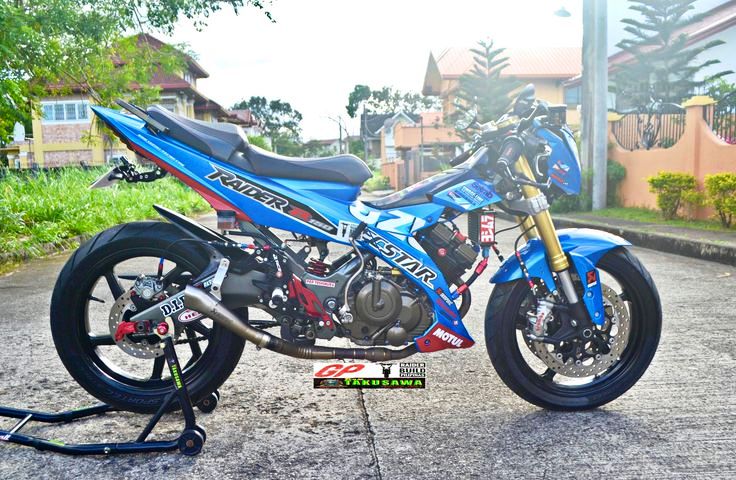 He changed the whole brake system to a full Brembo system and saved money to buy the original brand new Brembo Corsa Corta, Rcs16 clutch master, Brembo GP4 dual caliper, and Hel Performance titanium quick release using Swage brakeline hose from Japan. He then replaced his build with a dual disc, Brembo wheels, Brembo rotor discs and a 2015 GSX-R Showa fork. Andrei Neil was happy and stressed at the same time because he needed to have an everyday schedule as he staying here for only a month and sometimes Johnny is not available. Perseverance is the key to success, it can't be rushed. Johnny put all the new/high performance parts into a solid build.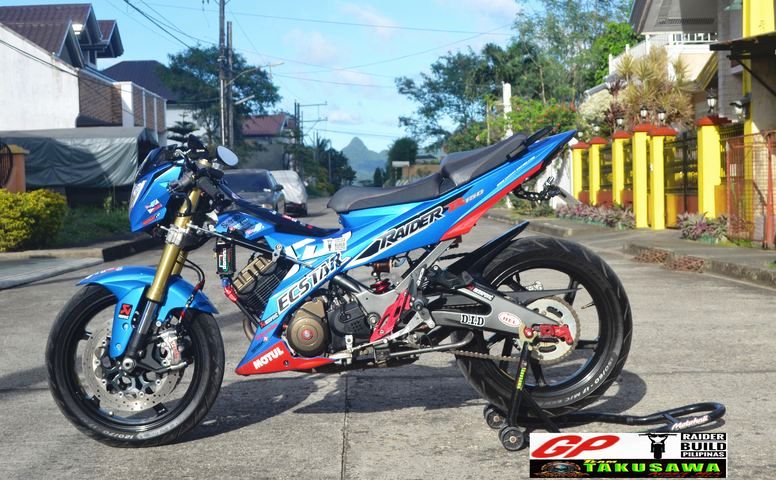 Andrei Neil started joining motorcycle shows for people to acknowledge that there is a new or another concept, as well as to share his ideas. Recently, he joined in the MAKINA Moto Build Pilipinas 2020 Online Show and became the champion in Suzuki Raider 150 category. It overwhelms him whenever many people appreciate his motorbike concept. He feels he just regained his strength after the tiredness and the expenses are worth it. Andrei Neil is happy that he is supported by Raider 150 Lipa and Raider Build Pilipinas.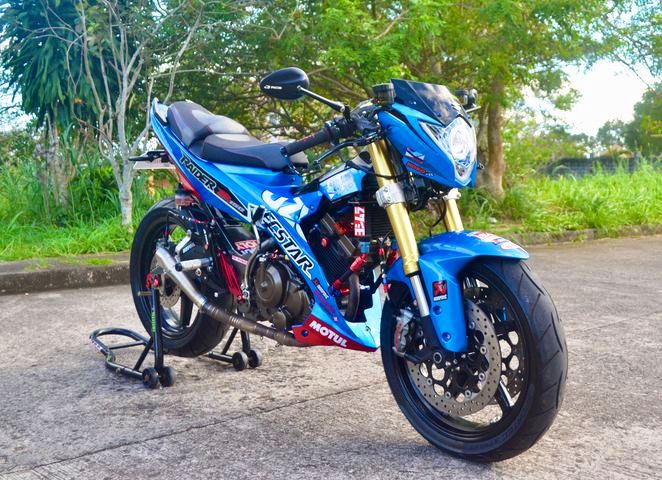 "To all motorcycle enthusiasts and builders, don't stop dreaming and build with heart. Do not rush the build, stock up on each part to buy more quality products. Create what you want to build, do it! Commit to it 100%, not because that's the trend but because that's what makes you happy," Andrei Neil expressed.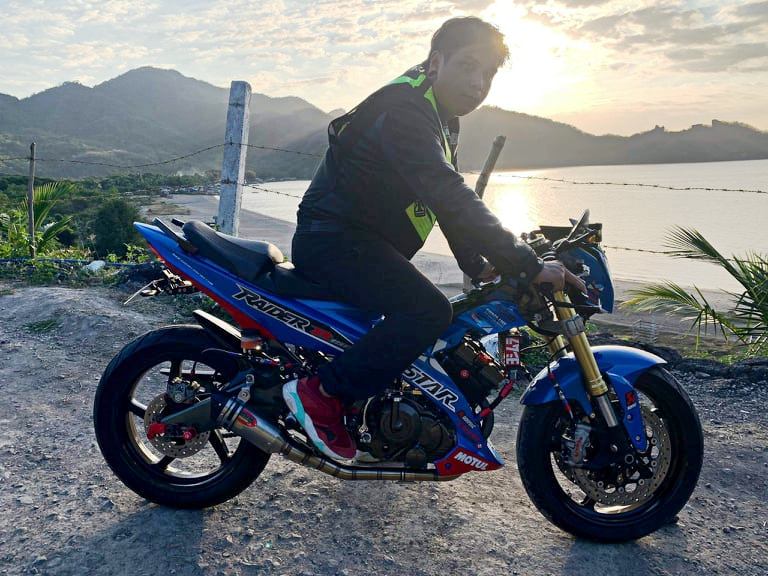 His future plan is to build a Raider Fi as it looks like its RECU is cool to play with, all digital and with Öhlins Fork and rear suspension.
"First, I would like to thank God for keeping me safe in every ride, my wife Novelyn for supporting my hobbies/passion, my family, Johnny Comia, Rexon Bongalonta, Chris Aguila, Edson Mercadero, Dave Prudente, Eric Ramos, Michael Asupre , Wilson Cabrera, Andrew Aragao, Emyrson Malaluan, Choy Samonte, Michael Mores, Jeff Balboa, Jay-R Valencia, Levi Magay, Rafael Lajara, Jr Vergara, Juan Karlo, Alvin Camitan, Patrick Cardenas, Brent Salido, Mike Luistro, Jayvee Benitez, Eric Umali, Sheloro Manahan, Mikko Caponpon, Guiller Anoyo, Jexter Ivan De Ocampo, Raider150 Lipa, RAIDER BUILD PILIPINAS, Takusawa Garage, Team Humble and BREAD Clothing.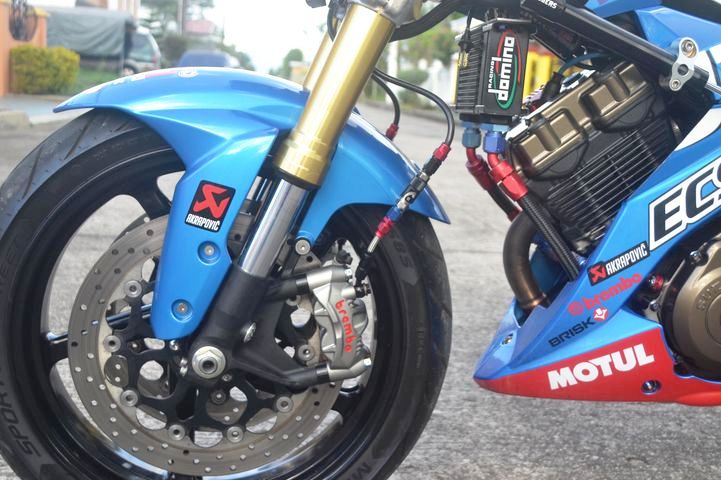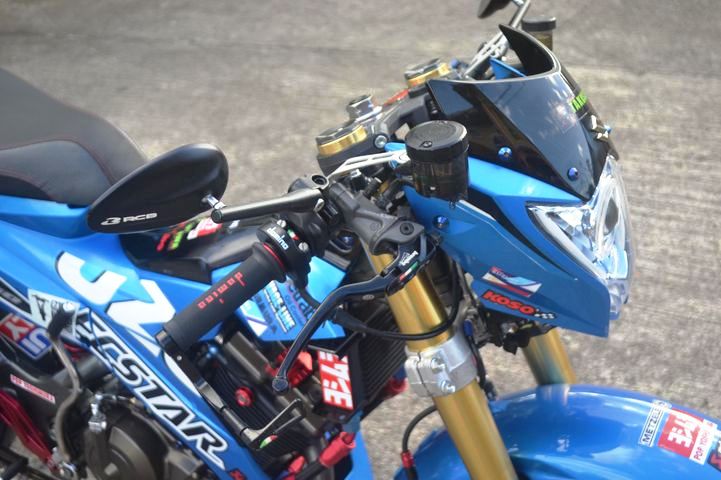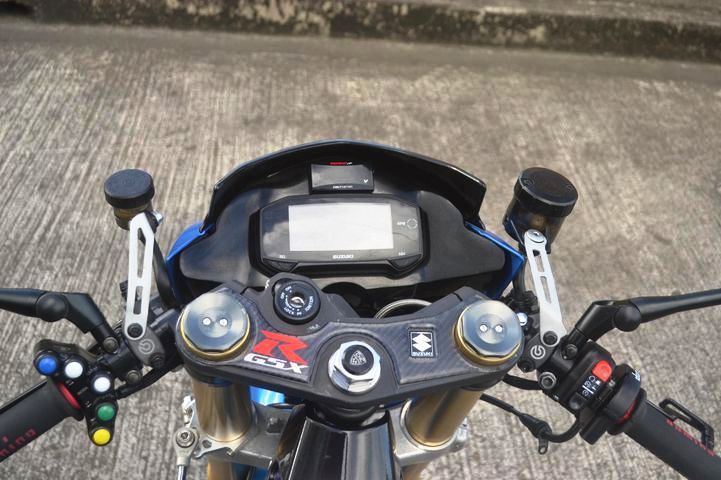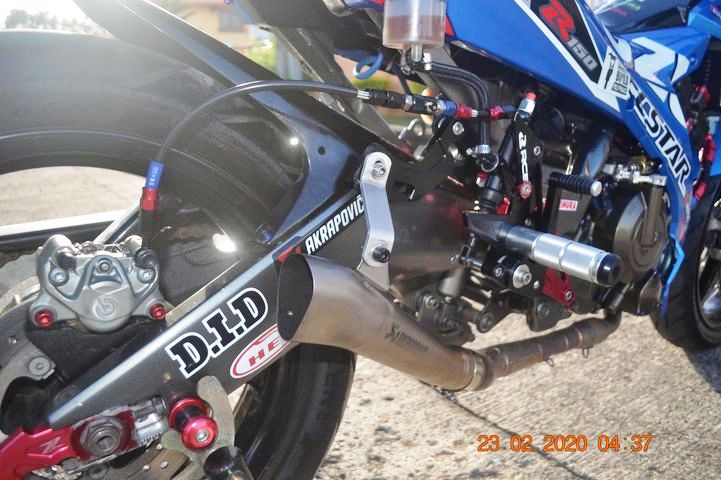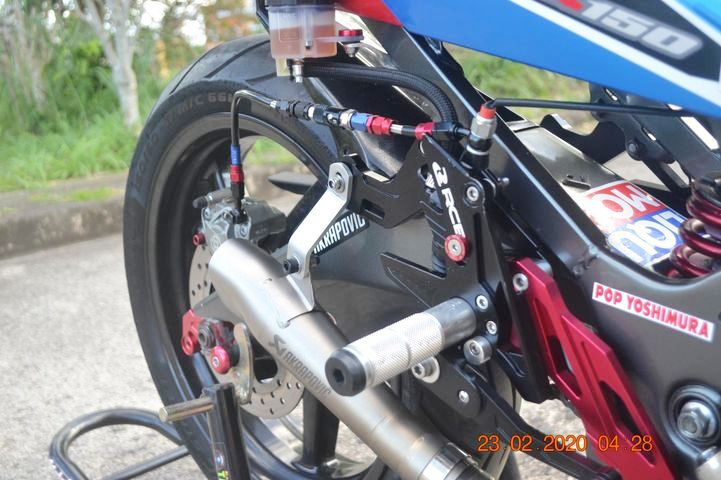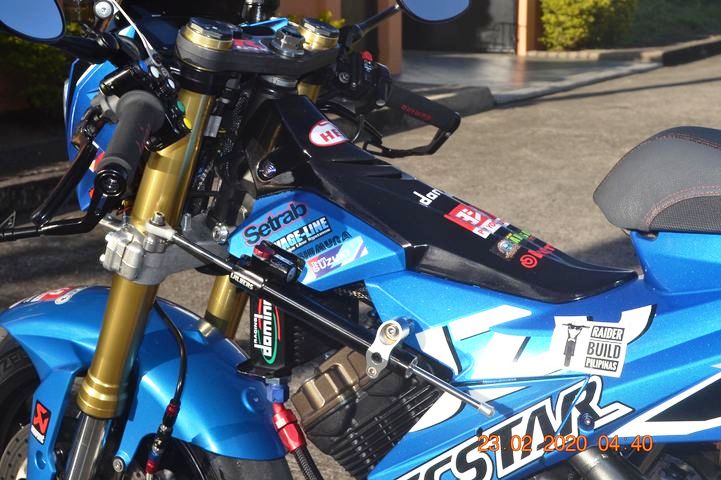 Parts and Accessories:
Original Akrapovic titanium slip-on
Yoshimura downdraft carburetor
GSXR-600/750 SHOWA front suspension
Yamaha swing arm
Brembo wheels
HEL Performance titanium quick release
Wilbers by Hyperpro steering damper
Original Brembo GP4Dual caliper
Original Brembo rear brake caliper 84mm
Original Brembo Corsa Corta 19RCS brake master
Original Brembo 16RCS clutch master hydraulic
Original Brembo PC13 rear master cylinder
Original Domino quick throttle
Original Domino start/kill switch
Original Brembo smoked tank (brake-clutch)
Original Brembo tank holder (brake-clutch)
Original Brembo 320mm disc rotors
Setrab high performance 13 rows oil cooler
High performance AN-03 fittings (Germany and UK)
AN-08 (Sweden)
Original Swage brake line hose from Japan
DucaSwitch MotoGP switch
Raider Fi odometer converted
RCB full shifter limited edition (dual-tone)
Titanium T64 elbow bolts
Titanium T64 caliper bolts
Brisk premium spark plug
Faito ignition coil with accent wire
Dual band racing CDI
520p c45 carbon sprocket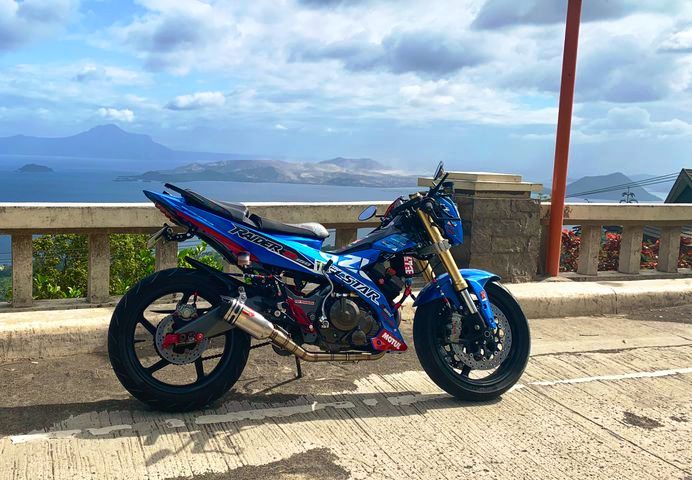 photos provided by Neil Andrei Silva
Thank you for visiting insideracing.com.ph. You may express your thought below through the comment section. You may also follow us on Facebook, on Instagram @Insideracingnation or on our YouTube channel.