Suzuki Opens Motorcentral 3S Shop in Pagsanjan Laguna
Date posted on October 4, 2014
Share this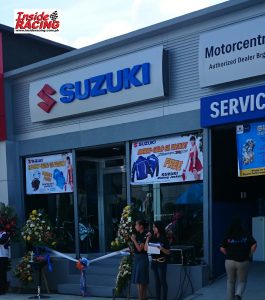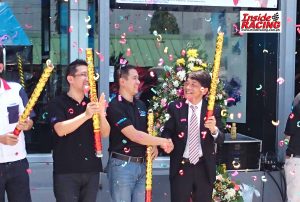 Suzuki Philippines Inc. opens its newest Motorcycle 3S Shop in Pagsanjan, Laguna this October! This milestone marks the establishment of the Japanese giant's 29th 3s shop in the Philippines. Done in partnership with Suzuki's long term partner for 9 years – Motorcentral Sales Corporation, the Suzuki 3S Shop is located at the Areza Plaza, Brgy. Binan, Pagsanjan, Laguna and is the 3rd Suzuki 3s Shop in the province.
The new Suzuki 3S Shop offers a complete service wherein customers can experience the true meaning of Suzuki's Way of Life! Offering an exclusive line-up of Suzuki motorcycles, helpful sales personnel, modernized motorcycle repair facilities, genuine spare parts, outstanding after sales support and professional mechanics, Suzuki 3S Shop also boasts of the new futuristic Suzuki display module inspired from the brand's latest Fuel-injection (Fi) technology.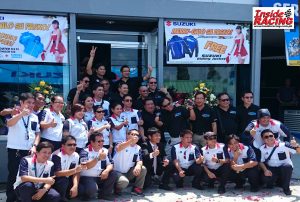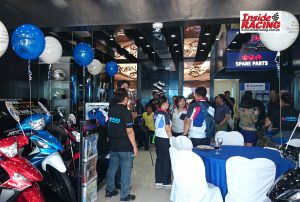 Team Suzuki prepares exciting activities alongside the brand's 3S Shop opening. Customers are treated with a FREE Service Activity which covers free change oil, oil filter and tune-up. They also have a chance to try the latest Suzuki motorcycles such as the Fuel-injected Raider J 115 Fi and Shooter 115 Fi. Business-minded ones on the other hand can test ride the solo and tricycle-converted models of the GD110 with a product orientation that will give them more details about the motorcycle. As if these are not enough, stunt shows, booth games and raffle promotions are also held.
To find out more about Suzuki, please visit www.suzuki.com.ph or join the community at facebook.com/suzukibikersfed.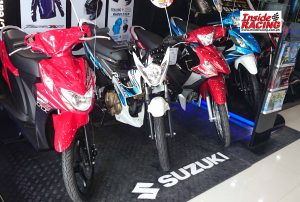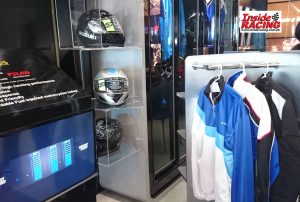 About Suzuki 3S Shop
Suzuki is committed to provide customer satisfaction by offering value-packed motorcycles, high quality spare parts, and excellent service. In the fulfillment of this commitment, Suzuki is building its network nationwide through its SUZUKI 3S SHOPS. The 3S in Suzuki 3S Shop means Sales, Service and Spare Parts.
The NEW 3S Shop concept was established to make the Suzuki 3S (sales, service, and spare parts) experience more accessible to people. The expansion of Suzuki Shops will cater to Suzuki owners by providing a complete line-up of Suzuki motorcycle models, excellent after-sales service, Suzuki genuine parts (SGP) and competent personnel to assist customers in all their needs.
Suzuki 3S Shops are places inaugurated for customers to experience the delightful Suzuki brand, for it is inside these shops where relationship between customers and the Suzuki brand is built. To ensure that a good relationship is built, the following key points are evident in the shops:
– Comfortable and clean space where customers can completely relax and enjoy
– Customers can be sure the Suzuki brand is reliable
– Product and Promotions provide customers with an impressive experience.
– Customers are confident and satisfied with the brand.
All Suzuki 3S Shops are accessible and have high visibility with a good and safe condition. The shop will provide the customers with:
– A complete line-up of Suzuki models
– Excellent after-sales services
-Suzuki Genuine Parts (SGP)
-Proper information on motorcycle use and maintenance
– Competent personnel who can answer unit sales, service and parts inquiries
– Modernized facilities with special tools for effective MC repair
-Convenience through a "One Stop Shop" experience.
-Availability of flexible financing schemes.
-Factory-trained mechanics assuring reliable service
Likewise, dealers will benefit the following:
-High potential business growth of Suzuki Models.
-Increased and retained customer loyalty due to "One Stop Shop" concept, and high service-level.
– Enhance the Dealership's image through shop renovation.
-Increase in dealer confidence because of Suzuki 3S Shop system.
-Continued training, technical and promotion support from Suzuki after the set-up of the shop
– Priority in delivery preference, and stock allocation especially in new models.
– Additional revenues from Spare Parts and Service Shop sales
-Gives a distinct advantage to the dealer
The physical elements of the store speak about Suzuki's sophisticated brand image and advanced technology. The showroom is designed to have a wide open space wherein visitors can watch the working scene of the service shop through glass partitions. Its basic design concept is based on the colours black, silver and blue to present a high-class atmosphere.
Credit : Suzuki Phils
See also