Suzuki Philippines and Team Suzuki-VMan Racing Celebrates Victory!
Date posted on November 16, 2018
Share this
Suzuki Philippines staged a victory party for the Suzuki-VMan racing team on November 16 at Vu's Skybar and Lounge at the Marco Polo Hotel Manila. The manufacturer invited its media friends to celebrate the success of the team in the Super Series Nationwide Championships as well as in the MotoIR Championship series.
Team Suzuki-VMan is composed of riders April King Mascardo, Eane Jaye Sobretodo, Mark Djereck Ondillo, Dan Carlo Alvarado, Josh Reuben Tan and Jaypee Obedenceio. The team is managed by Mr. Gerald Sobretodo. Always in support to the team are Suzuki Philippines' Racing Specialist Mr. Rey Abat and VMan Racing's Mr. Manuel Chien.
Present at the victory party were Team Suzuki led by its President Mr. Hiroshi Suzuki. Also in attendance were General Manager for Motorcycle Sales and Marketing Mr. Jun Bulot, Motorcycle Marketing Head Mr. Monch Bontogon and the new After Sales General Manager for Motorcycles, Automobiles and Outboard Motors Mr. Tamotsu Shimizu. Likewise present were the sponsors of Team Suzuki-VMan.
After showing videos of Team Suzuki-VMan's victorious campaign in the Super Series and a question and answer segment with the riders and Suzuki executives, Suzuki Philippines rewarded the team and its riders April King Mascardo (Super Underbone Champion and MotoIR1 2nd runner-up), Mark Djereck Ondillo (Super Series Suzuki Raider Breed Wars R150 Carb and R150 FI Champion, Super Series Rookie of the Year and MotoIR3 Champion) and Dan Carlo Alvarado (MotoIR3 First Runner-up). The three and the team were given cash prizes. Mascardo also received a Suzuki Raider R150 FI while Ondillo was given a Raider R150 Combat Series motorcycle.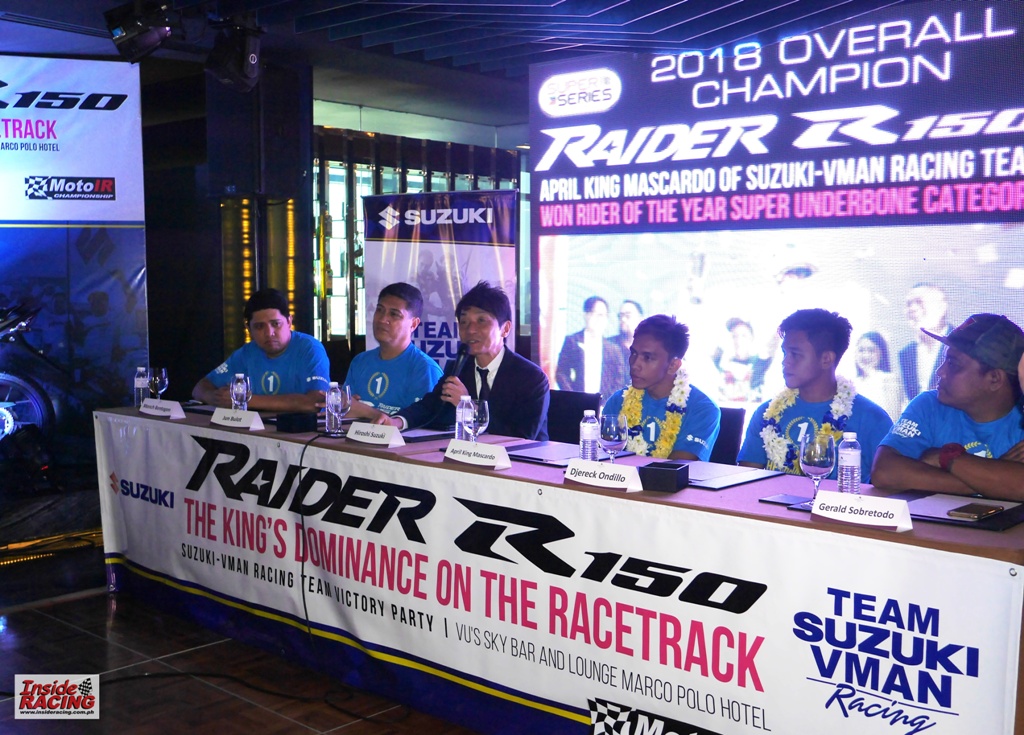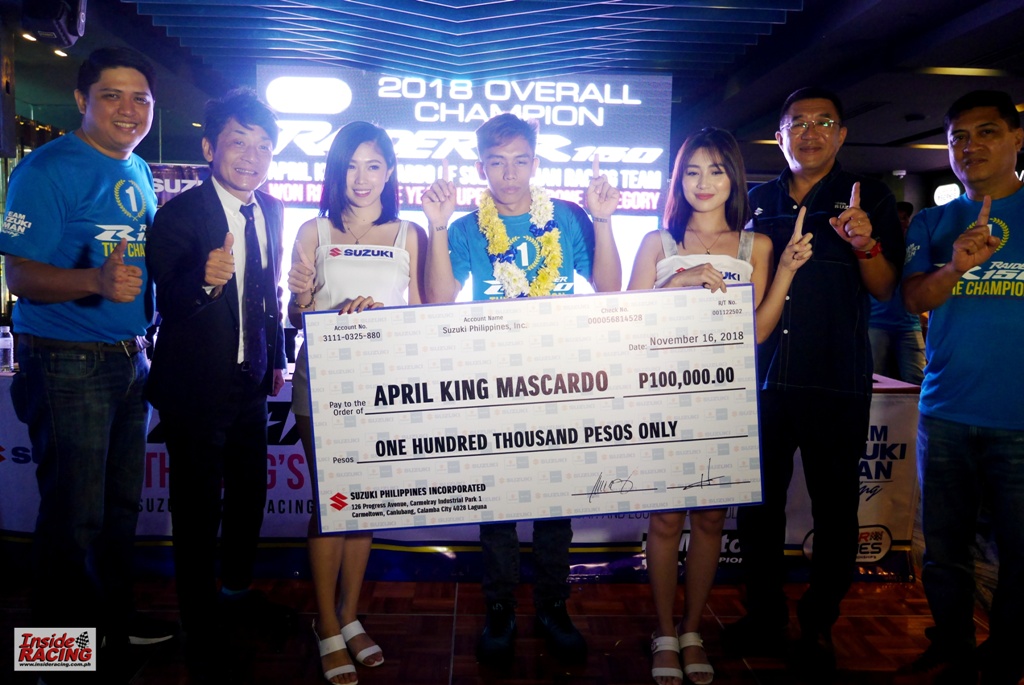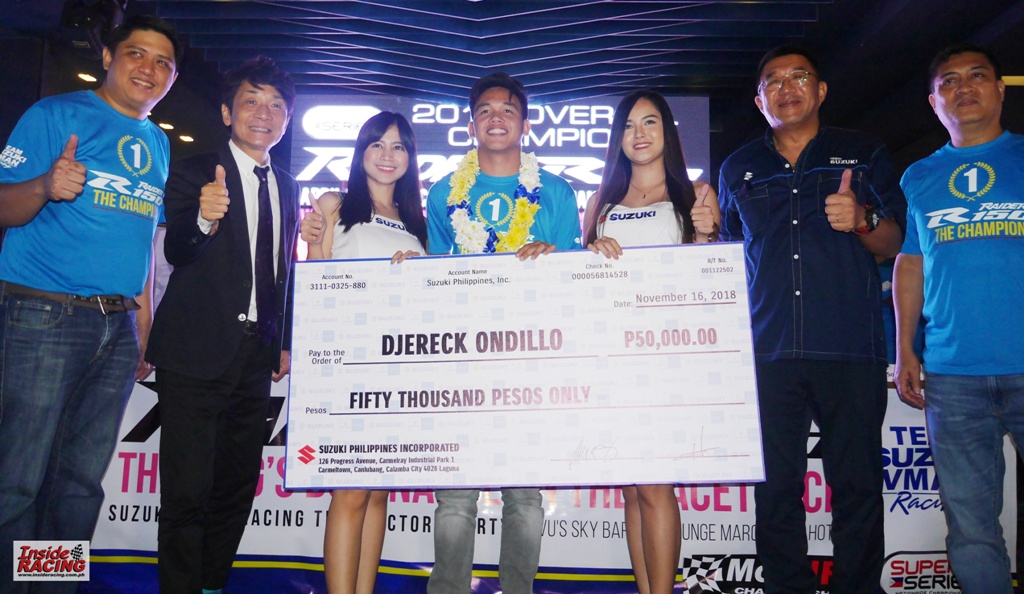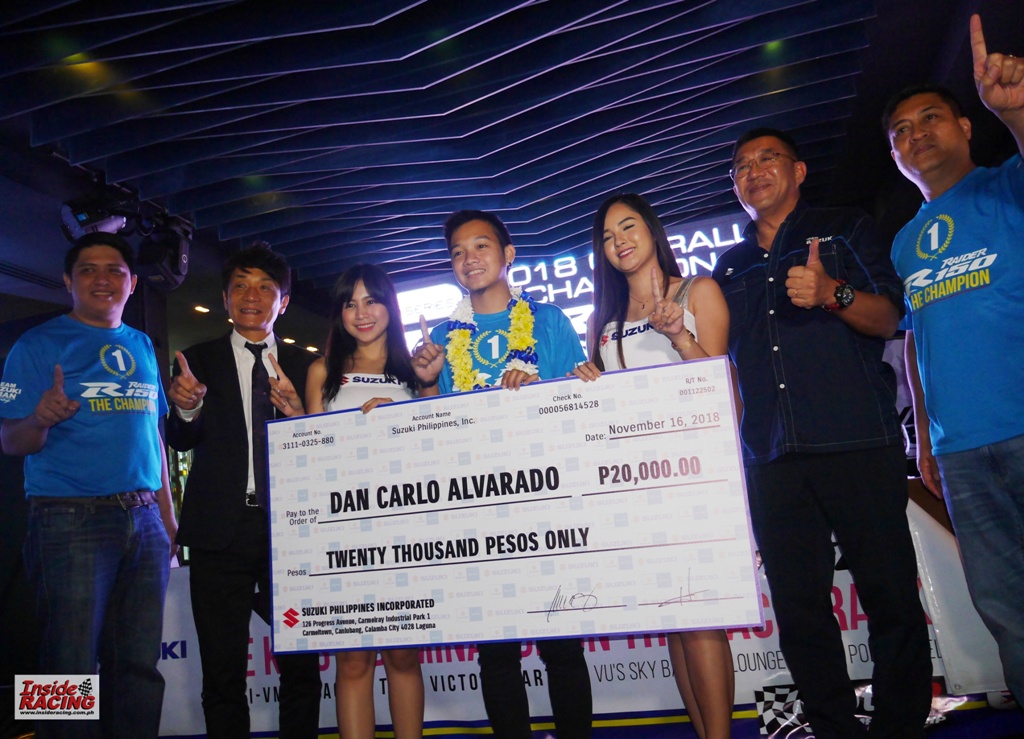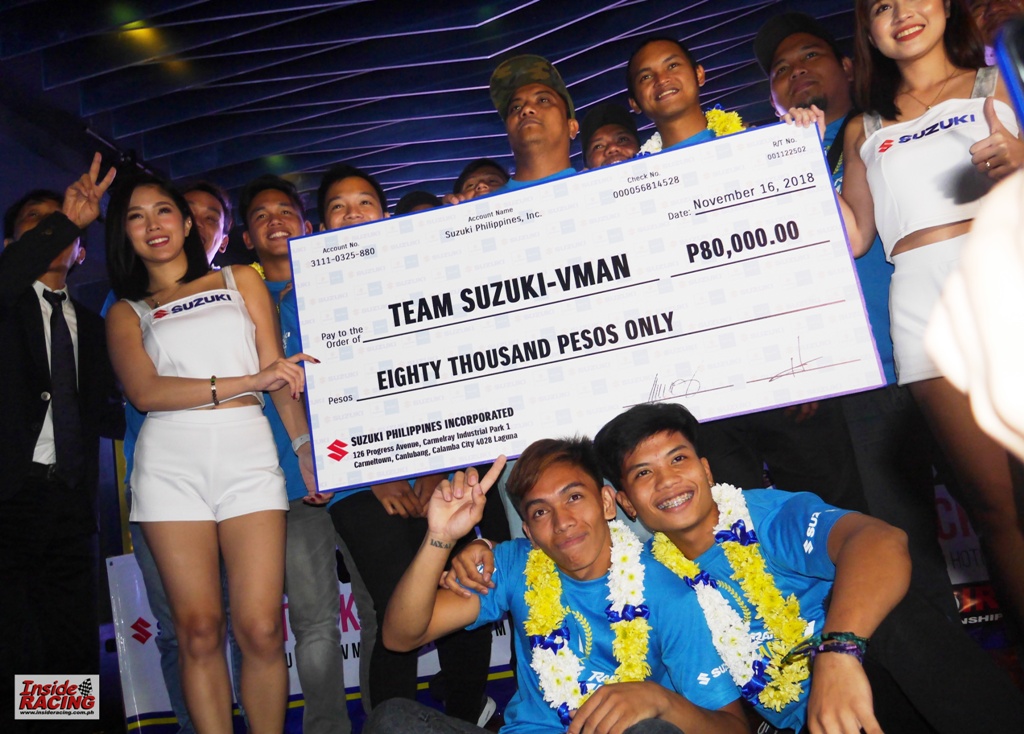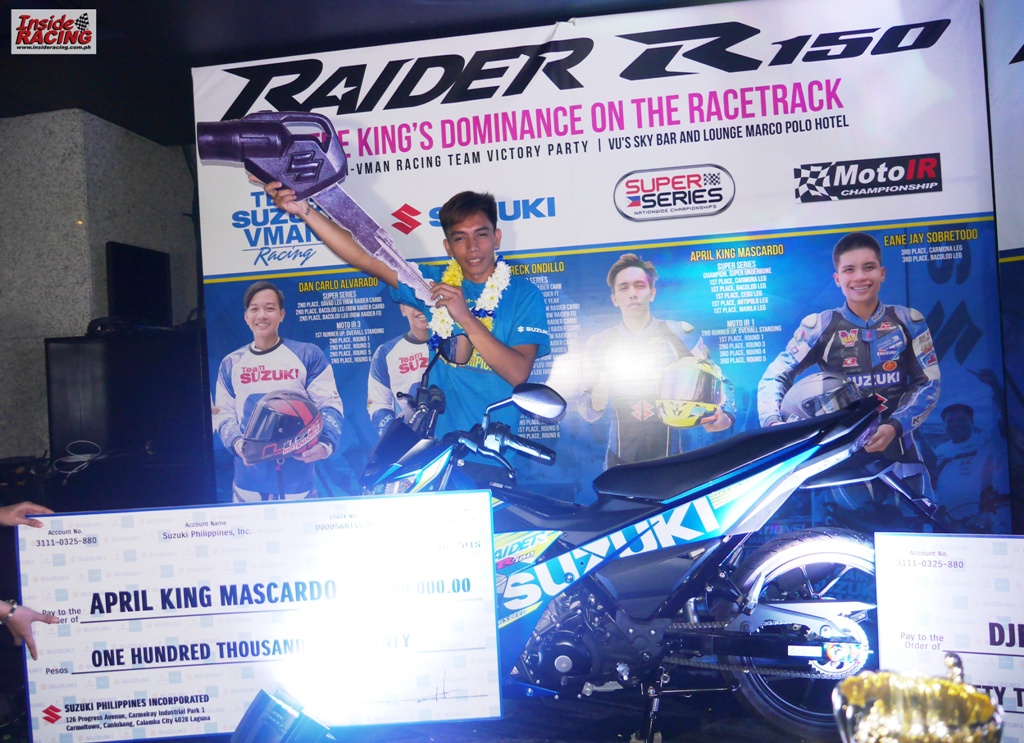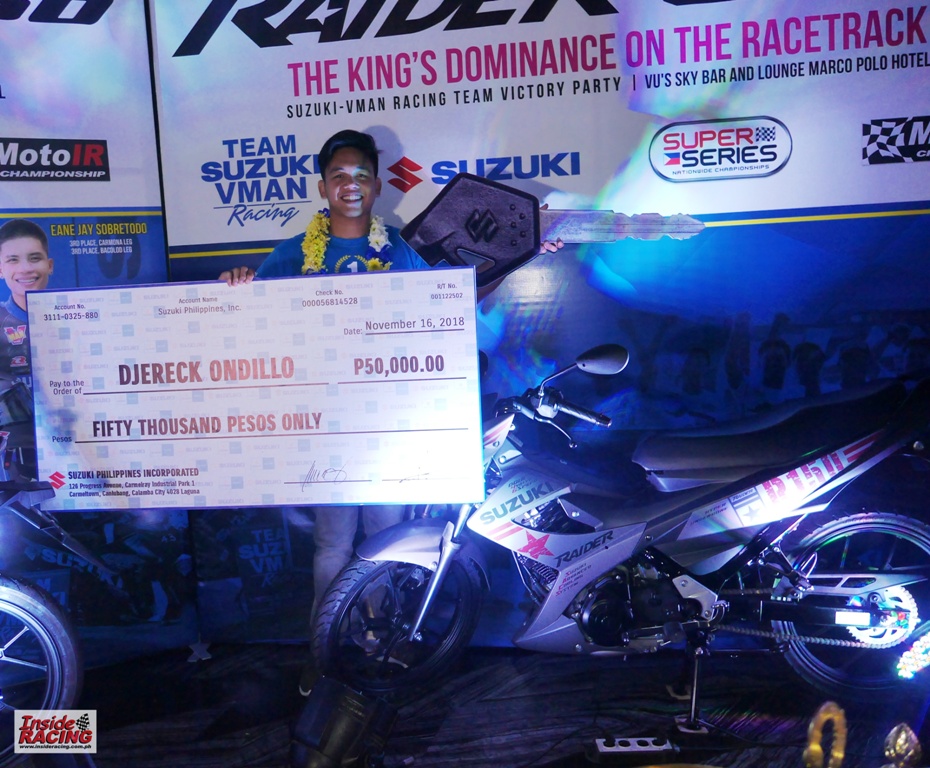 Mascardo on the "Underbone King" Suzuki Raider R150 FI impressively delivered for Suzuki-VMan in the Super Underbone class of the Super Suzuki. The rider from Davao won four out of six rounds of the series. The fifth round win as an emotional victory for him as he lost his father days before the race. He arrived in Manila on a Saturday, raced and won on Sunday and went home to Davao that night. Suzuki Philippines was appreciative of Mascardo's skills and dedication. Ondillo, meanwhile, dominated the both the Carb and FI classes of the Suzuki Raider Breed Wars of the Super Series organized by InsideRACING and The Racing Line. Mascardo also placed 2nd runner-up in the MotoIR1 while Ondillo champed in the MotoIR3 class of the MotoIR Championship organized by InsideRACING.
With the Super Series and MotoIR 2018 season concluded, Team Suzuki-VMan will now venture in IRGPXII this November 23-25 at the Carmona Race Track in Cavite where they will battle once again with top riders. The team is determined to deliver good results again to Suzuki Philippines and their fans at the 12th Annual InsideRACING Grand Prix.
Congratulations again to Suzuki Philippines and Suzuki-VMan!