Suzuki Raider J Crossover Launched!
Date posted on February 19, 2020
Share this
Suzuki Philippines launched a dual-sport, 115cc fuel-injected motorcycle that is meant to take you across borders.
Introduced at Suzuki Philippines' 2020 Dealer Convention and Awards Night was the Suzuki Raider J Crossover 115 Fi which is an exclusive model for the Philippines. This motorcycle delivers in both on and off-road and promises more adventure for Filipinos. The Suzuki Raider J Crossover is made from Suzuki's signature manufacturing engineering, designed for the Philippine roads, built for the Filipinos. Suzuki Motor Corporation worked hand in hand with its subsidiary, Suzuki Philippines, to develop this ride especially made for the Philippine roads. This rough road raider is designed by combing the tough image and edgy components of its breed.
The Raider J Crossover has an SRP of Php 63,900. It was developed by both Japanese engineers with Filipino inputs. It's engine is based on the Raider J sports underbone and the fuel injected Crossover has a reported actual 65 km per liter fuel consumption.
It has the DNA of Suzuki's Raider Sports Underbone as well as its RM off-road bikes. The high ground clearance, wide handlebars, mud protection body and chuncky dual purpose tires gives the rider confidence in handling rough road obstacles and light off road conditions.
It is available in Flame Red, Solid Black, Grand Blue and Champion Yellow.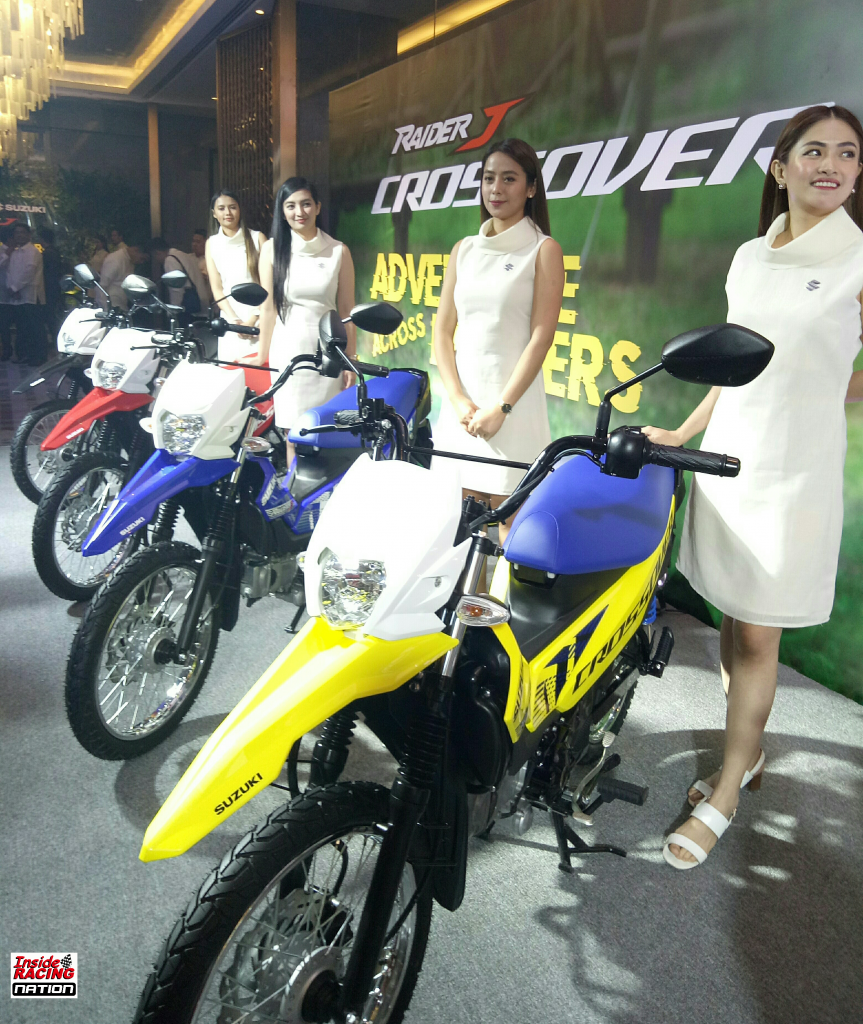 The new motorcycle is set to conquer the paved and the unpaved roads whether it may be in the city or the countryside, a ride that will give you adventure across borders. Carrying the DNA of Suzuki's renowned Raider breed, this motorcycle holds the same power, performance and the signature head turning looks of a Raider motorcycle, just this time, built for more. It has a motocross-like frontal appearance with raised fender and 60mm off-road type handlebar for easy riding and comfortable riding position. Its fairings are made and painted by Polypropylene – an excellent resin molded through plastic injection. This ride promises to give every rider a safe and comfortable journey with its comfortable footpeg, narrow and elevated seat, engine heat guard, easy to read instrument panel, petal disc brakes for easy Press Information braking, and large diameter front fork for better handling and stability, rear suspension with double cylinder damper, and semi-block tires for better tire performance. With its 113 cc engine displacement, the bike has an average fuel consumption of 65.65 km/l and equipped with Suzuki Eco Performance feature.
The Suzuki Raider J Crossover will be publicly launched at the 14th IR Bike Festival and Trade Show this March 27-29 at the World Trade Center.