Suzuki Raider R150 Fi New Matte Series
Date posted on January 20, 2020
Share this
The Pinnacle of Hyper Underbones – Suzuki Raider R150 Fi – has gotten more edgy in Matte Series.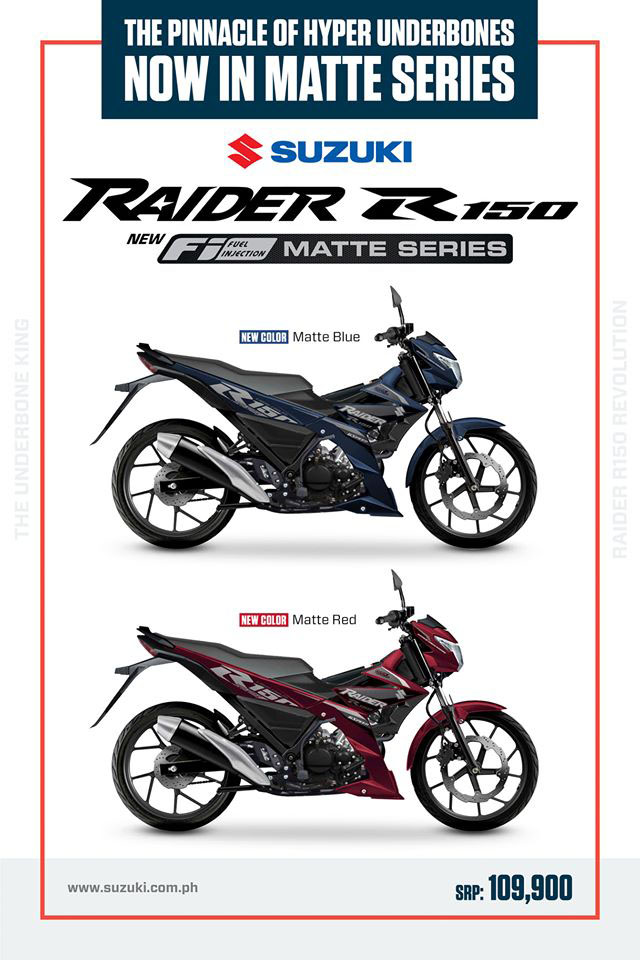 Available in 2 versions, the Matte Red and Matte Blue, the already head-turning Raider R150 Fi ensures that you dominate the road with these new colors.
Exuding passion, energy, excitement with the right amount of menace – Red is a match for the Raider R150 Fi riders who enjoy attention for having a fierce-looking bike. Blue's wisdom, confidence, stability and intelligence on the other hand, is perfect for riders who would like to keep it cool while letting the bike do the talking with its power delivery.

With both flaunting a matte finish design, the Raider R150 Fi looks more premium perfect for riders who want to make a statement on the road both on looks and performance especially this holiday season. The Raider R150 Fi is priced at an SRP of 109,900 and is also available in Black and MotoGP Blue.
credit: Suzuki Philippines
*This article was published in InsideRACING's Volume 17 Number 10 2019 issue.