2010 Suzuki Smash 115 Ride Review: Definitely not just another pretty face!
Date posted on May 29, 2019
Share this
Experts would normally dismiss a new underbone model as just another facelift with a few slightly different plastic panels given a new technical description and glorified functionality. But not the new Suzuki Smash. Aside from its new super cool looks, it also handles like a dream and is packed with a new, powerful and smooth engine!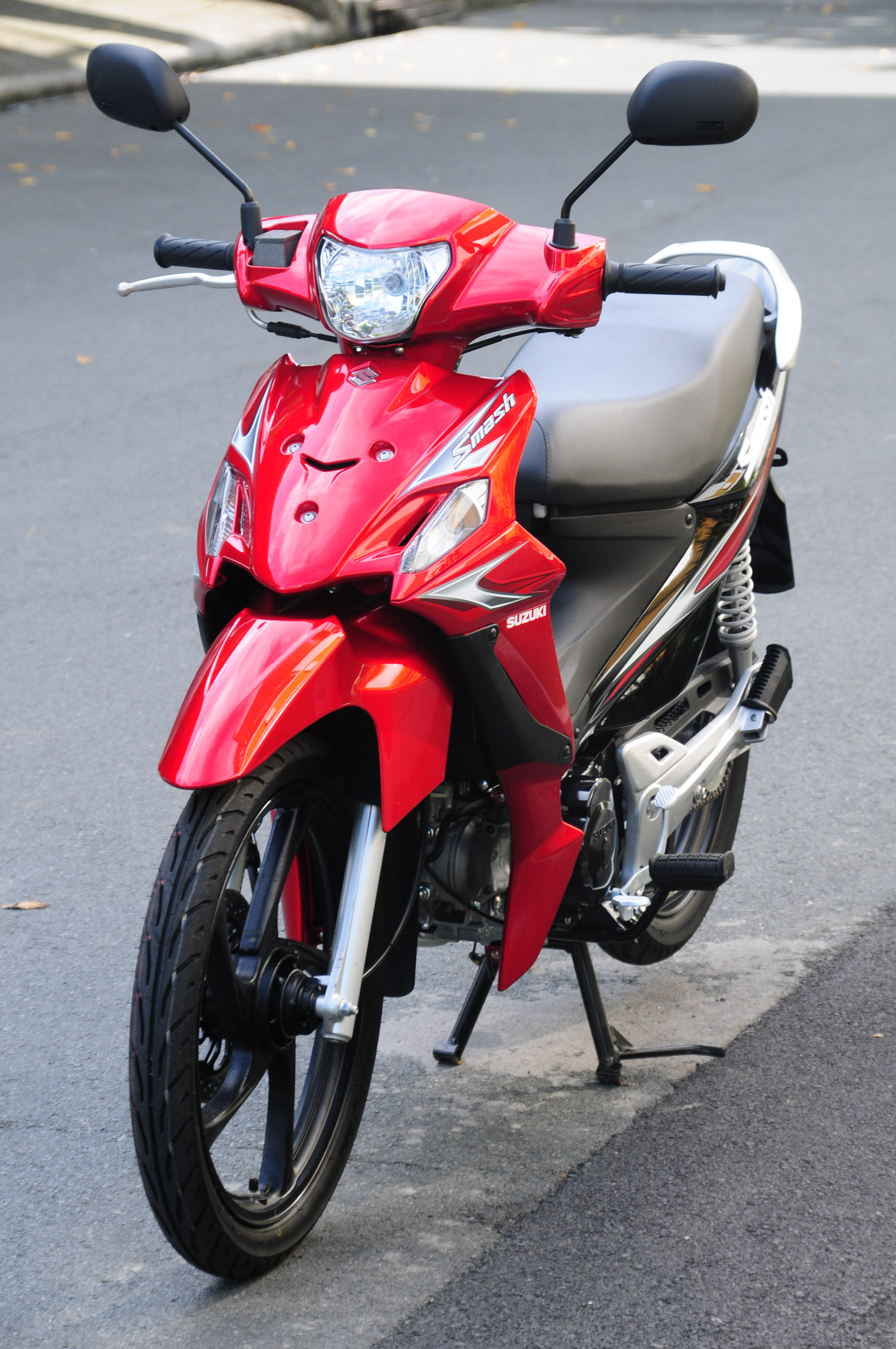 Suzuki Philippines, Inc. could have made the new Suzuki Smash 115 into a new product and given it a new name and nobody would complain or question the move. It can be the new GSX-R115 or Titan 115 perhaps?  Kidding aside, the new model is such a big leap forward from the old Smash 110 Revolution model that it could have been launched under a new name. That's how good the new Smash 115 is.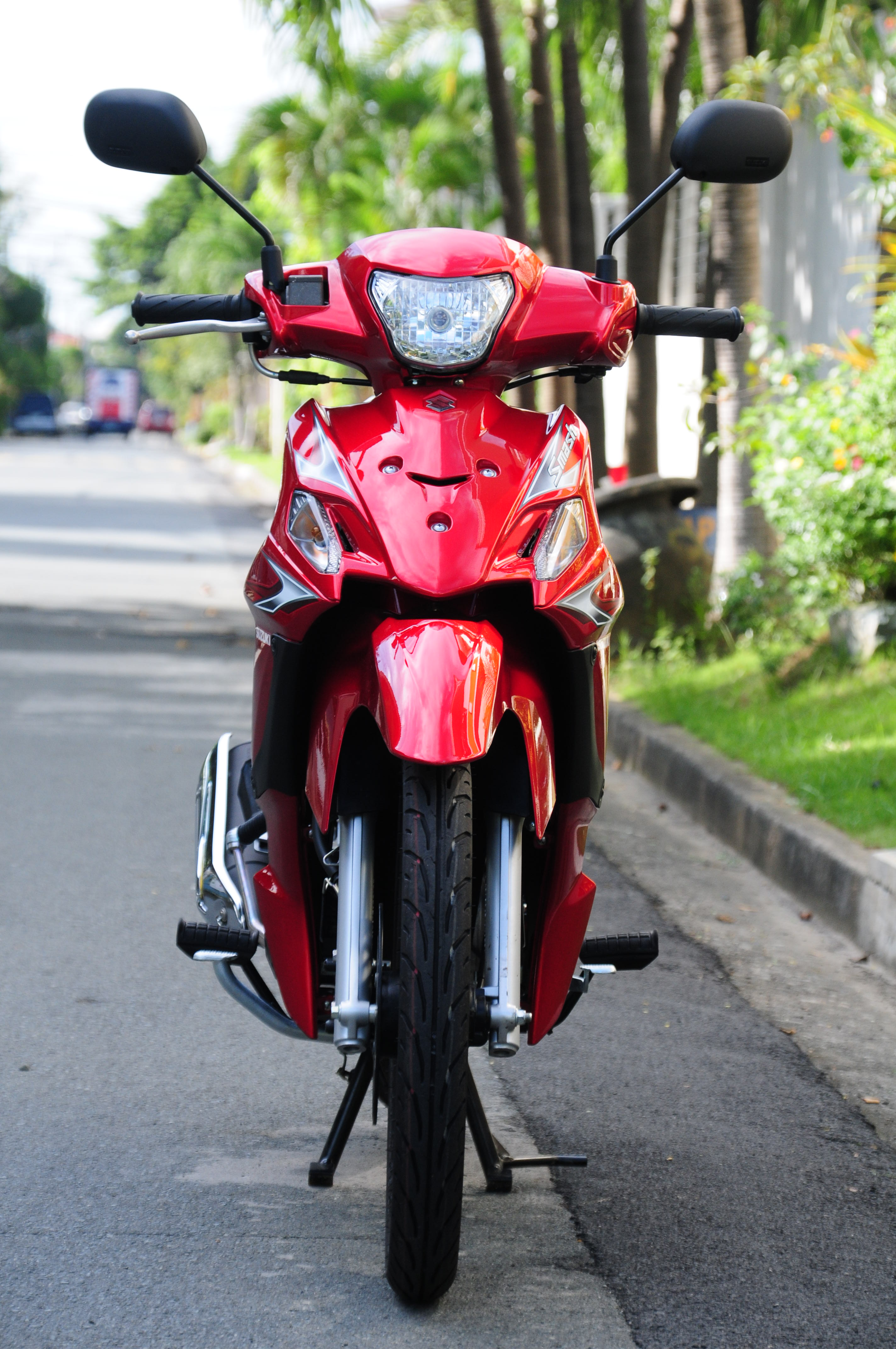 First, it has a completely new engine. With a higher displacement, different bore and stroke dimensions and more compact valve train components, the new engine is more powerful and smoother than the old 110 engine, yet able to maintain the impressive fuel efficiency. The new 115cc engine's longer stroke increases the maximum torque at a lower rpm than before, making it easy to pull the bike up to speed with brisk acceleration. Seat-of-the-pants experience tells us that it could be one of the most powerful 115cc bikes in the market and would surely be a good base for racing.
The engine still has Suzuki's patented PAIR (Pulsed Secondary Air Injection) System which ignites unburned gases inside the exhaust port, maximizing engine efficiency and ensuring cleaner emissions. The large-diameter 100mm muffler with built-in oxidation catalyzer contributes to a greener environment while still being able to give a sporty look and performance.
It is coupled to one of the best 4-speed transmissions we have tried on an underbone motorcycle. It shifts smoothly and positively, making missed shift difficult to do. The gear spacing is also good and the resulting acceleration actually made the bike comparable in performance to some 125cc bikes.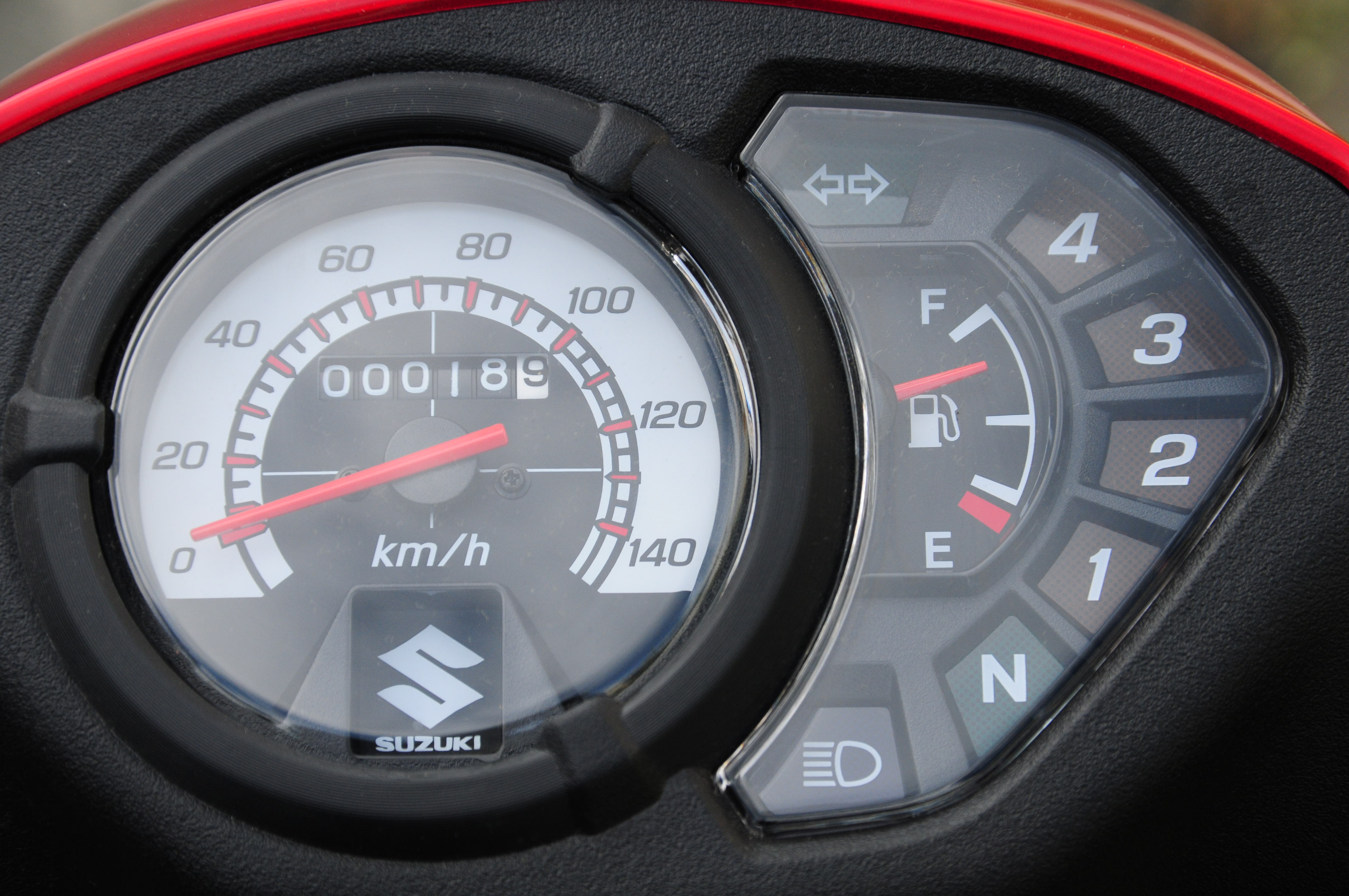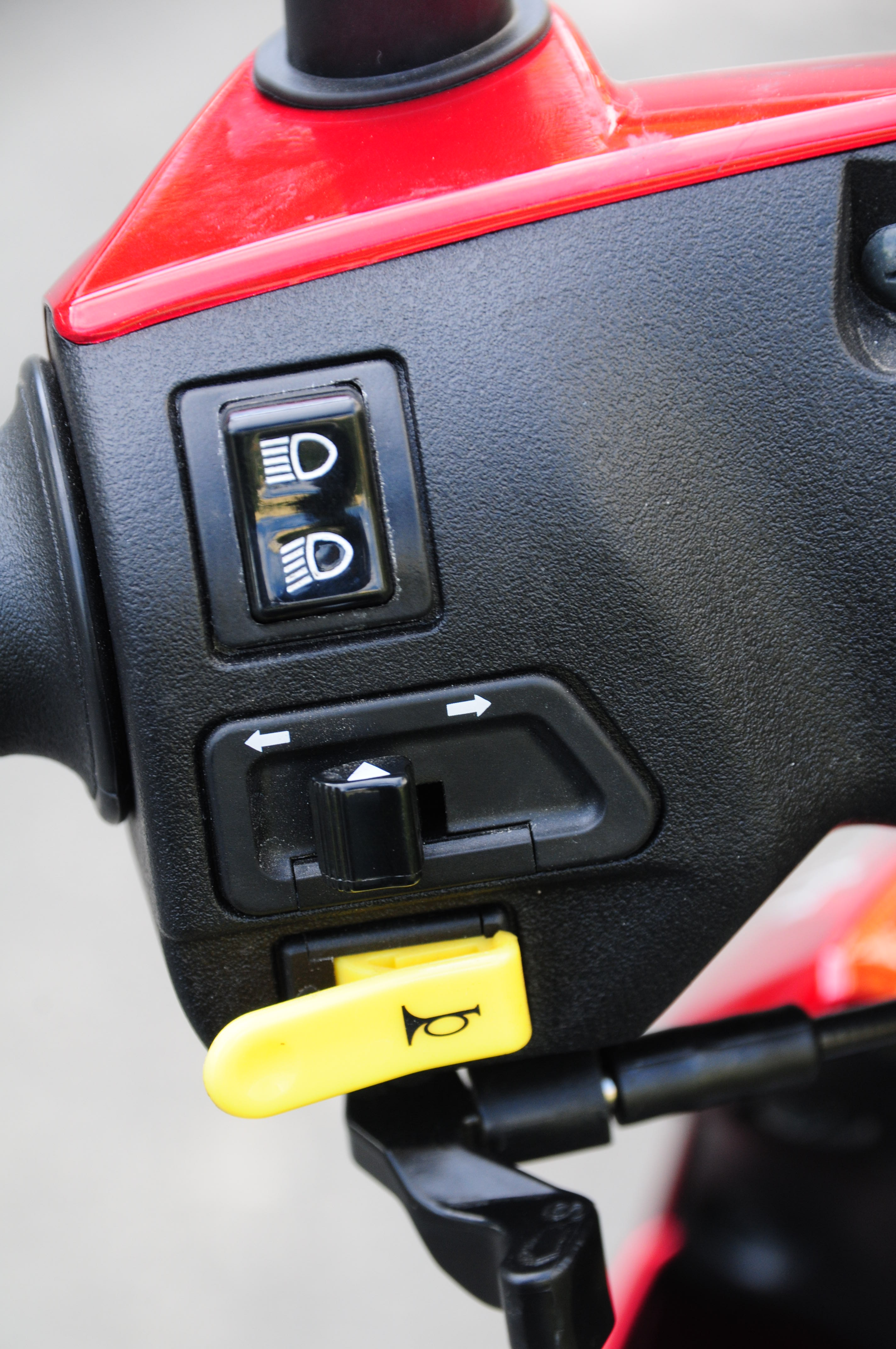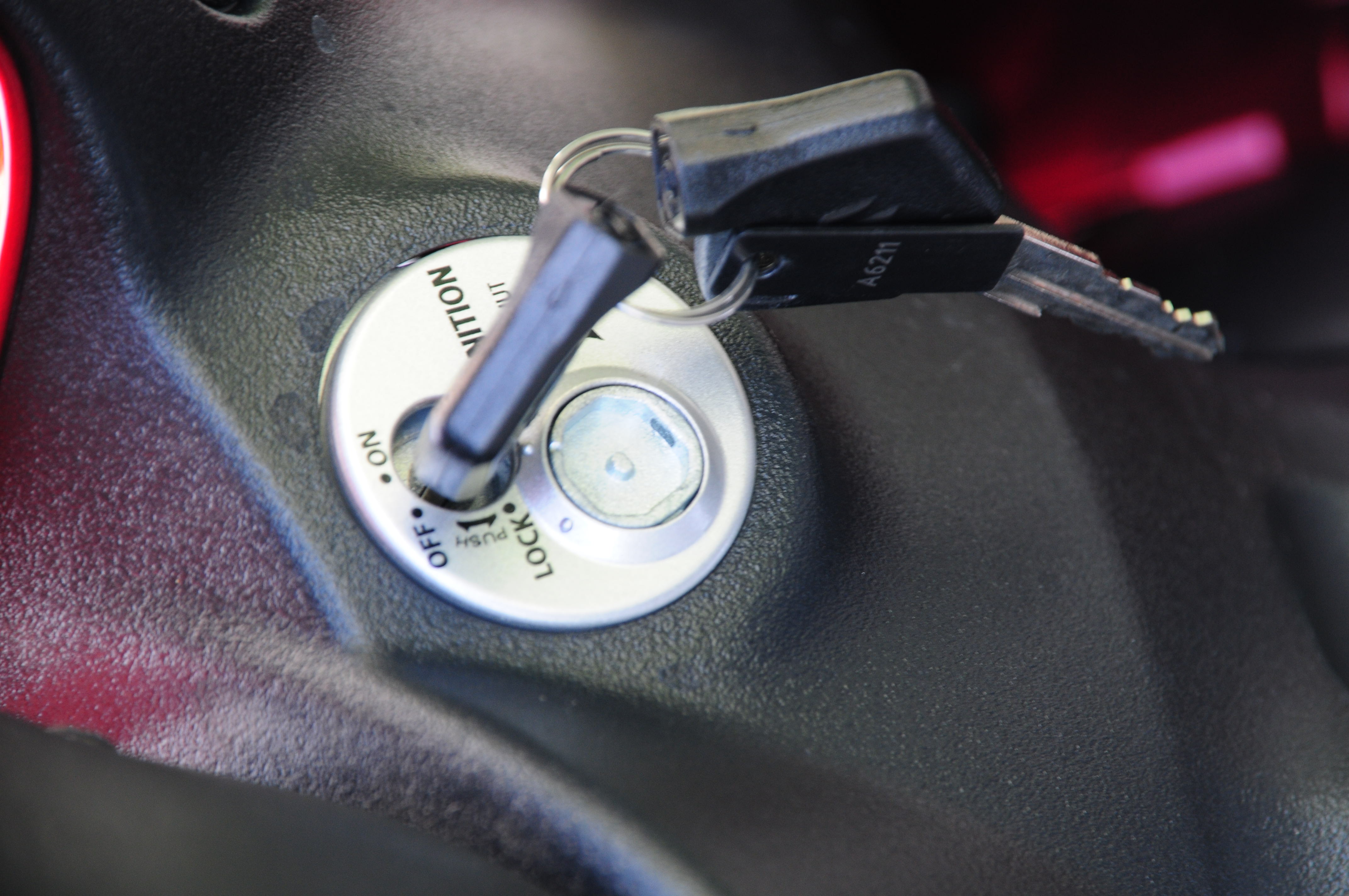 Next is the aesthetics. The new bike has probably the sportiest design we have seen on a Suzuki underbone. In fact it is now sportier looking than the Shogun PRO in our opinion. The front, which enhances its GSX-R inspired layered design, would have to be the best angle of the bike. The edgy, modern and aerodynamic styling of Suzuki's leading-edge sportbike has been successfully applied to the Smash. The side fairing's unique execution is definitely an eye catcher. This uplifts the Smash rider's character. Other features are the new, more compact, high-wattage multi-reflector headlight and rear combination lamp with multi-polygon reflector and transparent cover. The Smash will be initially available in two-tone colors with two variants namely the Pearl Mirage White/Titan Black and the Candy Summer Red/Titan Black. From behind the cockpit, the rider is greeted with a new sports watch-inspired instrument cluster with a highly visible gear position indicator. The gear position indicator feature has always received good compliment from us as it helps the new riders and makes riding in traffic error-free. For those whose bikes don't have one, how many times have you tried to take off from a long stop and discover that you were in fourth rather than in first gear?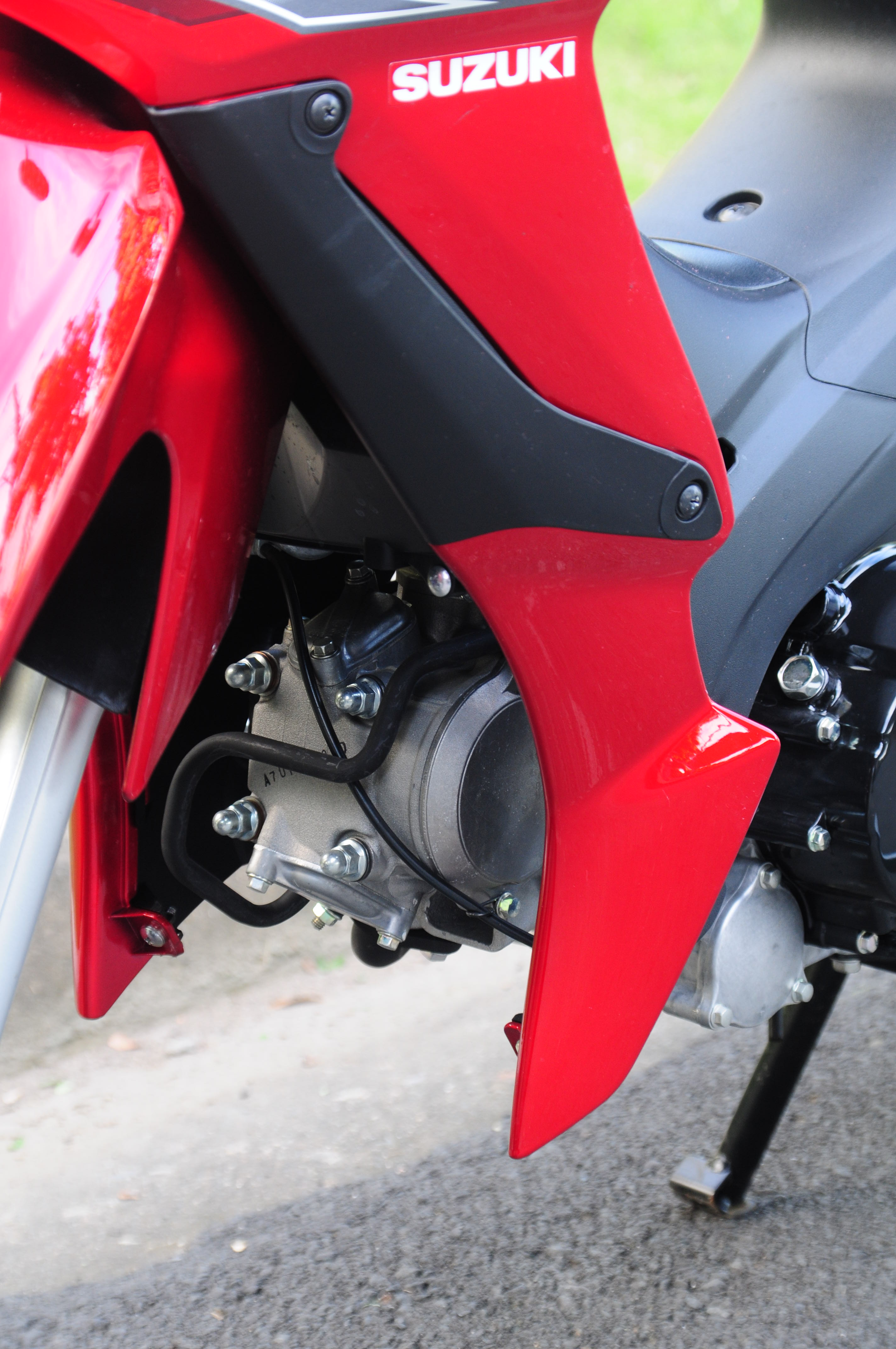 Completing the new look as well as performance-enhancing items are the sleek alloy wheels, front disc brake and the impressive Dunlop tires, which give rider confidence not only in terms of looks and durability but also in bike handling.
To the experienced riders, the new feature of the Smash that they would really appreciate is the new slim, diamond-type compact chassis developed for easier and smoother handling. It offers exceptional rigidity and balance. A lower seat height is set at 750mm to give a well-proportioned sitting position for easier leg reach and to give the rider better ride control. The difference is very noticeable and will make you ride better.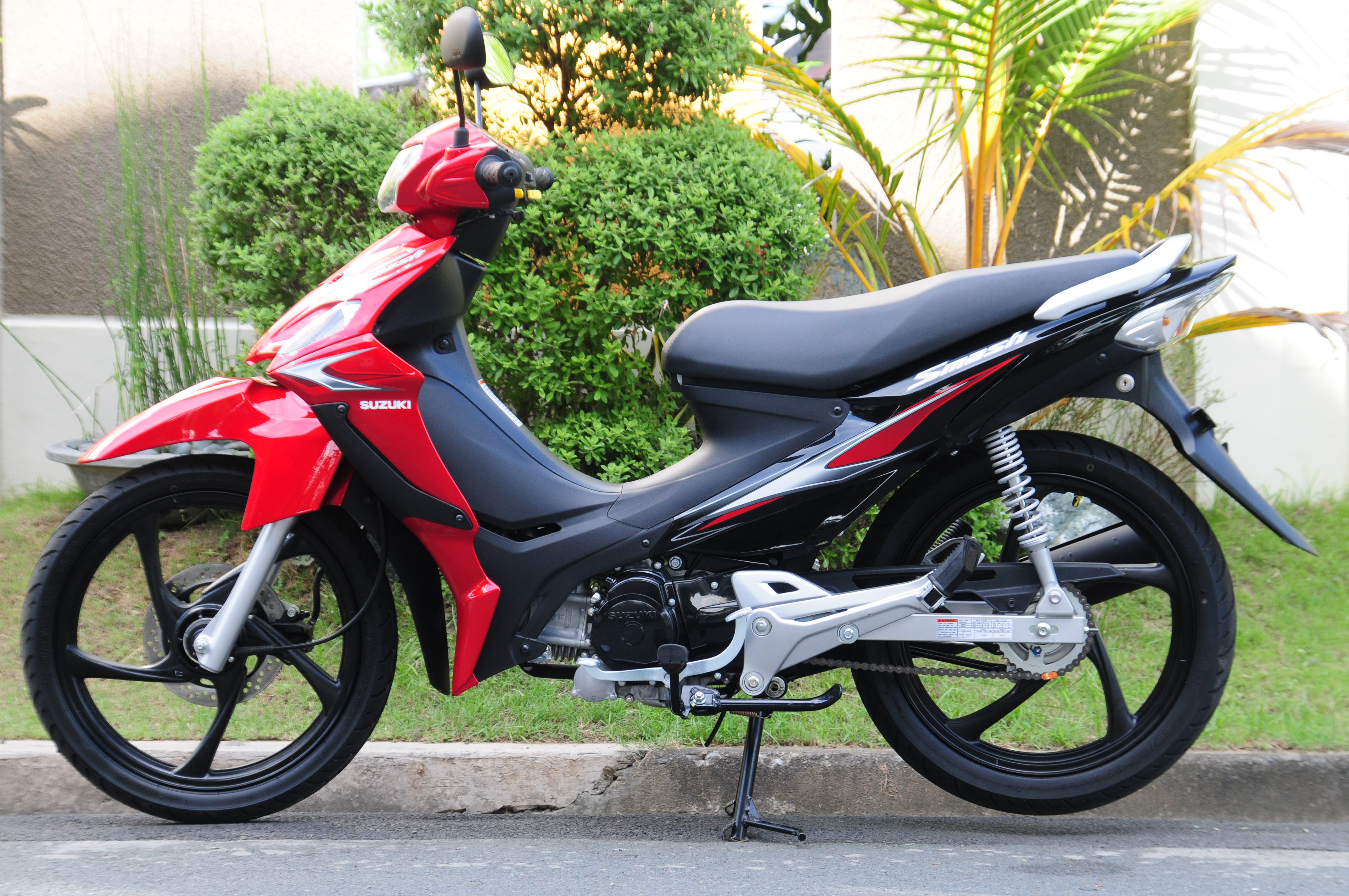 The revised suspension at the front and rear are matched to the quicker handling, yet they're very supple and comfortable for normal riding or commuting. The telescopic front fork suspension allows quick reaction to road imperfections and shields the rider from jarring impacts. Its reduced spring vibration ensures a stress-free and more enjoyable ride.
Riding the new Smash 115 proved to be enjoyable whether it's a brisk one or at a relaxed pace. Its high-revving powerful engine and responsive steering make it a genuine sport bike. Meanwhile, the easy and stable handling coupled to a supple ride and smooth engine behavior makes it a pleasure to cruise around with. It's really a bike with good dynamics!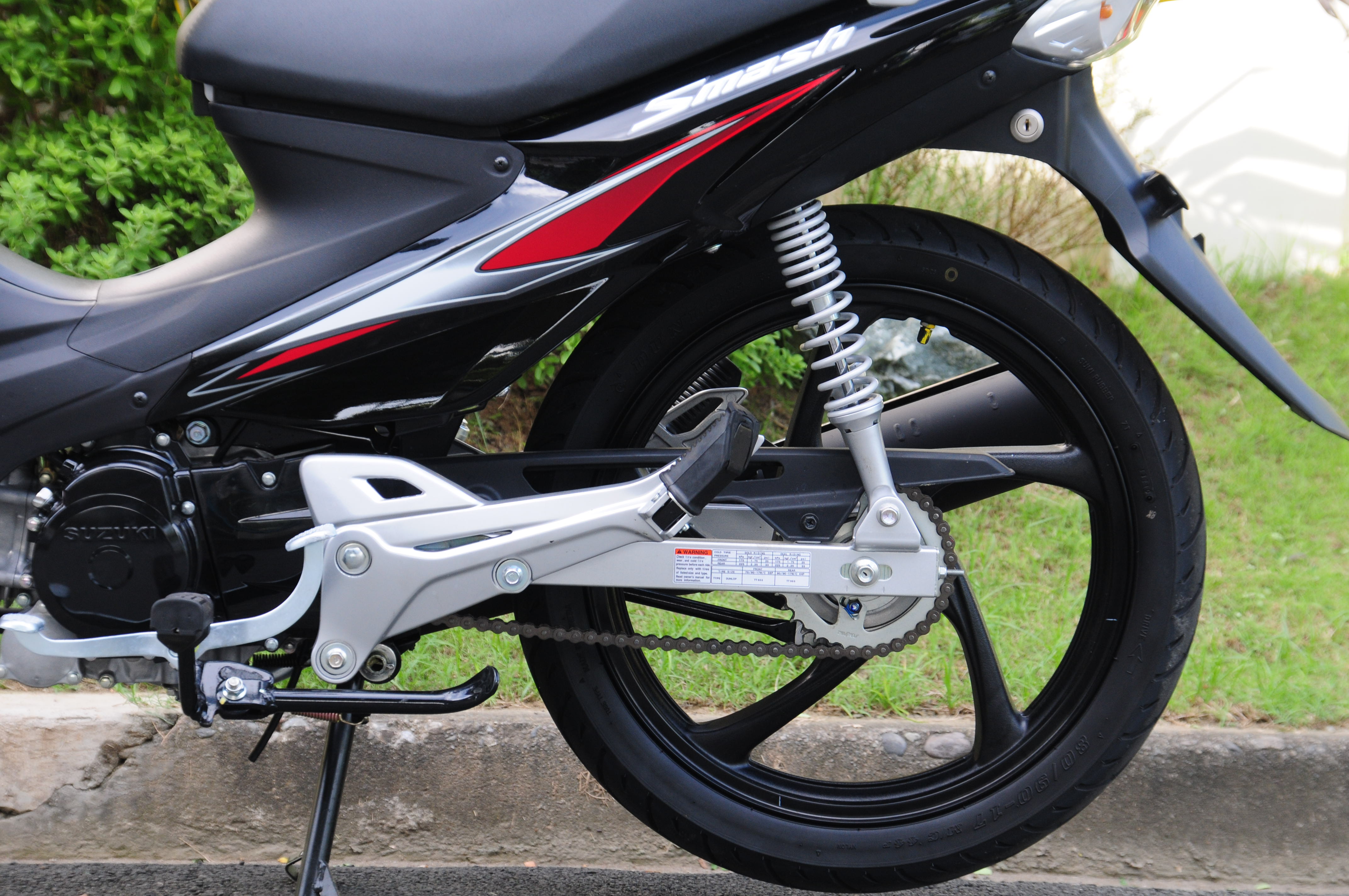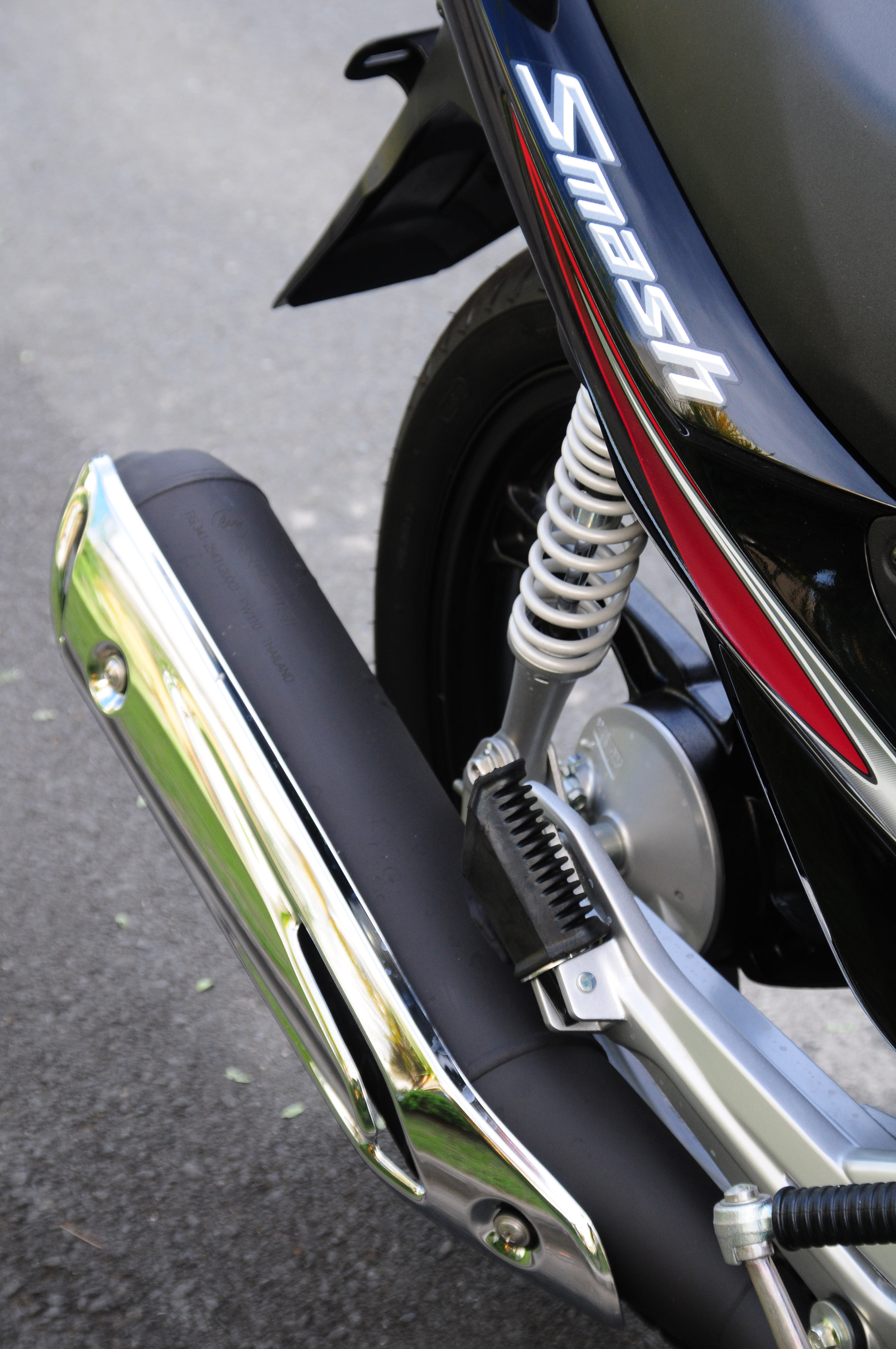 One thing we all noticed that could be further improved on the new Smash is the braking power of the new front disc. All three of us felt that with the bike's newfound power, better braking will help. It is not weak or unsafe, we just felt it needs to level up together with the engine power and dynamics to fully enjoy sporty riding experience.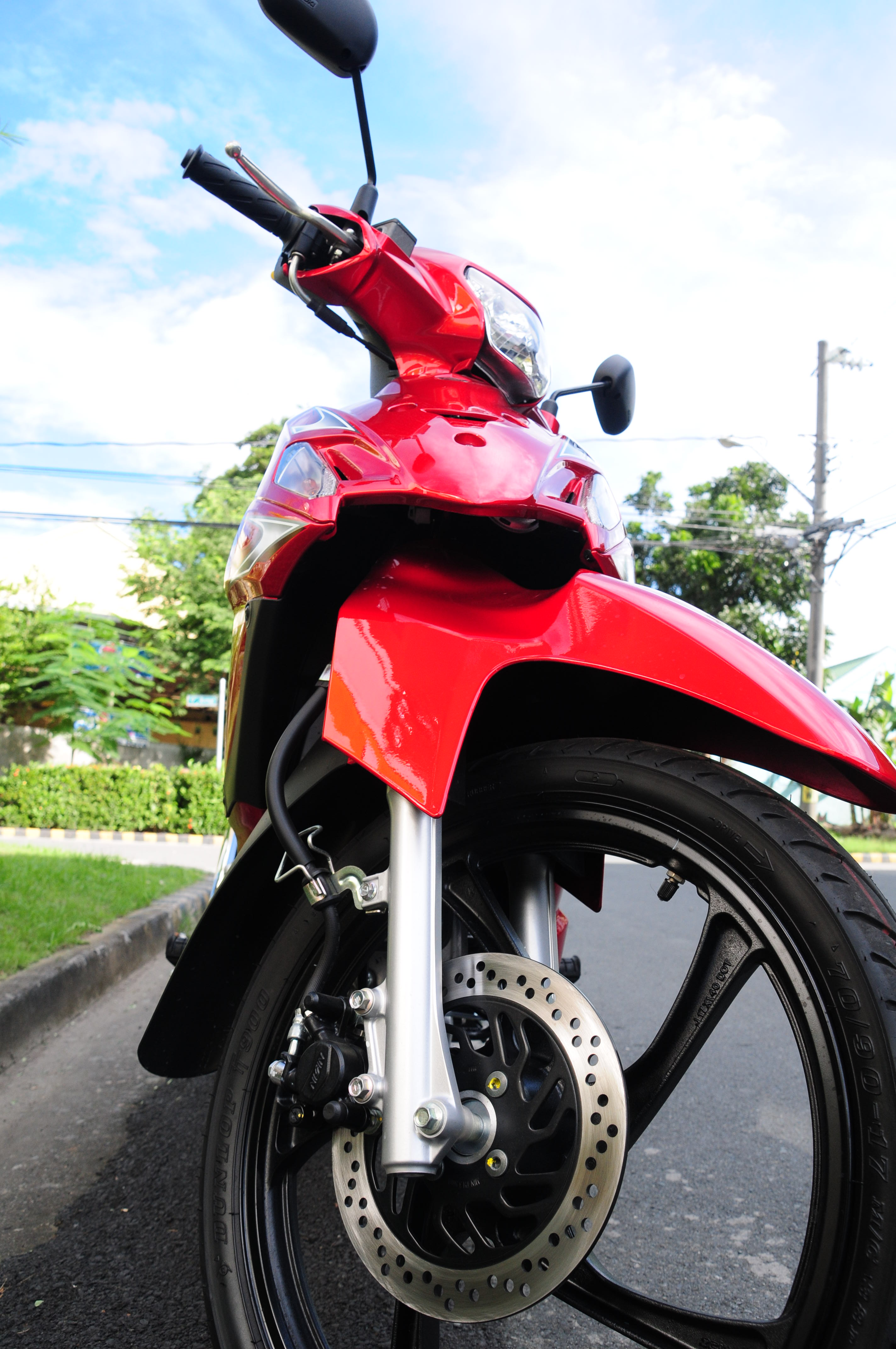 Although much of the improvement is geared towards increased performance and sporty looks, the new Smash still takes into consideration the rider's convenience and comfort. It still has a large and deep 8-liter underseat compartment to store personal items as well as other essentials like a rain gear and emergency tools. A magnetic key shutter safety feature ensures peace of mind as the ignition can only be accessed with the correct magnet attached to the tip of the ignition key.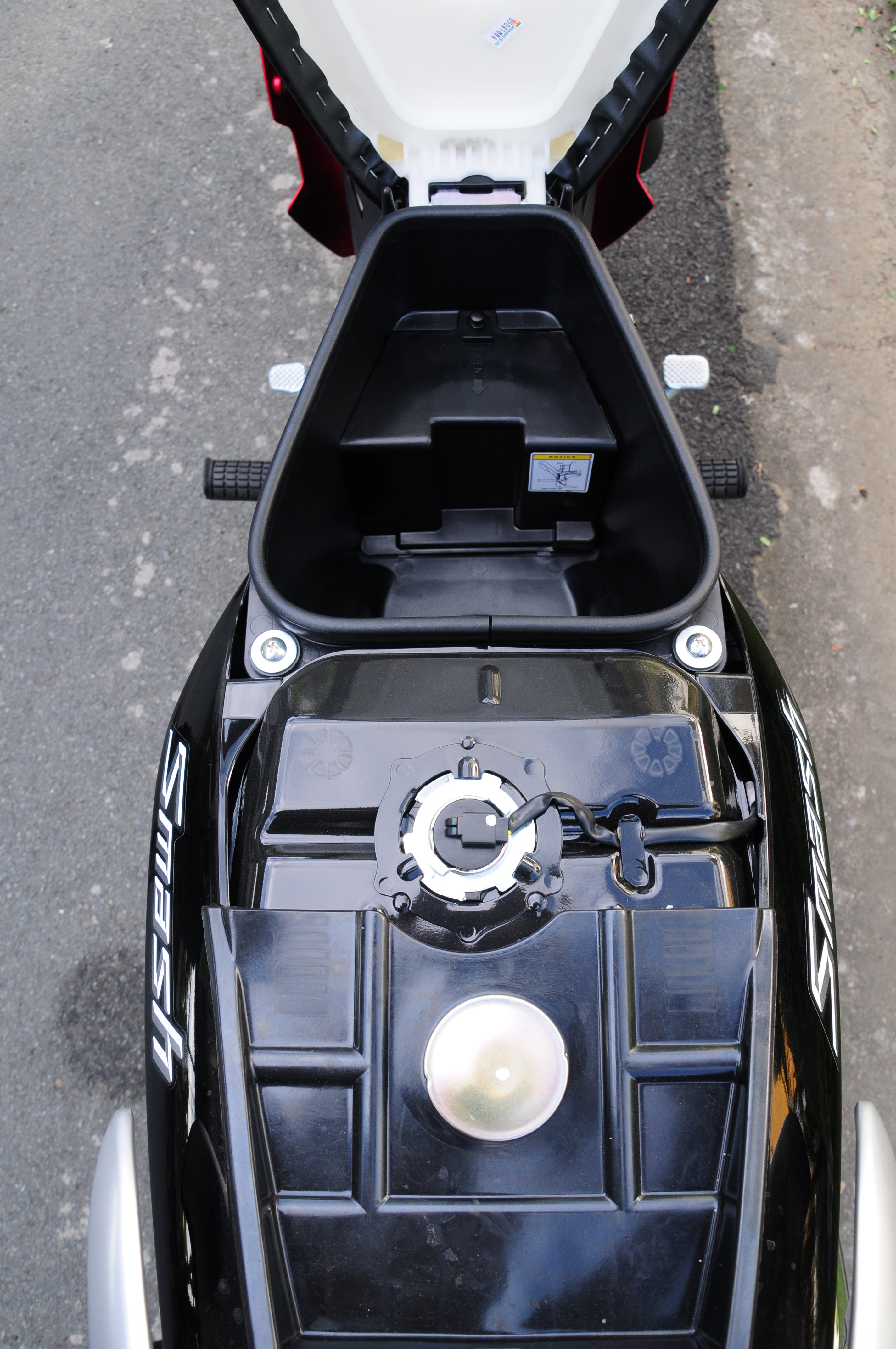 All of us agreed that the new Smash is a pretty bike with a gorgeous body and that it is one of the best looking sporty underbones in the market today. Some new models can stop at that and be able to lure in the buyers. But the new Smash doesn't stop there. The buyer also gets a bigger and better engine, a new and improved frame, a new front disc brake, a better transmission and better tires. This is clearly not just a looker but one which has more product substance as well. For only a couple of thousand pesos more than the old model, the new Smash Cool 115 is one of the best buys this holiday season. It's one of the best gifts you can get!
*This article was published in InsideRACING's  Volume 8 Number 10  2010 issue.