Sydney the Rasta Raider
Date posted on September 9, 2020
Share this
On January 19, 2010, Joel Clarete purchased his motorcycle "Sydney" in Nemar Batangas Branch and after three months, Sydney experienced her first drag racing competition.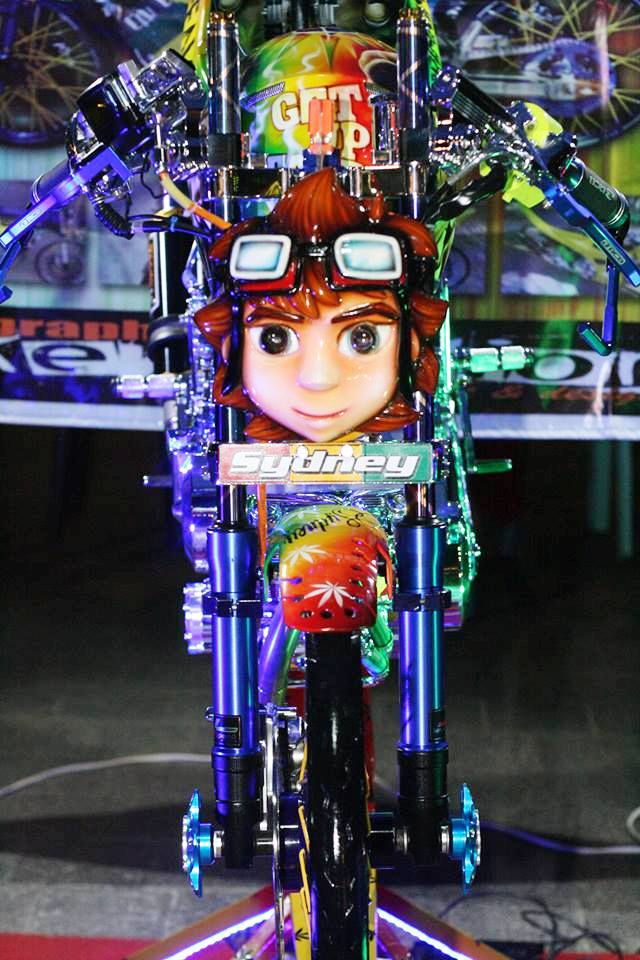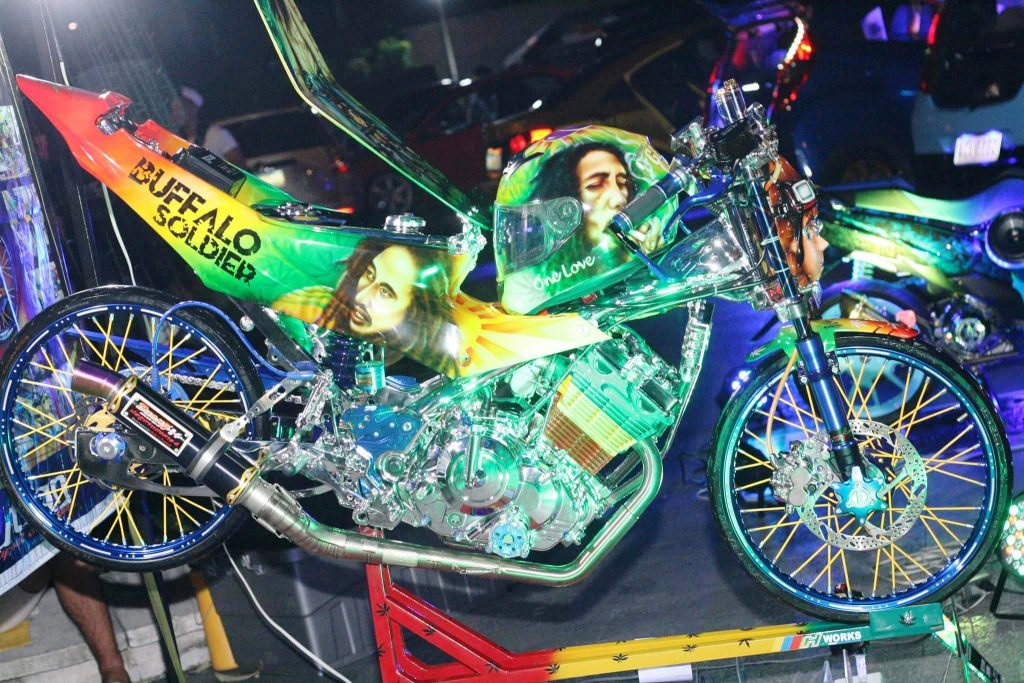 Since then, she was joining several competitions and started to be recognized in Batangas City. From 2010 to 2013, Sydney was very active in joining drag racing competitions, mostly "illegal" activities, however, the team decided to put an end doing those things for personal and safety reasons. Since then, Sydney became his work and service partner for several years. Until one day, car and motor shows became widely known in Batangas area. After attending one of the shows, an idea got into Joel's head to set up Sydney so that she can join future car and motor show events. Though he was excited, he was hesitant at first due to the immense amount of money that was needed to be spent but he still continued his plans to revamp Sydney.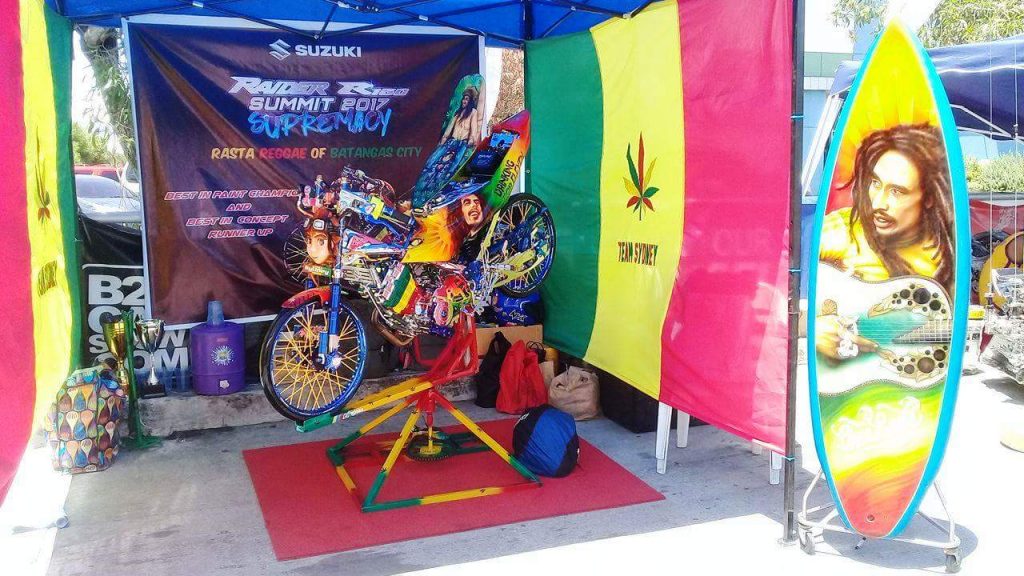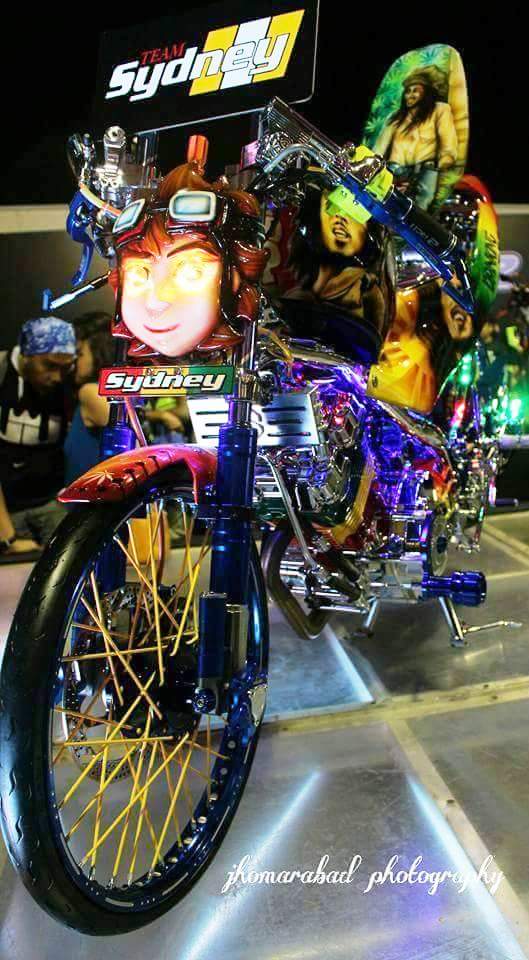 Sydney's first car and motor show was Road Gear Production and it was held in San Pascual, Batangas last December 2015. They got Best Airbrush Champion and Globe Choice awards. Not bad for a first timer. Joel was overwhelmed while accepting Sydney's first award and because of this, he became more encouraged to join car and motor show events. Joel then decided to design Sydney inspired by "Rasta" colors and a Bob Marley design as tribute to the Jamaican singer-songwriter, musician and guitarist, and since then, she is always the winner in the Airbrush Category. "In spite of this, I always dream to aim the higher award for Sydney until it happened when we joined a car and motor show event in Cuenca, Batangas," Joel shared.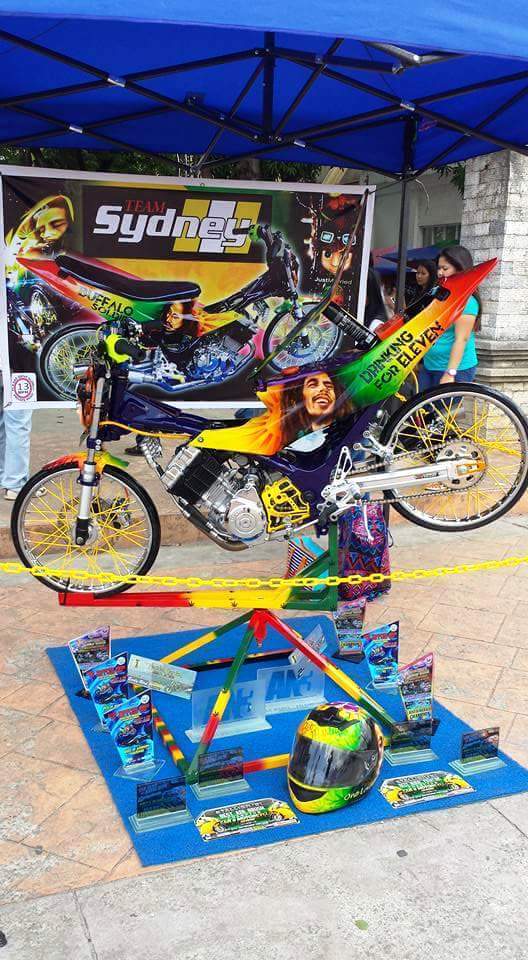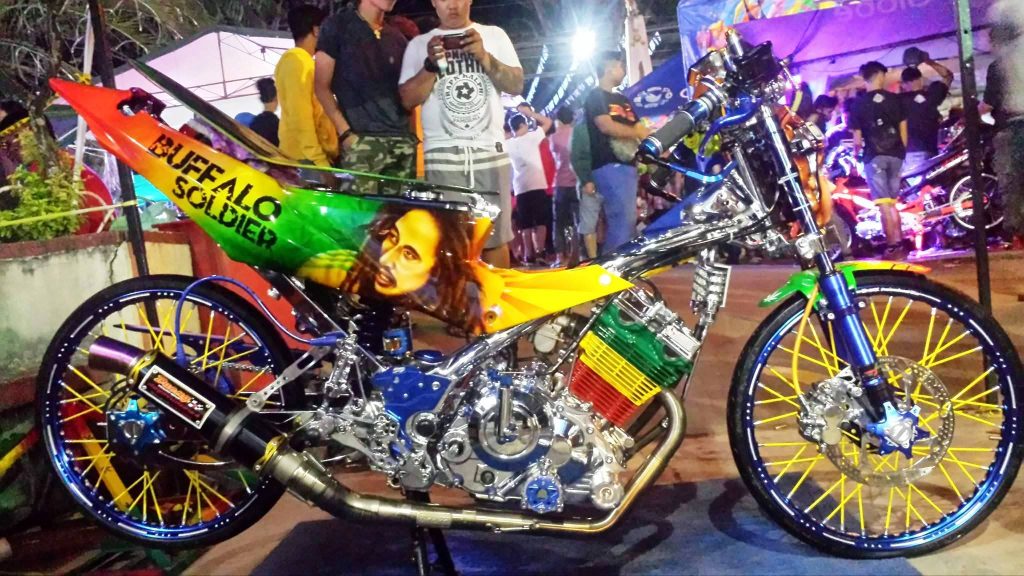 "Many spectators were amazed by her appearance. Many spectators took pictures with her. And for the first time, Sydney bagged the award for Best of Show Overall Champion and the rest is history. Sydney was my first Raider 150, 2010 new breed. Back then I was just a rider and didn't care much about fancy accessories. In 2015, I entered my first show and I ended up winning a few awards with just a simple setup. I grew up listening to Bob Marley so I based my setup on Rastafarian/ reggae. Ever since then, every show I entered, Sydney brought so much attention to the onlookers. My bike has a very simple setup but has a very strong presence in almost every motor show. And now Sydney has a very big fan base," he narrated.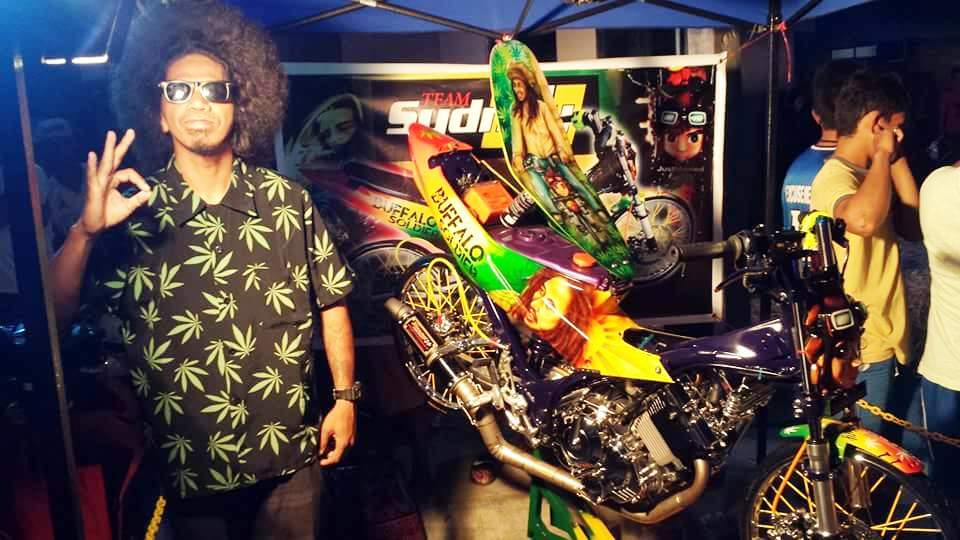 In February 2016, Joel and Sydney were given a chance to join a big event by Suzuki Philippines that was held at World Trade Center, Manila and it was a 2-day event. Sydney bagged the award for Best in Paint and the runner-up award for the Best in Concept Motor Category.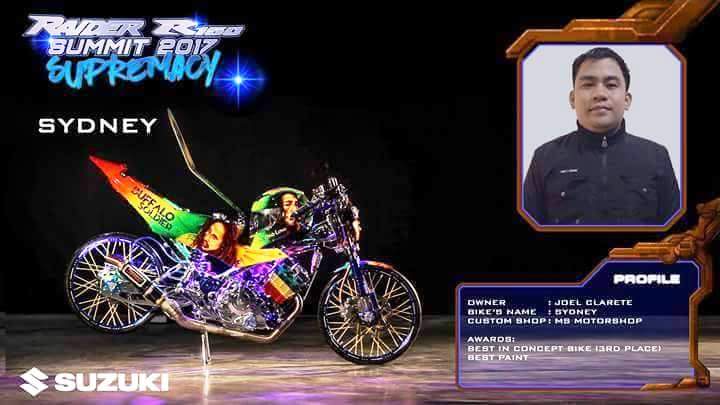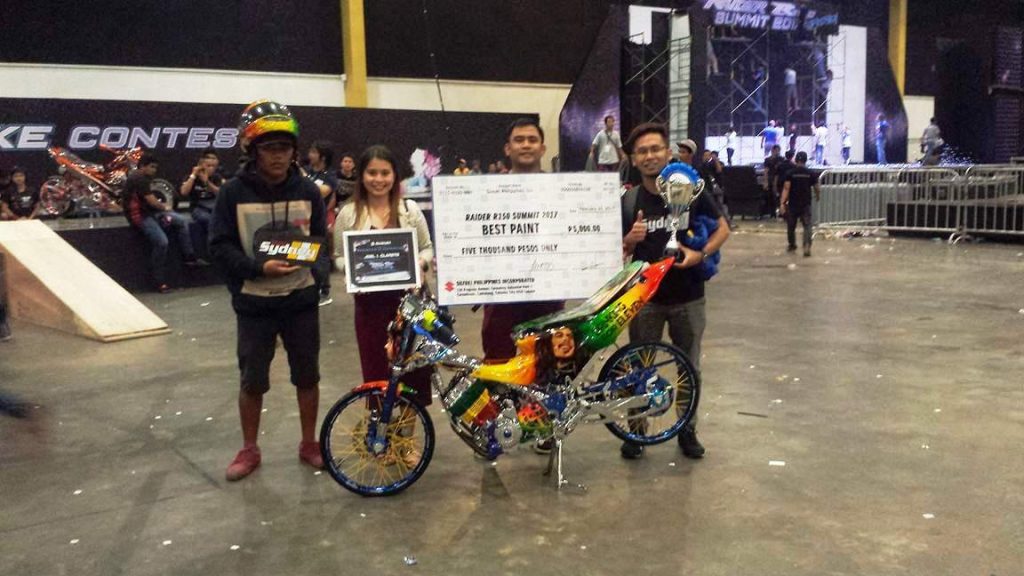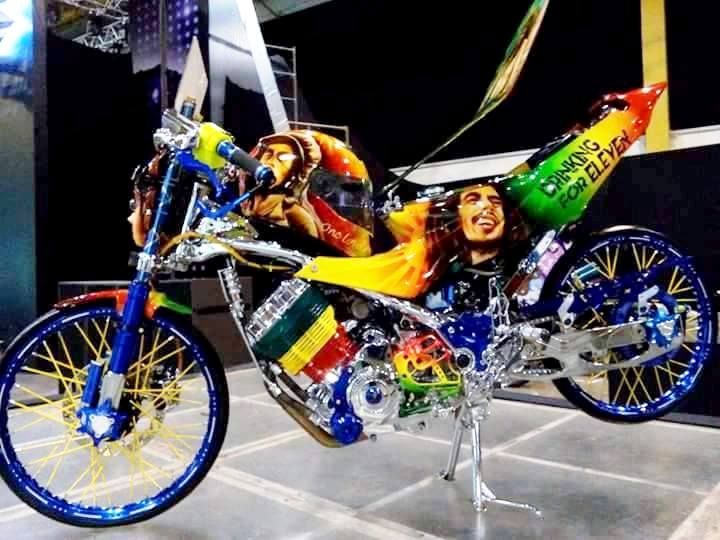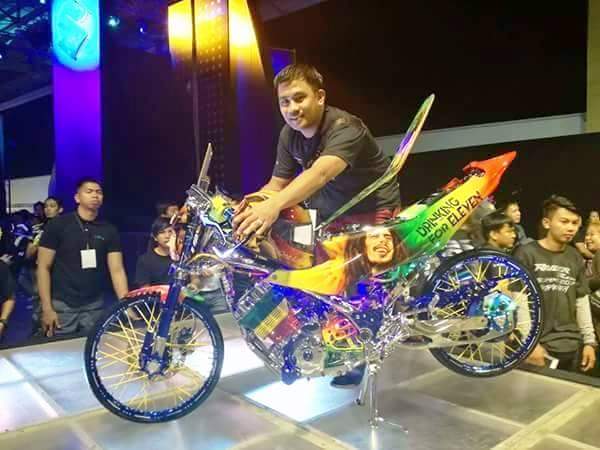 List of modifications and parts/accessories used:
Airbrush concept
Chromed Racing Boy Swing arm
Dmax Rims
Osaki Colored Spokes
Lightened front disk
TTGR Outer tubes
Titanium Colored Inner Tubes
Daeng Sai4 Open Spec Pipe with Rainbow tip
Various Racing Boy accessories
Rizoma Volt Meter
Analog RPM Gauge
Crayola Switch
CNC Lever Guard
Frame Guard
This was published in InsideRACING's Volume 15 Number 9 2017 issue