Tadachi Displays Experience In IRGP8 Top 1 Oil Juniors Trophy as Cortez and Mauricio complete the podium
Date posted on November 28, 2014
Share this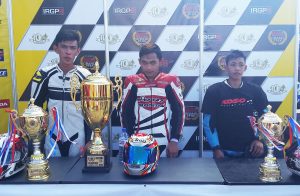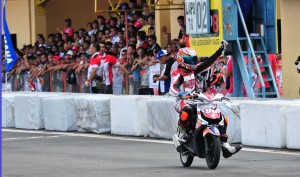 14-year-old Koko Tadachi of Honda Philippines clinched the Top 1 Synthetic Juniors Trophy in IRGP8 and proved that he has indeed grown up and improved as time goes by. Tadachi had international racing experience this year as he was the country's representative in the 2014 Honda Asia Dream Cup.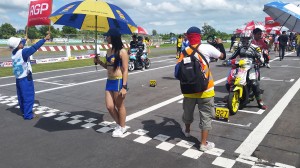 The Juniors Trophy also saw notable performance from Team Yezaroo's Michael Cortez who was in pole position of the 14-lap race. It was the first time for Cortez who is a karter to participate in a motorcycle race. Cortez and Tadachi battled for the lead in the early part of the race and the latter prevailed. Tadachi then had a comfortable lead and won the race. He also bagged the Fastest Race Lap Award after posting the 51.664s best lap time.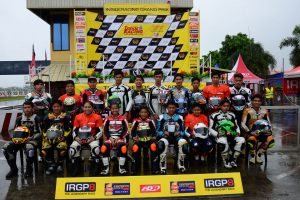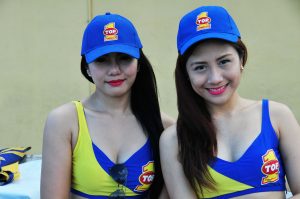 Cortez finished second and was the Fastest Privateer. Third place went to Gian Carlo Mauricio of Koso-Vee Rubber. Honda Philippines received the Manufacturers Award in the Top 1 Synthetic Juniors Trophy which had 22 entries.
The 8th Annual InsideRACING Grand Prix was presented by InsideRACING, FDR, Castrol Power 1, DENSO Spark Plugs, Top 1 Synthetic Motor Oil, Phoenix Cyclomax, NGK Spark Plugs, Shell Advance, Gulf Pride 4T Plus, Zebra Helmets, JVT, Motoworld and MDAP. Sponsors of the event were Triumph JT Marketing Corp., VS1 Mototek, Spyder, LS2 Helmets, Racing Boy, Koso, Motoactive, Okimura and Sum Racing while IRGP8 partners were Motorsiklo Xklusibo, Stoplight TV, MCP, The Racing Line, Unified Sports and Racing Association for Motorcycles, Inc. (USRA), Pinoy Speed, InsideRACING TV and Statmed.