Team Animils: Optimus Prime-inspired Raider 150
Date posted on September 30, 2020
Share this
This show bike is from Pagadian City. Optimus Prime (formerly known as Orion Pax, also known in Japan as Convoy) is the de facto leader of the Autobots, a faction of a transforming species of synthetic intelligence from the planet Cybertron. He has a strong sense of honor and justice, dedicated to the protection of life and liberty of all sentient species.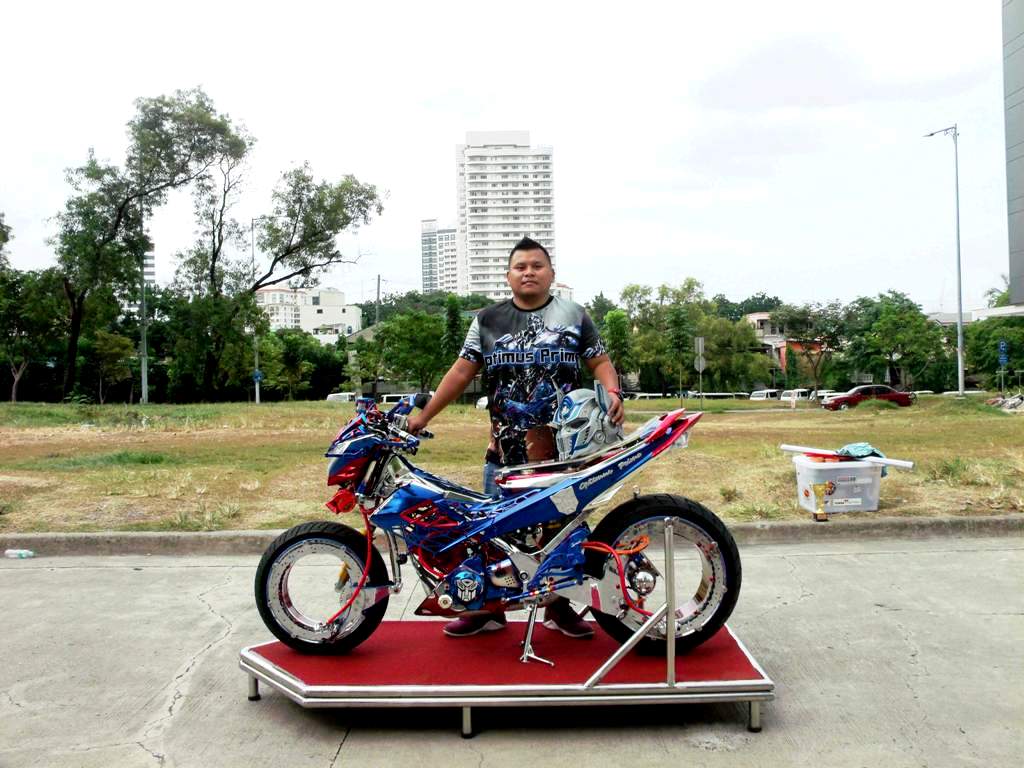 The bike is owned and conceptualized by Jovanie Dimasar, a businessman from Pagadian City. The bike was built by Team Animils headed by handler mechanic Renan Suan and Chief Mechanic Jessifer Tubigon. The bike was one of the crowd favorites during the IR Bikefest Cebu held last August 25-26, 2018. It bagged 2nd place in the Best in Show Award, Champion in Best in Display presentation and 2nd place in Best in Underbone Open.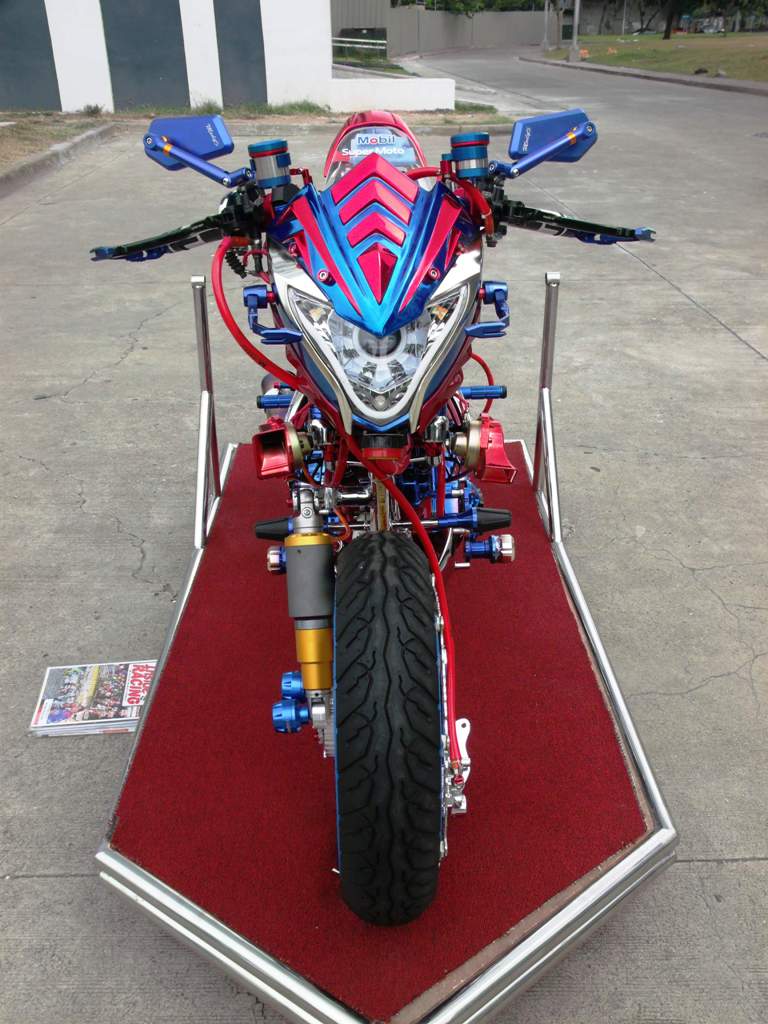 The bike is a combination of car and motorcycle parts. The team behind it did a great job in emulating the structural and robotic form of the latest version of Optimus Prime from the movie Transformers. Team Animils went to great lengths to make the bike truly unique. They wanted it to have a future forward design. The bike sports custom-made hubless wheel set made from CRV Donut front mags and Ford Expedition mags for the rear. The team was gunning for a fatty setup so they wrapped the wheel set with Shinko 120x70x15 front tire and Shinko 170x60x17 rear tire. Each wheel set sports an integrated disk rotor designed by Jovanie himself. But the team did not stop there, they equipped the bike with front and rear fully adjustable air suspension. They also custom-modified the chain drive which is now located at the right. They equipped the bike with a custom-made front pro-arm suspension system. The bike also sports titanium color handlebar, titanium color T-post, Racing Boy rear set, KOSO tachometer, custom converted digital to FI speedometer, red and blue chrome visor, chrome fairings – blue red silver combination, chrome red bolts, Racing Boy hydraulic brake and clutch, KOSO 28mm racing carburetor, LED lights, titanium crankcase, titanium engine guard, Racing Boy frame sliders and Rizoma crankcase cover.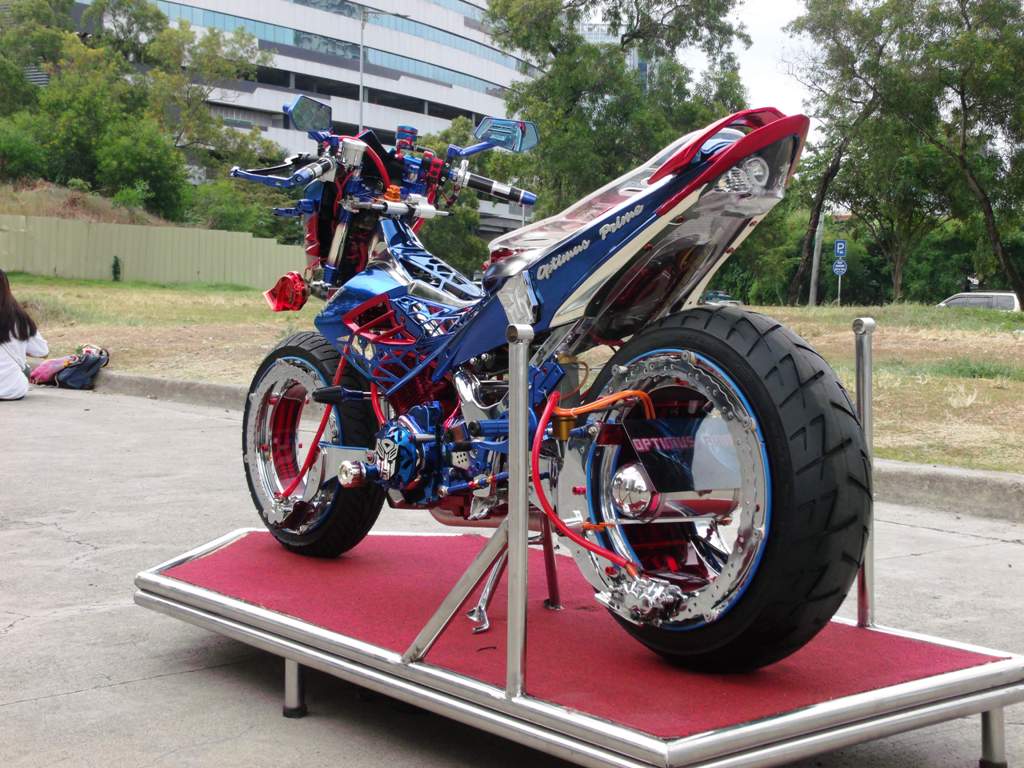 "The most satisfying aspect of this hobby is the excitement that we feel every time we join motor show competitions. When someone idolizes our bike and appreciates how beautiful our bike is, it makes all our sacrifices and hard work worth it. Integrating car parts to our motorcycle was the biggest challenge we encountered during the build. The creation of the custom fatty hubless wheel set together with the air suspension system was the most complex modification we did to the bike. A lot of time and effort was spent in designing and building it. All in all, it took 3 months for the bike to be finished. We are particularly proud of its fatty hubless front and rear wheel set with my own designed integrated disk plate rotors. It is the first fatty underbone hubless with air suspension in the Philippines and that makes my bike unique from the others," Jovanie shared.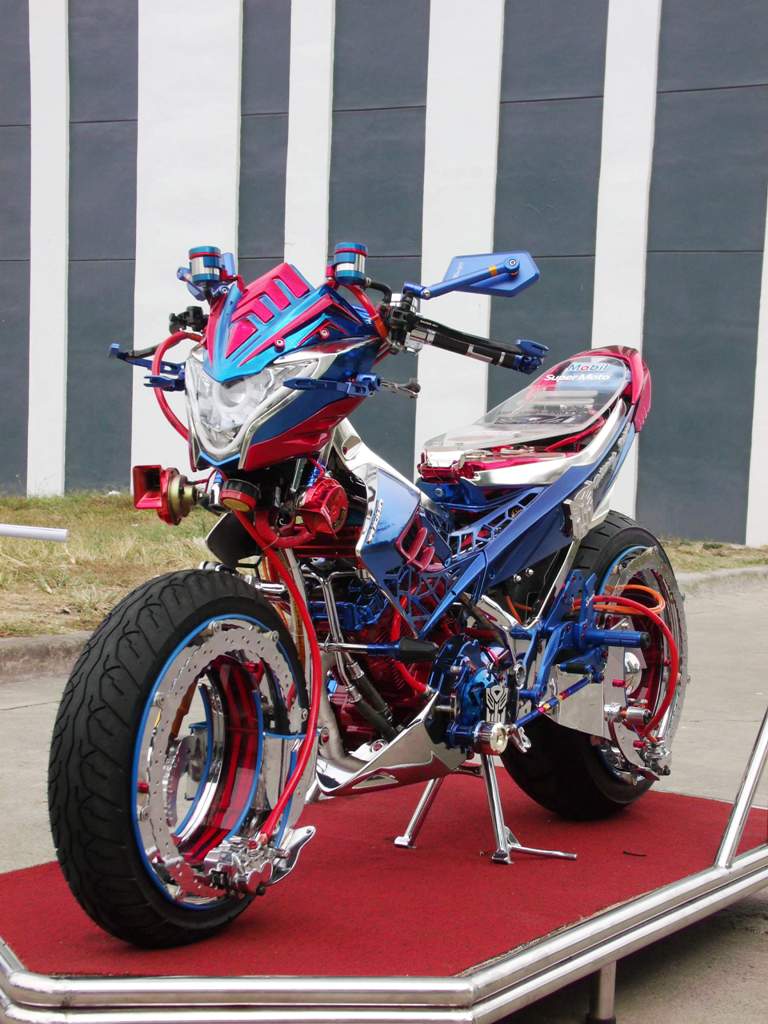 "I would like to thank my family for always supporting me especially my mother Mrs. Rosa Dimasar, my brother, my sister, my crew, my team , my mechanic and handler Renante Suan and his wife Danica Suan and our chief mechanic Jessifer Tubigon. Thank you so much. Special shoutout to Team Animils, H2O family and Prism hydrochrome. Special thanks to Louie Alonzo, Abner Bago, Rene Lacharan, Saddam Cabalero Dimasar, Rafael Lacharan, Atoy, Jayjay, Ken Lee and All Animils fans' club. Thank you InsideRACING for this opportunity to be featured in your magazine." Jovanie added to close our interview.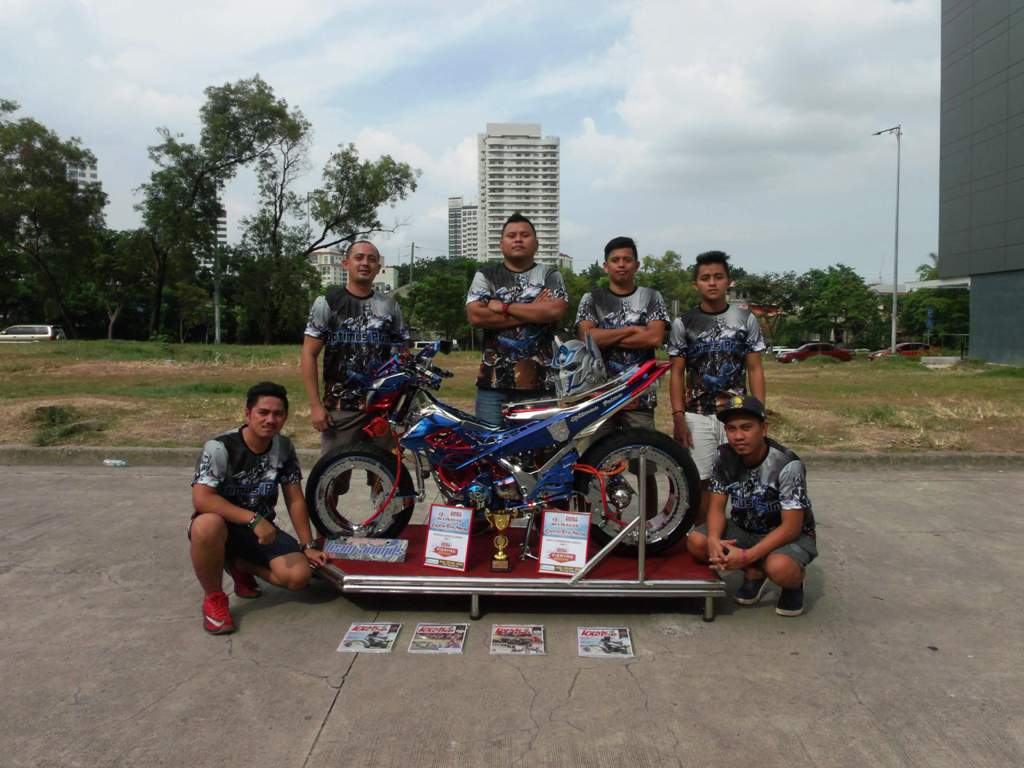 Parts and Accessories Used
Titanium color handlebar
Titanium color T-post
Racing Boy rear set
KOSO tachometer
Custom converted Digital to FI speedometer
Red and Blue chrome visor
Air suspension front shock
Air suspension rear shock
Chrome fairings – blue, red and silver combination
Donut Mags of CRV front mags
Ford Expedition mags rear
Hubless front fatty
Fatty hubless rear
Right chain converted
Front pro arm
170x60x17 Shinko rear tire
120x70x15 Shinko front tire
Chrome red bolts
Racing boy hydraulic brake and clutch
KOSO 28mm racing carburetor
LED lights
Titanium crankcase
Titanium engine guard
Racing Boy sliders
Rizoma crankcase cover
Thank you for visiting insideracing.com.ph. You may express your thought below through the comment section. You may also follow us on Facebook, on Instagram @Insideracingnation or on our YouTube channel.