Team Redspeed's Yamaha Q-Bix Modern Vanz Thai
Date posted on February 17, 2020
Share this
Featured here is a bike that is not yet officially launched in the Philippine market. The base bike is the Yamaha Q-Bix scooter built by Team Redspeed from Caloocan City.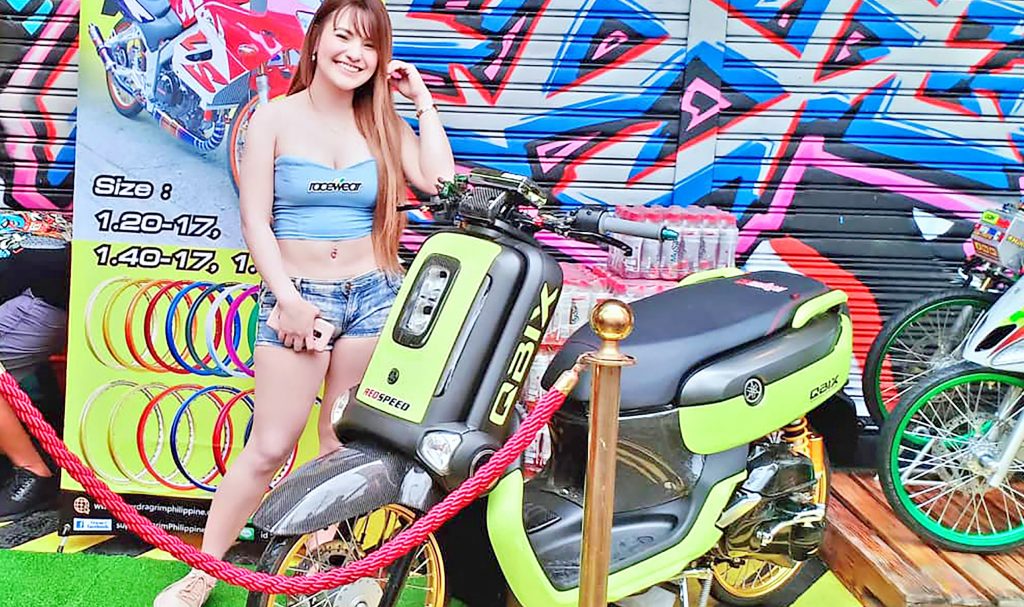 The Yamaha Q-Bix scooter is one of the latest scooter models launched by Yamaha Thailand. It sports a Blue Core water-cooled 4-stroke, SOHC, single cylinder 125cc engine. Looking at the scoot, it seems it has been taken straight from a sci-fi movie with its sleek, futuristic look. The Q-Bix scoot not only looks future forward but it sports innovative features such as full LED lights both at the front and rear. It also has a full LCD control panel, built-in mobile phone charger socket and pocket and a spacious underseat storage with its own illumination. The scoot comes with a remote key with a position and answer back system which is very convenient when you are looking for your scoot in a jam-packed parking lot. The scoot can also start and shut its engine with just a press of a button via remote, not to mention ABS which is one of its standard features.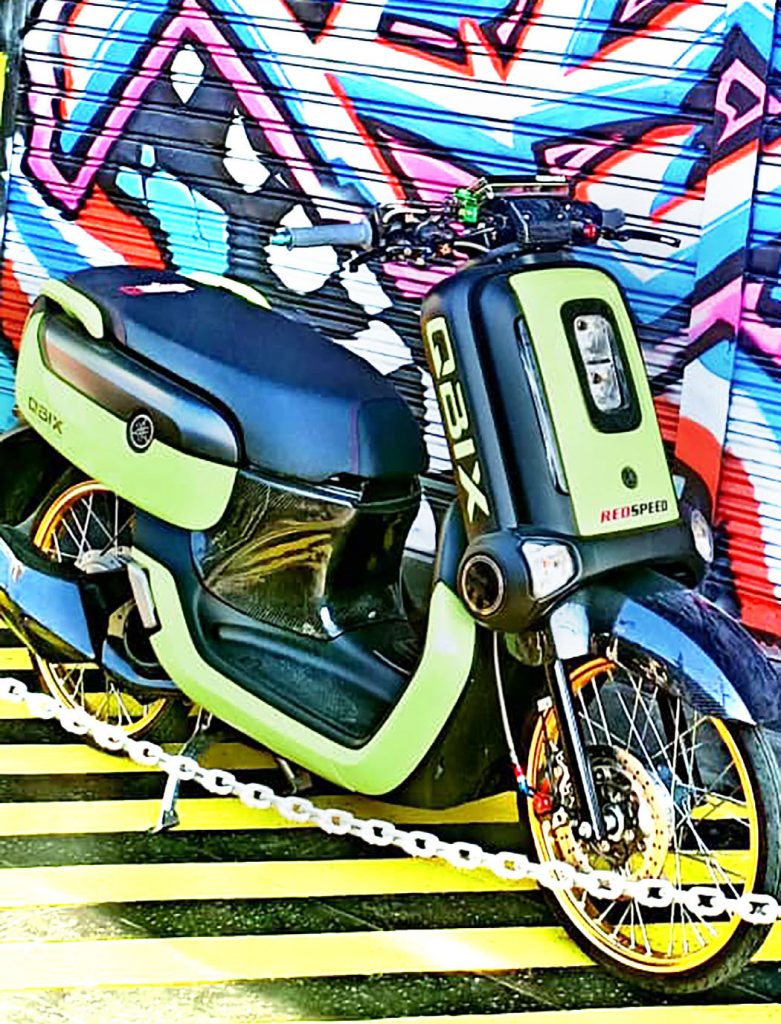 The scoot it is owned by Nathaniel Sy Cucueco, a graduate of HRM in Letran Manila. He used to work in the call center sales industry but because of his love and fascination for Thai Concept and the growing demand of customers who often goes to his place of work during his break time to buy parts, he decided to go full time on motorcycle parts sales specializing in Thai Concept.
The scoot is built by Team Redspeed based in Caloocan City. Redspeed has been at the forefront of developing and promoting the Thai Concept culture in the Philippines and is headed by Renz Marlon Mateo.
"One of the biggest challenges we encountered was acquiring some of the parts since the bike is imported from Thailand. With the help of my boss and mentor Renz Marlon Mateo, we were able to gather the parts. He went to Thailand to source it out," Nathaniel explained.

The scoot is a Modern Vanz Thai Concept so the crew at Redspeed kept the body panels intact and there was no cutting/lightening made to the fenders. There was also no lightening made to the metal components. The team installed premium carbon fiber components by "Carbon Smith" such as the fuel tank access hatch/lid, front fender, panel A, air filter case cover, V-belt air filter case cover, LCD Control panel trim and LCD Control panel front protective cover. The carbon fiber components really enhanced the look and overall detail of the scoot which sports JRP Thailand seats and high-performance Daeng Sai 4 full titanium exhaust system. The team also installed high-performance Brembo brake system and high-performance Ohlins rear suspension. The scoot also has OEM hubs matched with Super drag rims.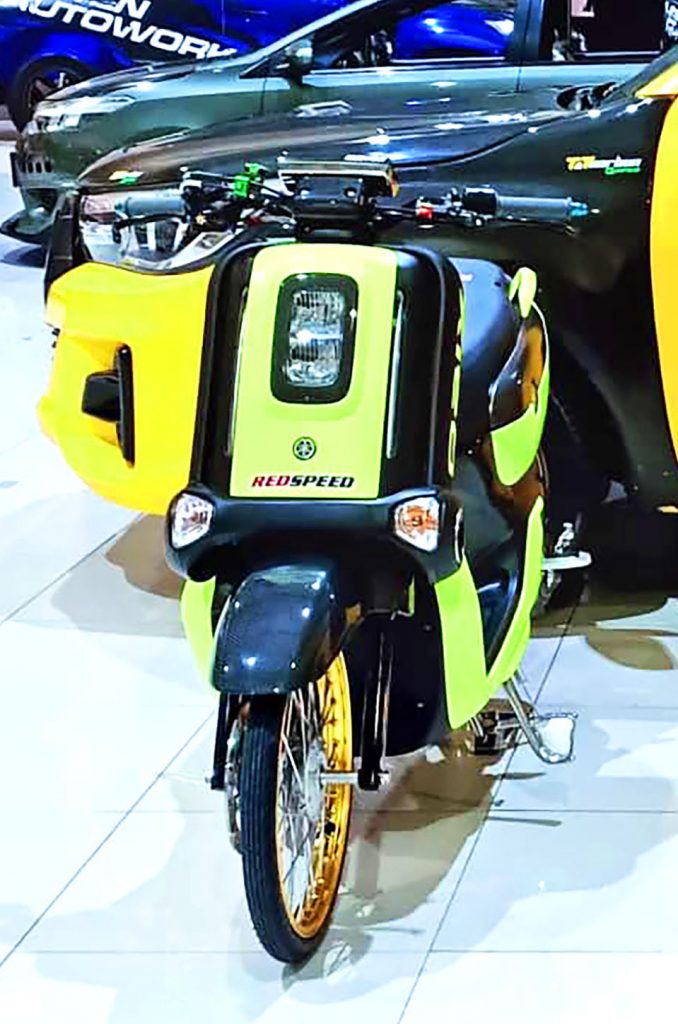 "I am proud of my bike not just because it's one of the rare bikes in the Philippines but every upgrade I put into it step by step is hard earned money. Another thing I'm proud of is every time I stop on a stoplight, other riders will ask what bike it is." – Nathaniel Sy Cucue
"I would like to thank our Team Redspeed family especially my boss and mentor Renz Marlon Mateo, Biboy and Padi. Shoutout to all my friends, my family and my Dad who is always there for me. Thank you so much to my sponsors Team Redspeed, JRP Thailand, Project F.I. and Team Race Wear PH. Thank you so much to all my customers and thank you so much InsideRACING Magazine for featuring my scoot." Nathaniel said.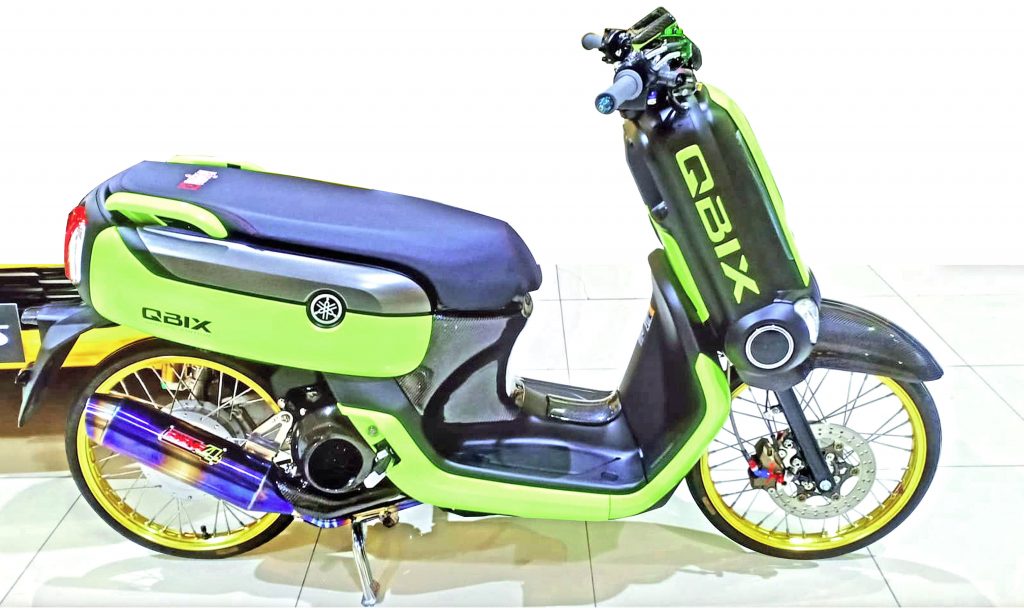 Modifications Yamaha Q-bix
•Carbon Smith fuel tank access hatch/lid
•Carbon Smith front fender
•Carbon Smith panel A
•Carbon Smith air filter case cover
•Carbon Smith V-belt air filter case cover
•Carbon Smith LCD control panel trim
•Carbon Smith LCD control panel front protective cover
•JRP Thailand seats
•Daeng Sai 4 full titanium exhaust system
•Brembo brake system
•Ohlins rear suspension
•OEM hubs Super drag rims
*This article was published in InsideRACING's Volume 17 Number 11 2019 issue.