Team Spec V Dominates 2014 UBK and PSR Series
Date posted on October 8, 2014
Share this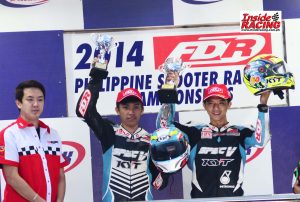 It was a victorious day for Team Spec V at the final round of the 2014 Philippine Underbone King (UBK)  Championship and the Philippine Scooter Racing (PSR)Championship series which were both sponsored by FDR Tires and sanctioned by USRA.
Three Spec V riders bagged overall titles for the team on October 5 at the Clark International Speedway.
Aldeine Valencia champed in the 115cc Novice UBK class and also won in the final race. Also adding to the delight of the team was Gio Adriano who is also sponsored by Spec V and has clinched the victory in the last round of the 115cc Open UBK class.
In the PSR, Spec V riders dominated all three classes of the series. Robert Ryan Espiritu despite finishing third in the final race claimed the 2nd overall  in the 130cc PSR class. Aljon Valencia placed second in the final leg of the 160cc PSR class but has been dominating the category since the start of the season and he delivered another championship for Spec V. Finally, Masato Fernando won the last race and the overall championship in the main 180cc PSR class to add to the string of titles for Team Spec V.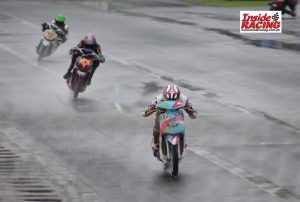 Team Spec V principal Mr. Charlie Ong and Team manager Mr. Mark De Leon will now focus their attention to the upcoming IRGP8 this November where FDR will be the official IRGP Tire once again.
The FDR Philippine Underbone King and FDR Philippine Scooter Racing Championship are organized by BRCA and sanctioned by the Unified Sports and Racing Association (USRA) for Motorcycles, Inc. The six-round national championships were held in Batangas Racing Circuit and Clark International Speedway. The champions will be awarded at the prestigious Golden Wheel Awards in 2015.
More detailed reports and photos to follow in InsideRACING magazine.