TEAM SUZUKI PILIPINAS' PODIUM FINISH AT SUZUKA
Date posted on July 10, 2015
Share this
Team Suzuki Pilipinas made the 3 rd round of the Suzuki Asian Challenge (SAC) of the Asia Road Racing Championship (ARRC) monumental for the country as they concluded it with their first podium win. Held at the Suzuka International Circuit on July 4-5, the third round of the ARRC also served as a home race for Suzuki. SAC is the brand's rider development program produced and operated by Yukio Kagayama for Asian riders. The Suzuka International Circuit is considered as one of the most difficult tracks in the world; add a rainy weather and it becomes more challenging to race on. That was exactly what happened on the leg 3 of the ARRC when the rain poured during the 2-day race. SAC then faced its first ever wet qualifying session which made it tricky for most of the riders since a lot of them were first timers in Suzuka including Team Suzuki Pilipinas.

With improved times, Team Suzuki Pilipinas secured the 9th (Enzo Rellosa), 11th (April King Mascardo) and 15th (Mario Borbon) grid positions. In spite of the tough track conditions on Race 1, all of them advanced with Mascardo being able to catch the lead pack to secure the third spot with a time of 16'30.638.


Borbon landed on the 5th place clocking 16'43.589 followed by Rellosa on 6th with a time of 16'43.808. Indonesia's Andreas Gunawan came in at 1st (16'26.671) with Japan's Takeru Murase at 2nd (16'29.477). Other riders collided with each other causing 5 of the 17 contenders to crash.
On Race 2, with the same weather condition, the team was able to improve their times with Mascardo finishing the race at 15'36.695, just few milliseconds behind Borbon who clocked 15'34.398. Rellosa however was not able to veer away from a crashing rider nearby and got swayed causing him not to finish the race.
This is the first podium finish of Team Suzuki Pilipinas in the series and the whole team got more inspired to push harder. "My podium finish was a surprise for me. I was just focused on the race and just giving it my all and then I was already there on the third spot. I'm so overwhelmed!" April King Mascardo shared.
"This success is very meaningful to the team. Suzuka is one of the most difficult tracks in the world and our boys did well. Our win only showed that kaya pala natin, pwede pala tayong makipagsabayan sa malalakas na teams ng ibang bansa (we can do it, that we can race alongside stronger teams from other countries). The team is more enthused to do better and we are excited on the next leg", Suzuki Philippines Racing Specialist Noel Villapando said during the interview.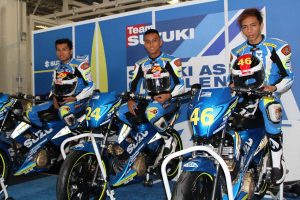 Team Suzuki Pilipinas' Manager Monch Bontogon added, "Suzuki Philippines is very proud of our team's success at the Suzuki Asian Challenge. These boys started on short street-tracks and are not used racing on long tracks but now we can see how far they've come. Our main objective is to train and expose them to the international racing scene as part of their development. This win is a bonus and it goes to show that their hard work is already paying off even at this early stage".
Team Suzuki Pilipinas will once again conquer the SAC tracks in Thailand this August. The boys are wearing LS2 Arrow R Comet helmet during their race, a helmet designed by MotoGP racers for MotoGP racers. LS2 helmets are distributed by MotoWorld.
Follow the story of Team Suzuki Pilipinas by joining Suzuki community at facebook.com/suzukibikersfed. Get the latest updates on Suzuki Racing at www.suzukiracing.com.
Words and Photos by Suzuki Philippines