The Green Promise Honda XRM Motard Dragster Hybrid
Date posted on November 11, 2019
Share this
We have a special treat to all of our motard and drag racing fans out there.  We take you to the Industrial Hub in the south of Cebu, Naga City, to feature a hybrid bike that exhibits a fusion of motard handling and the power and ferocity of a drag bike.
The Hybrid is the creation of Resvic Aguilar, a bike builder based in Naga City. It was a project for his childhood friend Van Vincent Mabanag, a seaman who spends most of his time working abroad traveling foreign waters. The project took almost a year to finish and reach its state due to the difficult circumstances the two had to navigate through. The build was executed by Resvic but the design process was a collaboration of the two friends.  Thanks to the internet, they could brainstorm and check the progress of the build and the things going on with the bike despite being oceans apart.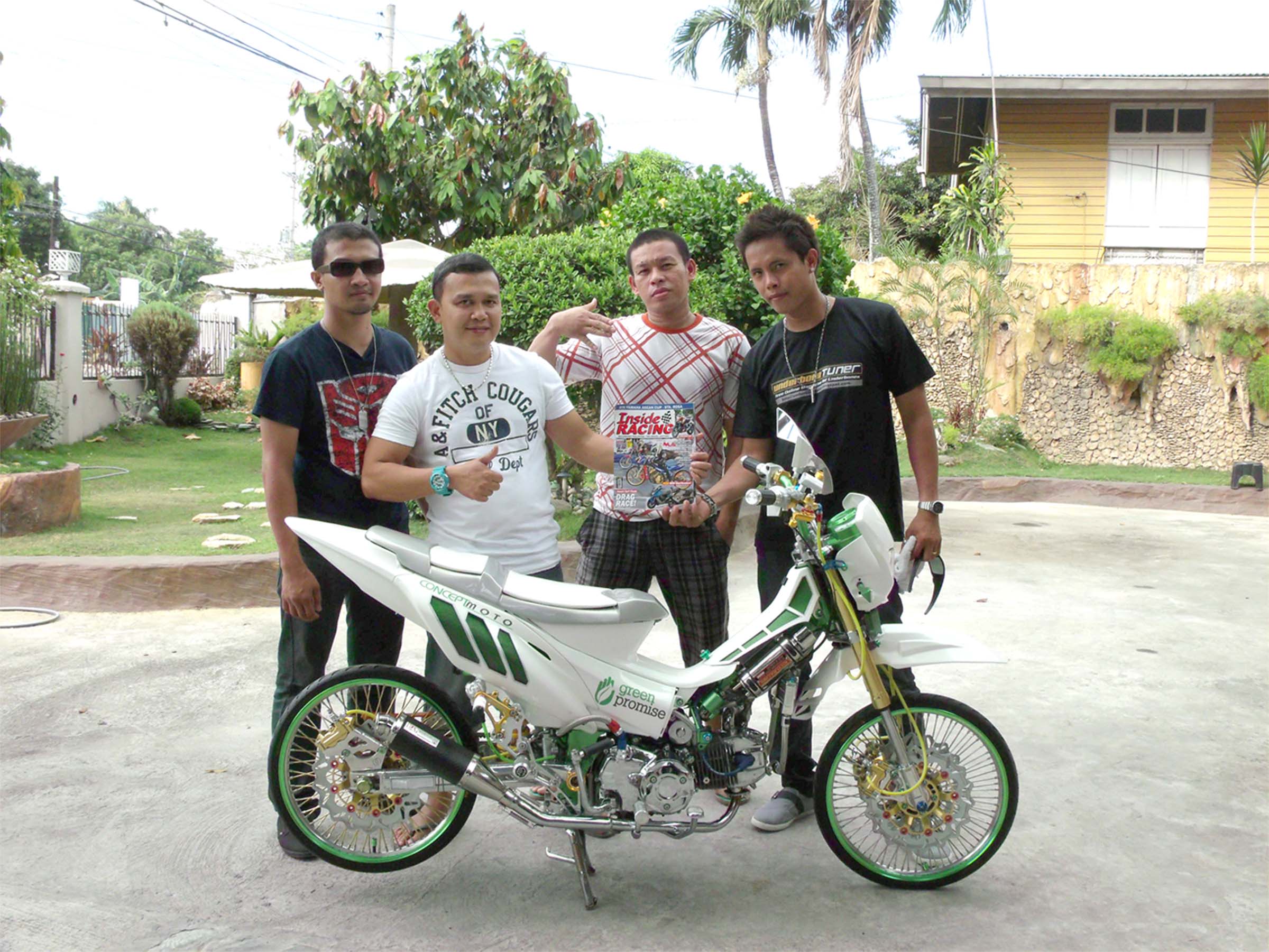 For the build, they started with the heart and soul of the bike, its engine. They tapped the expertise of Jojo Retuya of Racing Lion who specializes in drag racing engines. They used LHK forged semi dome 57mm piston with LHK stage 2 cam, the cylinder head was modified to accommodate Sonic big valves.  They also used re-jetted Keihin 24mm Carburetor together with LHK clutch plate spring, and to keep things cool, they used Kitty Racing twin head engine cooler and also additional oil cooler by Asia Product. After they were done with the engine, the bike was certainly no slouch on the highway. It was a monster waiting to be unleashed. From then on, they started working on the overall styling of the bike. They decided to adapt a minimalist approach and they wanted the bike to be a canvas to project the message on environmental awareness, hence, they came up with the Green Promise.  According to Resvic, Green represents life and white is purity. He wanted the bike to project a sense of serenity and being one with nature.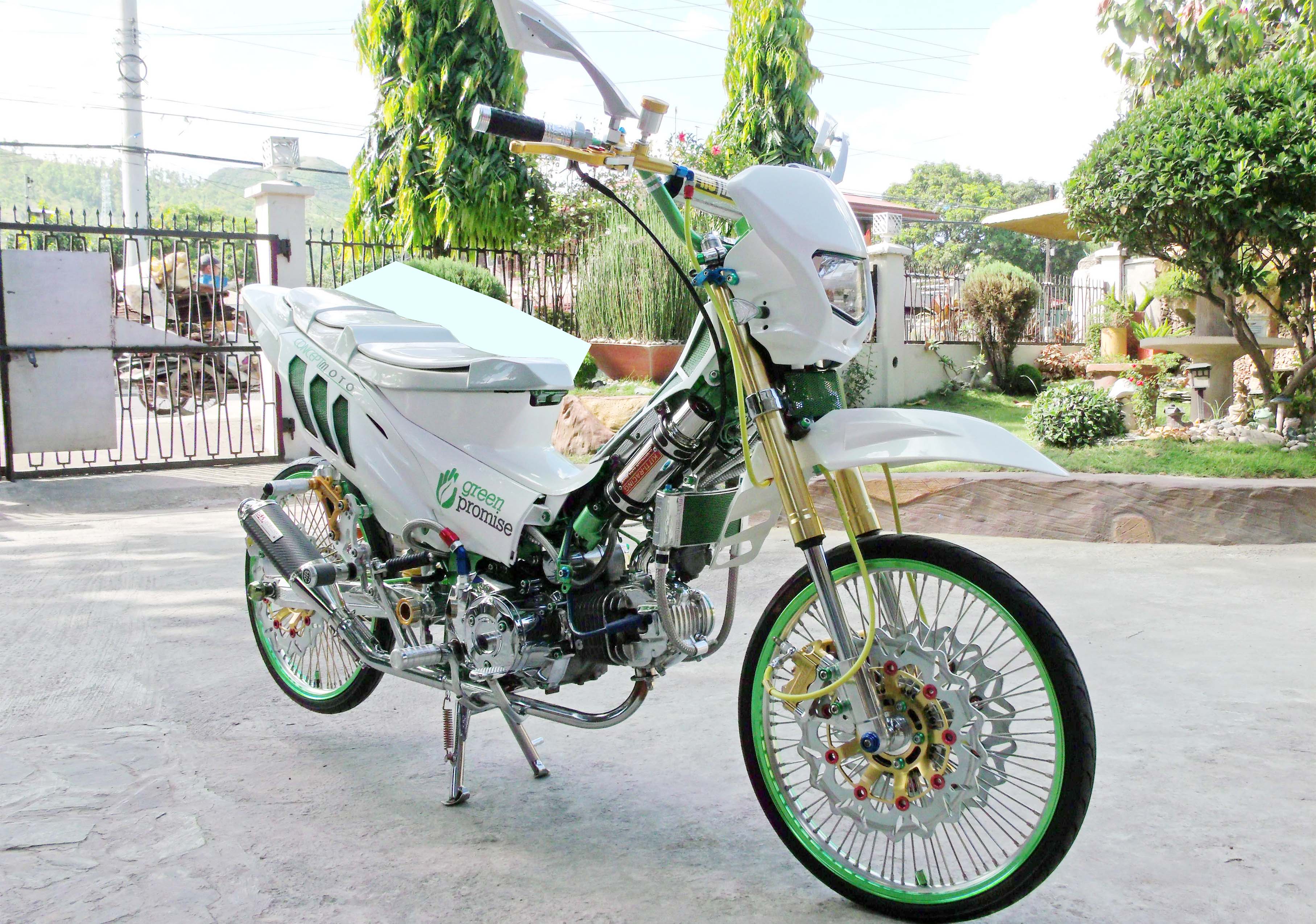 They wanted the bike to be agile; hence, they adapted the motard handling starting with the Karto inverted front forks and soft ride Gazi mono shock. They also used dual big disk brakes up front paired with 2 large 4 Pots racing calipers.  The bike also had specially-machined components using T7 Aircraft grade alloy.  It also uses a specially machined belt drive system.  They also had a custom-fabricated composite fiber lightened racing seat and also custom-cut side panels with custom-painted metal grills. Modifications did not stop there. They also added custom LED lighting and an on-board wireless capable JamBox sound system.
Indeed after all their hard work, they have achieved a truly unique and capable ride. The bike is a real head-turner and it is a perfect platform to voice out their message of environmental awareness.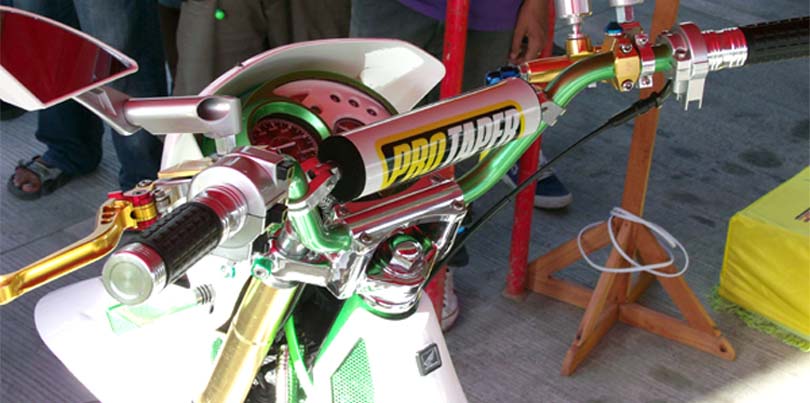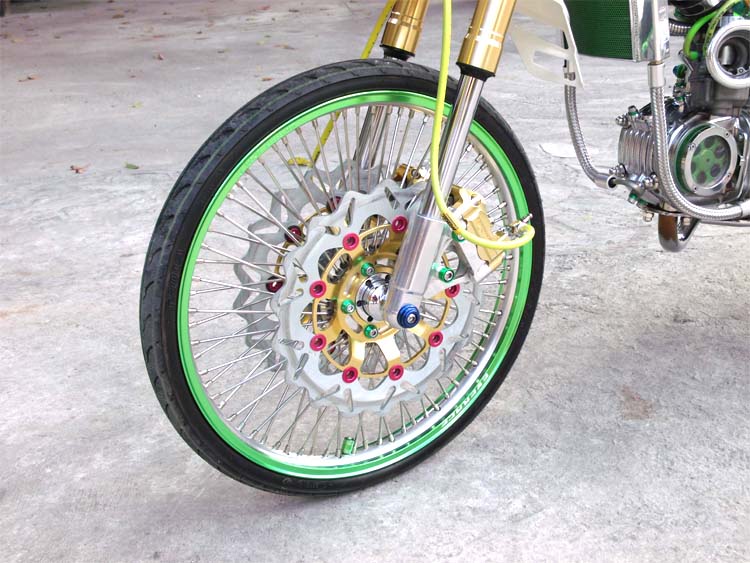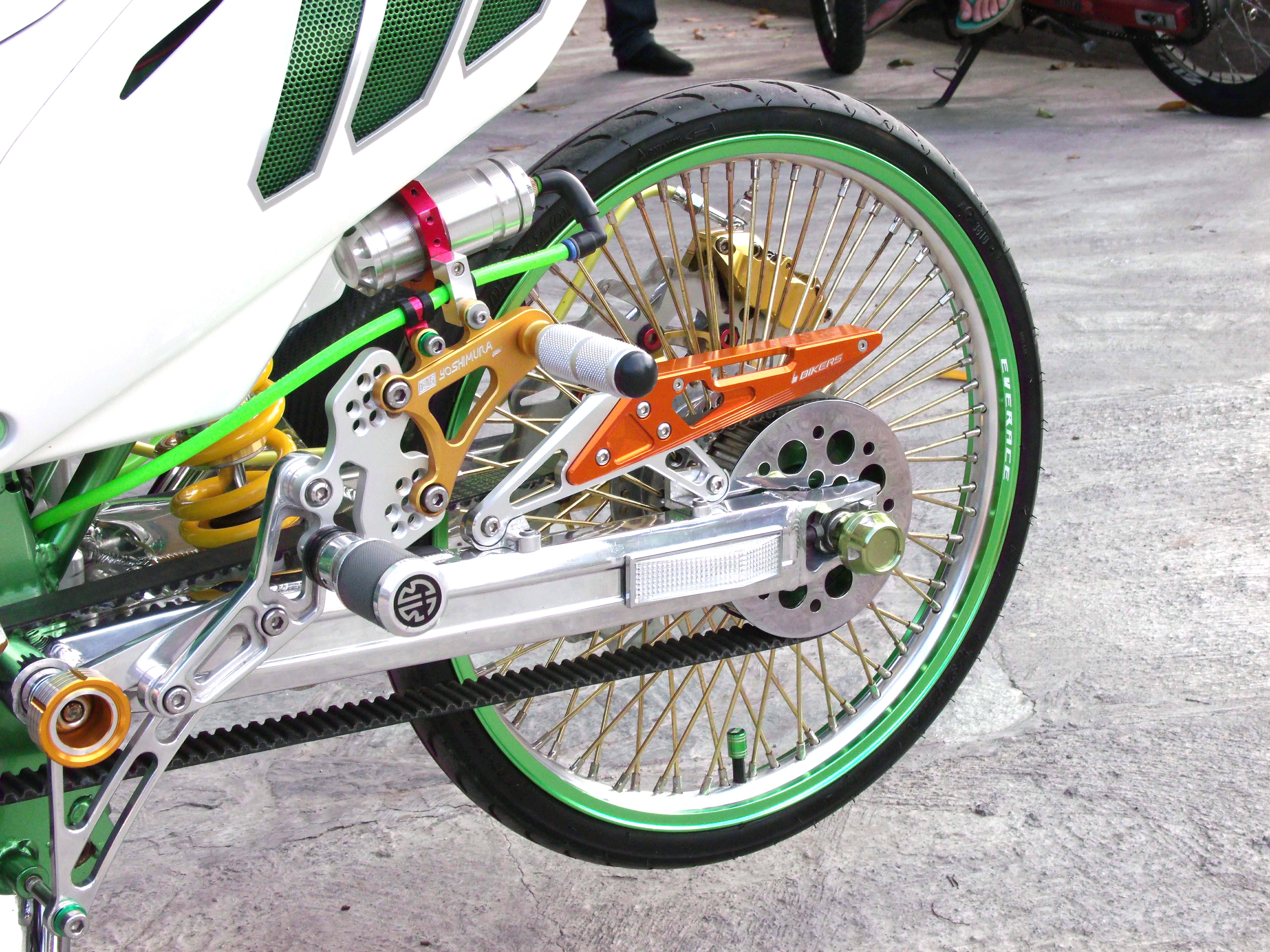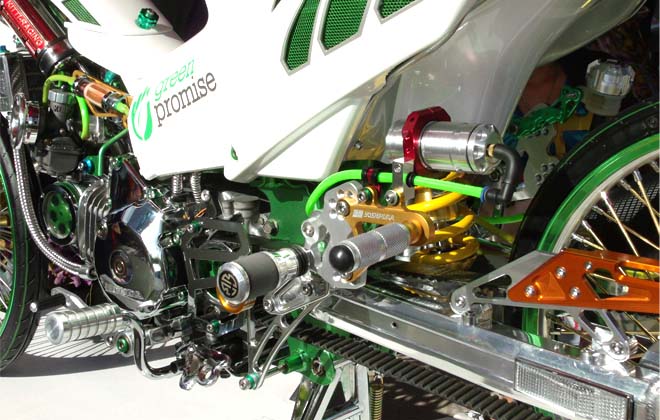 Everywhere the bike goes, it attracts a generous number of on-lookers who really enjoy watching the bike and it has been one of the crowd-drawers in bike shows I have attended. But for Resvic and Van, it means so much more because they know that through their project bike they are sharing their message of environmental awareness and that to me is really awesome.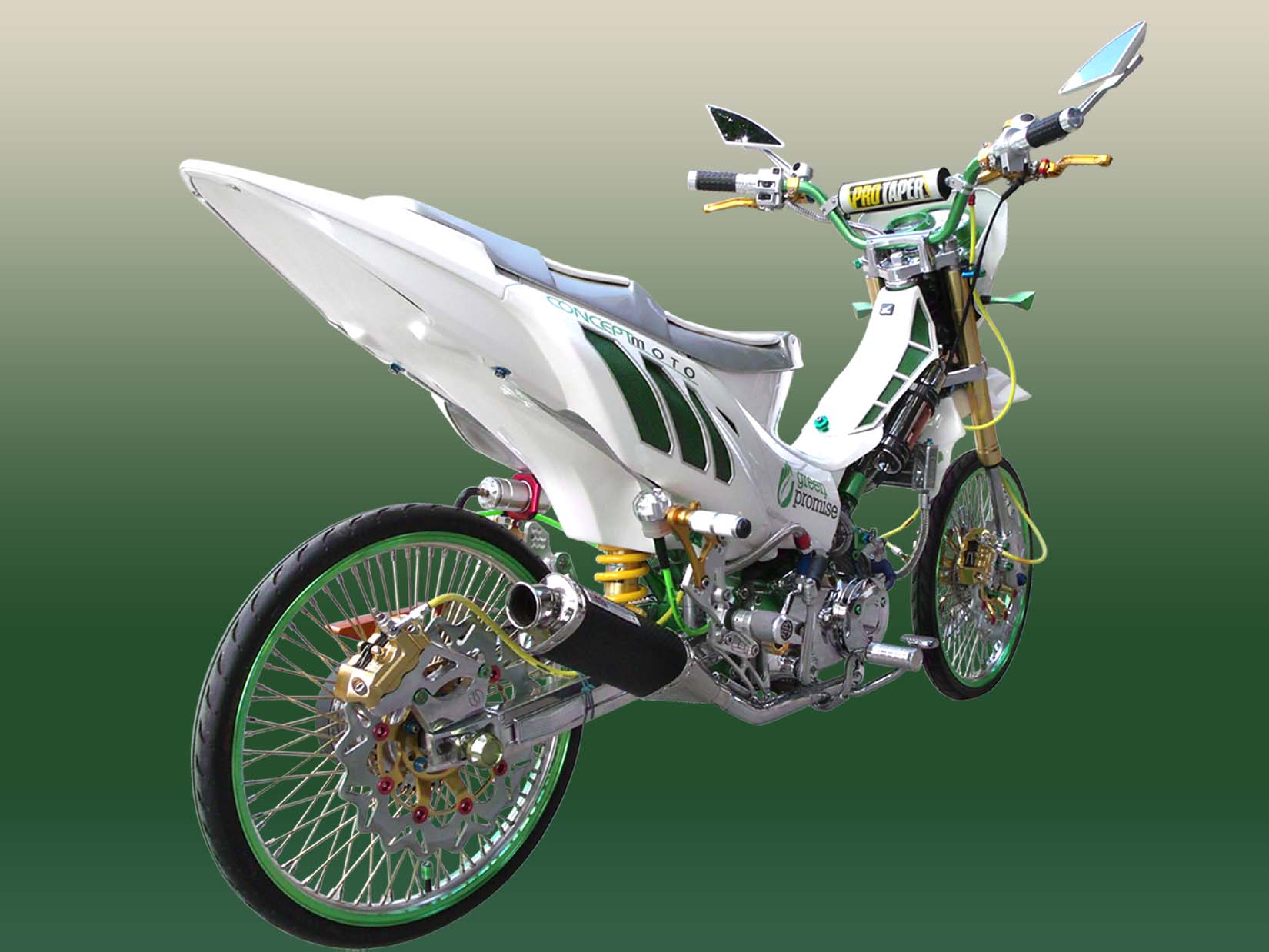 HONDA XRM
ENGINE MODIFICATIONS:
Bore up LHK forged semi-dome 57mm piston
LHK stage 2 cam
Modified cylinder head sonic big valves
Keihen 24mm carburetor(re-jetted)
LHK clutch plate springs
Kitty racing twin head engine cooler
Yoshimura tri-oval exhaust
Asia Product oil cooler
Ported and polished cylinder head
SUSPENSION, DRIVE TRAIN AND BRAKE SYSTEM:
Karto inverted front fork
Belt drive conversion from chain drive
Dual front big disc brakes with 2 large 4 pots racing calipers
Soft ride Gazi mono shock
PARTS AND ACCESSORIES:
Lightened racing flat seat (fiber material)
CRG front brake lever with built-in master
Alloy PRO TAPER handlebar
Yoko 1.2 rims
Dunlop max grip racing tires
Asia Product alloy swing arm
Alloy brake fluid reservoir cap (BIKERS)
KOSO devil side mirrors
Alloy chain guard(BIKERS)
Combiz handle grips
Modified 72-spoke rims
SOUND system:
LARGE Jawbone JAMBOX (wireless capable)
*This article was published in InsideRACING's  Volume 11 Number 4  2013 issue.