The New Normal Opened Exciting Doors for Pinay Riders
Date posted on December 17, 2020
Share this
Just when you think that motorcycle riding does not fit Pinays like you, think twice before missing a new adventure of a lifetime.
It was a good Sunday morning when these lady riders decided to have their weekend ride. The ride stretched the long road of Lipa, with the vast view of the nature while having a captivating smile of the sun. The Old Grove, also known as Netherlands of Lipa is often visited by many riders. It was the first time for these riders to experience this long ride with friends in this pandemic. That is why the Management of Honda Philippines, Inc. (HPI) welcomed these riders before they traverse the ride.

"We are here to enjoy this ride, the nature, and the comfort of riding your Genio. We expect that everyone will practice road discipline and courtesy. Let us show everyone that motorcycle riding is something that ladies should not be afraid of. It should be enjoyed when practiced with road discipline and safety," said HPI's Senior Asst. Vice President, Mr. Jomel Jerezo.

Having a long ride must also be accompanied by a reliable and comfortable partner on the road. These ladies, with their Honda Genio, are more than satisfied with what this bike offers. "Iba talaga ang ride ni Genio. Swabe dahil easy handling ito. Kayang-kaya kong dalhin!" says this tough, petite rider, Carol Andal. With her love for riding, from a zero learner to an instructor to a big bike rider, Carol does not excuse being a petite to stop her from her passion to ride a motorcycle.

Another Pinay Rider, who loves to ride, shared her Genio experience, "Dahil on-the-go lagi ako, this bike fits my personality. Bagay sa mga instant rides ko. With Genio, kahit unplanned rides, walang worries sa mobile charging ko. And with the LED headlight ng Genio, riding is more visible kahit abutin pa ako ng gabi," Lorie said. Being Pinay, fits the character of the Genio – fashionable, practical, and tough!
Another rider, shared, "Because of the lockdowns recently, we're all craving to go out. But we worry about being exposed to the virus during the commute, being close to people we don't know. Having my Genio solves that problem for me because I can go to safe places like these while maintaining a safe distance from strangers during the commute," said Clau who is a daily motorcycle rider.
Pinays are expressive. They love to talk about their memorable experiences, and being excited, they want to share it real-time. So after a long ride, IG selfies are flooded, as revealed by Lara, "I love to share my experiences in an instant. So after that long ride, post agad sa FB and IG! But this time, I have less worries with charging. I have my perfect travel buddy, my Genio!" Wherever they are, mobile charging is always at hand with their Genio.
These ladies also managed to visit nearby Exclusive Honda Dealer Branches as they were welcomed by Elite Motorbikes in Sto. Tomas, Batangas; Motortrade Topline, Inc. in Tanauan City, Batangas; and Honda Motor Sports, Inc. in Lipa City, Batangas.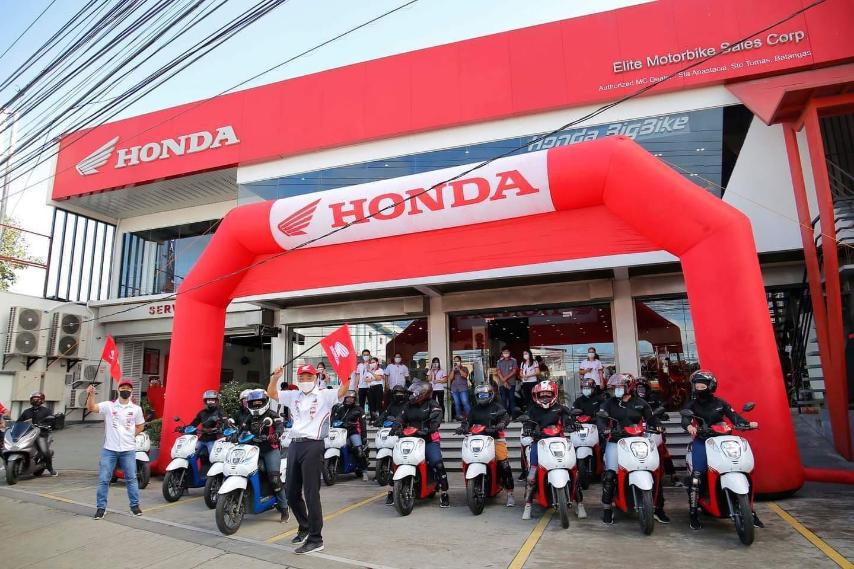 Being single or with a partner, these New Normal Days created new ways to explore true adventure without problem with mobility. With a perfect travel buddy, motorcycle riding will make it a lot more fun and relaxing, especially on a weekend.
Join these Hot Lady Squad and create an OMG adventure that will turn this New Normal into a New Adventure for Life.
Afraid to ride a motorcycle? Learn how to ride properly at Honda Safety Driving Center. For inquiries,visit their Facebook page, Honda Safety Driving Center Philippines. For more details about Honda products and promos, visit our website, www.hondaph.com and follow our Facebook page, Honda Philippines, Inc. and Instagram, @hondaph_mc.
credit: Honda Philippines
Thank you for visiting insideracing.com.ph. You may express your thought below through the comment section. You may also follow us on Facebook, on Instagram @Insideracingnation or on our YouTube channel.