2020 Ducati 821 Review: The Original Sports Naked
Date posted on November 28, 2020
Share this
With a new bike on the horizon that will move away from traditions, we take a look at the Monster's story so far.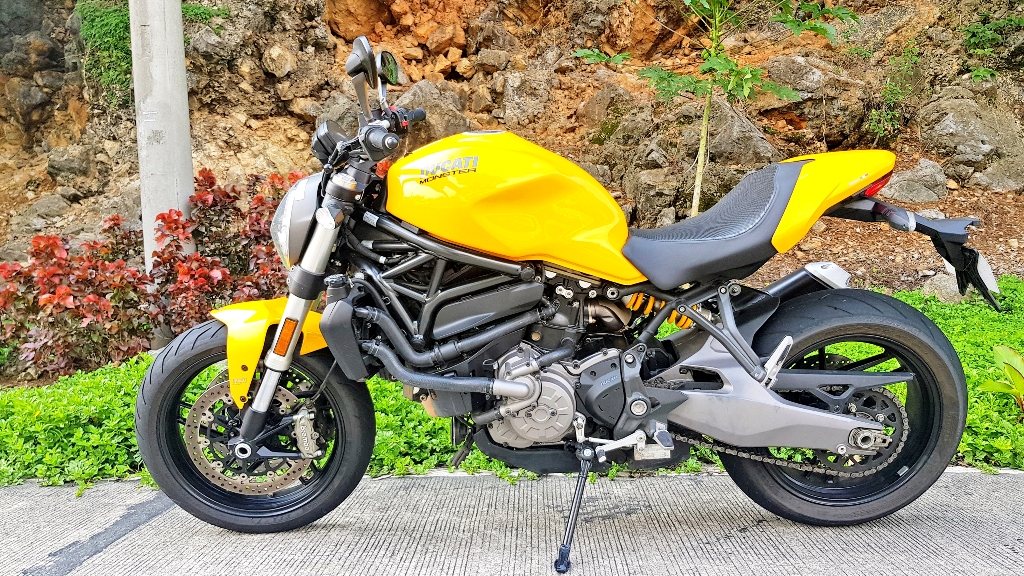 Despite Ducati being known more for its fast and beautiful superbikes, the bike that has a strongest global cult following and the bike that Ducati has actually sold the most so far, (in fact it saved the company decades ago), was the Ducati Monster. In 2005, Monsters accounted for more than half of the total Ducati global sales. Monsters have since exceeded 300,000 units in total sales.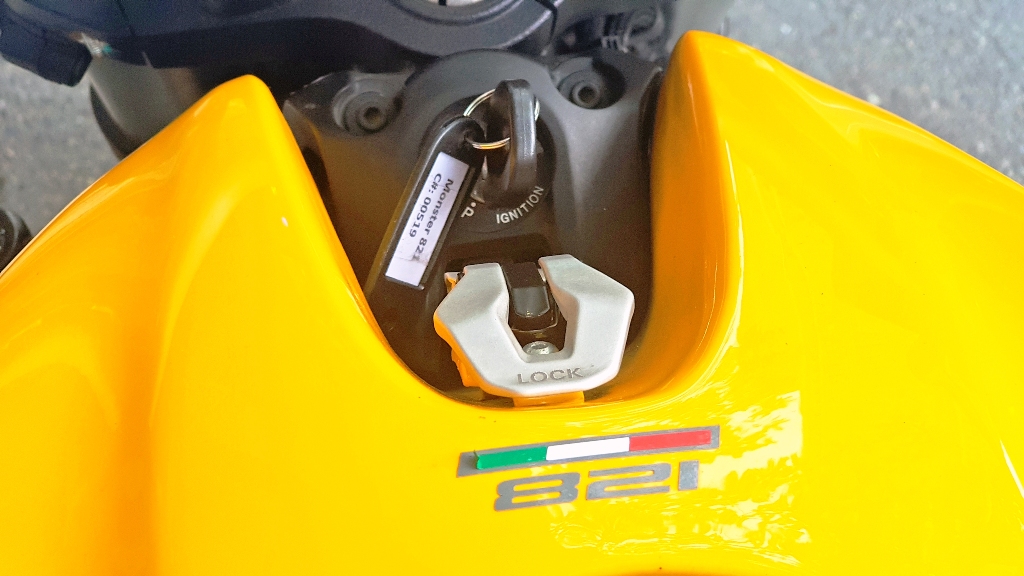 It all started in the early 1990's, a time when Ducati has just shook the world of superbikes with its twin 851 Superbike that defeated the Japanese four-cylinders at the world racing stage, when Ducati owner Claudio Castiglioni wanted a new niche in the market to penetrate.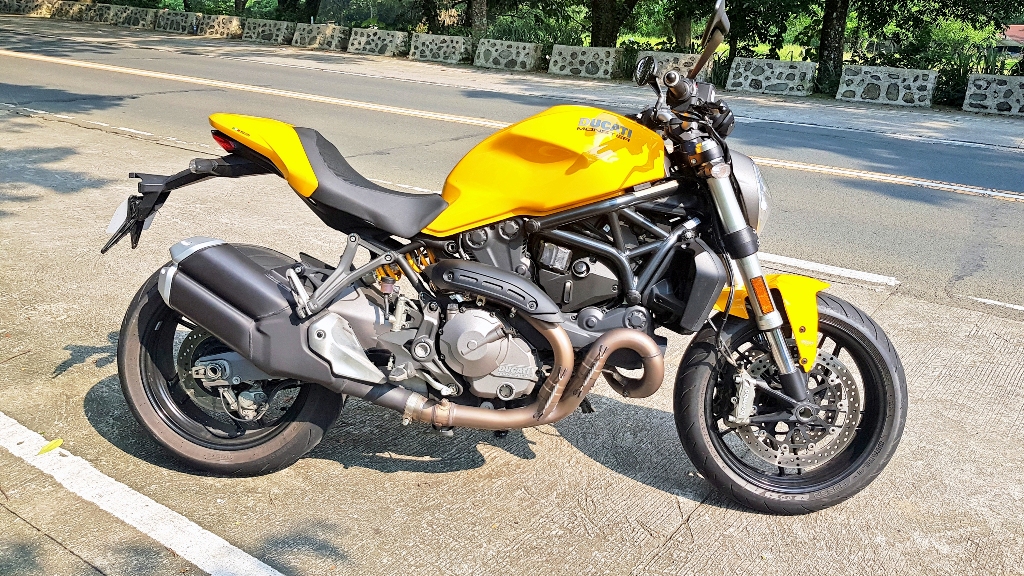 Originally penned by Argentinian Miguel Galluzi, the original Monster was created with the desire to go back to simple things that made use of everything that Ducati has learned from racing – developing the engine, frame, suspension, brakes and even wheels. Born at the 1992 Cologne Show, the first M900 was a styling phenomenon from the start. It was the first naked sportbike that clearly captured the imagination of many riders. It has adopted the nickname "Monster" by the adoring press and public as a synonym to something marvelous or spectacular.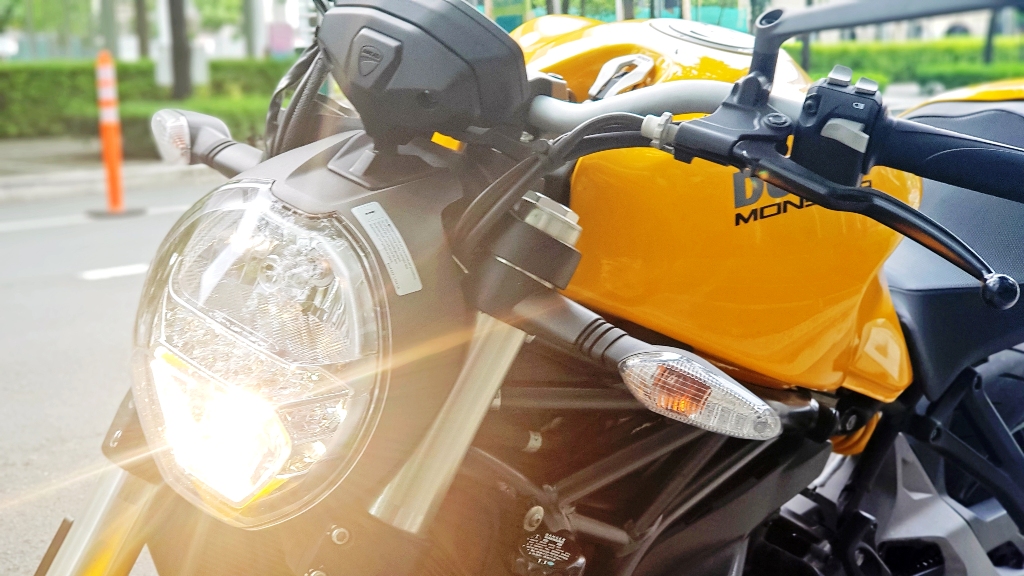 Even without body panels or a windscreen, the Monster M900 had an outstanding personality with its powerful air-cooled L-twin cylinder engine, lovely tubular chrome-molybdenum steel trellis frame, advanced suspension components, braking systems and a very aggressive and sporting geometry.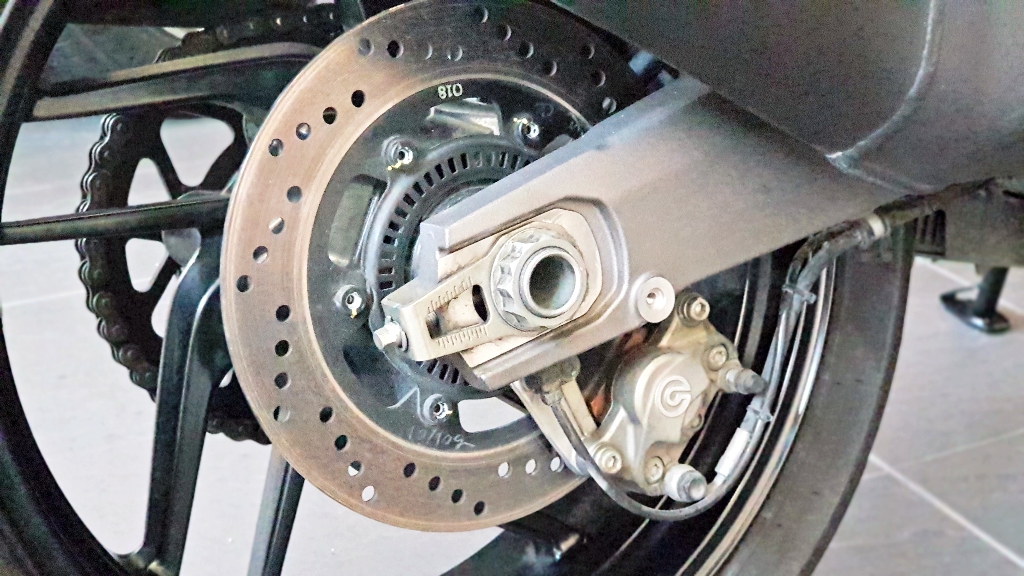 It was very unconventional and technically advanced. It was an expression of motorcycle passion with extreme design and modern technology. It appealed to everyone from the sport riders, touring riders, commuters, artists, musicians, movie stars and even beginner riders.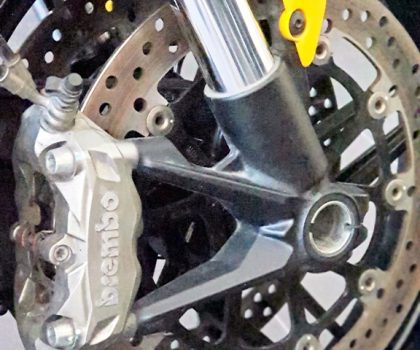 From then on, the naked bike segment would never be the same and the M900 became a runaway global success.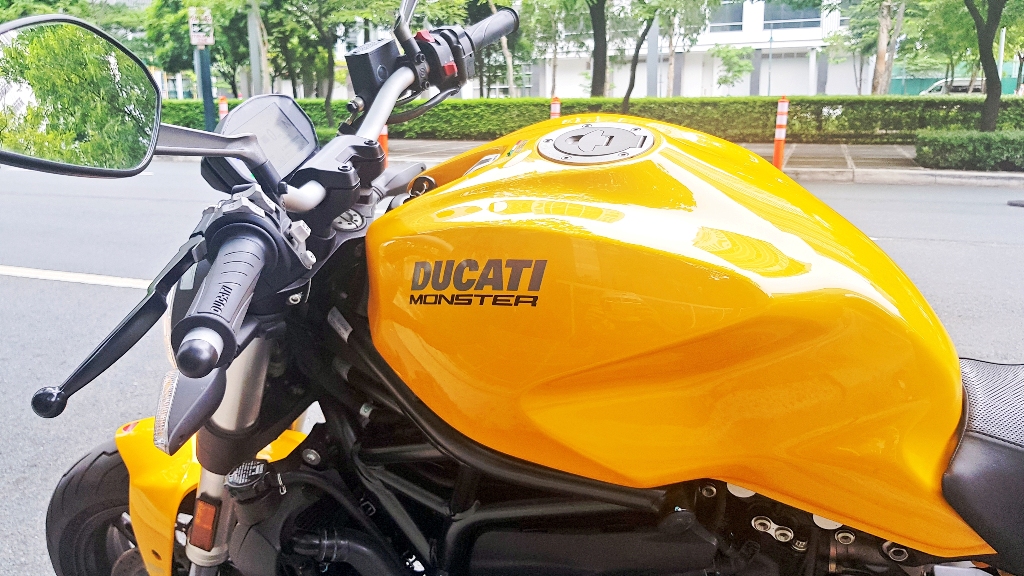 Many more Monster models followed in different displacements from the 600, 750 and 620 i.e., 400, 795, 800, 695, 996. It also produced special models like the Dark, Tricolore, the S4 with 916 SBK engine, S4R with a 996 engine, S2R800 and S2R1000 as well as Racer Editions for its riders Carl Fogarty, Loris Capirossi, Troy Bayliss, Nicky Hayden and Valentino Rossi.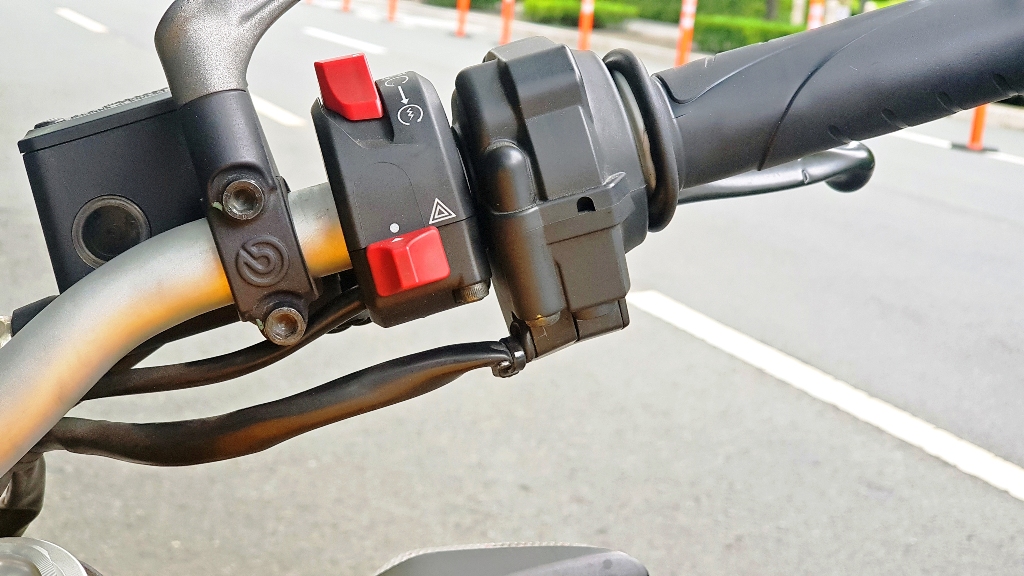 In 2008, the 696 and later the 796 moved the Monster into a new era. It came with a brand new hybrid frame tubular steel-frame, more powerful and efficient engines, and unique fuel tank and headlight designs that gave it the modern Monster look. More importantly, the ergonomics was more rider-friendly. It was later followed by the Monster Evo 1100.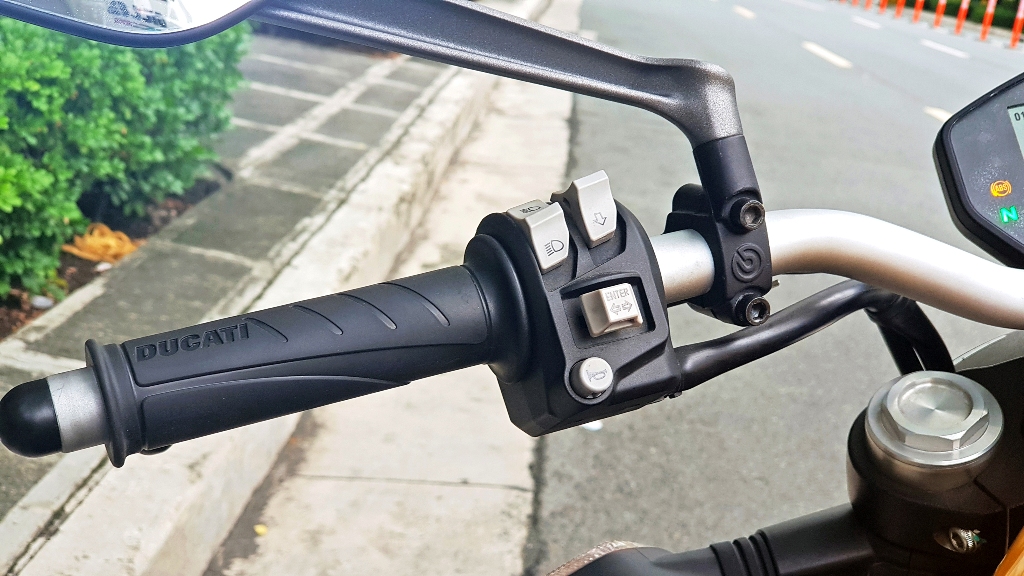 For its 20th Anniversary, the biggest and most advanced Monster, the 1200, was introduced in 2013 dubbed the Super Monster. It featured an SBK derived Testtastretta dual spark engine delivering 145 hp, Selectable Riding Modes, Multilevel ABS and 8 level Traction Control controlled from a full color TFT dash. It also featured water-cooling and 4 valves for the first time.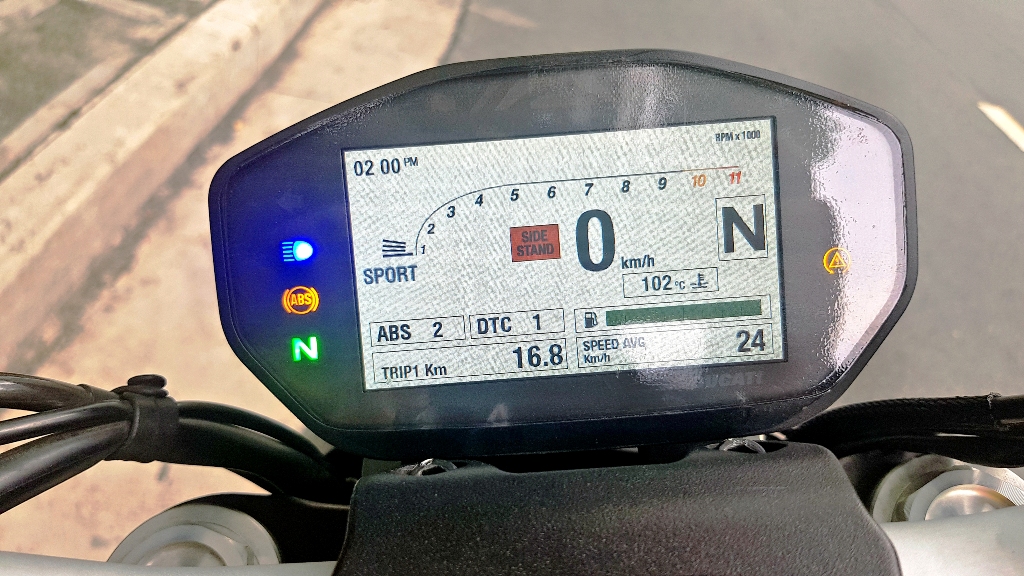 The frame is a revised tubular trellis frame attached to the cylinder heads "Panigale-style". The stylish redesign was a mix of minimalism and performance cues that brought it back to the original essence of the Monster concept, where less-is-more and made-in-Italy combine to create a motorcycle lifestyle. As a whole, the 1200 moved the Monster to another level in terms of performance, comfort, versatility, ease of riding and safety.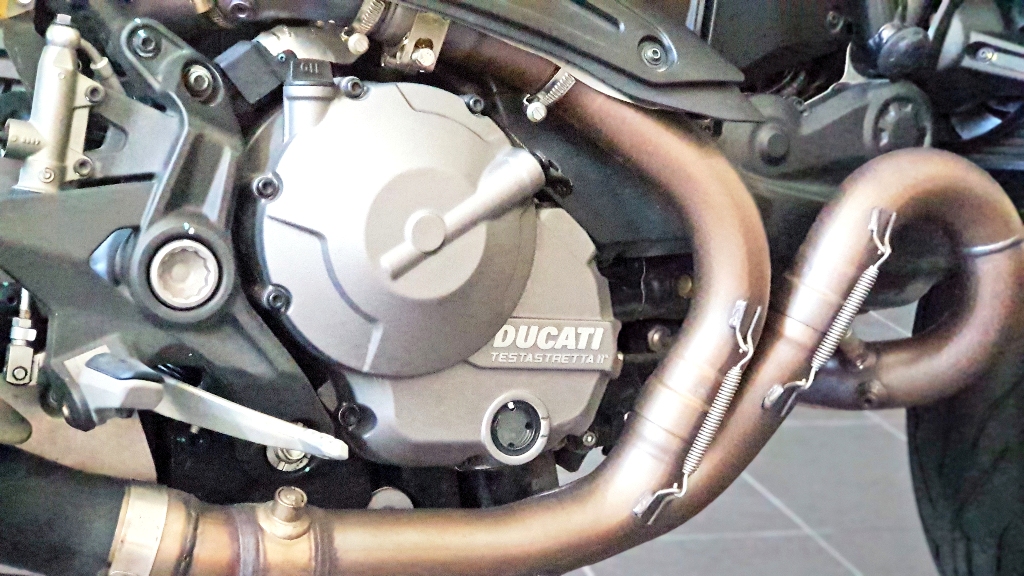 A year later in 2014, the Monster 821 was introduced featuring the design elements of the 1200. It was updated in 2017 with new color TFTs and minor tweaks in the engine. Powered by a Testastretta 11° engine, the highly accessible Monster 821 produced 112 hp and 65.9ft-lb of torque and came in an impressively lightweight 179.5kg package. The high-spec brakes, excellent suspension and stylish componentry merge with Ducati's best-yet ergonomics to offer the Italian manufacturer's most attractive mid-range Monster ever. Super comfortable and with an innovative adjustable seat height, the 821 also offered 8-level traction control, 3-level ABS and 3-level Ride-by-Wire into Ducati's user-friendly, press-button Riding Modes.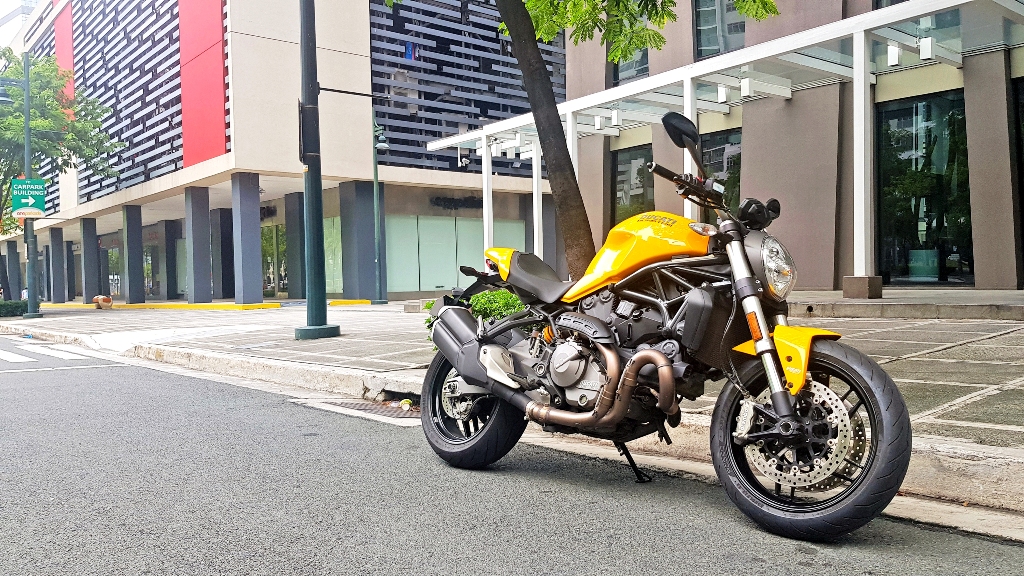 Just recently in 2020, another new edition of the 821 was introduced, the Stealth version that comes with matte black livery, updated graphics and a front fairing. Standard equipment, now include an adjustable fork and the Ducati Quick Shift up/down function.
The bike we reviewed here was the 2018 version in Yellow.
The 821 is now the middle model in the Monster range. The entry level designation now being occupied by the more basic and still air-cooled Scrambler based Monster 797 introduced in 2019. With its steel tube trellis frame and air cooled V-Twin engine, the 797 is now the only bike in the Monster line-up that features the original design elements.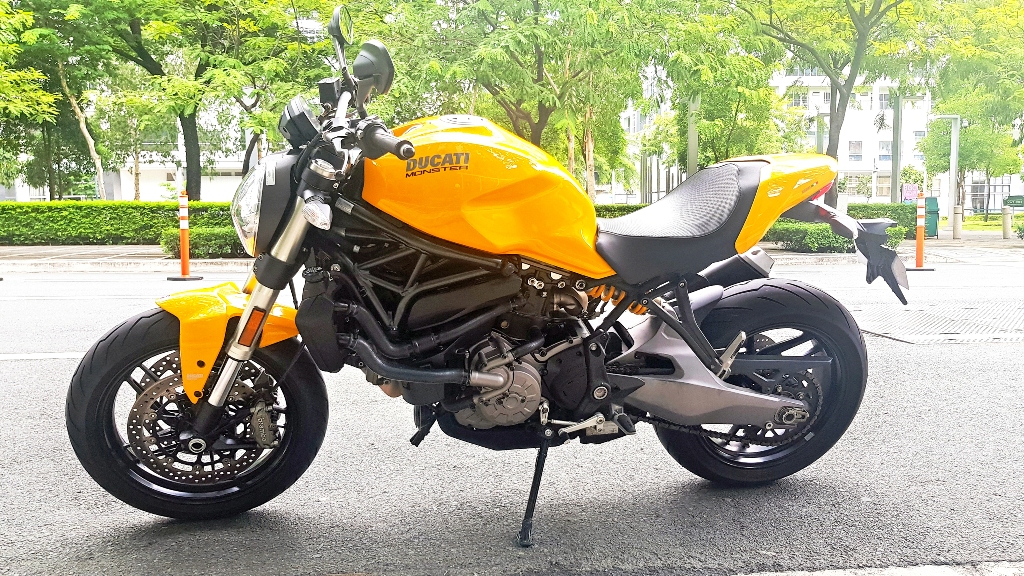 While the 797's chassis and engine architecture will remain in the near future, however, the 821 is rumored to be reborn yet again and this time will be radically different from the original. Leaked drawings show the new monster will move away from the traditional steel trellis frame and will adopt a carbon fiber chassis, just like the Panigale.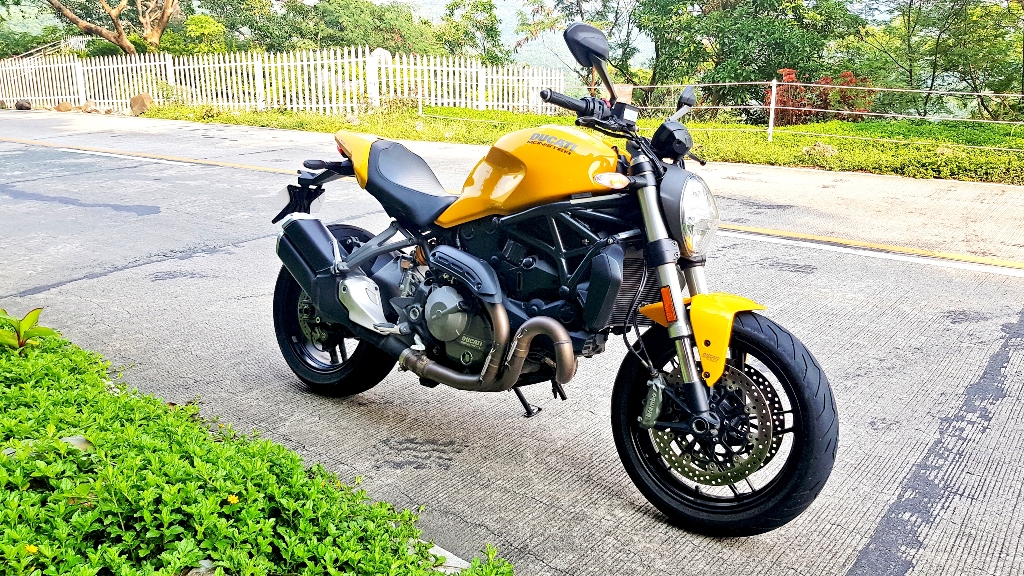 Despite the recent successes of new models like the Scramblers, Multistradas and Panigales, we believe that the iconic Monster will always be important to Ducati's heritage. It represents the traditional Ducati spirit of simple beauty, lively performance, everyday practicality and a cool way to enter the Ducati lifestyle. The other more narrowly focused models simply cannot match it. Also, many Ducatisti still holds the Monster dear in their hearts since it was the model that gave them their first Ducati ownership experience.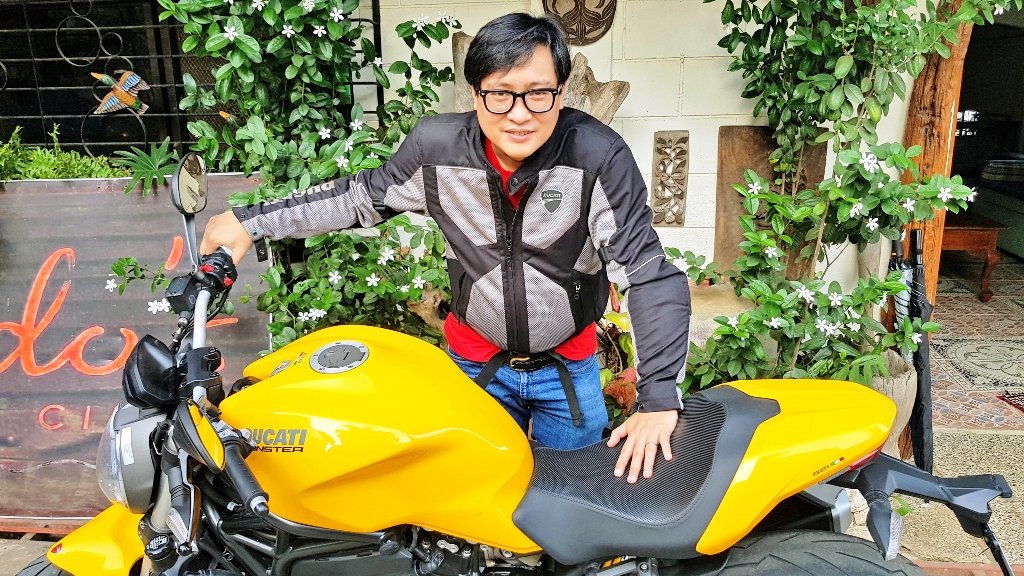 Al Camba:
"This is the original naked sports bike and original entry-level model of Ducati. Before the Street Fighter or the Scrambler, there was the Monster as early as 1993. If you are new to the Ducati brand, yung Monster ang unang consideration kasi it is easier to ride than a superbike and the price is more affordable. The Monster 821 is not a brand new model this year. It was actually introduced around 2014 after the Monster 1200 introduction. I find it sporty and magaan i-ride. I'm not an experienced sport rider but I still I felt that the suspension is mostly good for smooth roads pero pagdating mo sa mga road with imperfections or bumps, I find the suspension a little bit harsh. So that can be improved on. But for normal riding, it's not too intimidating to ride. On the engine Power Modes, if you are an experienced rider, you will try only Urban and the Touring Modes only once or twice to get a feel of it, and eventually set it to Sport as default every time. If you own the bike, you will adopt to it quickly, but if you want to lend the bike to another person or slightly inexperienced person na gusting mag-Ducati agad, then you can start using Urban mode or Touring mode, and eventually, progress into Sport mode. The Sport mode is manageable for experienced riders of R3, Ninja 400, 200 Duke, 390 Duke or mga Rouser 200. You can upgrade to an 821 Monster at hindi ka ma-intimidate. I love the styling. It has the classic Ducati character. It has soul which is yun naman ang binabayaran kapag bumibili ka ng Ducati. The soul kasi is iba talaga, iba yung feeling ! Hindi siya yung pinakamabilis, hindi siya yung pinaka-magaan, hindi siya yung pinakamasarap i-ride, but may appeal! Alam mo na you're riding a very special bike between your legs, that Ducati feel na nararamdaman mo. Iba yung na naka-Ducati ka! You feel excited every time you ride the bike. You feel happy kapag nakita mo you're riding a Ducati. Iba yung dating! The 821 is one of the most desirable naked bikes out there. It might not be the most powerful, it's might not be the most torquey, but definitely it is one of the prettiest bikes and of course it's a Ducati!"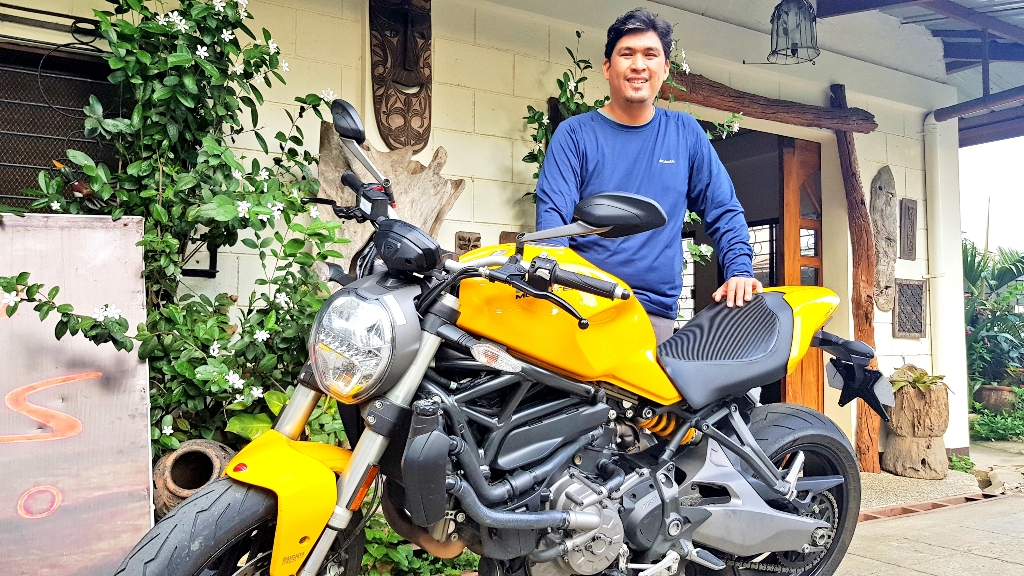 Philip Bonza:
"Porma-wise, very Monster talaga siya! Classic look ng Ducati Monster pa rin with the round headlamp, very sleek yung rear end, medyo round at malaking fuel tank and trellis chassis. Very, very, Ducati talaga! For the performance, gusto ko yung pagiging present lagi ng torque. Masarap siyang dalhin dahil nandoon yung torque every time you roll-on the throttle. Yung feel ng Ducati twin engine nandoon talaga. Ibang-iba talaga itong V-twin engine, masarap gamitin! Sa handling, for my height na 5"11, kung merong upgrade ako na magagawa, i-upgrade ko unang-una is yung seat height. Para sa akin medyo mababa kaya hindi siguro hindi relaxed yung kamay ko pagdating sa manibela. Then the footpegs medyo ok na sa setup ngayon pero kung magkakaroon ng higher saddle, mababago lahat. Para sa riding style ko, hindi ako gaanong nag-swak sa size ng motor pero overall, ang handling is ok pa rin. Hindi lang ako mas nag-enjoy ng sobra dahil sa handlebars. I tried din yung ibat-ibang modes and mas nag-enjoy ako sa Touring Mode. Yun naman yung nag-swak sa akin pagdating sa power. Kapag nilagay ko siya sa Urban, parang naghahanap ako ng power. Kapag nilagay ko naman sa Sport, parang sobra naman sa power para sa kakayahan ko. Sa Touring ako mas fit. Kung meron din suspension adjustment mas magugustuhan ko pa lalo kasi yung front suspension medyo matigas para sa preference ko. Kung magkakaron ng adjustment o maaayos ko pa, maapektuhan yung buong handling and mas magugustuhan ko. Overall Monster still has the classic look, the classifc feel of Ducati. Good para sa akin ang Monster 821."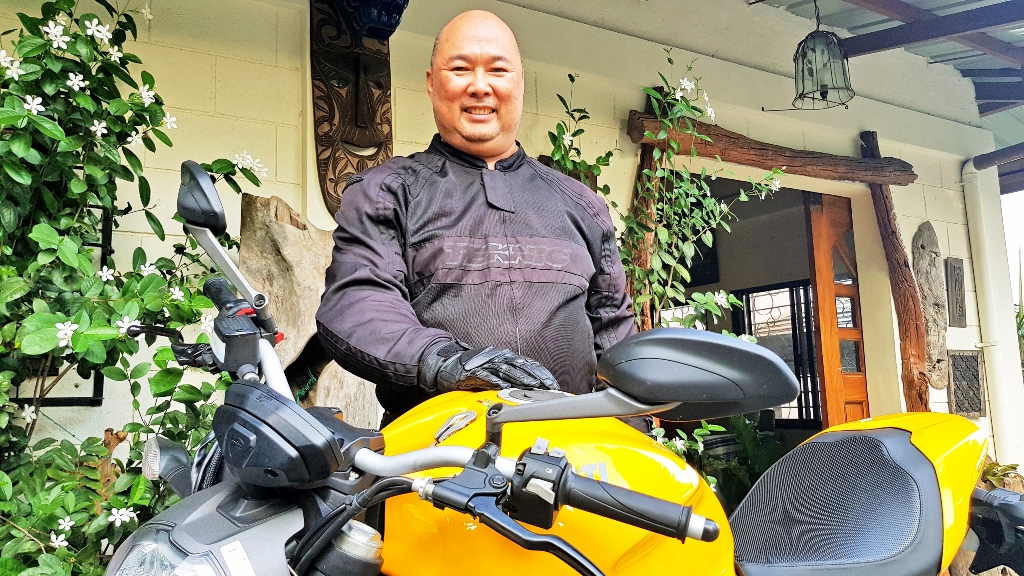 Jake Swann:
"This is like my 4th experience with a Ducati and it's Ducati, what else can you say! Now if you're familiar with Ducati, you know you can't treat or ride the bike same way you ride an in-line four because the twins are very torquey bikes, so you have to be smooth on the throttle! If you just pump that throttle, the front wheel's gonna go up or you are gonna fall down. First time I sat on the bike, it has had a good seat height, I'm 5"10 and I was able to put both my feet flat on the ground. The thing that surprised me though was the foot peg which is little higher than what I expected from the previous Monsters that I rode. But I did enjoy the bike. As soon as I got used to the foot peg height, that wasn't a problem because I knew if I had that height I had a ground clearance when I go into the corners. That didn't bother me so much. The second thing I noticed when I riding the motorcycle are the clutch and brake levers. I've got 2XL size hands but short fingers and big fat hands. I found I had a little bit trouble reaching the front brake lever even though I adjusted it. So, I expect people with bigger hands might do better with it. When I rode it, things quickly came back because it being a Ducati, there were things I remember while riding a Ducati and they are very good memories. This one is no different although it's smoother than the one I rode before. The one that I had before was carbureted, this one is fuel-injected so the power delivery was a lot smoother. It's easier to control and it's a lot more predictable. Handling was good on the street considering that I am on the heavy side of the riding community, like that's riding with the back-ride for normal people. So, when I roll on the throttle, the rear tends to wallow a bit but I was able to go to flat out of turns and that was lovely. Because of the torque, the bike handled really nice. The only thing that I noticed was when I go to some bumpy turns, I'm thinking I've love to have some damping and rebound adjustment which will make the bike ride much better. But I did enjoy the bike, it's something I would love to ride as far as Baguio or maybe Vigan."
This was published in InsideRACING Magazine's Volume 18 Number 5 issue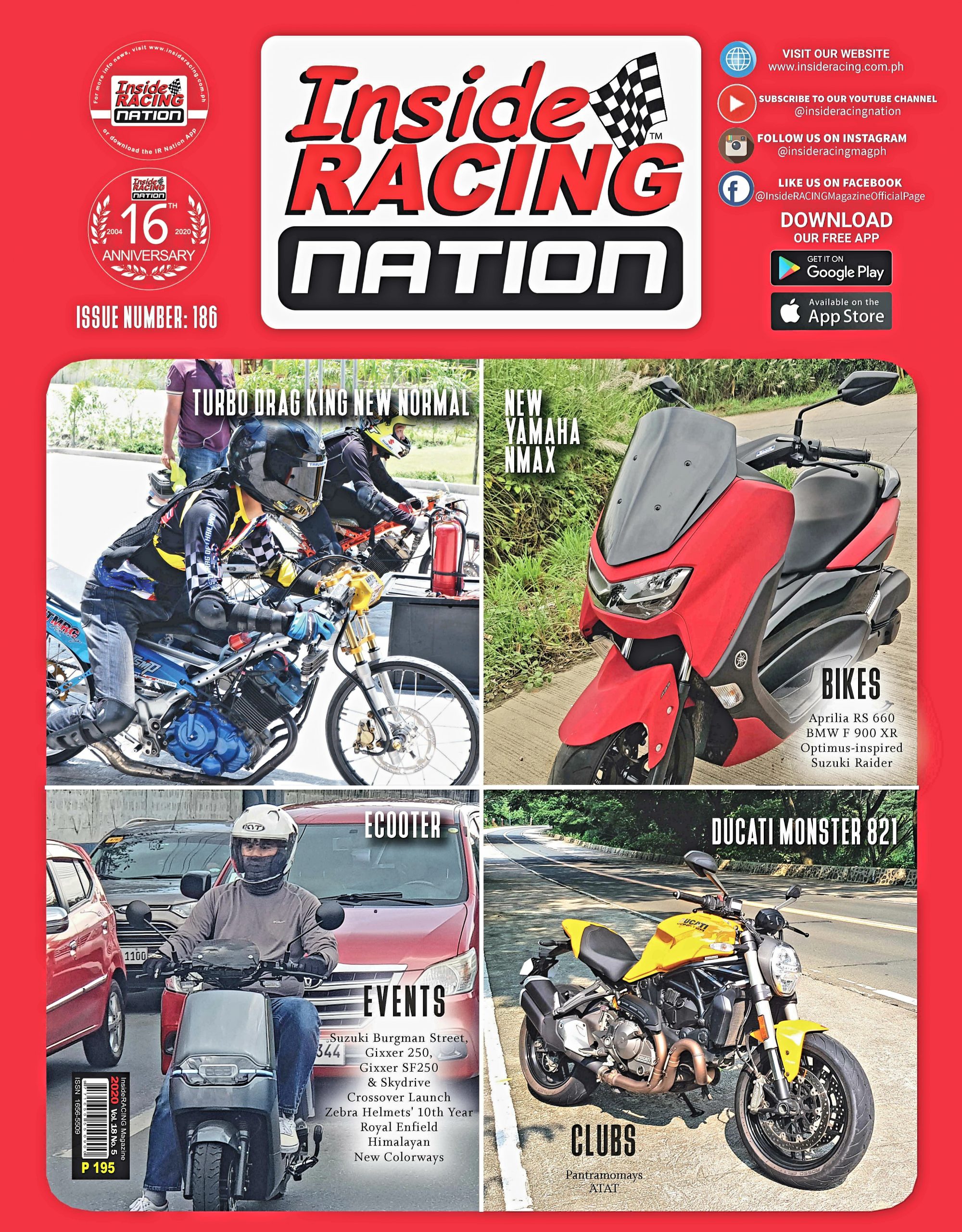 Thank you for visiting insideracing.com.ph. You may express your thought below through the comment section. You may also follow us on Facebook, on Instagram @Insideracingnation or on our YouTube channel.