2013 Vespa GTV 300 i.e. Review: Timeless Appeal
Date posted on October 16, 2020
Share this
Piaggio originally designed and manufactured fighter planes in its Pontedera plant in Italy until after World War II. With Italy's crippled economy and the disastrous state of its roads after the war, Enrico Piaggio, the son of Piaggio's founder, decided to leave the aeronautical field in order to address Italy's urgent need for modern and affordable mode of transportation for the masses.
After years of prototype developments with many of his aeronautical engineers, Mr. Piaggio, upon seeing the latest prototype for the first time exclaimed: "Sembra una vespa!" ("It resembles a wasp!") Piaggio effectively named his new scooter Vespa, which is the Italian word for wasp. Piaggio filed a patent for the Vespa scooter design in April 1946 and manufactured their first scooters that same year. In these early Vespas, it was evident that aircraft technology was adapted with attention to aerodynamics and the use of monocoque construction.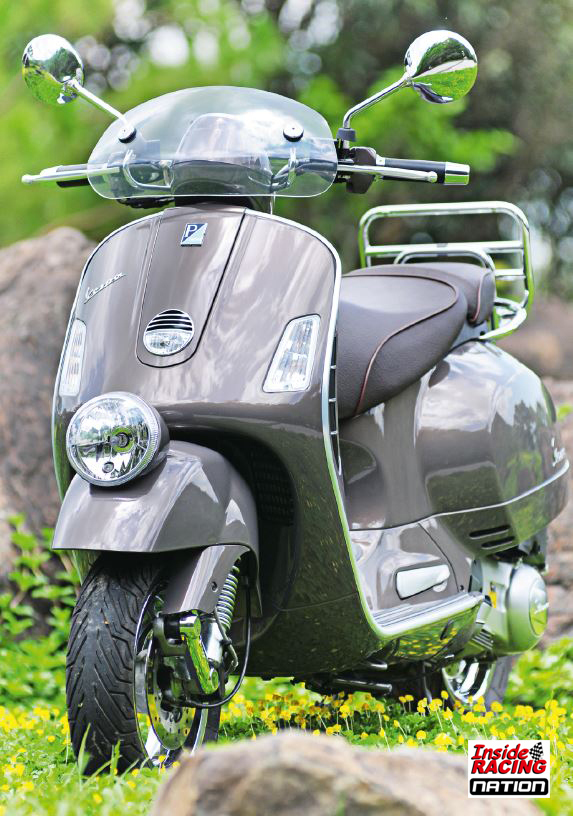 Sales were booming and ever since Hollywood showed Audrey Hepburn and Gregory Peck on a Vespa scooter in the film "Roman Holiday" for a ride through Rome in 1952, Vespa has since been a strong icon for glamour, fashion and style all over the world.

The forebear of this GTV 300 i.e. was the GT60, a limited run model to celebrate Vespa's 60th anniversary in 2006. The GTV 300 i.e. "Vie della Moda" is essentially the same scooter but with a bigger displacement and more modern engine. The GTV features the front mudguard mounted headlight as a tribute to the original Vespas to come off the production line in Pontedera, Italy in 1946. The handlebar is the same exposed metal tube seen on the earliest Vespas as well. The two-seat saddle in eco-leather is elegant and comfortable, and as on the original Vespas, is split into two separate seats with precision crafted piping. The five-spoke wheels are also chromed which matches the fold-out rear carrier rack, adding an extra special touch to the "Vie della Moda" special edition which is available only in Marrone Etna color. The GTV is solid and well-built with attention to detail and high body fit and finish Vespa is known for.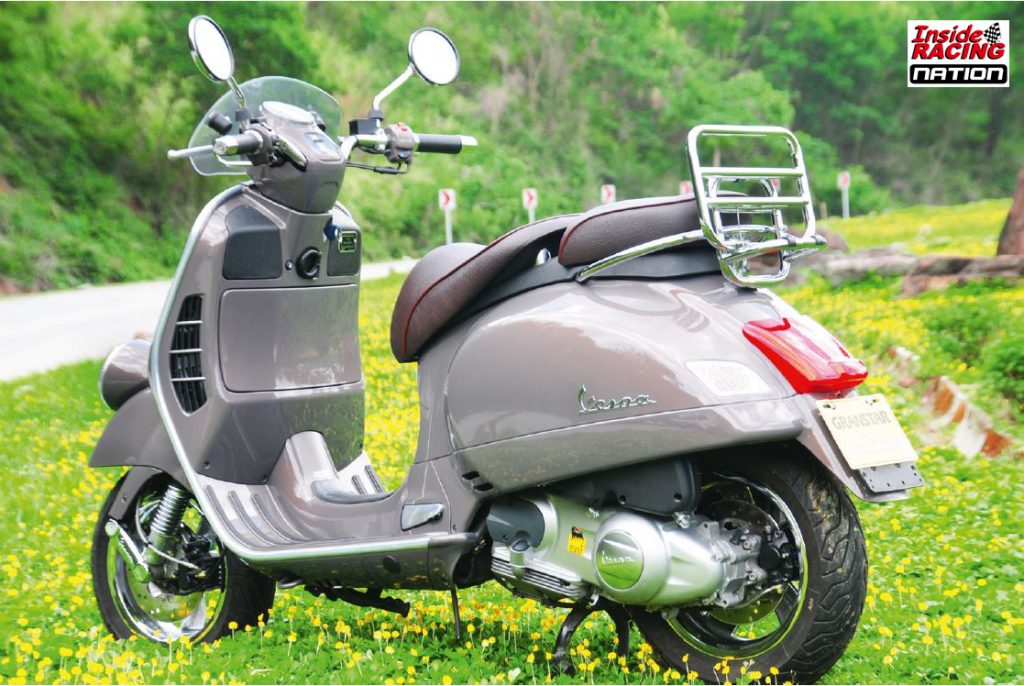 Powered by a modern and powerful 278cc liquid-cooled, fuel-injected, four-stroke four-valve engine, the GTV 300 i.e. offers performance, responsiveness, low fuel consumption and emission level that meets Euro 3 standards. The engine is very smooth when running although at idle, it feels lumpy like a normally carbureted engine. But once you give it more gas it becomes very smooth. It propels the GTV quiet briskly and can reach 100kph in no time. If you like fast-paced riding but for certain reasons you cannot ride big bikes, the GTV can be a good option for you as it allows you to experience the excellent power of a much bigger bike to let you pass on cars, trucks and buses on the road easily. Too bad it cannot enter the expressways because it can be a comfortable high speed cruiser. The GTV's overall ride feel is very solid and refined. It's probably because of Vespa's unique monocoque steel frame construction that the company uses since 1946. Engine vibration is well isolated you don't feel it from the handlebars aided by weighted bar ends that further mute vibrations, nor from the well-padded leather seat. Harshness and vibration are well controlled that when you are cruising or just coasting along, it almost feels like you are on a bicycle as you don't feel or hear the engine.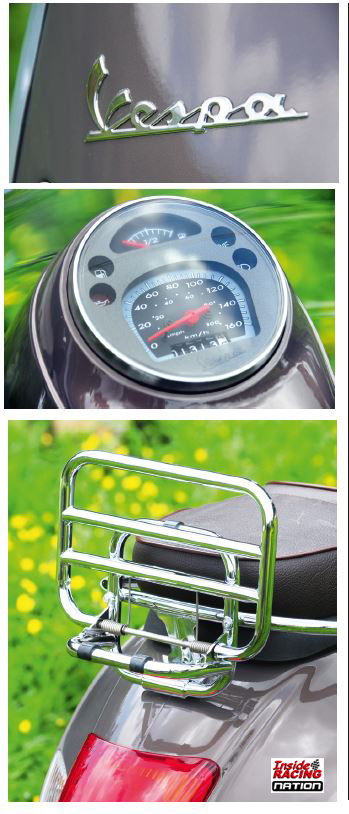 The riding position is comfortable. The high handlebars and spacious legroom provided by the low floorboards ensure comfort for long rides. The split seats not only look gloriously luxurious and tasteful, they are also wide and comfortable (at least for the rider). The mirrors are actually useful and provide a good view. The handlebar grips are nice to hold on to even with ungloved hands and the levers are easy to reach.

Despite having smaller wheels like most scooters, the GTV is stable at high speeds, more comfortable on patchy road surfaces, and not as twitchy as the other lighter scooters with smaller engines. This can be credited to its cantilever-style front suspension design that was originally used for the landing gears of airplanes. The front always felt secure and planted making the ride refined and relaxing even during hard braking. Just like in other small scooters, windblast can be a bit of a problem at high speeds, but weather protection for the lower half is very good due to the wide leg shields. The small quarter windshield is more for aesthetics because you don't get noticeable wind protection from it, maybe at high speeds it will make a difference but at slow speeds you can't feel any. But honestly, people will not care if it functions because this item gives the GTV its much coveted classic vintage look.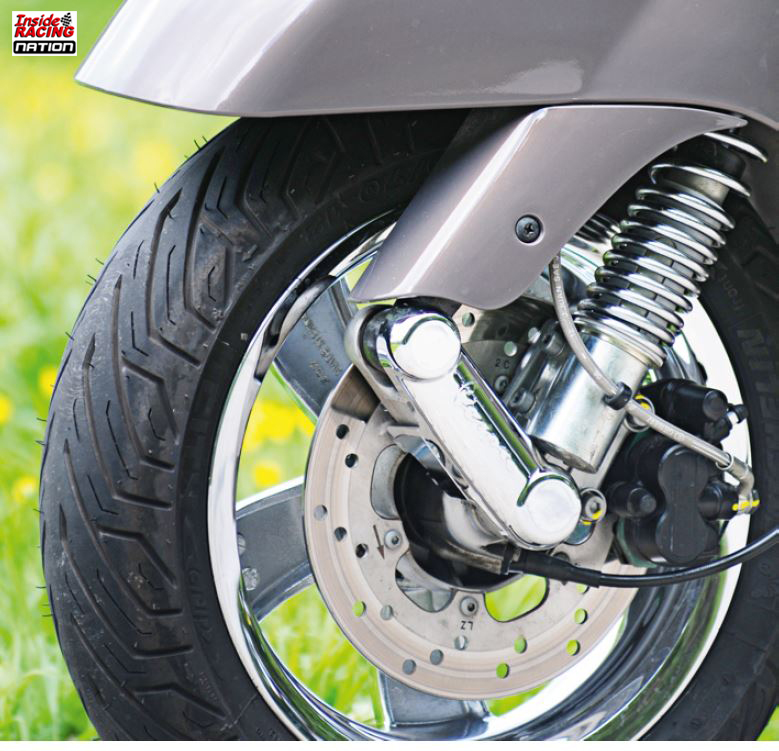 Other luxury features include electronic release for the seat that opens up the storage underneath with the press of a button. The storage underneath is spacious and can accommodate a pair of half face helmets. We like the removable storage tray that enables easy access to the engine for servicing and maintenance. There's a lockable front storage bin for small items like gloves, registration documents, sunglasses and wallet. There is also a nifty ring where you can safely hook some grocery bags. The pretty chrome folding rear luggage rack is useful for mounting roll bags for longer journeys. Top boxes from Vespa or other brands available in the aftermarket can also be mounted permanently to increase practicality. One nice thing about the chrome rack is that it does not vibrate when in use and it looks very classy!
Although it is a retro scooter it still has modern safety features like the automatic headlights and side stand engine kill switch. The spring-loaded side stand drew mixed remarks: yes it is convenient to just tip the bike vertical and the side stand automatically retracts as you ride away (a safety feature if you are the type who forgets about the side stand) but on the other hand, it may also cause you to drop the bike on incline or uneven surfaces if the side stand suddenly retracts as you get off the scooter or if some overeager pedestrian inspects and decides to sit on it. We highly recommend to always use the standard center stand when parking the GTV.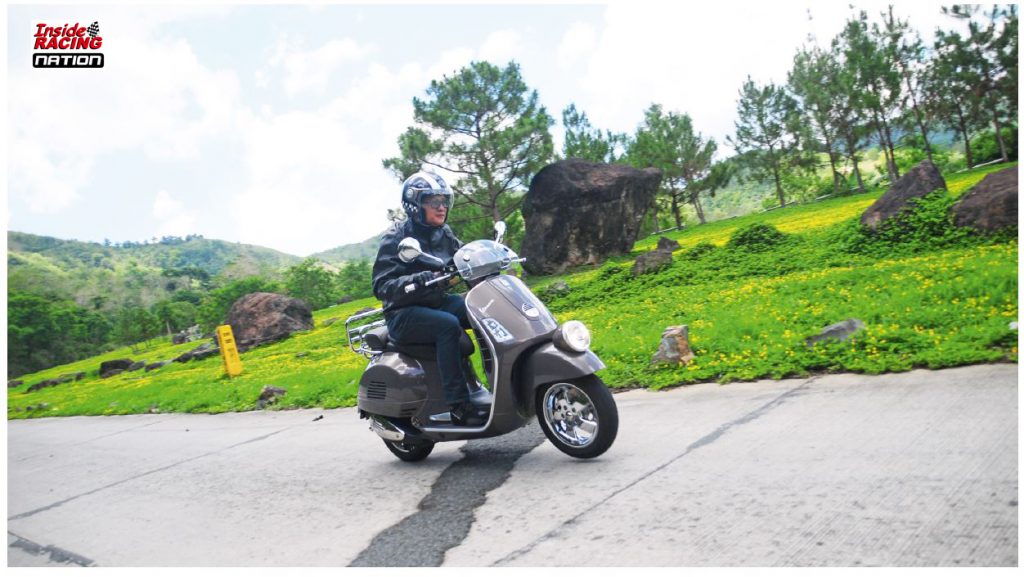 Aside from maybe a front chrome luggage rack to match the rear for added cargo capacity and bling, there is really nothing more to add to the GTV. It's a good purchase for people who want to be special not only on the road but also at the parking lot. It's asking price maybe high for a scooter but you do get everything that you pay for: glamour, style, performance, practicality, quality and exclusivity.
This was published in the 2013 Maximum TORQUE Issue Number 1
Thank you for visiting insideracing.com.ph. You may express your thought below through the comment section. You may also follow us on Facebook, on Instagram @Insideracingnation or on our YouTube channel.