TJ ALBERTO Takes on the World Stage
Date posted on February 26, 2019
Share this
Maximum TORQUE Magazine sits down with Pinoy Pride and the only Filipino racing in the prestigious European Superstock 1000 Championship, a supporting class of the Superbike World Championship – TJ Alberto. He currently races for M. Motocorsa Racing Team and rides the very competitive Ducati 1199 Panigale R.
TJ shares with us in this exclusive one-on-one interview his thoughts, and the secrets to his success in the racetrack. From competing in local races such as the PSBK, MotoIR and the InsideRACING Grand Prix and now in the world stage – get to know this champion international racer in a way you've never seen before.
TJ started riding when he was 4 years old. Then he had his first race at 4 years old as well riding a 50cc Junior Motocross bike. It was on a very short oval track and he finished in third place. By 7, he competed in the Junior Motocross series, the national championship for 50cc bikes. Then he continued on winning a few junior titles in the 50cc class and then eventually started racing in the 250cc production class at 13 years old.
In just one year, he became the Junior Motocross Champion and from there, TJ wanted to do a test, to try road racing. He actually started not with a superbike but with a super motard. He did his first race at 14 years old racing a motard against 400cc superbikes and actually won his first ever race in his first ever entrance to the road racing category. He did a few more wildcard races in the standard bike category and he was able to win all his races in this first year. In his first year of racing superbikes, at 15 years old, he started on an 899 Panigale. At that young age, he became the Novice and Intermediate Superbike Champion in the PSBK and that was his first major achievement. This was a particularly proud moment for TJ considering he crashed hard during the opening race of the season and got 0 points, and at the same time had to recover well from his injuries in time for a mid-season comeback.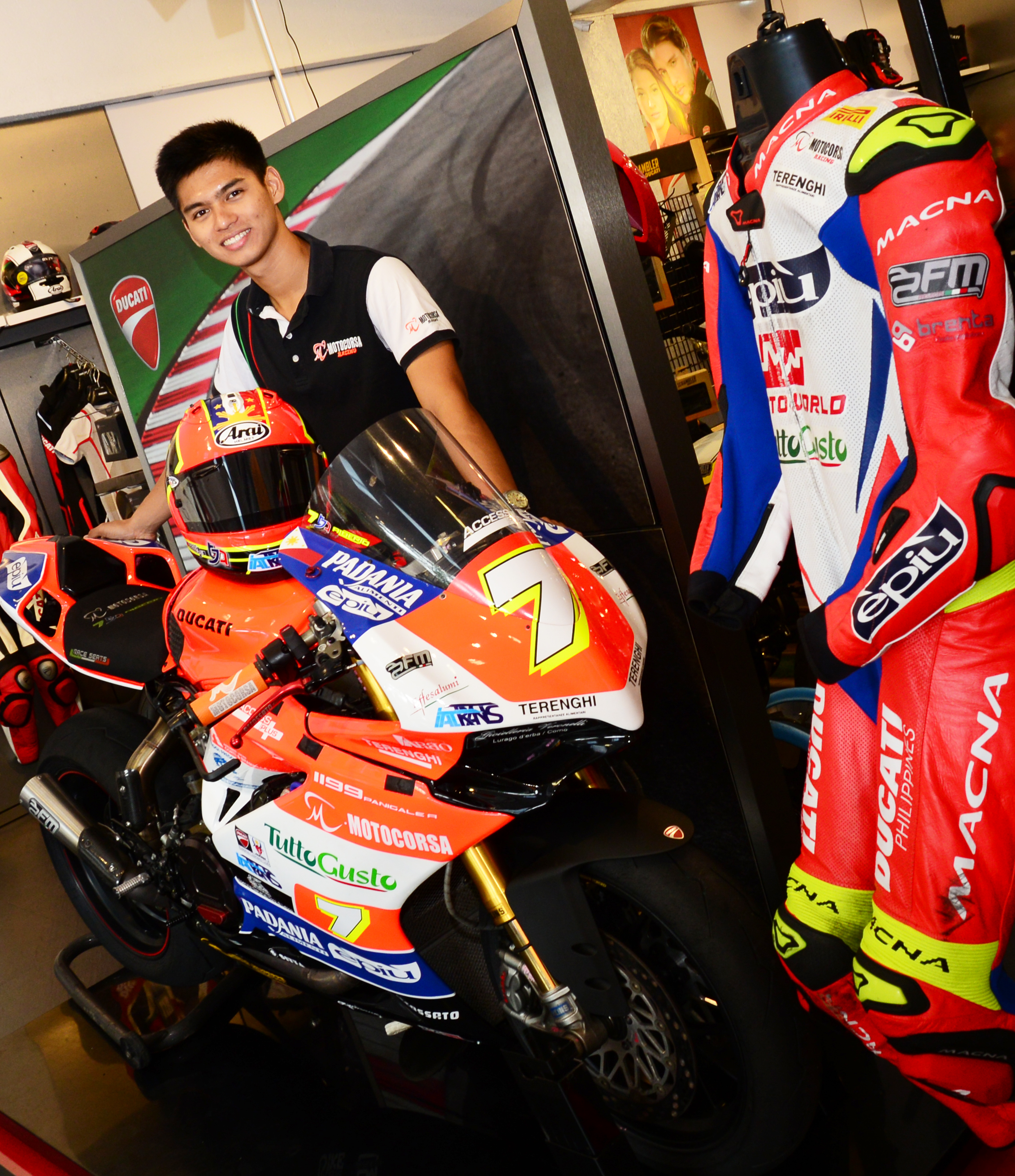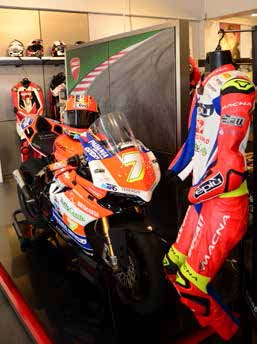 It was also in this same year that TJ entered into the MotoIR Championship under the MotoIR2 category and finished a strong 3rd place despite missing the first few rounds. It just keeps getting better and better as the 2016 season was sweeter as for someone coming from the novice class moving up, it was TJ's first time to win a PSBK expert class race – and it wasn't just a simple race win – he actually won Race 1 and Race 2 after getting pole position, performing better against the likes of former superbike champions and longtime expert riders.
In 2017, he had quite a good campaign for the Philippine Superbike title. Having won 5 out of the 12 races, TJ barely missed the title by a single point in the overall standings. It was also in this same year that he impressed Lorenzo Mauri during a bike test at the Batangas Racing Circuit and to cut the long story short, this was when he started his foray into the international scene by participating in the CIV (Campionato Italiano Velocità), the Superbike Championship in Italy with team M. Motocorsa. At present day, he is riding in the Superstock 1000 Category. Although this is a National Championship series in Italy, this is all-high level as some of the riders in the World Superstock and
World Superbike competed in the CIV, including Michele Pirro who is a MotoGP class rider and has won the CIV title many times. It is also where other World Championship teams test and practice. It goes through the same circuits as the World Superbike Championship. This is definitely a surreal experience for TJ as he had made the rounds through the European tracks with his dad, Ducati Philippines' main man Toti Alberto.
Maximum TORQUE: How did you prepare for all the changes – training, higher level of competition?
TJ Alberto: "With this new championship, I really had to up my training. Of course before I train, I really have to increase my intensity now and really everyday, I can say that I'm training hard.
It's not like before where I just say okay today we train, tomorrow let's just rest. Now, everyday you have to train, you have to be at your best. They say that you have to have a higher level of professionalism meaning you really have to extract the best out of yourself and out of the bike, you have to come to the track prepared. You can't come to the track and say, oh I can only do 5 laps now because I'm tired. You have to come to the track and be ready mentally, physically, and the bike should be ready as well. Data is very important these days. Now with the technology we have, with data you can really extract the best out of your given package – the rider and the bike as well. So with this data, you are able to study it and really extract the best out of your riding. Everybody in the championship studies the data – the telemetry, the tires, and so on. So everybody is really riding at their best. If you don't do the same like that, you're really just gonna be left in the dust."
Maximum TORQUE: Your Dad is one of the pioneers and one of the pillars of racing in the country. What you and your brother Troy are doing now was basically just a dream of your dad and the other expert riders back in the day, do you believe that many more will follow your footsteps?
TJ Alberto: "For sure I hope that we are not the only generation. I'm sure we will have generations to come. I hope that this is just the start and people will try to follow. And I hope that we will have more Filipino riders in the world stage. I think this is really just the start of this international racing and we have a lot to learn. If we keep working on it, the riders who have raced abroad or internationally can come back to the Philippines and then teach the other riders how to improve their skills, how to improve their level. If we just go out there alone, and keep it to ourselves, the other riders will not learn how to improve."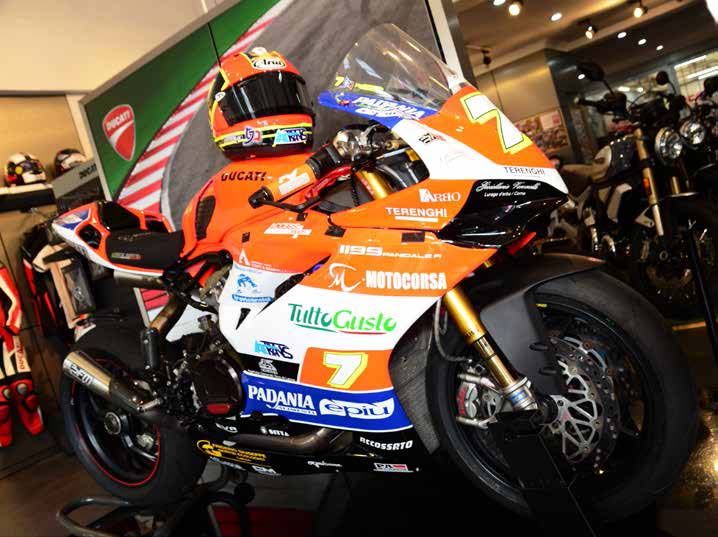 Maximum TORQUE: How's your season going so far?
TJ Alberto: "We just came back from the 6th leg of the championship in Misano World Circuit. So far we've had 6 legs starting in April. We had Aragon in Spain, we had TT Circuit Assen in The Netherlands, we had Imola in Italy, Donington Park in the UK, then Brno in Czech Republic. My season so far has been quite full of ups and downs but I think it's quite a good start to the season. I can say it's better than my start to the season last year in the CIV Superbike. For sure the CIV Superbike has helped me a lot to be at this level that I am now and has helped me a lot to be a better rider abroad. Because it's a different game from what we do here. Locally, we only have 2 tracks. And you have quite free regulations, you can do a lot with the bike. Then you can do open testing. Usually you can spend a month at Clark and then do the race. It's a lot different than how it is abroad. We race for three days – we have Friday practice, Saturday qualifying, Sunday race. Each day you only have combined 60 mintues of practice so that's really a short time to learn the track and go as fast as possible."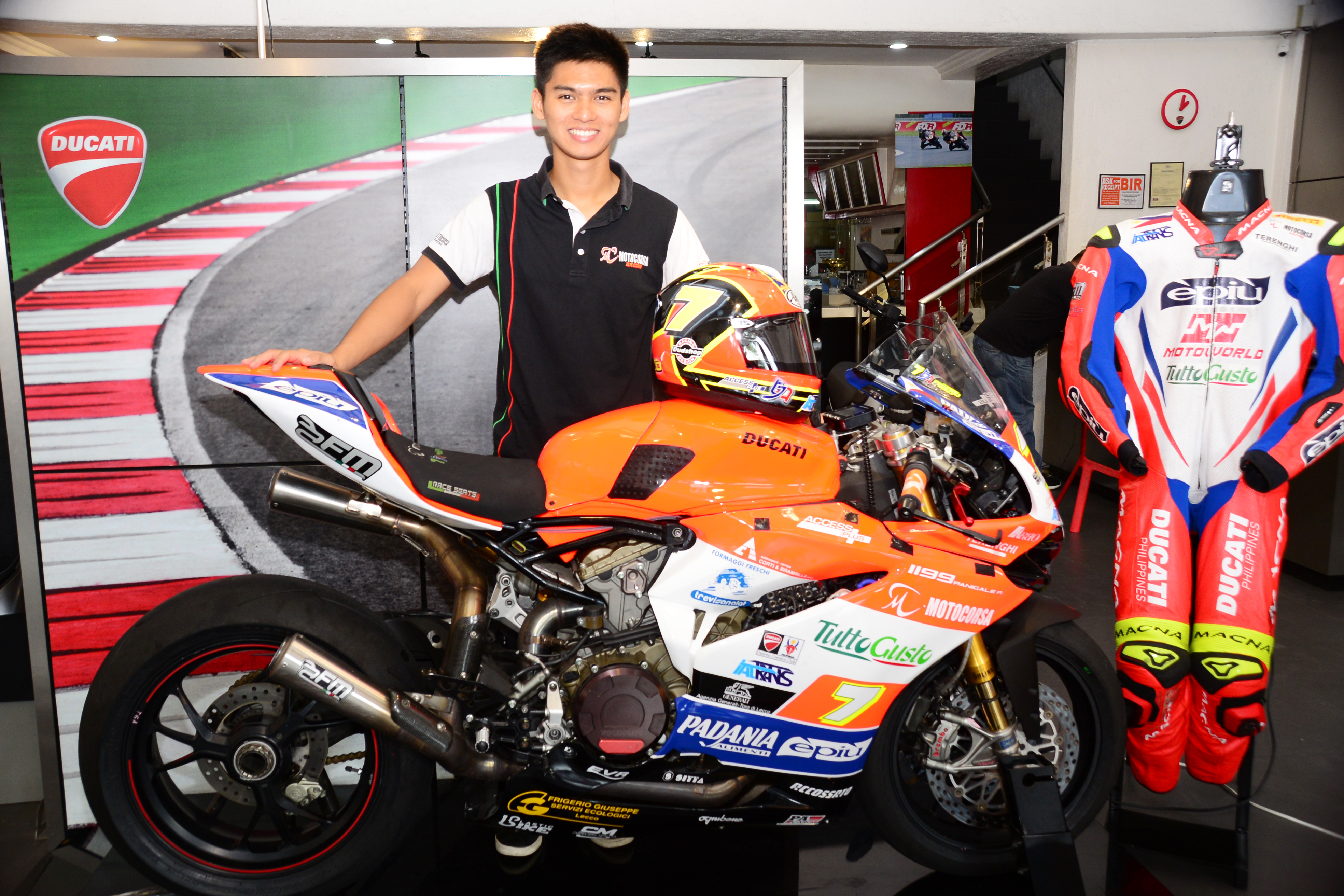 Maximum TORQUE: Give us a rundown of your race results.
TJ Alberto: "In Aragon, I was able to finish 13th. It was really good to be able to score points right away in my first ever race in the Superstock 1000 Category. I'm really happy to come from Aragon with points already on the board as it will set the tone for the whole season and you can set the season from there. Especially considering that Aragon is a very difficult track with a lot of ups and downs, we don't have that here in the Philippines so I'm really happy about that. In the next weekend in Assen, unfortunately I wasn't able to score points. In the end I was able to finish in 18th position out of 27, partly due to a mechanical problem with the bike so for me it's fine. Apart from that, my lap times in Assen were not so bad so you'd have to think of that for the next year. After that, I can say it's my home race in Italy. We had the race in Imola. Imola is a very fantastic track, I really like it there. I've raced there in CIV before. In the CIV race I crashed, in the Superstock race I crashed as well so it's weird. There's something about Imola that doesn't like me. Surprisingly in the qualifying, I finished 12th. And I finished 12th though I've been able to do only 3 laps due to a technical problem early in the session. I had quite a good performance in Imola, and I was running in 15th battling the other riders for points and unfortunately I didn't finish the race. If you want to finish with points, first you have to finish. But I was able to bounce back the next weekend in Donington Park with a really good result. I was able to finish 12th. In Donington, we started the weekend quite good. It was a very difficult track because we have a lot of flowing corners but the moment we arrived we were already on the pace so I'm happy with my result in Donington because that was the best so far during that time, 12th. I was dicing for position, but what was important for me is not so much on position but the lap time and the difference with the guys in front. The next weekend in Brno, I was able to finish with my best result so far in the season which was 11th. My qualifying was quite good, I qualified 16th in this weekend and it was a wet race so I was able to use my wet skills since it rains a lot here in the Philippines. In Misano World Circuit, coming to a home race, it's a bit difficult. It's been strange because you have expectations on yourself that you can do good because you've done quite a lot of laps already. In Misano, we did the test, and we did racing in CIV last year. Misano was quite good I say, I qualified in 20th but I qualified 20th with everybody being the same lap time as me. I mean my lap time, if you remove two-tenths, I could have been 13th or 14th. It's incredible how close everybody is in terms of lap time in the World Championship. I was in the group fighting for position because I wanted to score points. In the end I came short by just one position, I moved up a lot of places but my takeaway from that weekend was that my lap time was good to finish 11th. I'm really happy so come race day Sunday I've learned the track a lot so we just have to focus on the qualifying."
Maximum TORQUE: Where are your other races?
TJ Alberto: "So now we are past the halfway point of the season. Now is the summer break for a month so we restart the season again in September. We have Portimao first and then Magny-Cours for the last 2 rounds of the season. I'm really looking forward to the last 2 rounds of the season and hoping to score my first top 10. Let's see, we're really gonna work extra hard for the last 2 rounds. Coming from the Philippine Superbike where I am a fast expert rider, this just goes to show how high the current level of competition is. It really opens your mind on how high the level is abroad. It changes your mindset on how racing is. The opportunities for training abroad is much better than what we have here and we definitely could learn a thing or two from those training methods if we want to improve what we have here. You learn that you can be so much faster and better than what you are now and that really, sky is the limit, when it comes to performance and skill."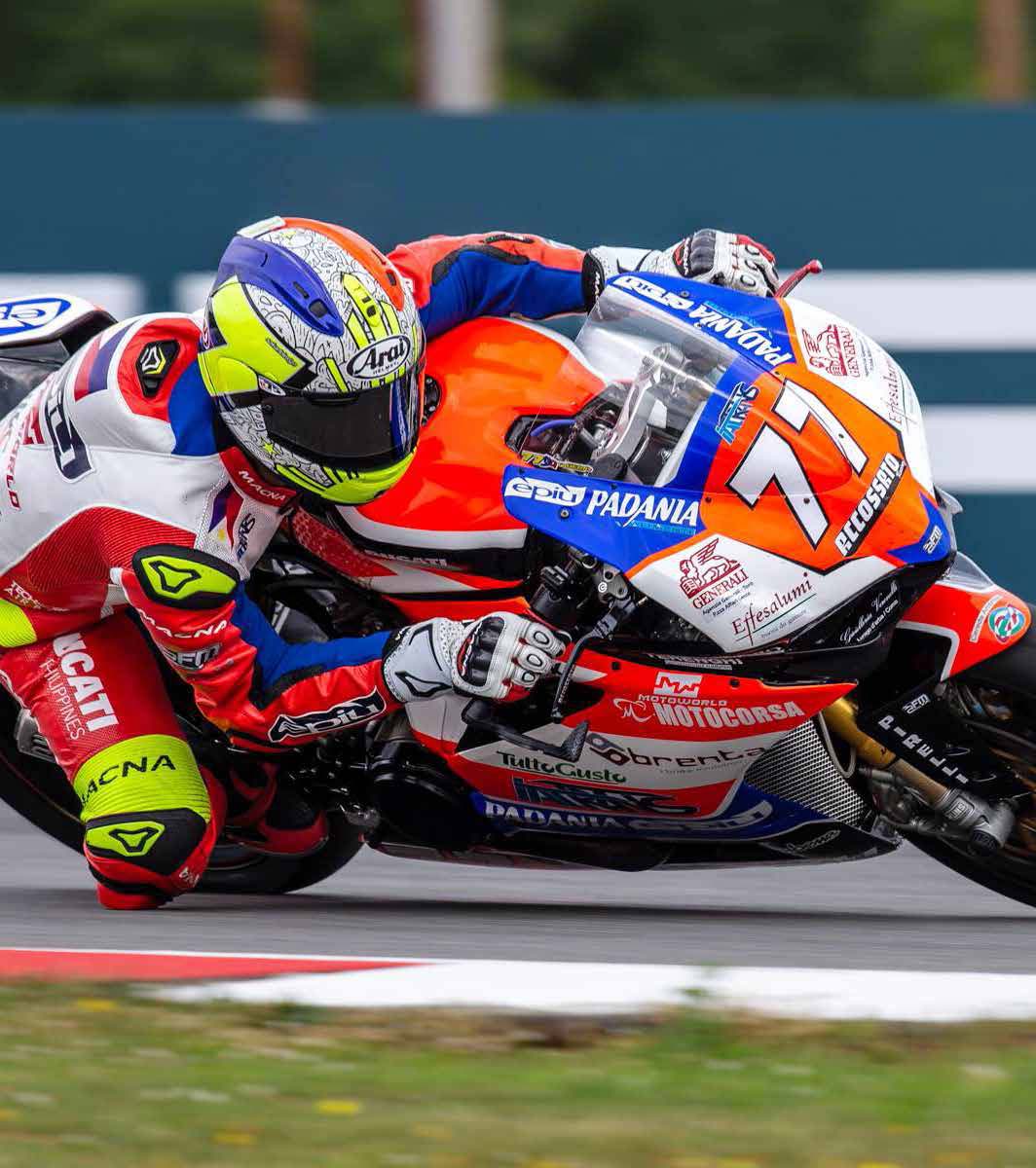 "The opportunities for training abroad is much better than what we have here and we definitely could learn a thing or two from those training methods if we want to improve what we have here. You learn that you can be so much faster and better than what you are now and that really, sky is the limit, when it comes to performance and skill."
*This article was published in InsideRACING's Volume16 Number 10 2018 issue.