Top 1 Action Matic Juniors Automatic Trophy
Date posted on November 20, 2012
Share this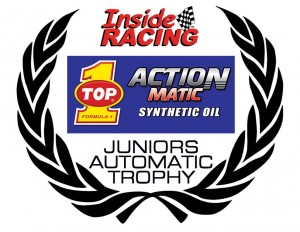 Monroe Marketing is proud to be the class title sponsor for the brand new Juniors Automatic Trophy Class in the Sixth Annual Motolite InsideRACING Grand Prix (IRGP6) to be held on November 23-25 at the historic Carmona Race Track in Carmona,Cavite.
The Top 1 Action Matic Juniors AutomaticTrophy will be contested by Beginner and Novice riders aged 23 years and under using 130cc Open scooter race machines. That purpose of this class is to create exposure for young and new scooter riders. IR believes that this new class will sustain the growing of scooter or automatic riders by giving the younger and less experienced riders a class of their own.
The "Motolite InsideRACING Grand Prix" is the biggest annual
year-end tradition for the country's motorcycle road racing fans as it aims to provide a "GP" style race event to the local racers and teams. It is a prestigious annual event where top local racing teams and riders participate. It is sanctioned by the Underbone and Scooter Racing association (USRA).
A trusted and quality lubricants brand from the USA, TOP 1 OIL is focused on encouraging everyone to use only the oil that's right for their motorcycle type. Hence, TOP 1 is sponsoring the IRGP Juniors Automatic Trophy to prove the superior performance of TOP 1 Action Matic 20W-40, JASO MB – the engine oil specifically made for automatic gearless scooters.
Clutch slippage (sliding clutch) is a common problem encountered by many motorcycle riders. This is primarily caused by using the wrong engine oil. The require¬ments of gearless scooter engines are very different from ordinary motorcycle engines because they need low friction oils that can withstand high temperatures. Hence, when it comes to scooters, trust only TOP 1 ACTION MATIC Synthetic Oil, an
advanced premium quality 4-stroke engine oil that imparts
additional protection for superior riding performance.
Witness the maximum protection of TOP 1 OIL in the IRGP6.
Provisional Entry List
Bike #
Rider
Team
1
2
3
4
5
6
7
8
9
10
11
7
02
4
8
13
14
23
28
64
111
117
Mecky Cruz
Raymart Reyes
Robert Matthew Ramos
Christian "Mokoy" Ancheta
Alvin Oribiana
Vrei-Ar Suba
Basil Aljamani
Sig Jengar
Jerico Gesmundo
Ivan De Alday
Ralph Kenneth Torres
Salbahe-Zebra Helmets
Salbahe-Zebra Helmets
Takeshi – Asia
JM Mirasol
Ebroc Racing – Eneos
Spark Racing / Race Ace
Petronas-Speed Effex
Salbahe-Zebra Helmets
Team Jay Villangca
Fastek – Speed Tuner
MTRT